An easy homemade blackberry jam made with homegrown blackberries and sugar. A simple recipe that will make you wonder that why haven't you tried it sooner.
This post may contain affiliate links
Summer Gardening
Talk about the bounties of summer! Talk about this easy seedless blackberry jam recipe being a child of one such bountiful harvest. Think about hot, muggy days, when you do not want to step outside the home. But you do, because the garden needs tending to and the bounties await. I love to grow a garden which, for us Kansans, is a short-lived pleasure. It does bring me great joy though. A dear friend once said that working in the garden is like therapy, and I cannot agree more. I would rather spend my time and money in my garden.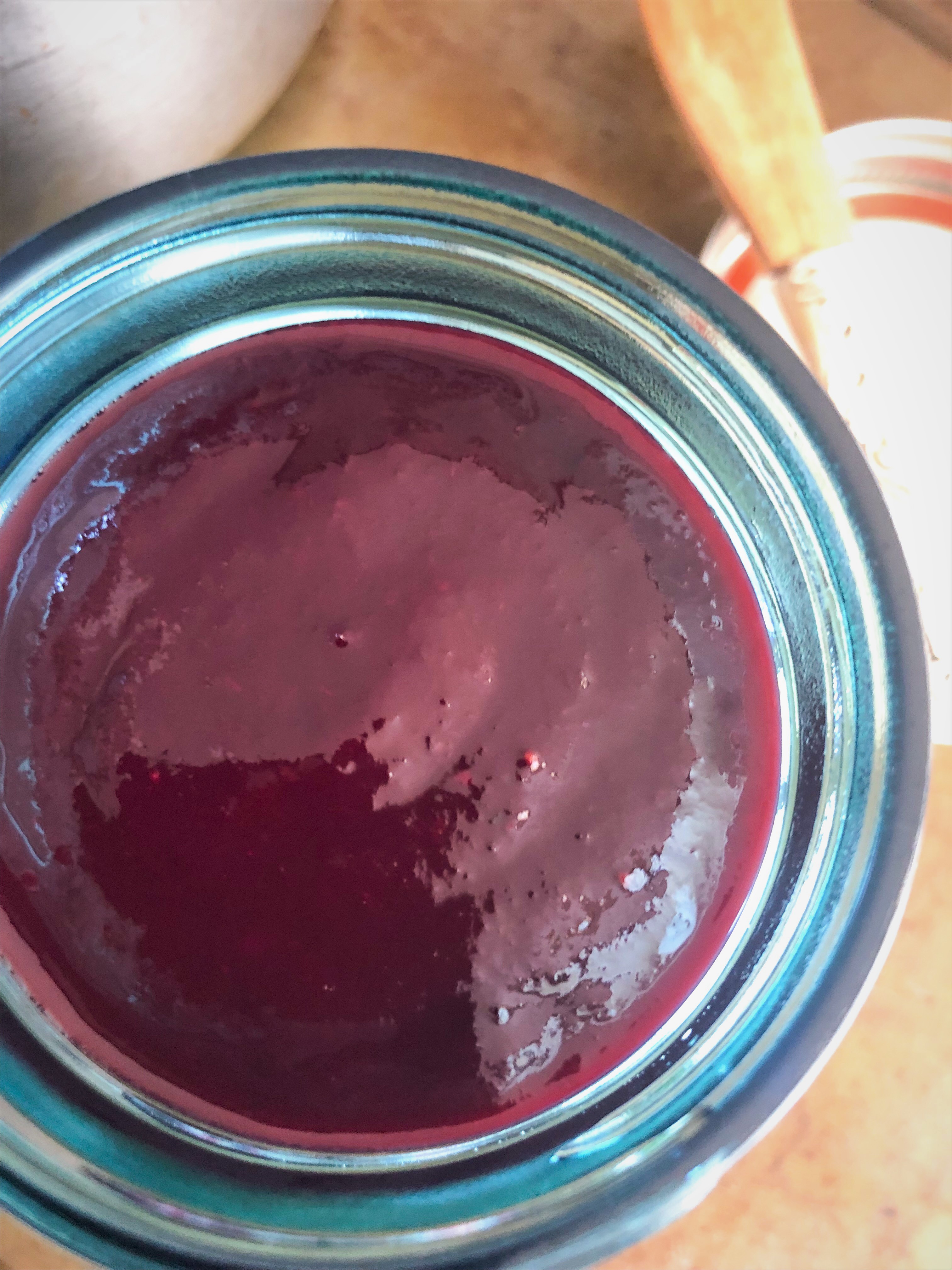 Jump to Recipe
For the past few years we have been growing tons of tomatoes in our garden and making recipes like this sweet and savory tomato jam, this chutney (made with tomatoes, ginger and dates)and various salads (recipes here and here). There are cucumbers, green chilies, eggplants, squash, zucchini, okra and tons of herbs and recipes to go with almost each one of them. One of aspirations for our garden is to eventually develop it into an edible landscape. Which, given our coordinates, can be a little challenging. But what is life without some challenges in it. So, we shall see.
Blackberries
I have learnt, from neighbors and friends, who are gardening enthusiasts, that certain kinds of berries grow very well here. I tried planting blueberries thrice with no luck. Soon, I learnt that blackberries are the way to go and if the plants are happy in your garden they produce like crazy. There are few friends at work that I often talk to and seek advice from regrading gardening. They have lived here for much longer and know things from experience that no planting guide or handbook can teach. One of them brought us blackberries from his garden along with potatoes, zucchinis and squash. I have been thinking of making jam filled granola bars for a long time and those gorgeous blackberries made be think that may be this was a sign.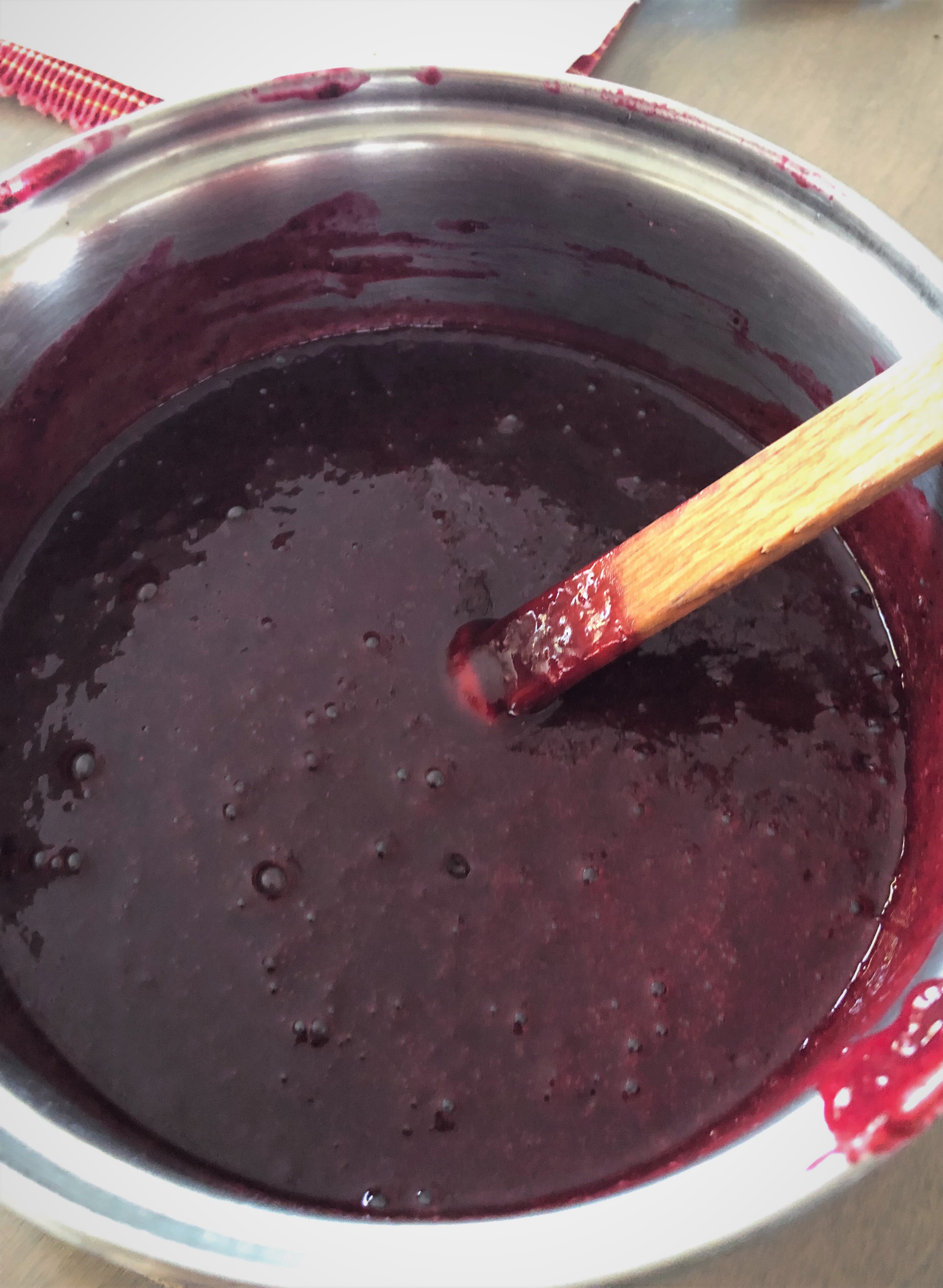 So as a first step to make those jam bars, I set up to make the jam first. One thing that no one in our family is particularly fond of is the blackberry seeds. You see blackberry seeds can be rather big sometimes and difficult to chew. So I thought of making this seedless blackberry jam. Just one additional step to a perfect smooth jam.
The recipe of this easy seedless blackberry jam is simple, ingredients minimal and results awesome. You can use it as a jam or even as a sauce depending on the consistency that you boil the jam to. Since there is no pectin used in this recipe, the jam is rather of thicker, flowy consistency. So if you are a purist, call it a sauce and drizzle it over ice cream. I am calling it jam and drizzling over ice cream, spreading on toast, eating with cheese and crackers and making jam granola bars with it. I win!....lol. Just kidding, I love the purists…😊
Recipe Run Down
To make this easy seedless blackberry jam, you first blend the blackberries and then strain them. Take the seedless blackberry puree and add it to a heavy bottomed sauce pan along with the sugar. Add any spices or flavorings if you wish to. I used a little bit of cinnamon and all spice. But this is entirely your choice. Once it starts boiling, lower the heat and cook for 20-25 minutes. You can add a corn starch slurry to thicken the jam if you like.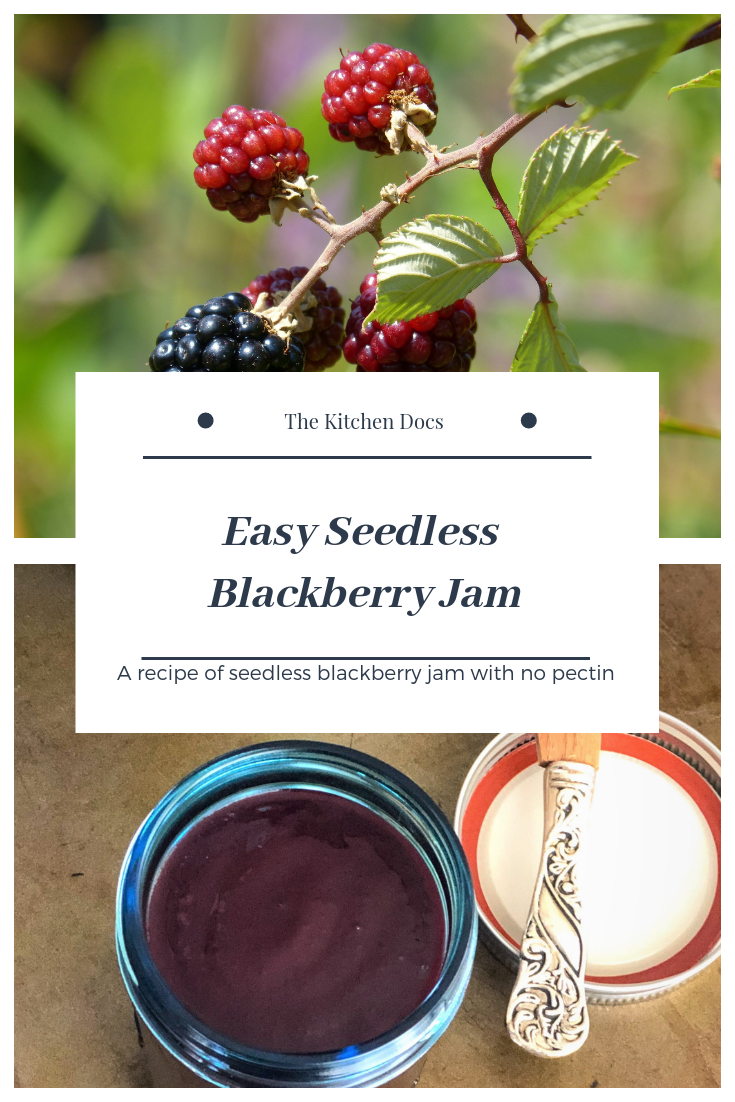 Here is your handy dandy printable: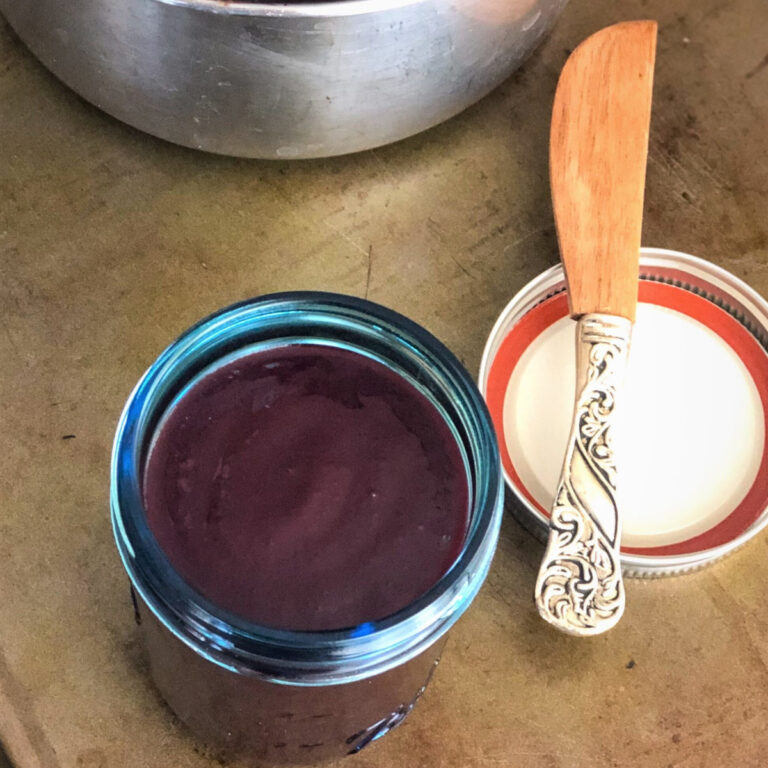 Easy Seedless Blackberry Jam
An easy homemade seedless blackberry jam made with homegrown blackberries and sugar. A simple recipe that makes perfect jam in less than 30 minutes.
Ingredients
6

cups

blackberries

2

cups

sugar

1

teaspoon

lime juice

optional

½

teaspoon

cinnamon powder

optional

¼

teaspoon

all spice powder

optional
Instructions
Blend/puree the blackberries in a blender and strain them using a steel sieve. You should have about 4 cups of strained seedless blackberry puree.

Set a heavy bottomed sauce pan on medium high heat with 4 cups of seedless fruit puree and 2 cups of sugar in it.

Stir until sugar is dissolved. Continue cooking over medium heat until mixture comes to a boil. Lower the heat and stir every few minutes to prevent scorching.

Cook for 20 minutes, add the spices and lime juice and check the consistency. If you have a thermometer, the jam temperature should be close to 220 degrees F. Stir well and then turn off the heat.

Let cool and store in clean, air-tight glass jars in the refrigerator.
Notes
The jam will thicken slightly as it cools.
If you want to thicken the jam further, add a slurry made with 2 tablespoon corn starch and 2 tablespoon liquid from the sauce pan. Add the slurry at 20 minute mark, stir in and continue cooking for 3-5 minutes or until the jam has thickened
The spices are optional. You can also increase the amount of cinnamon and all spice to your liking.
The jam keeps well in the refrigerator. I have had some for over two months now.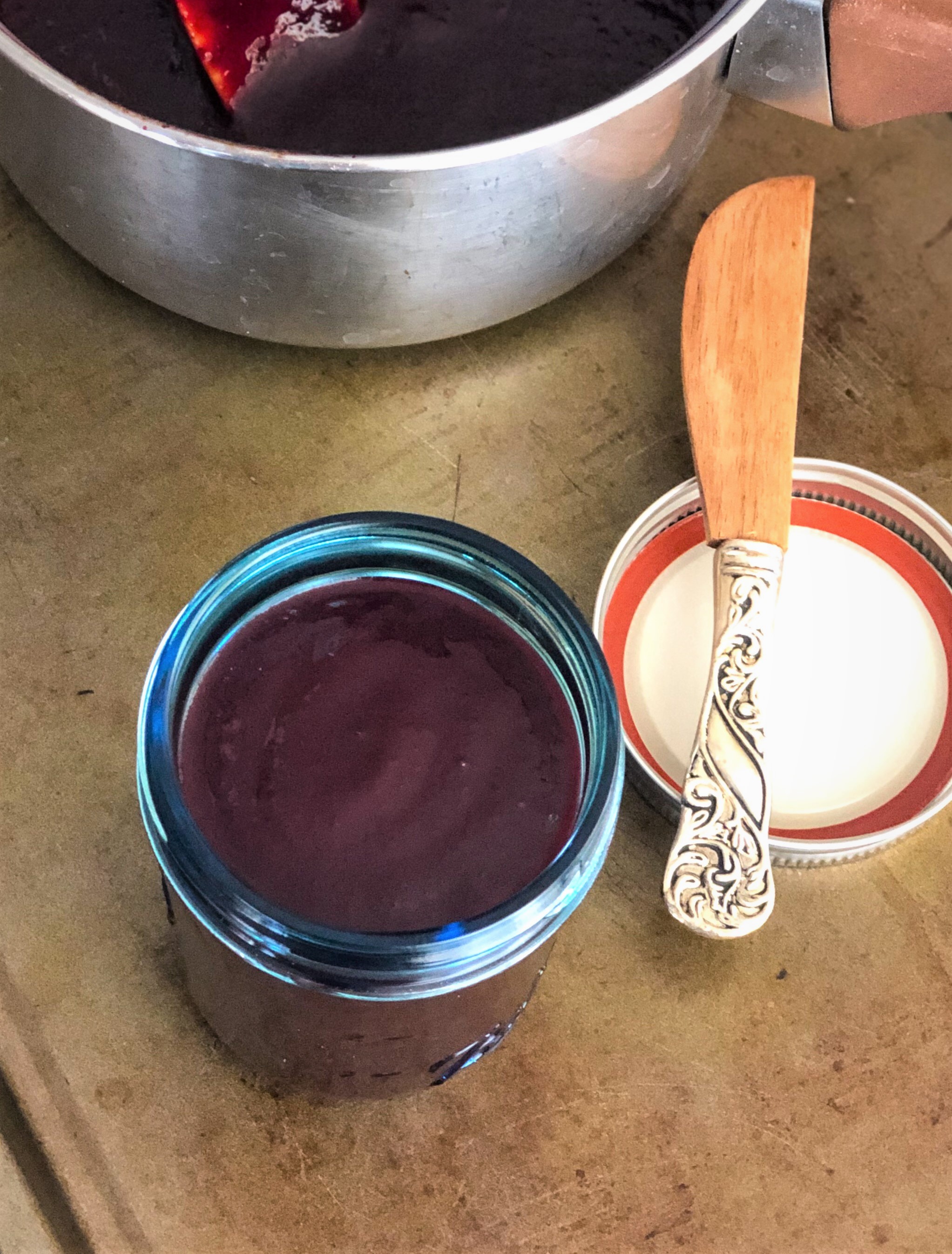 Next up are the jam bars! Until then, try this recipe and enjoy it on toast, ice cream, with crackers and cream cheese or straight up! And always, if you make this recipe, please let me know, share a picture or tag us on social media - Facebook, Instagram, Twitter, Pinterest etc. etc.
Love - Vaishali.
Tools Used: