I just got home from a work related road trip to South Dakota – beautiful drive up north one morning, work all afternoon, farmer field visits in the evening, grab a bite to eat, hit dust. Day 2 full of early morning meetings, discussions and brain storming sessions and a working lunch. As I got ready to leave my host looked up at the sky and mentioned that he could see a few clouds – but nay…he says nothing significant. I quickly talk to him about follow ups to our meeting and say my good bye. As I start driving down the highway, NPR keeping me great company,  an emergency alert comes up on the radio warning the listeners about a severe thunderstorm in the area. I look out, with my sunglasses on, and I squint at the sun happily blazing in he sky. I ignore the warning and keep driving.
About 50 miles into the drive, the skies start turning darker and gloomy and it seems like I am driving straight into the storm. With a 400 mile drive ahead of me, this seems like a very poor start. I keep driving and soon the light drizzle changes into a downpour, and then crazy windy and stormy rain. I take an exit and pull under the shed of a gas station. As I get out of the car to fill gas, there comes the hail – a good quarter size balls of hard ice – hitting the roofs of the gas station shed and the roofs of many cars that started pulling in into the gas station to take refuge. Soon we are a group of about 25-30 cars in that gas station lot.  It almost seems like an impromptu party in the thunderstorm! (see this video that I posted on my Instagram). In about 10 minutes, things calm down a bit and people go there separate ways. I keep driving in the crazy rain but visibility is good and there's no hail so I keep pushing the pedal. And then it happens again – more hail – this time the stop comes under an over bridge – with nearly 15 cars squeezing in that space. Again a calmer weather – more driving – more rain and then I enter the big city on the highway and the traffic comes to a complete stop. There radio is playing piece on Opiod addiction on "All things considered" which makes my stomach churn. The traffic begins to inch along and this continues for another thirty minutes. The street under one of the bridges had flooded causing the delays. Anyhow – I keep moving and for almost another 50 miles the crazy weather keeps me company and I keep driving through scary conditions, all the time thinking that I will be home with my babe and my babies soon enough.
The weather calms down, the sun is back out, a faded rainbow graces the horizon and all things are glee again. I am happily grooving to some Indian tunes now and cruising down the interstate. Then I turn onto a lazy and slow state highway – no other car on the road for as long as I can see. Then a car, then it stops, then it turns around, and then it turns its flashing lights on. What? A cop is behind me indicating me to stop. Wait what just happened? Apparently, in my excitement about the great sunny skies, bollywood music, and making it home soon – I was speeding 15 miles above the speed limit. Yikes. So a speeding ticket, some instructions on how to drive safely on country roads to avoid deer related crashes and exchange of some courtesies, I carefully start driving – uhmm – below the speed limit this time. Lesson learnt!
I reach home – 2.5 hours later than the expected time of arrival. But hey – I made it. Boy was I happy to be home with my peeps. There are so many things in life that we cannot control and as much as you would like things to go according to plan, it doesn't always happen so.
What has this story to do with a salad recipe – you ask? I made this bowl of salad with this sweet and sour dressing to go with grilled chicken that Dr. A had already marinated before I got home (brownie points right..:P?). An ode to summer and to exercise whatever control you have over small things in life – like making a fresh bowl of salad.
This salad has cucumbers and cilantro from our own garden. Tomatoes are not quite ready yet but soon….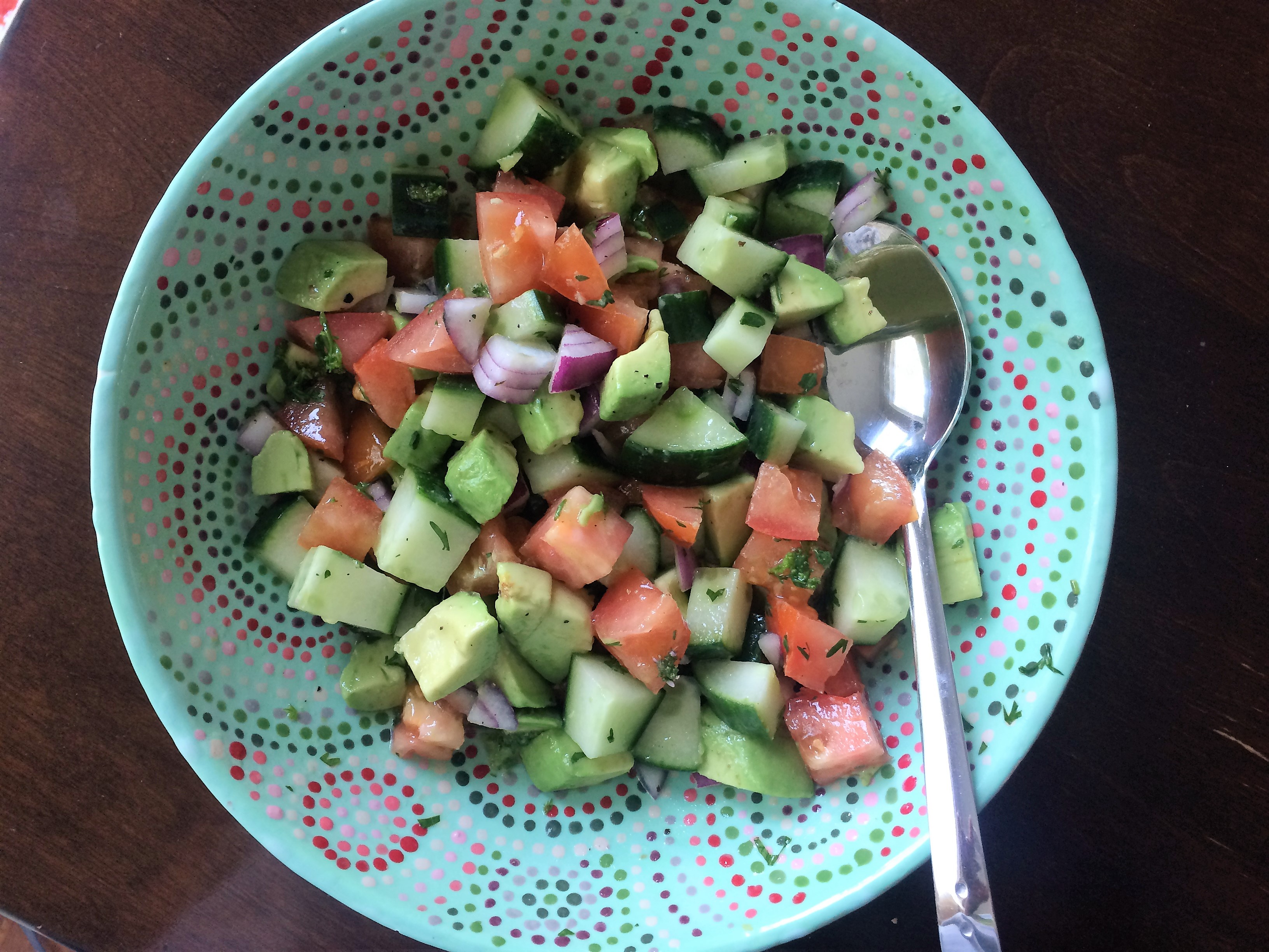 Ingredients:
Cucumber – 1 English cucumber/2 Persian cucumbers/ 1 regular cucumber
Tomato – 2 (firm not too soft)
Avocado – 1
Red Onion – ¼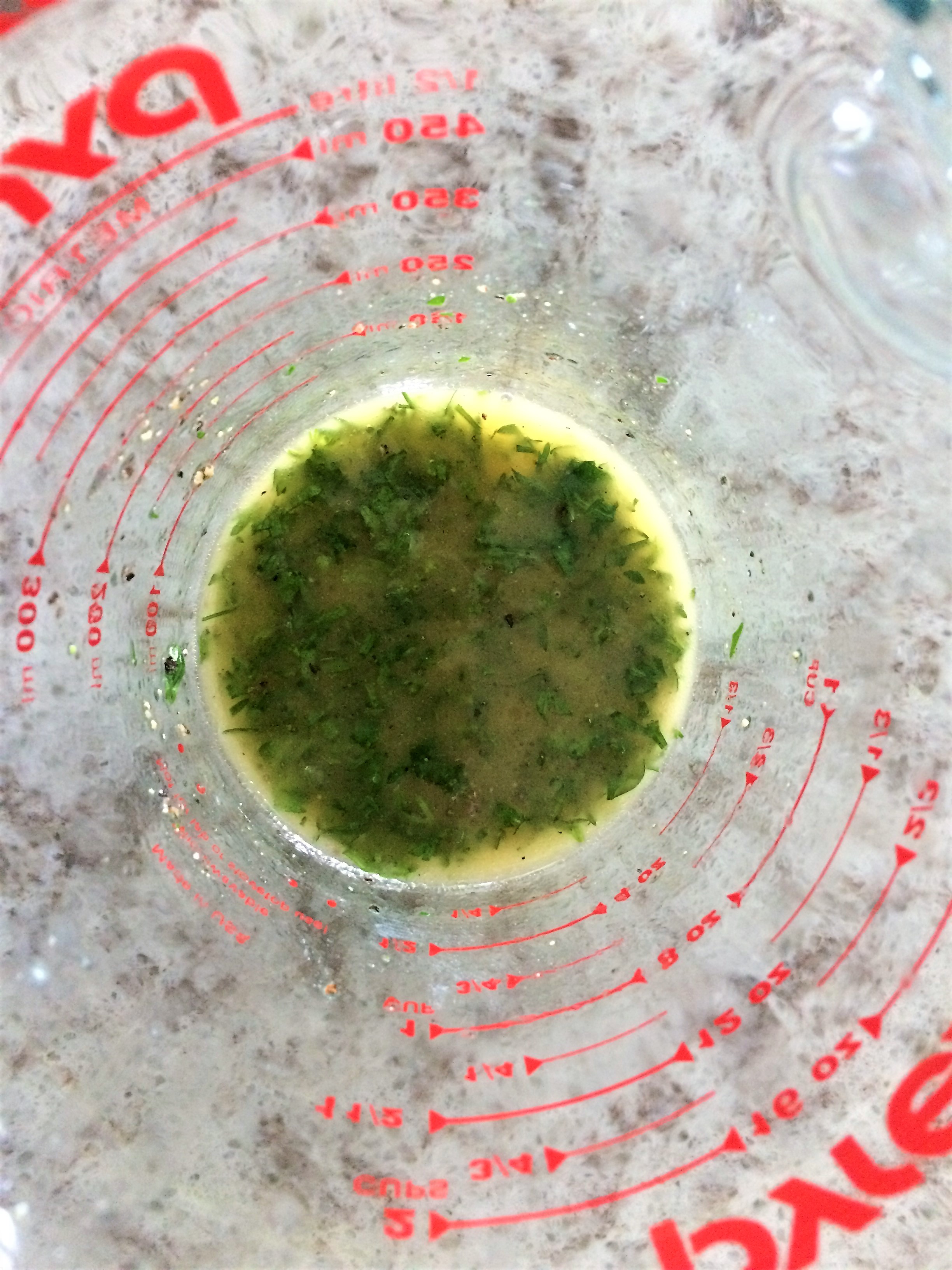 For the dressing:
Lime juice – from 1 lime
Honey – ½ tablespoon
Extra virgin olive oil – 2 tablespoon
Cilantro (optional) – from 5 sprigs
Salt and Pepper – to taste
Method:
Dice the cucumber, tomatoes, onion and avocado and put them in a deep mixing bowl. To make the dressing, squeeze the juice from 1 lime in a tall jar/ measuring cup. Add honey, salt and pepper. Chop the cilantro, if using, and add it to the dressing ingredients. Whisk to mix and add olive oil while in a steady stream to emulsify the dressing. Add the dressing to salad and mix. Give a taste check for salt and pepper and adjust accordingly. Transfer to a serving bowl or serve form the mixing bowl – hey why not..:).
A great way to end an adventurous day!!
Love – Vaishali.
Tools used:
Chopping board
Knife
Mixing bowl
Measuring cup
Whisk