A super easy homemade granola recipe that tastes just like carrot cake! Its gluten-free, vegan and is free of added refined sugars. Take your breakfast game up a notch or enjoy it for a snack or dessert. 
This post may contain affiliate links.
Jump to Recipe
I have a confession to make. I make a kick-ass carrot cake! But I haven't shared that recipe yet. There - I said it!. Truth be told the reason is that the recipe is from a friend and I have been playing a scenario in my head. It goes like this - I ask my friend that I would love to share her mom's carrot cake recipe on the blog. May be in Friendly Fridays. And she says yes, well sure! And then we all live happily ever after. Only if I take action on this scenario, I'm sure it will turn out pretty similar to how it played in my head. But for now this carrot cake granola.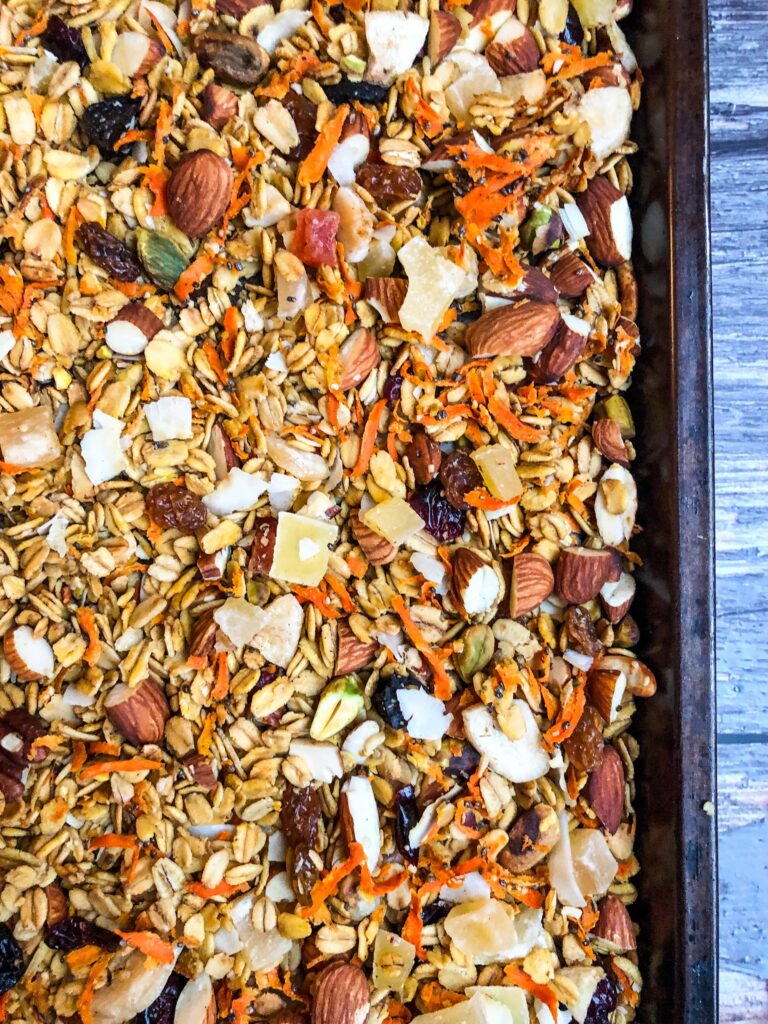 Carrot cake or granola? What's going on?
First a disclaimer - this carrot cake granola is not a cake or a dessert but it comes pretty close. The healthiest version and flavors of a carrot cake that anyone can. The base recipe remains the same as my Homemade Granola recipe. I have always maintained that the homemade granola recipe is a guideline. You can take whatever nuts and dried fruits you have on hand or like and make it your own. So today, I'm taking my Homemade Granola recipe and making it into this Carrot Cake Granola. And I have zero regrets!!
How healthy is this dessert like granola?
Oh, Carrot cake granola - let me count the ways I love thee. No added refined sugar, naturally gluten free, vegan and healthy. So if you love a good carrot cake and I keep you waiting for the recipe (sorry), you should totally try this guilt free carrot cake granola. I mean what's to lose here? If you love carrots and have ever wanted to munch on one for breakfast, here is your chance. Ok, so let's get to some simple and satisfying granola making business.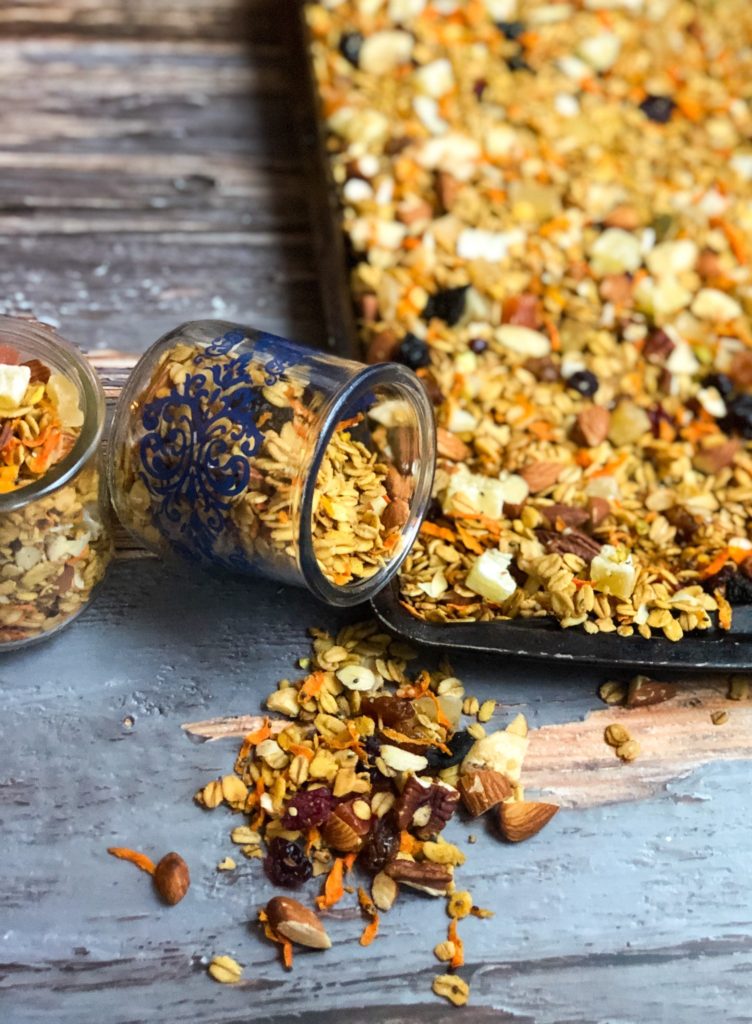 Recipe run down:
Starts just as the basic homemade granola recipe. I was a bit skeptical about adding fresh shredded carrots before baking but it turned out great. The slightly crunchy carrot shreds are a great addition. The original carrot cake recipe calls for carrots, pineapple, pecans and coconut. So this is the flavor profile that we are going to stick to. Mix together gluten free oats, evoo, maple syrup, cinnamon, nutmeg, pecans (plus any other nuts that you like; I also added some almonds and pistachios), hemp and chia seeds for added plant based protein, fiber and minerals; and bake at 300 for 30 minutes. After the granola comes out of the oven, add dried fruits - pineapple and coconut are a must! I also added some cranberries and candied ginger. Let it cool and store in airtight jars.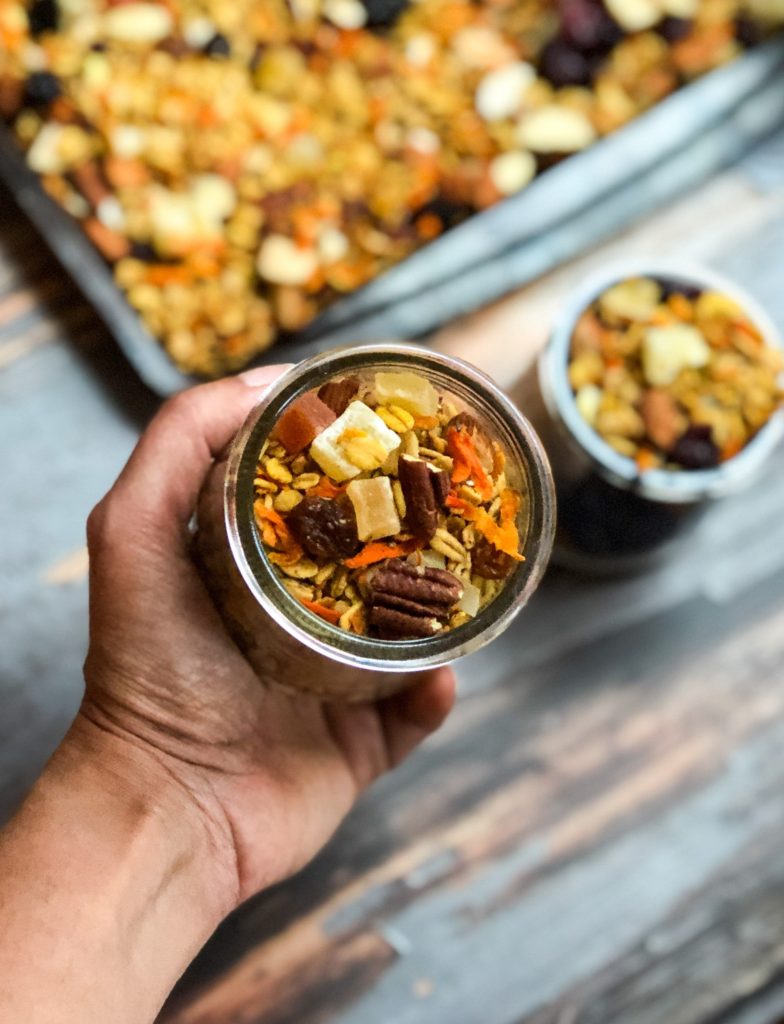 Here's your handy dandy printable
Carrot Cake Granola
A super easy homemade granola recipe that tastes just like carrot cake! Its gluten-free, vegan and is free of added refined sugars. Take your breakfast game up a notch or enjoy it for a snack or dessert.
Ingredients
3

cups

Rolled oats

2.5

cups

Shredded carrots

1

cup

Pecans/Mixed nuts

I used pecans, pistachios, and almonds

1

tablespoon

Hemp seeds

1

tablespoon

Chia seeds

¼

cup

Maple syrup

¼

cup

Extra virgin olive oil

¼

teaspoon

Salt

1

teaspoon

Ground cinnamon

½

teaspoon

Ground nutmeg

3

cups

Dried pineapple and coconut/Mixed dried fruit

I used dried pineapple, coconut, tropical medley, candied ginger, and cranberries
Instructions
Preheat the oven to 300 degrees F or 150 degrees C.

In a big mixing bowl, mix together oats, shredded carrots, pecans/mixed nuts, hemp and chia seeds, extra virgin olive oil, maple syrup, salt, cinnamon and nutmeg.

Spread it on a big cookie sheet. Bake for 30 minutes, shaking the pan/cookie sheet once midway during the baking time.

Once done, turn the oven off and take the cookie sheet out. Mix the dried pineapple, coconut and other dried fruit and let cool before storing in mason jars or other airtight containers.

The granola can be stored in the pantry for up to two weeks. Like that is going to happen! Hah!
If you make this Carrot Cake Granola, please leave a comment and/or give this recipe a rating! I love to hear from you guys. And if you do make this recipe, don't forget to tag me on Instagram and Facebook! I love to look through your creations!!
Love – Vaishali.
Key Recipe Tools and Ingredients:
Cookie sheet:
Measuring spoons and cups:
Mixing bowl:
Gluten-free Oats: Cinnamon:
Nutmeg: