Another one of those "from the garden" posts! I apologize.
Do you have an abundance of green chilies growing this summer? This pickle recipe is quick, just a few ingredients, and a great way to enjoy your summer produce rest of the year. Pick the chili of your choice or hotness/spice level you like – jalapeno, Serrano, cayenne, harbanero, hatch, Thai – your call. i have used cayenne peppers from our garden. Mustard oil is a must for the flavor of this traditional pickle. I feel pretty confident in stating that most Indian style pickles are made in mustard oil. If you don't have access to mustard oil, I would recommend using any other mild flavored oil like Canola oil.
Yellow mustard seeds are readily available all around. If you are around an Asian/Indian grocery store try to find "rai na kuria" or split yellow mustard seeds. If not, buy regular yellow mustard seeds and grind them lightly. Other than these, the recipe is pretty much straight forward…:P.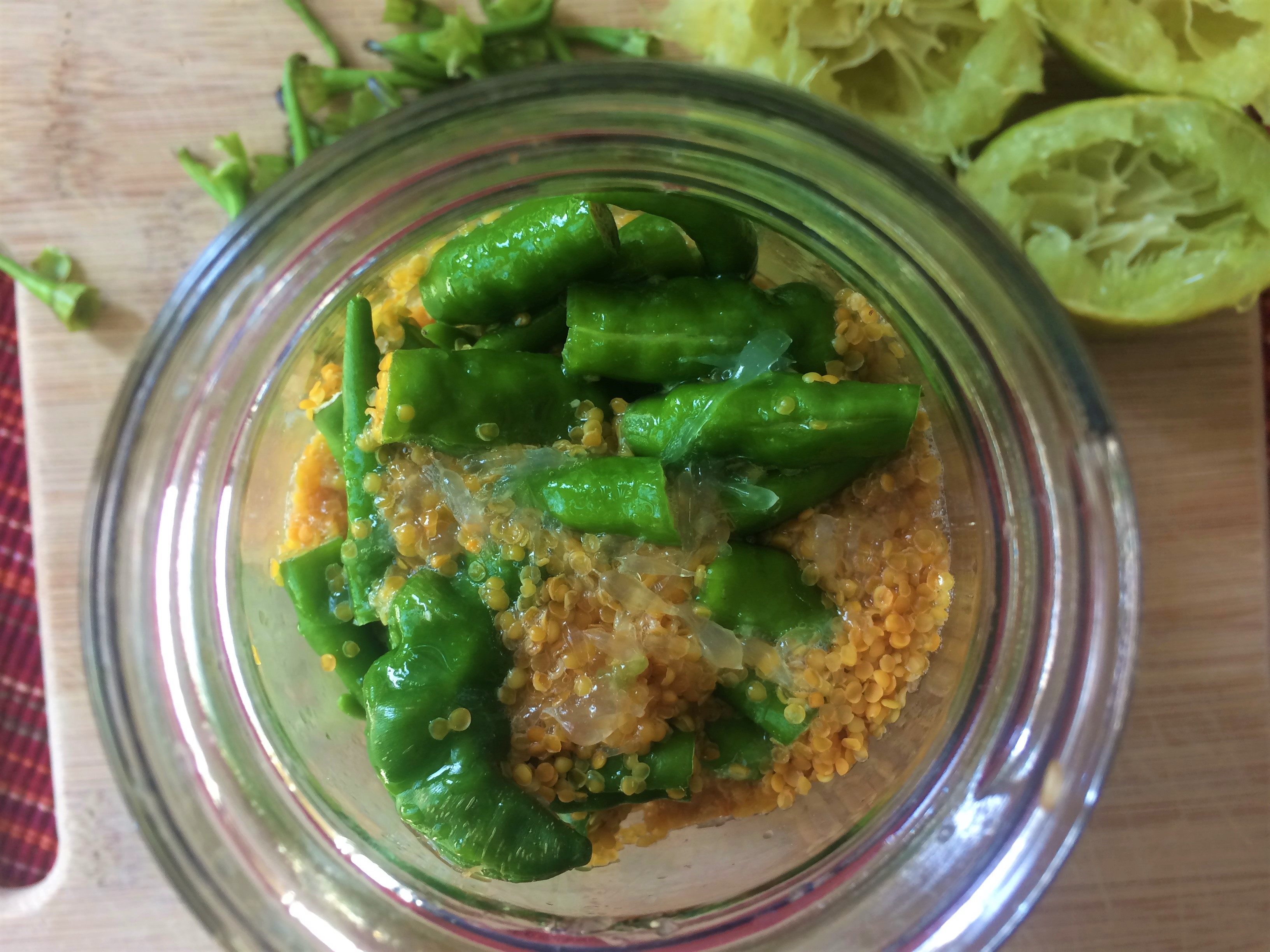 Ingredients:
Green Chilies – about 2 cups
Split yellow mustard seeds (Rai na kuria) – 3 tablespoons
Lime juice – from 3 limes
Salt – 3 tablespoon
Mustard oil – 4 tablespoon
Turmeric – 1 teaspoon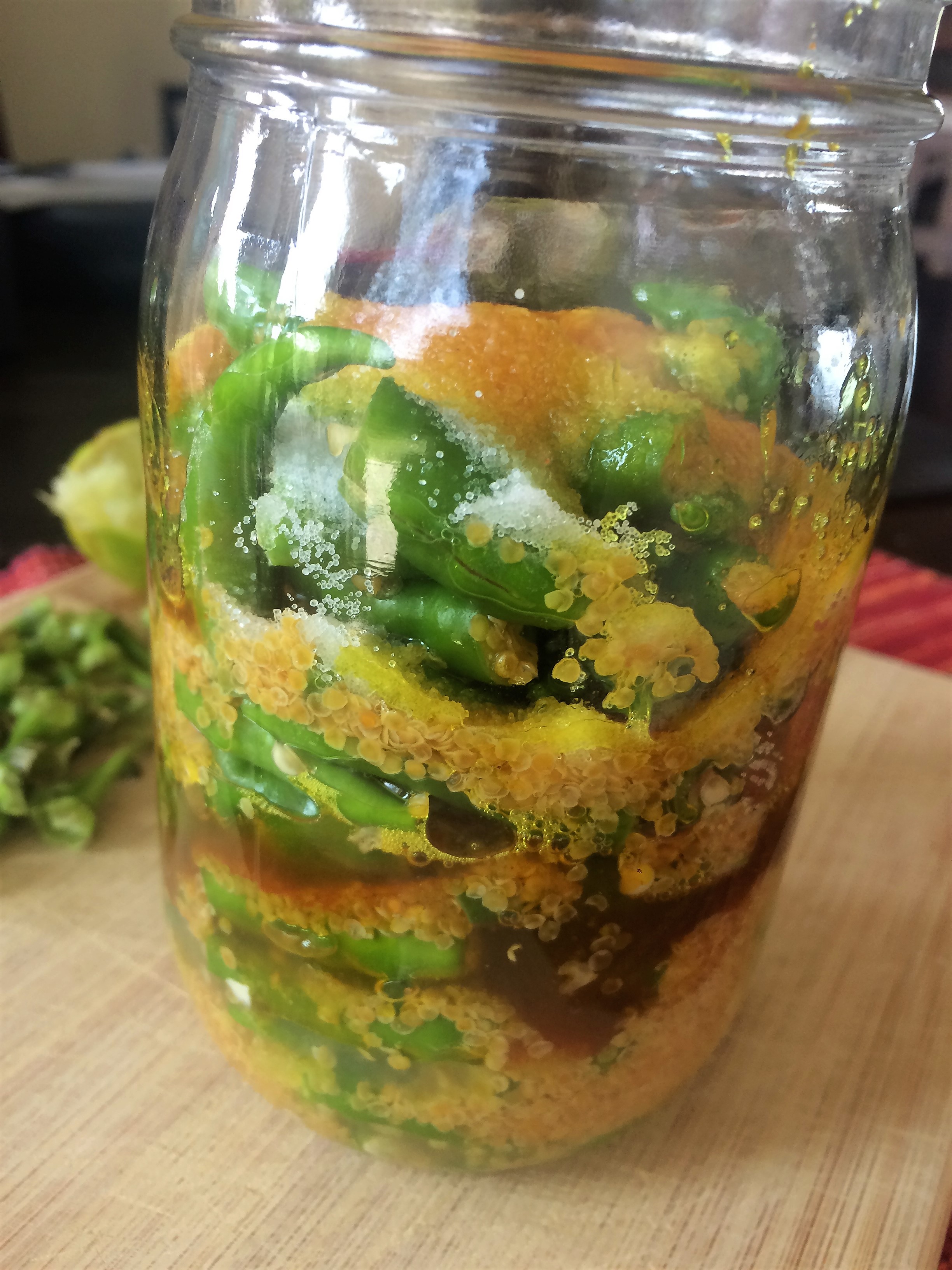 Method:
Wash the green chilies and take the tops/crowns off. Wipe and lay them out to dry on a kitchen towel. It's important to let the chilies dry so that any water stuck to their surface doesn't spoil the pickle. After the chilies have completely dried, cut them into 1.5 inch pieces and slit any thicker chilies (like jalapeno or Serrano) through the middle. Add the cut chilies into a clean and dry mason/glass jar. Add the split (or lightly ground) mustard seeds to the jar and squeeze the lime juice into it. Add salt.
Set a small, heavy skillet over medium high heat and add the mustard oil to it. Let it heat up till shiny and then turn the heat off. Add the turmeric to hot oil and swirl to mix. Let it cool down a little bit (say for 5 minutes) and pour the turmeric oil into the glass jar with chilies in it. Put the lid on and give the pickle a big shake. Let it sit for a day or two to let the flavors mingle. Over a few days you will see that the chilies get "pickled" and lose their bright green color and crunchy texture. At this time you can store it in the refrigerator.
I have not had luck of keeping this pickle for too long since it gets consumed pretty fast but I still always make a small batch so as to avoid it going bad. I would say, if stored in the refrigerator, it should easily last you a couple of months. Give it a try and enjoy!
Love – Vaishali.
Tools used:
Knife and chopping board
Kitchen/tea towel
Measuring cups and spoons
Mason jar
Small skillet