Few years ago, I stumbled upon Jennifer Perillo's blog In Jennie's Kitchen. The reason I discovered Jennie's blog was a heartbreaking one. She had suddenly lost her husband and the biggest fan of her cooking to a very unfortunate and twisted turn of life and she had urged her followers and members of blogging world to make a peanut butter pie in memory for her Mikey. The coincidence was that I had submitted my request to the mighty google gods to look for a peanut butter pie recipe. As I read more about Jennie, her life with Mikey and their beautiful daughters, and her honest and from the heart recipes, the more and more I grew attached to her and her blog. I also realized that I was actually in Manhattan the day Jennie lost her Mikey – I mean what are the odds?
Over the years, I have grown to admire Jennie and her strength and resolve, her honesty, and her true grit to raise her daughters the way she feels is best for them. She is a kick-ass mom who happens to be a great baker and recipe developer. I can say this as I have yet to try a recipe of hers that does not wow you. I own her book Homemade with Love, which is a true gem to read and cook from. One of Jennie's recipes that I have made repeatedly in the past few years is her sweet and savory tomato jam. I remember the first year I made it, it was in fall, and I had gotten the tomatoes from the supermarket. And the jam was a hit! However, you have to trust me when I say that you have to try making this jam in tomato season, when fresh, summery, red, pulpy, and juicy tomatoes are making the rounds of your grocery store, farmers markets, or your own garden. Nothing beats that fresh and good tomato flavor.
Not taking away ANYTHING from Jennie's Tomato jam recipe, I have over the years, adjusted it more to the taste of our family and liking. I make it more savory than sweet, with highlighted coriander and cumin flavors and a tad bit thicker than the original recipe. I call this modified version of the original tomato jam a chutney – because that is how it feels to me. You can enjoy it with a toasted slice of good bread, a quick stir-fry with some pasta or noodles, and it tastes great with daal parantha (lentil flat bread). Our garden is over flowing with tomatoes – cherry, grape, romas and few big steak tomatoes. Choose any kind of tomatoes that you like. This is actually a great recipe if you want to make use of some tomatoes that are past their prime or are from the seconds bin. I made a fresh batch yesterday and thought I will share the recipe with you. Here is how it goes:
Adapted from Jennifer Perillo's Homemade with Love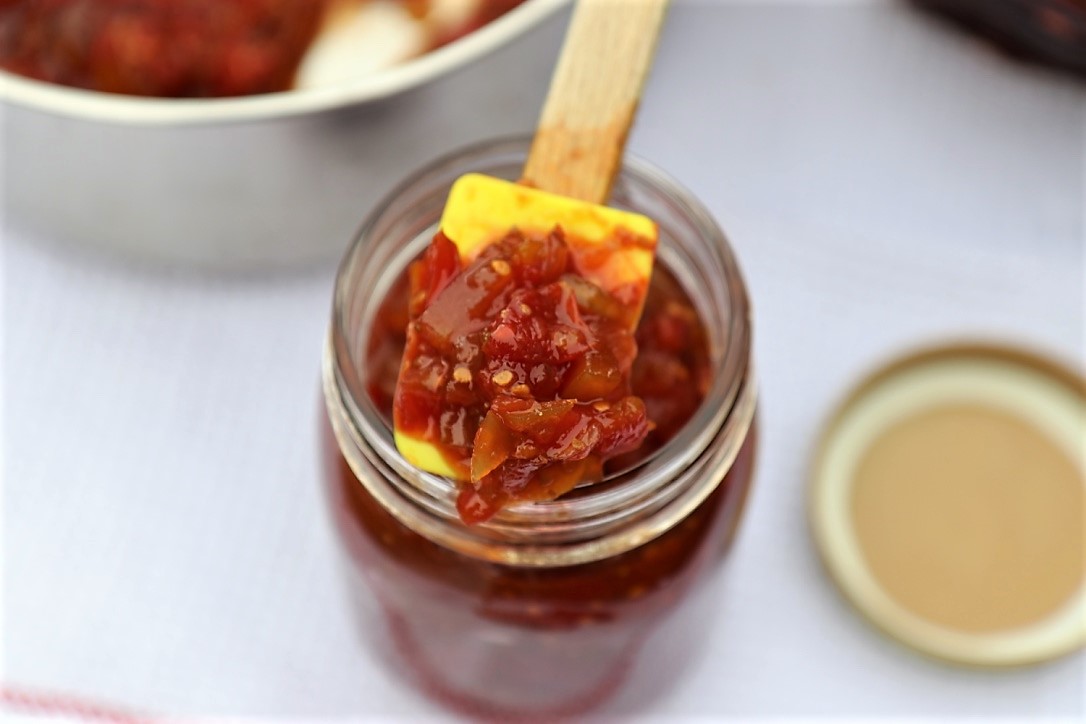 Ingredients:
Tomatoes – 4 lbs
White onion – 1, medium
Green apple – 1, medium
Brown sugar – ½ cup (packed)
Sugar – 1 ½ cup
Salt – 3- 4 teaspoons (or to taste)
Coriander seeds – 2 tablespoon
Cumin seeds – 1 tablespoon
Apple Cider vinegar – ¼ cup
Lime juice – from 1 lime
Method:
Chop the tomatoes into roughly the same size. Finely dice the onion and core and finely dice the green apple. Set a heavy saucepan over medium heat and add the tomatoes, onion and apple into it.
Also, set a small skillet over medium low heat and dry roast coriander and cumin seeds. You will come to know that the spices are toasted when a beautiful, earthy aroma fills your kitchen. Set aside to cool.
Add the sugars, vinegar and lime juice to the saucepan with tomatoes. Bring to a gentle boil, and then reduce heat to a simmer. Meanwhile, crush the coriander and cumin seeds to almost a powder. You can use a mortar pestle or a coffee grinder (I have one dedicated to just grinding spices). If you do not want to get into dry roasting and grinding coriander and cumin seeds, you can directly use store-bought powders, though toasting and grinding your own definitely adds a layer of flavor to the chutney. Add the coriander and cumin to the saucepan along with salt.
Cook until thickened and at a consistency that you like. It will normally take at least 2.5 to about 3 hours. The result is out of this world – almost candy like goodness. Give it a taste check and add more salt if you like. Let the chutney cool completely and transfer to clean and dry glass jars. I store mine in mason jars in the refrigerator and it stays forever. Though storing it for very long is just not possible – it disappears fast…:P. You can definitely try canning it if you want to make a bigger batch and store for longer time. Enjoy!!
Love – Vaishali.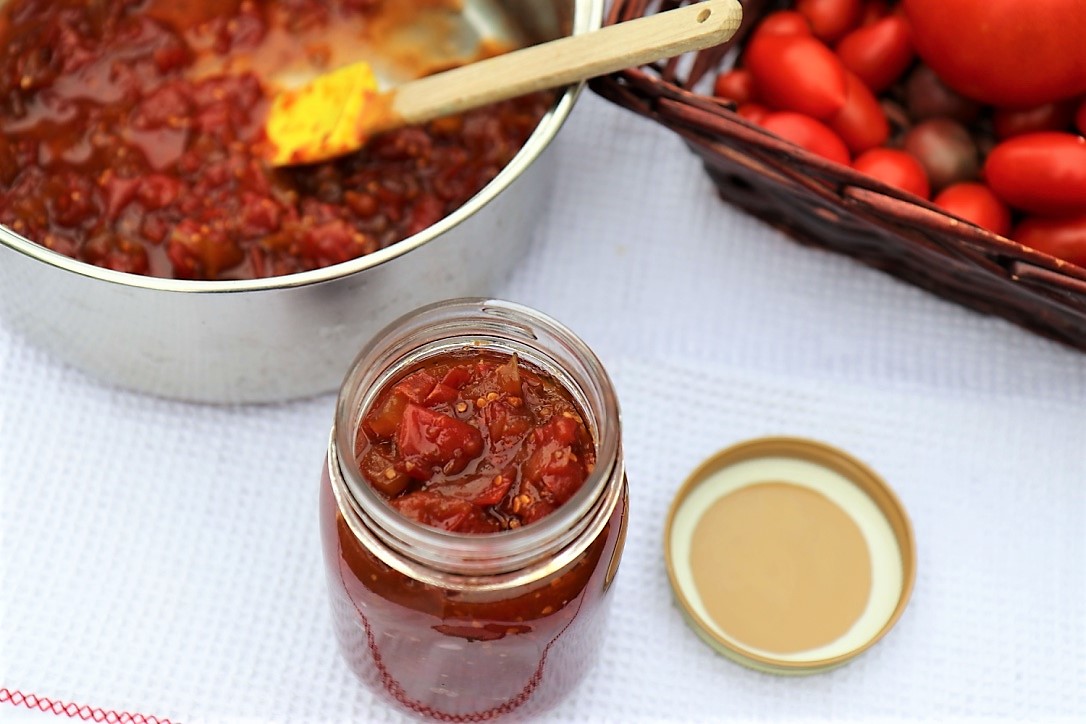 Tools used:
Knife and chopping board
Sauce pan
Measuring cups and spoons
Mortar and pestle/coffee grinder
Skillet