Our summer garden is coming along well. Living in the part of the country where we live, we get to grow our own vegetables, herbs etc. in our garden for around five months. These months include the time for getting the patch ready, starting seedlings indoor, growing, nourishing the garden to lead to actual production phase which lasts for 2-3 months. But we have had good luck with easy to grow veggies like tomato, cucumbers, and hot chili peppers in the past. This year we are growing tomatoes, cucumbers, radishes, carrots, chilies, zucchini, okra and herbs like mint (growing like weeds), chives, lemongrass, thyme, dill, basil, rosemary, sage, and coriander. Oh and strawberries.
So this salad was really born out of "let's make a salad with today's harvest". We had a cucumber, some strawberries and mint from the garden. Nutritionally, strawberries are a great source of dietary fiber and Vitamin C whereas cucumbers are also a rich source of Vitamin C and potassium. Mint is a great digestive agent. I also added some feta cheese and extra virgin olive oil to the salad. So you basically got four of you five brain food groups right here in this salad – fruits, vegetables, protein, and healthy fat. All you need is a serving of whole grains and you are good. It surprisingly tasted very good too so I want to share it with you. Try making it and enjoy the beautiful, fresh flavors of summer.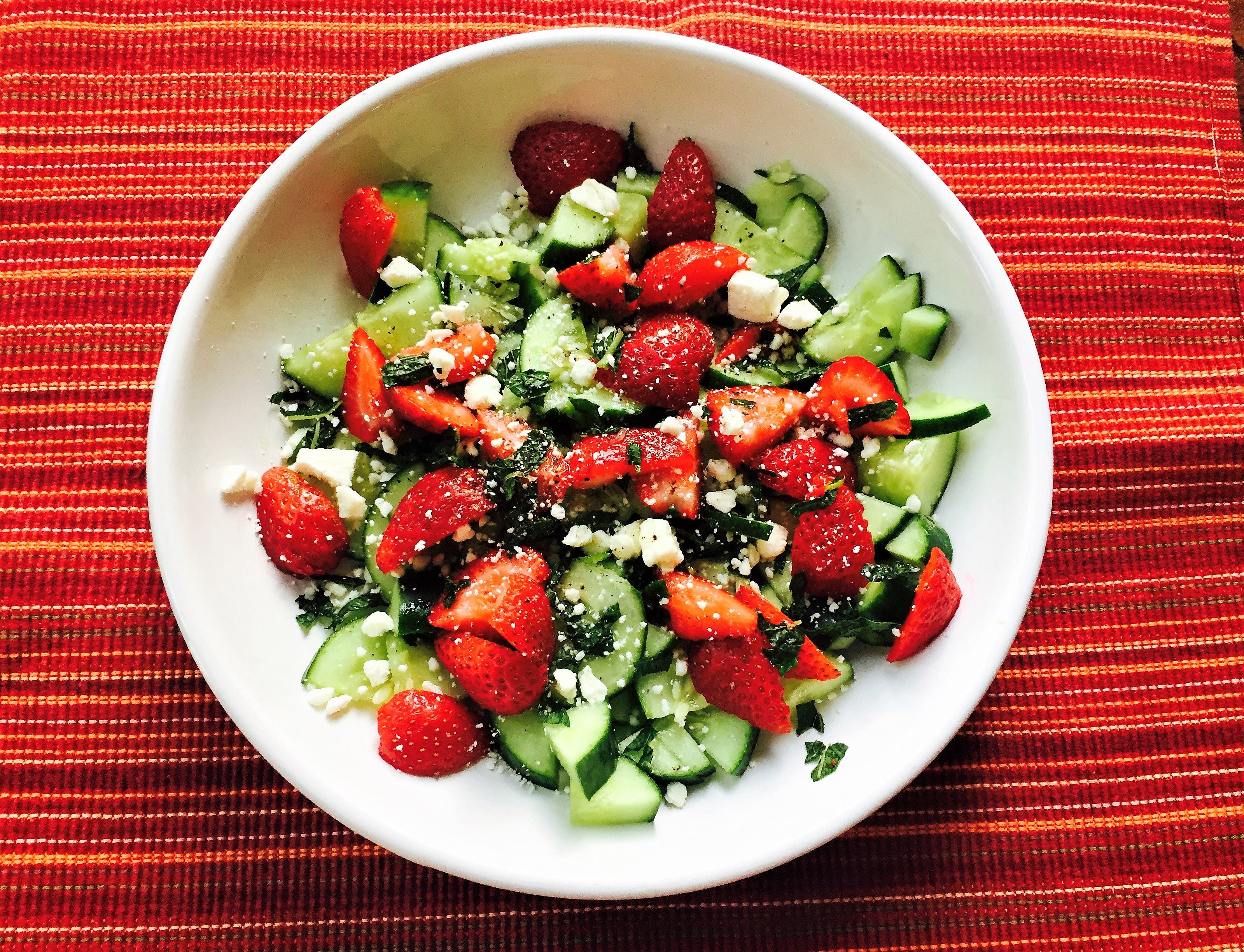 Ingredients:
Cucumber – 1 medium sized
Strawberries – 8 to 10
Mint – 5-6 big leaves
Olive oil – 1.5 tablespoon
Lime juice – from half a lime
Feta cheese – 2 tablespoon
Salt and pepper – to taste.
Method:
Slice the cucumber into half lengthwise and the both halves into two more halves lengthwise. So you should have 4 long pieces of cucumber. Dice them. Chop the strawberries into 4-5 pieces each. Cut the mint leaves into ribbons. Add all these into our serving bowl along with feta cheese. You can also use chaina here but you will have to add a little more salt to your dressing if you use chaina. In a mason jar or a liquid measuring cup, add lime juice, salt and pepper. Whisk to mix the dressing ingredients. Pour the dressing over the salad, sprinkle mint leaves and give it a big mix. Check and adjust seasonings. Serve now or chill for an hour to serve later. Enjoy!
Love – Vaishali.
Tools used:
Knife
Chopping board
Mixing/salad bowl
Measuring cup/spoons
Whisk/fork