My garden floweth over friends! Few days ago, I shared a picture of fresh okra from our garden on Instagram (here) reminiscing about how summers in India bring an endless supply of fresh okra, so much so that you get tired of it. We have grown a summer garden for almost four years now, a more "proper" raised bed garden for last two. I have inherited the love of gardening from my dad, who is a trained olericulturist (science of vegetable growing). We would grow vegetables, fruits and herbs in our garden when I was growing up, pretty much throughout the year. Favorable weather conditions, great soils and other resources made homegrown seasonal produce a life style. Due to extreme winters in the part of the United States we live in, vegetable garden is short lived.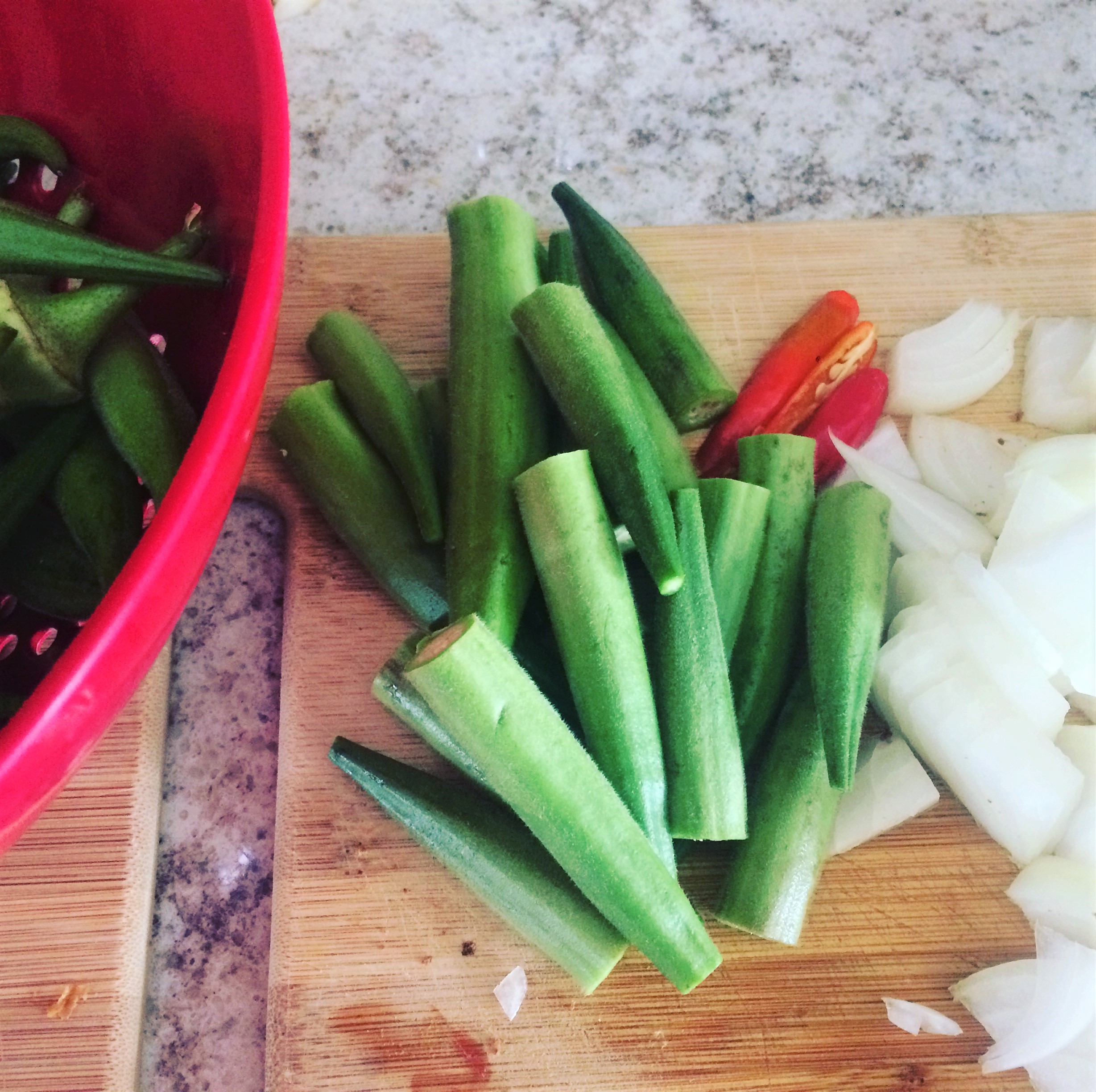 This is our first year growing okra in our garden, and I must state that I am very happily surprised. Upon discussing with some of my more experienced summer garden growing friends, we embarked on our okra journey. Few black seeds that almost look like tiny pearls that have been playing in the dirt for too long, were sown in our raised bed garden, and in a few days, we had almost 12 happy little seedlings. You will not believe if I tell you that our Okra plants are now taller than our roof. I am a little bit vertically challenged, so I have to literally jump and bend down those plants to harvest those bhindis (okra in Hindi) on the very top of the plant. Truth be told!
So the bottom line is that we have a good bit of fresh, very tender okra from our garden and I am loving it.
If you are lucky, you can buy some fresh okra at your local Indian stores during summers. But that doesn't happen too often for us, and I have never had good luck cooking with frozen okra that we can buy at the grocery store. No matter what I do and how I cook it, I always end up with slimy, mushy bhindi sabzi that is no where close to the crispy bhooni bhindi of my days in India that I am trying to recreate. So if you have access to fresh bhindi, this is the recipe for you. My trick is to cook (bhoono) the bhindi/okra, without covering, on medium heat. The texture you will achieve by doing this is going to be great!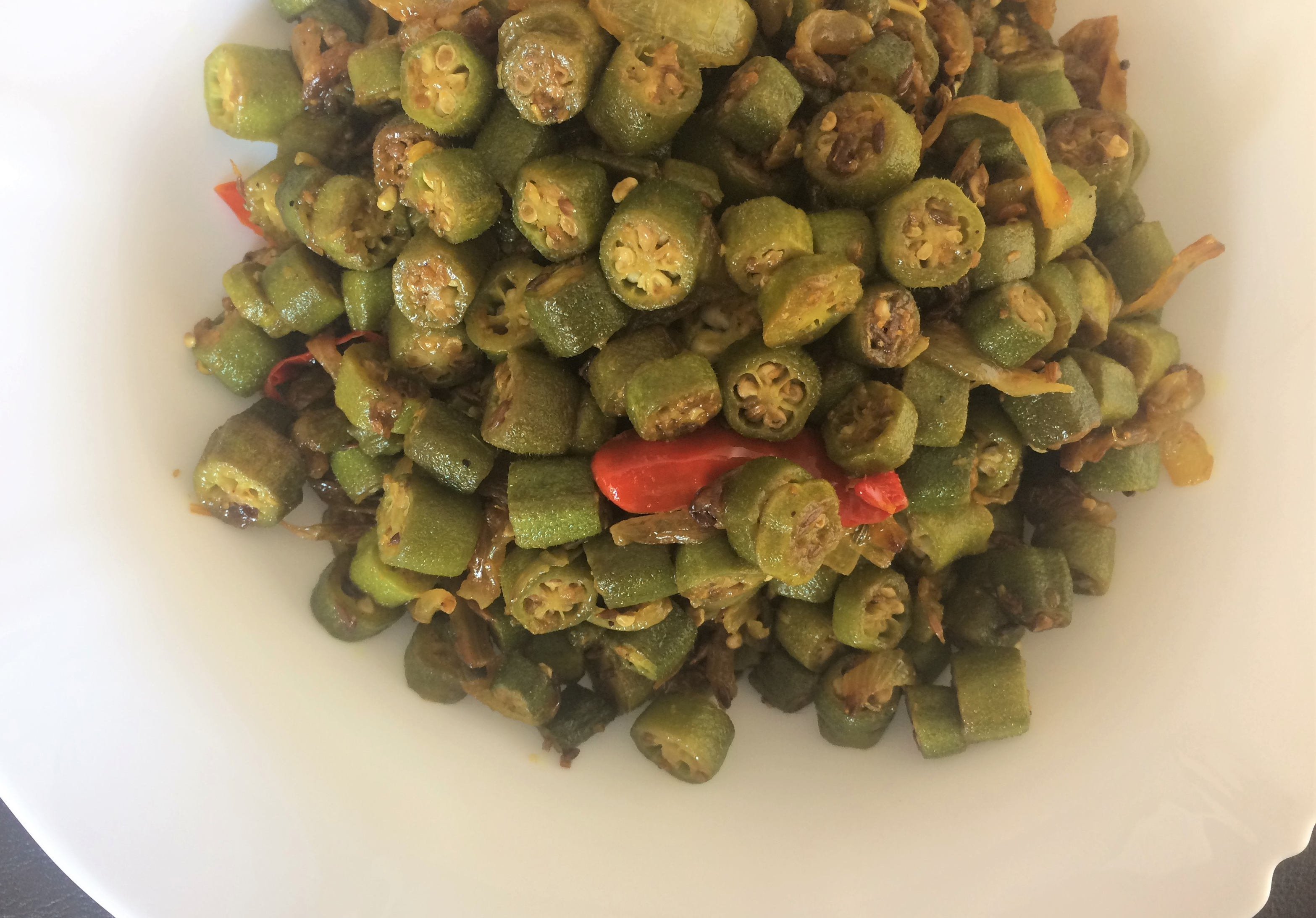 Ingredients:
Bhindi/Okra – 1 lb/500 g
White onion – 1, big
Fresh Green/red  chili – 2 (optional)
Oil – 2 tablespoon (I recommend using mustard oil)
Cumin seeds – 1 teaspoon
Fennel seeds – ¼ teaspoon (optional)
Turmeric powder – ¼ teaspoon
Coriander powder – 1 ½ tablespoon
Red chili powder – ¼ teaspoon
Salt – to taste
Garam masala – ¼ teaspoon
Method
Wash and lay the okra on a big kitchen towel. Dry and rub the okras with the kitchen towel to get rid of the spiny fuzzy stuff off of okra. Chop the ends and tops of and then slice into ½ inch thick slices. Slice the onion and slit the green chilies. Set a heavy bottomed skillet on medium high heat. If using mustard oil, heat it to smoking point and then let it cool. If not, proceed by adding cumin and fennel seeds (if using) to the oil. Let them splutter and then add the green chilies followed by sliced onion. Add a pinch of salt to speed up the cooking of onions. Cook till lightly browned, about 5-7 minutes. Add all the spice powders (except garam masala and salt), mix, and then add the chopped bhindi. Add salt, stir around and let it cook on medium low heat for 20 -25 minutes, uncovered, while stirring in between. Adjust seasoning, check the okra for doneness and if cooked to your liking, add garam masala to finish the dish. Enjoy with roti (recipe here) or homemade garlic naan!
Love – Vaishali.
Tools used:
Knife and chopping board
Measuring spoons
Heavy bottomed skillet
Spatula