A vegan barbecue dish might sound silly but one bite of this hash and you will be hooked. Serve it for breakfast with toast and egg or with rice for dinner. Plus read all about my food adventures on Kansas Farm Food tour 2.0
You have blown me away with your response to Kansas Farm Food Tour 2.0 (Part 1) post (find it here). I have been reading all your comments, messages, emails and social media comments. I promise that I will respond to each one of you. I am also in touch with the experts on relevant subjects to make sure that you all have the correct and reliable information from people who know about it best. Today, we will carry on from where we left in the last post. I told you about The Places we visited and The People we met while on the tour. Therefore, what remains, you ask? The food! Of course, you knew it was coming.
Jump to Recipe
The Food
So, as you might recall from part 1 of this post (read it here), our first stop was in Elanco in Kansas City area. When you are in KC, barbecue becomes the obvious choice. Do not get me wrong here, this city has so much to offer in the food scene…but Kansas City BBQ…I mean..has to be. We enjoyed some Jack Stack Barbecue for lunch. The best thing was that there many great vegetarian sides options.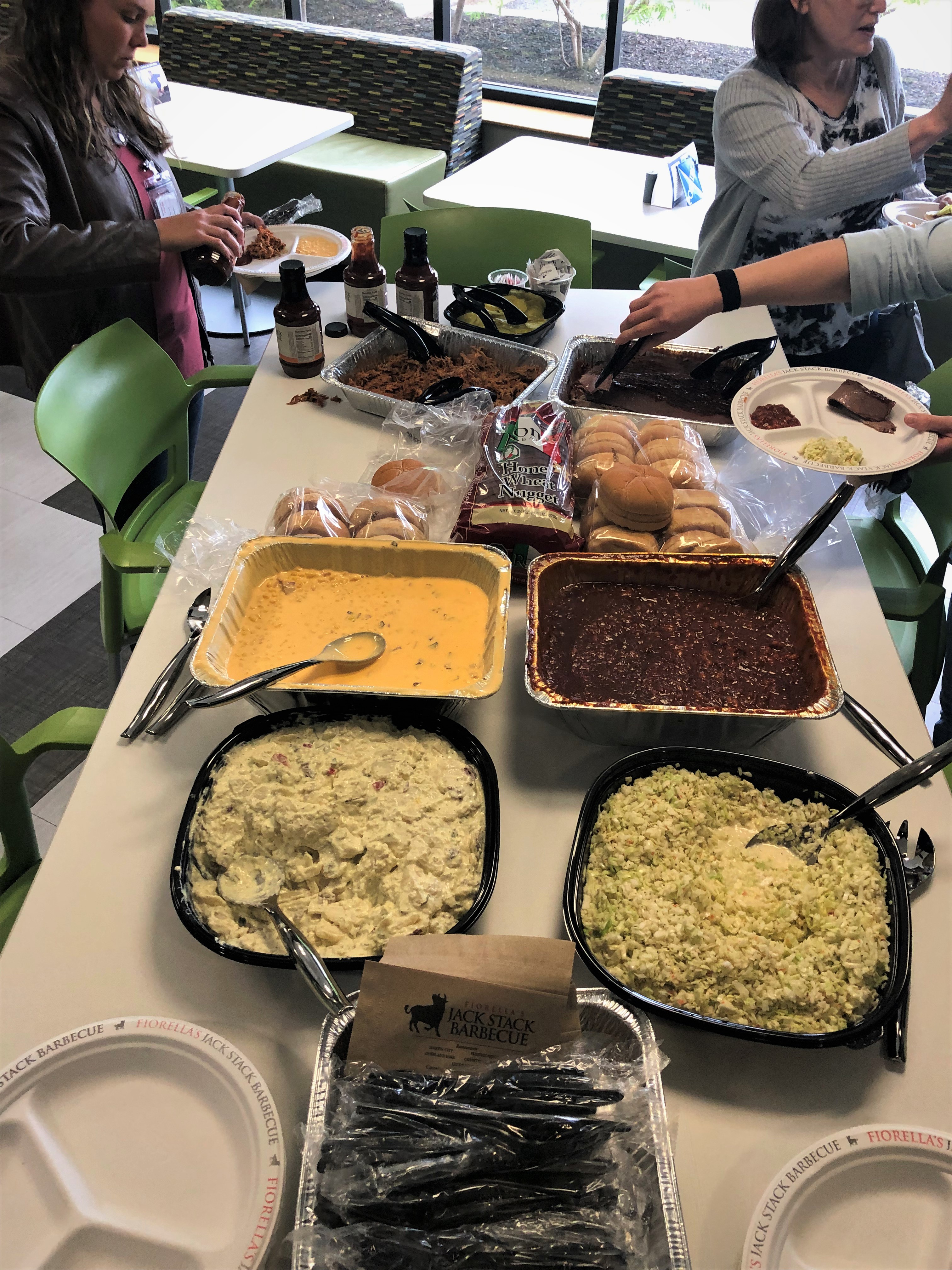 For dinner we made it to Mama's on the Hill, an Italian restaurant in St. Louis that boasts about Chef Robert Irvine's custom created dish for them – Rabbit Bolognese. The serving sizes were huge, food delicious and wine crisp. I finished the meal with their signature Tiramisu that was out of the world.
Next day our dinner was at Braisserie by Niche, a French restaurant in St. Louis. I ordered the Roasted chicken and tried some vegetable tart from my friend Amy of France Family Farms. The entree was phenomenal along with appetizer and dessert.
During the last day of the tour, we headed to Central Missouri Meat & Sausage and ate at their restaurant. Their barbecue sauce, made in house blew me away. Luckily, other than serving the sauce in the restaurant, they also sell it. So I brought some home with me. Today's recipe of Barbecue Tofu Hash is inspired by and uses Central Missouri Meat & Sausage Barbecue Sauce.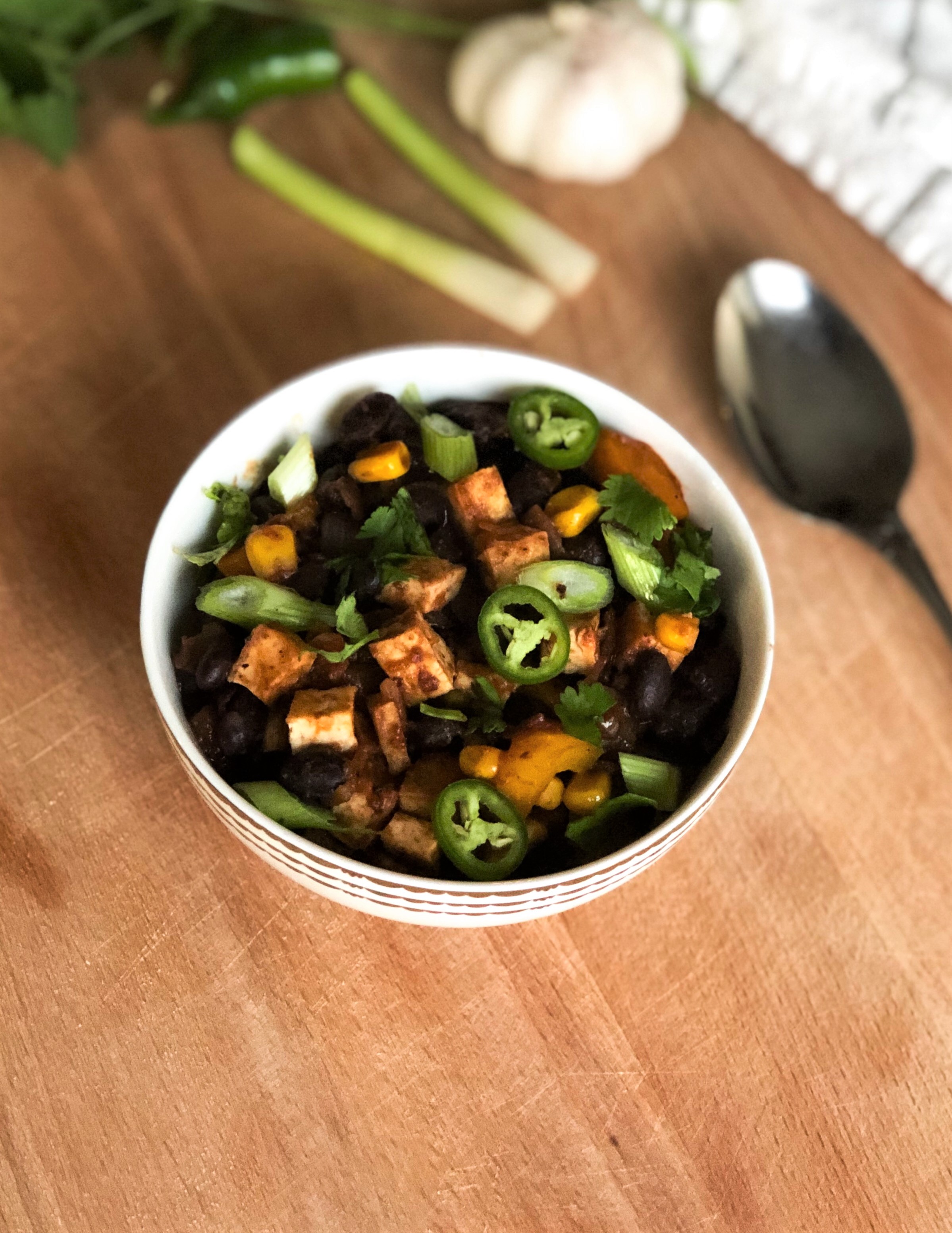 The Recipe
You know I am a big fan of tofu. One, because it is a great source of vegan protein. In addition, it picks up any and all of the flavors added to it. So when I experimented with the barbecue sauce, I was pleasantly surprised. As always, use extra firm tofu, press it for some time (read instructions here) and get it crispy in a nonstick or cast iron skillet. Details in instructions below.
Recipe Run Down
While researching for this recipe (which basically means while looking for a fancy name) I found out that hash comes from a french word "hacher" (from the very trusted Wikipedia) meaning "to chop" and usually consists of chopped meat and veggies. So I am loosely calling this recipe a hash.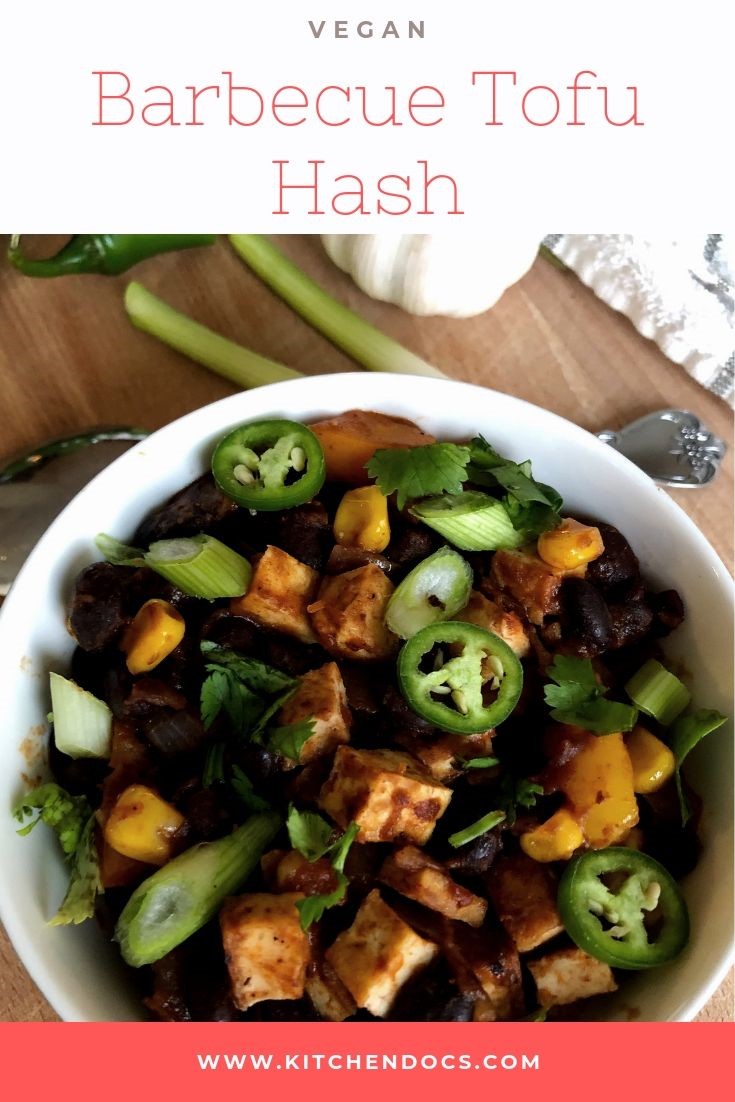 There is no meat involved but I have added tofu with vegetables, black beans and corn. How ironic! BBQ sauce from a meat processing plant and I am making a vegan dish with it – that is the beauty of food. Seasonings add a tex-mex flavor and the barbecue sauce brings a slight spice along with a depth of flavor. The dish is protein-rich (tofu and black beans…hello?) and easily customizable with any veggies that you have on hand or like. Here is your handy dandy printable: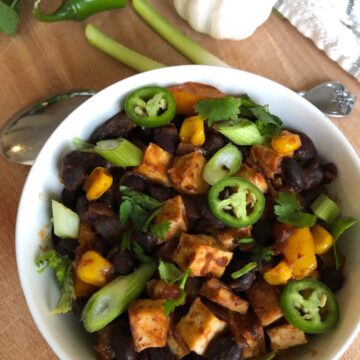 Barbecue Tofu Hash
A vegan barbecue dish might sound silly but one bite of this hash and you will be hooked. Serve it for breakfast with toast and egg or with rice for dinner.
Ingredients
2

tablespoons

avocado or olive oil

divided

14

ounces

Extra firm tofu

drained and pressed

2

teaspoon

taco seasoning

divided

1

clove

of garlic

minced

1

medium jalapeño or serrano

trimmed and finely chopped (seeds removed if you want it less spicy)

½

medium yellow onion finely chopped

½ cup

½

medium yellow or red bell pepper

diced small

1

cup

corn kernels

frozen or fresh

1

can black beans

drained and rinsed

3

tablespoon

Barbecue sauce

or to taste

4

green onions (scallions)

trimmed and both green and white parts thinly sliced

¼

cup

roughly chopped fresh cilantro leaves

Salt and pepper to taste
Instructions
Take tofu out of the package, pat it dry and roll in a clean kitchen towel. Press with something heavy on top, such as a skillet or pan. While the tofu is draining, chop and prep your other ingredients.

Set a wide, nonstick/heavy bottomed skillet of medium high heat and add ½ tbsp. olive oil to it.

Unwrap the tofu and cut it into bite sized pieces. Once the pan is hot, add the tofu cubes to the pan and sprinkle a teaspoon of taco seasoning, and some salt. Cook on high heat for 5-7 minutes or until the tofu is nicely browned and crisp. Do not skip this step. Crispy tofu is everything.

Remove the tofu to a serving bowl. I usually use the bowl that I am going to serve the dish in. Less dirty dishes is a major win in my books!

Set the pan back on medium heat and add the remaining 1.5-tablespoon oil. Once the oil is nice and shiny, add the minced garlic, chopped jalapeno pepper, chopped onions followed by bell peppers.

Season with a pinch of salt and pepper and stir. Cook until softened, about 5 minutes.

Now add the corn and drained black beans. Sprinkle rest of the taco seasoning and mix.

Add the tofu back into the pan and add the barbecue sauce. Give everything a big mix and check for seasonings, adjust if needed.

Add chopped green onions and cilantro and let everything mingle in the pan for 2-3 minutes on medium low heat.

Serve warm!

Enjoy with eggs and toast for breakfast or over a bowl of rice/with roti for dinner. A healthy vegan dish that is full of nutrition and flavor.
Notes
Since it is a hash, feel free to add potatoes to this dish. After you crisp up the tofu, add diced potatoes to the skillet with some oil and cook on medium high heat for 8-10 minutes, until crispy and cooked through.
Use and adjust barbecue sauce to your liking. The hash will taste great even if the barbecue sauce is not used. You might have to add a little more taco seasoning.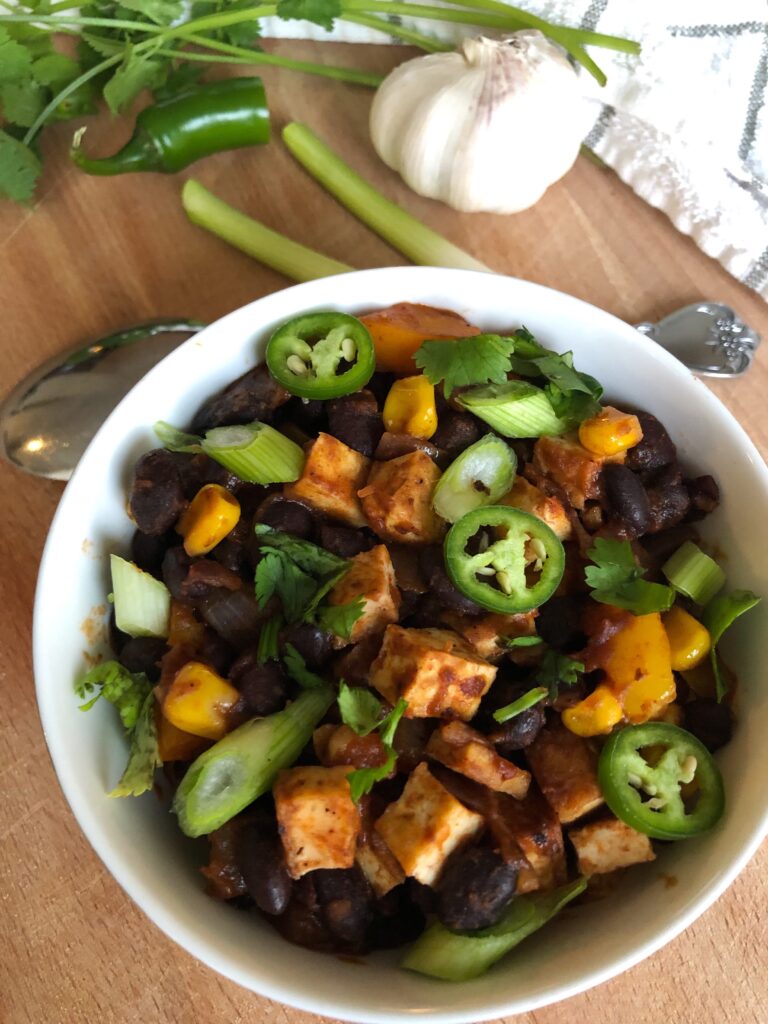 Hearing from you is my favorite part of this blogging thing. So please leave a comment below or share your thoughts via social media on Facebook, Instagram, Twitter or Pinterest.
Love - Vaishali.
Tools Used
Other similar recipes