This easy recipe for Cardamom Scented Apple Bourbon Hand Pies has delicately spiced apples with slight bourbon notes, wrapped up in a flaky crust & baked until golden!
This post may contain affiliate links· As an Amazon Associate I earn a small commission from qualifying purchases.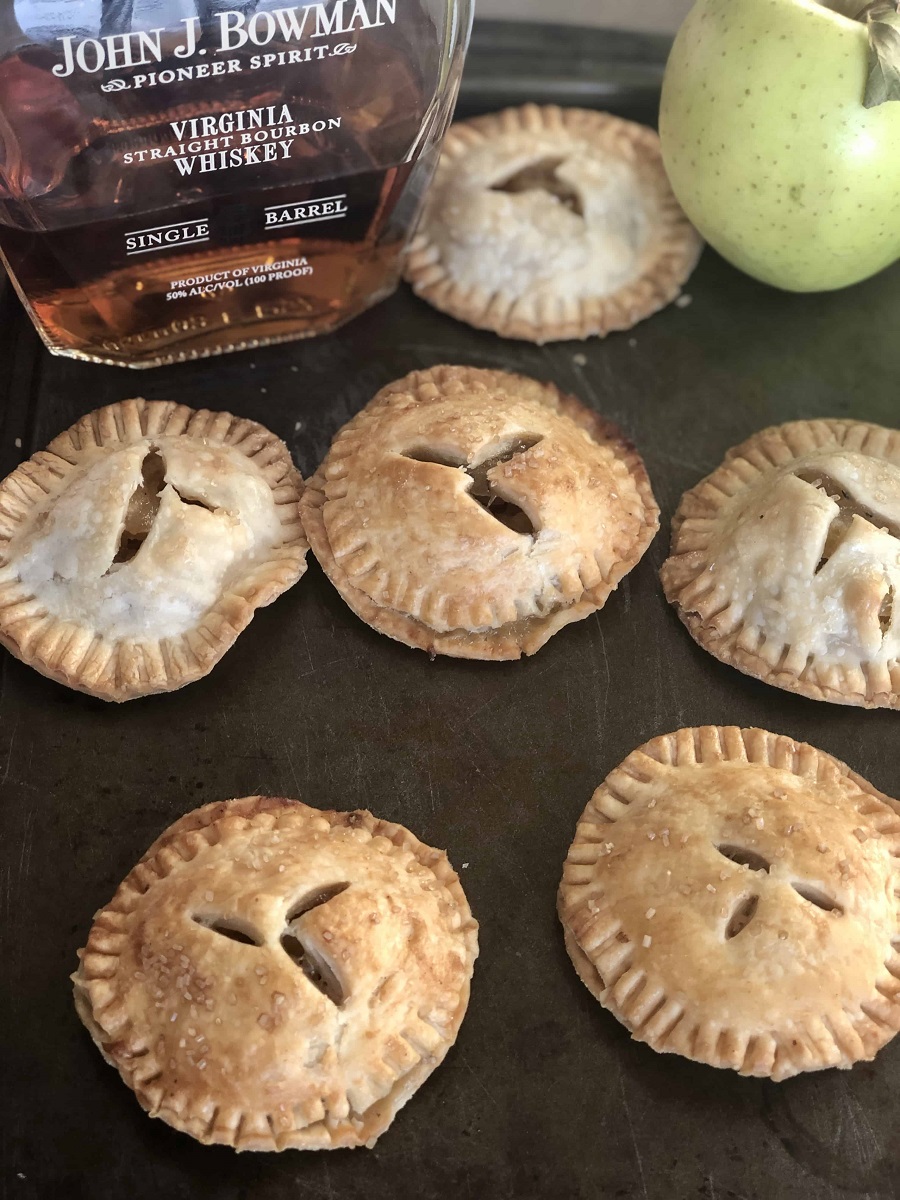 Jump to Recipe
How about something sweet and delicious to make your day a little more exciting? With kind of an early onset of January temps in mid-November, I'm thinking of pulling out that bottle of bourbon to make me feel a little warm. Ahh…not in the way you are imagining, but in the form of these Cardamom Scented Apple Bourbon Hand Pies.
I am not much of a pie baker and to be honest, find it quite intimidating. But, hand pies - they are my thing! Aren't they so cute? I'm very excited about them, and not just because they are cute, but also because they taste amazing. I mean what's not to love about buttery pie dough wrapped around the best of season's apples with delicate cardamom and bourbon notes?
The components
Of course, the magic lies in the filling but that does not mean that you can ignore the pie crust. I cannot stress it enough! If this cardamom scented apple bourbon filling is the heart of this recipe then the buttery flaky crust is the lungs. We need them both!!
The Filling
This filling recipe is a not-too-sweet homemade apple pie filling. As is in the recipe of this slab pie and these turnovers, I will recommend using granny smith or any other similar tart but firm apple. A mix of granny smith with a variety like Fuji will also work. Peel and core the apples before dicing them small. We then cook the diced apples in butter with sugar (I use both regular and brown sugar) and then add cardamom and bourbon. Cardamom adds a subtle and warm, almost mildly eucalyptine flavor and is commonly used spice in most Indian desserts. I also added a pinch of saffron which adds a unique sweet, floral taste and a beautiful color to the apples. So delicious! If you don't have saffron in your spice cabinet, you do not need to go buy it for this recipe. Just in case you were wondering!!!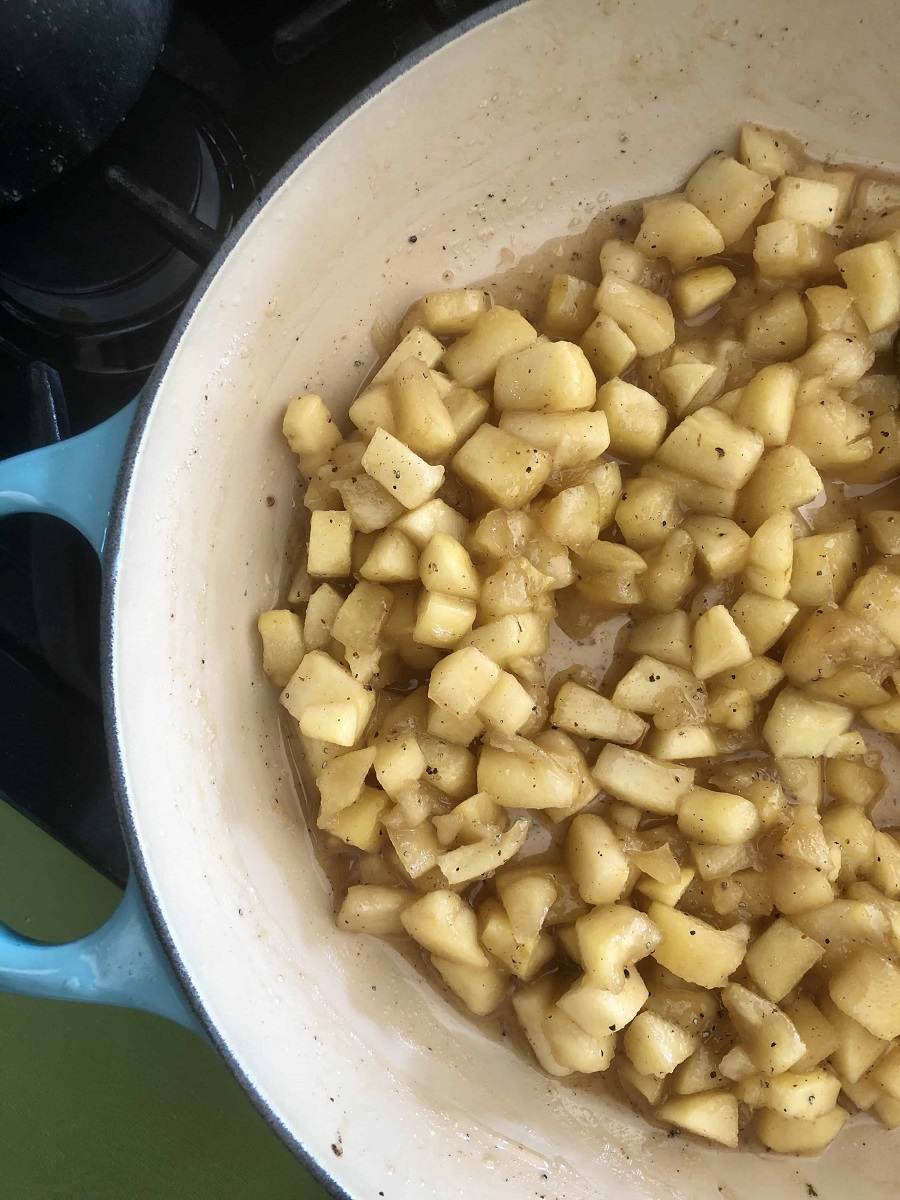 I also add in a little bit of cornstarch so that the filling is not runny. This recipe will make more filling than you will actually use in the hand pies. Which is a good problem to have because you are going to want to add it to your ice creams and slather it on top of pancakes and waffles as well or on some toast or biscuits. Don't ask me how I know!
If you're not a fan of bourbon or don't want to buy some specially for this recipe, swap it out with vanilla extract.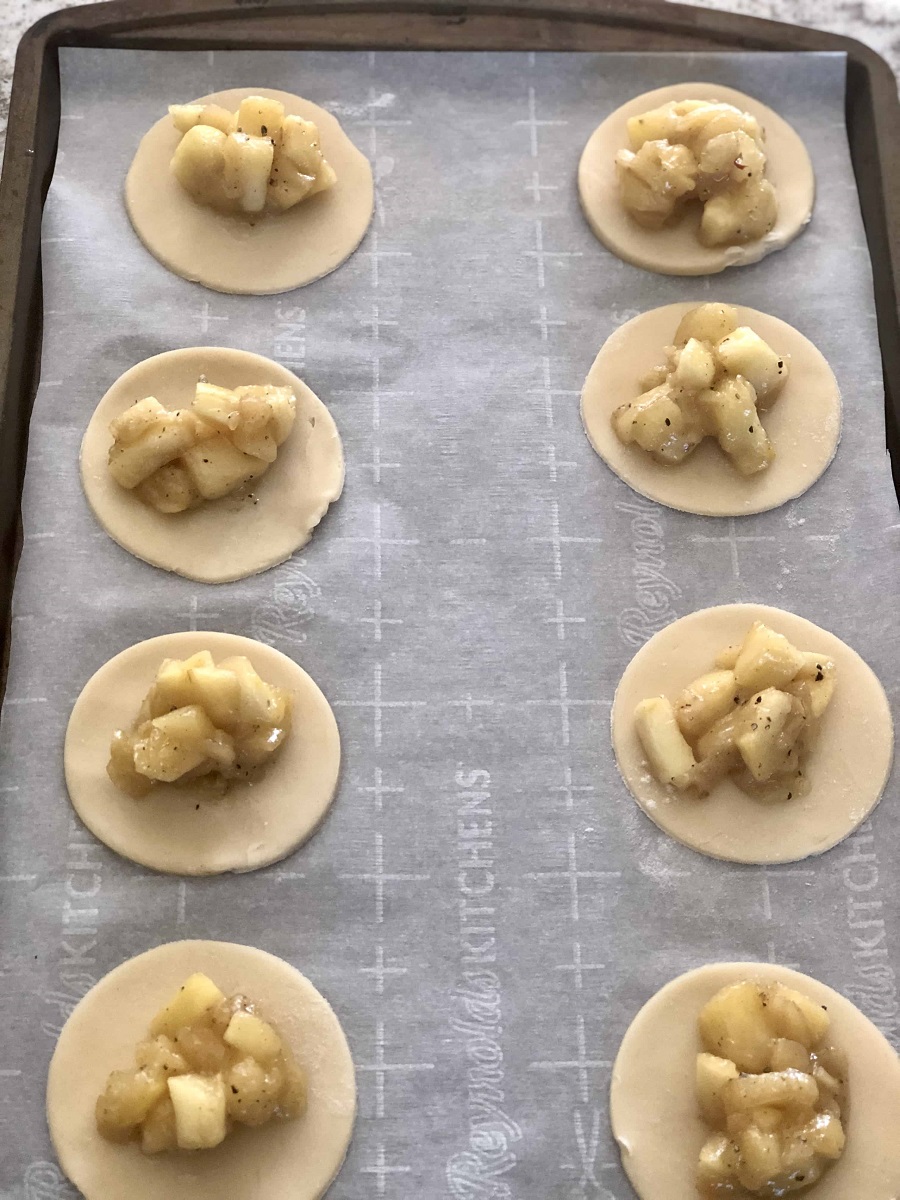 The Crust
You know from this recipe that I am a big fan of this homemade pie crust which might not be available to everyone since this website is now only for paid subscribers. But you can grab Jennie's book here for the recipe. You cannot go wrong with Ina's perfect pie crust recipe. For these hand pies, I swapped 1 cup of all purpose flour (out of the 3) with whole wheat flour. Small healthier steps! By all means, store bought pie crust will work as well.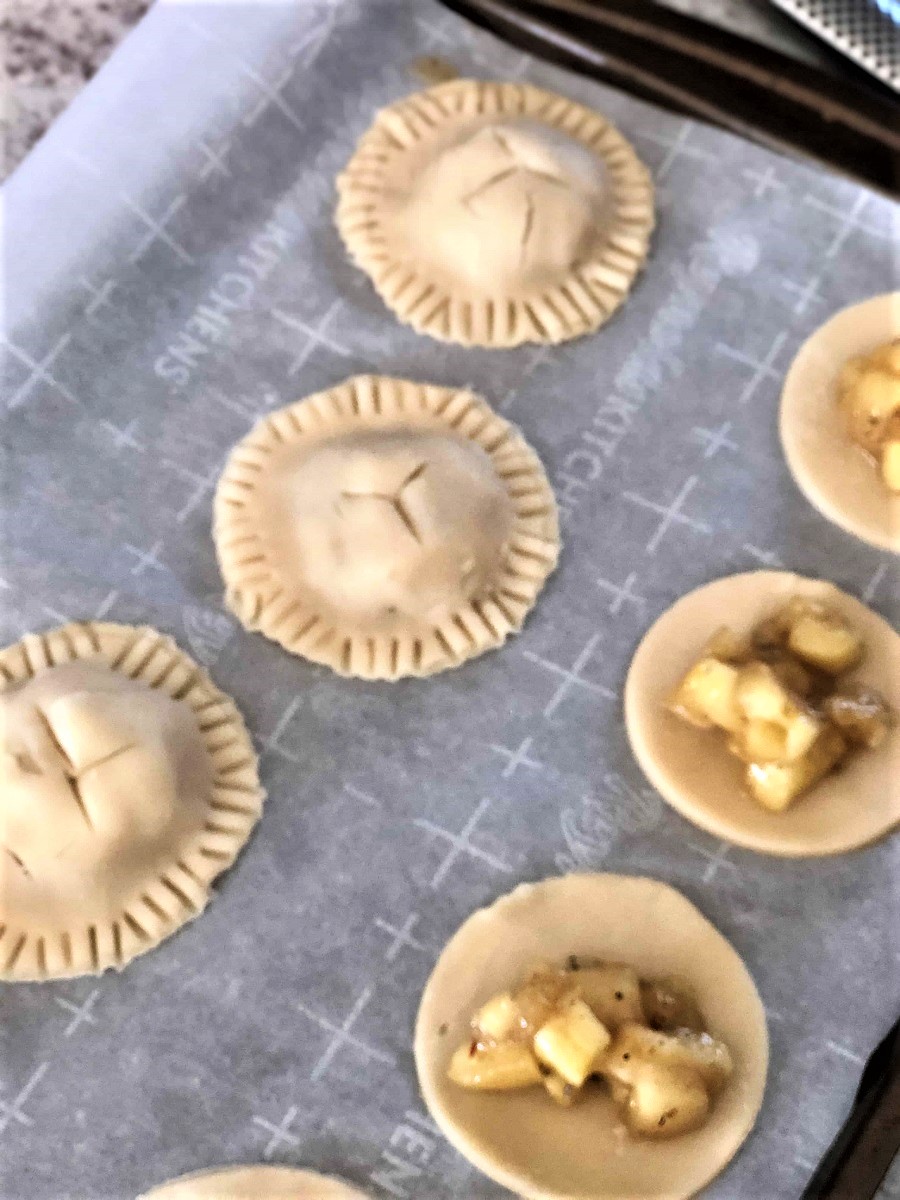 Then we assemble and bake. Ta da!!
Other Apple Recipes: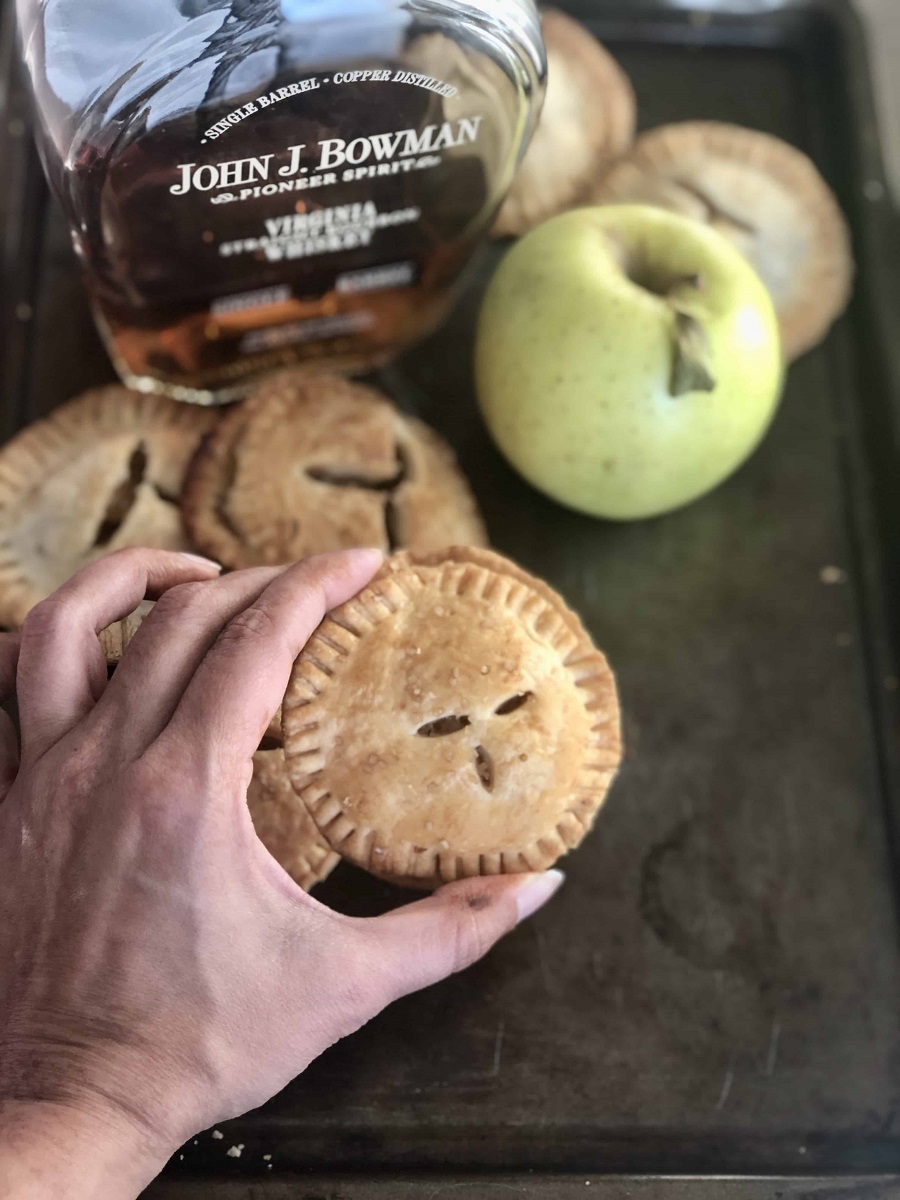 Here's your handy dandy printable:
Cardamom Scented Apple Bourbon Hand Pies
This easy recipe for Cardamom Scented Apple Bourbon Hand Pies has delicately spiced apples with slight bourbon notes, wrapped up in a flaky crust & baked until golden!
Ingredients
2

sheets

prepared pie dough

4

large apples

peeled and cored and diced small (¾ of an inch)

3

tablespoons

unsalted butter

¼

teaspoon

salt

¼

cup

white sugar

¼

cup

brown sugar

1

teaspoons

ground cardamom

1

pinch

Saffron

optional

1

tablespoon

bourbon

1

tablespoon

cornstarch

2

tablespoon

heavy cream

optional

Coarse Sugar

optional
Instructions
Peel and core your apples and then cut them in ¾-inch dice. Preheat the oven to 425 degrees F or 220 degrees C

Set a heavy bottomed, medium size pan on medium high heat. Add the butter and let it melt. Once the butter starts to sizzle, add the diced apples. Sprinkle with salt and both sugars.

Cook the apples for about 7-8 minutes, stirring occasionally, until the apples soften.

At this point add the cardamom and saffron (if using) and continue cooking for a minute or two.

Stir in cornstarch, mix well, and cook for 2 more minutes or until the mixture thickens. Remove from heat and stir in bourbon. Let cool completely.

While the filling is cooling, sprinkle some flour on your kitchen counter and unroll the pie dough. Cut out circles from pie crust. If you use a medium sized cookie cutter, you should have 32 pie crust pieces.

Line two cookie sheets with parchment paper. Lay 16 circles of pie crust on the lined cookie sheets.

Add about half a teaspoon of filling in the middle of each pie crust piece.

Take the remaining 16 pie crust pieces and while working with one piece at a time, wet the edges with water and cover the piece with apple filling in it.

Seal the edges and use a fork to crimp them. Use a sharp knife to make 2-3 cuts in the hand pie (see pictures). Repeat for all 16 hand pies.

Mix some water with heavy cream (if using) and using a pastry brush, brush each hand pie with this cream and water "glaze". Sprinkle some coarse sugar on each hand pie.

Stick the cookie sheets in your pre heated oven and bake for 25 minutes or until golden brown.

Remove the cookie sheets from the oven and let the cardamom scented apple bourbon hand pies cool on a cooling rack for 10 minutes.

Enjoy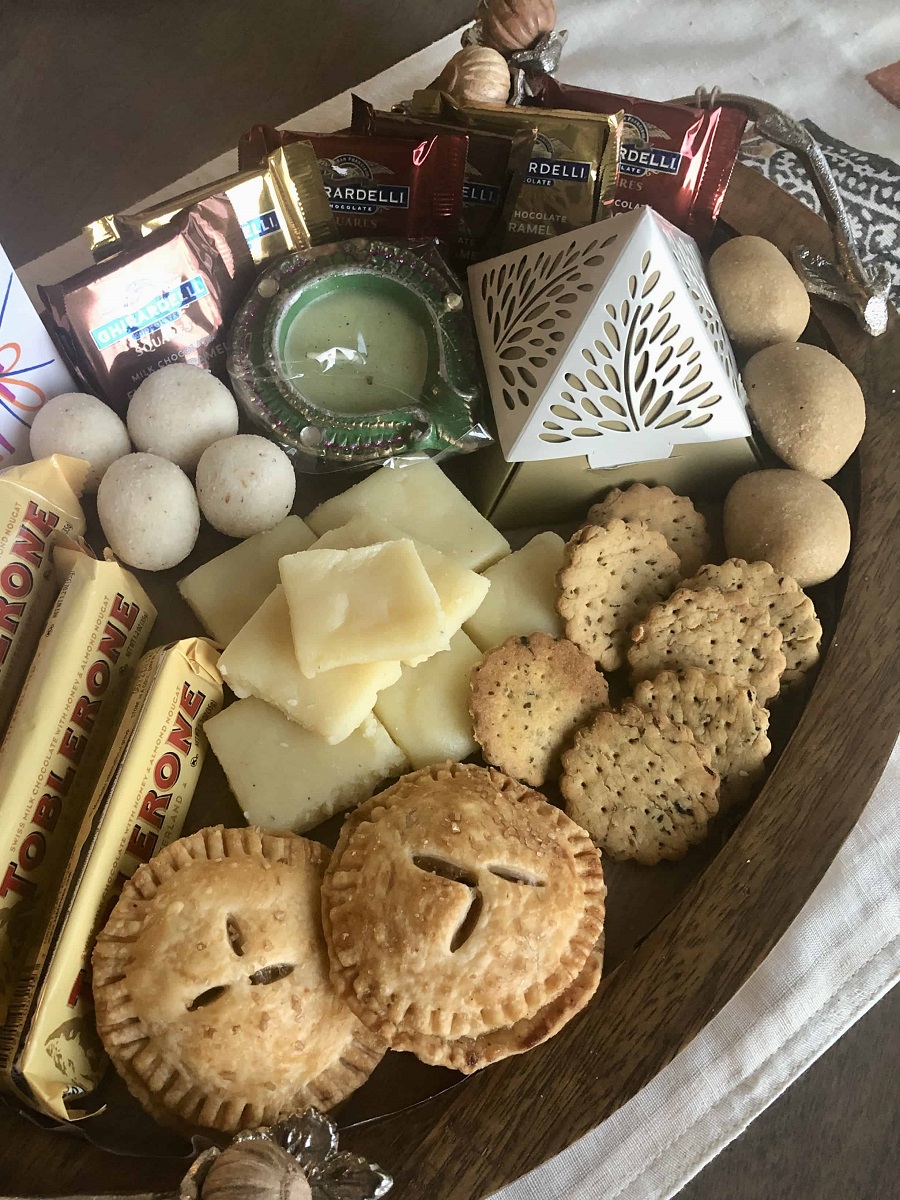 If you make this recipe, please leave a comment and/or give this recipe a rating! I would love to hear from you guys. And don't forget to tag me on Instagram and Facebook! I love to look through your creations!!
Love – Vaishali
Shop this post:
Cookie Sheets:
Measuring Cups:
Cooling Rack:
Cardamom:
Cookie Cutter: