Adding a fresh twist to the classic cut out sugar cookie, this recipe of lemon sugar cookie will be a great addition to your cookie recipe collection. Easy to roll out and with a simple glaze idea that will brighten up your cookie spread.
Jump to Recipe
If you love all the recipes that I share on the blog, please join me on Instagram. I do a lot of cooking videos on Instagram and other fun stuff. We have a great TKD community there so please come join us! If Facebook is your thing, head here and I promise, you'll love it!
This post may contain affiliate links.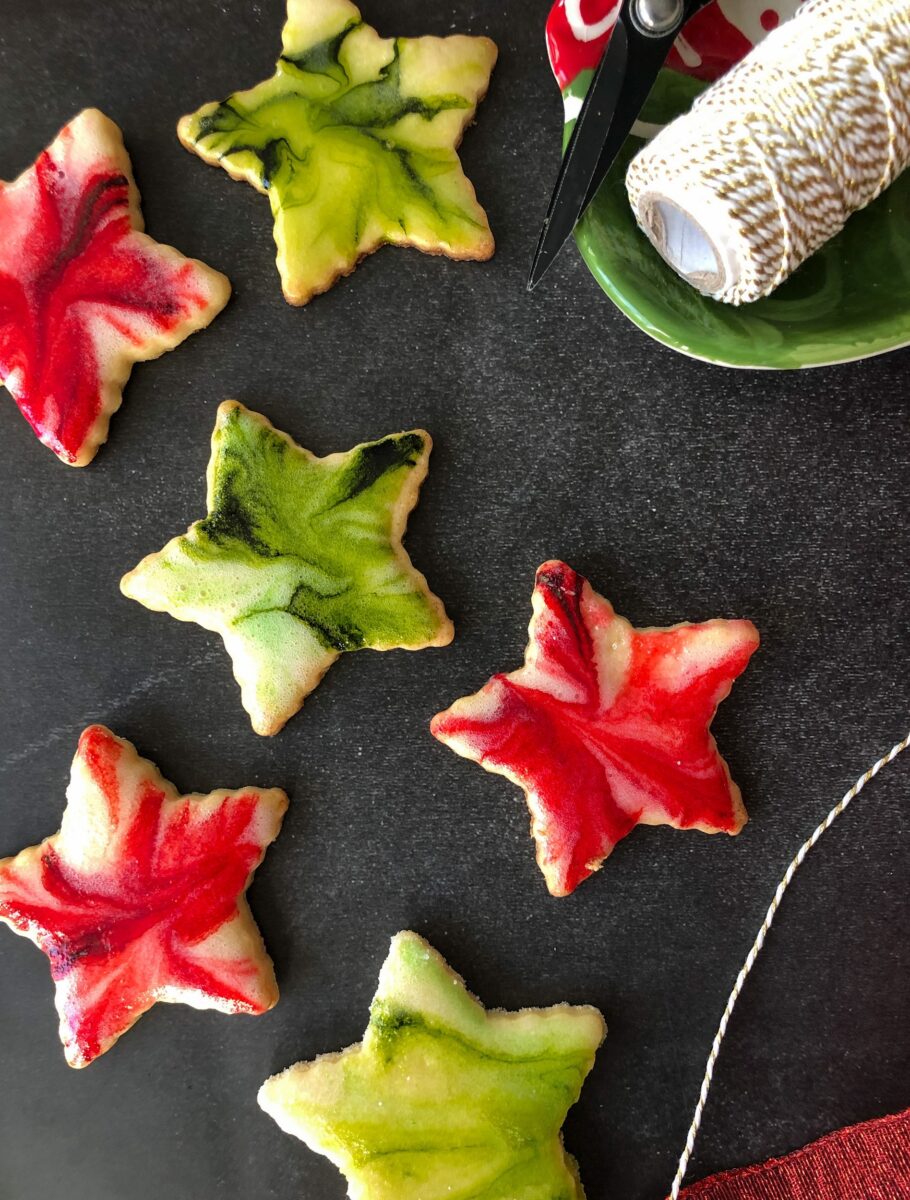 I did not grow up baking cookies but it is a tradition that my family and me have grown to love. For the past few years, we have baked and decorated cookies around the holidays and have completely enjoyed it. Every year, we try to add some new recipes that we like to our cookie boxes and these experimental lemon sugar cookies were the surprise hit this year. The first batch we made was a little low on the lemon flavor but we amped it up in subsequent batches to bring you this perfect lemon sugar cookie recipe.
The sugar cookie
My this recipe of cut out sugar cookies is really the easiest, perfect cookie recipe. Soft, chewy, sweet, buttery with a perfect glaze and a design that you can customize. Why mess with it then, you ask? It is actually not messing with the recipe but taking it to a different level and adding a new flavor profile. This lemon sugar cookie recipe is a fun and festive take on the classic sugar cookie that is, indeed the best.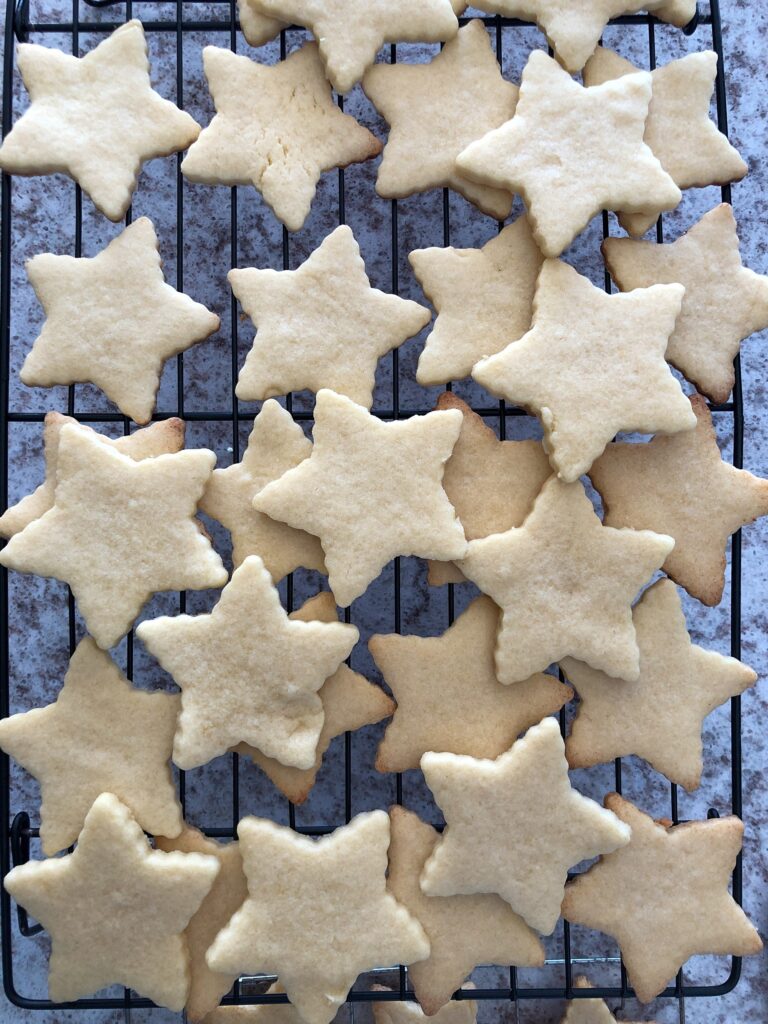 The Lemon Sugar Cookie
The recipe is pretty much the same as my other cut out sugar cookie recipe. The changes that I have made include taking out the almond extract and adding lemon juice and lemon zest. The glaze on this cookie is phenomenal. Addition of lemon juice to confectioner's sugar gives the glaze that distinct lemon flavor that completes the character of this cookie. Buttery, lemony cookie with a slightly tangy, sweet glaze. And don't even get me started on how easy this design is though I know it looks pretty daunting. While you can make these cookies in any shape, I thought that it's the season to crack out the star cookie cutters (or stocking cookie cutters will be real cute too). So here are some lemon-flavored sugar cookies with red and green-marbled icing to get into the spirit of the holidays.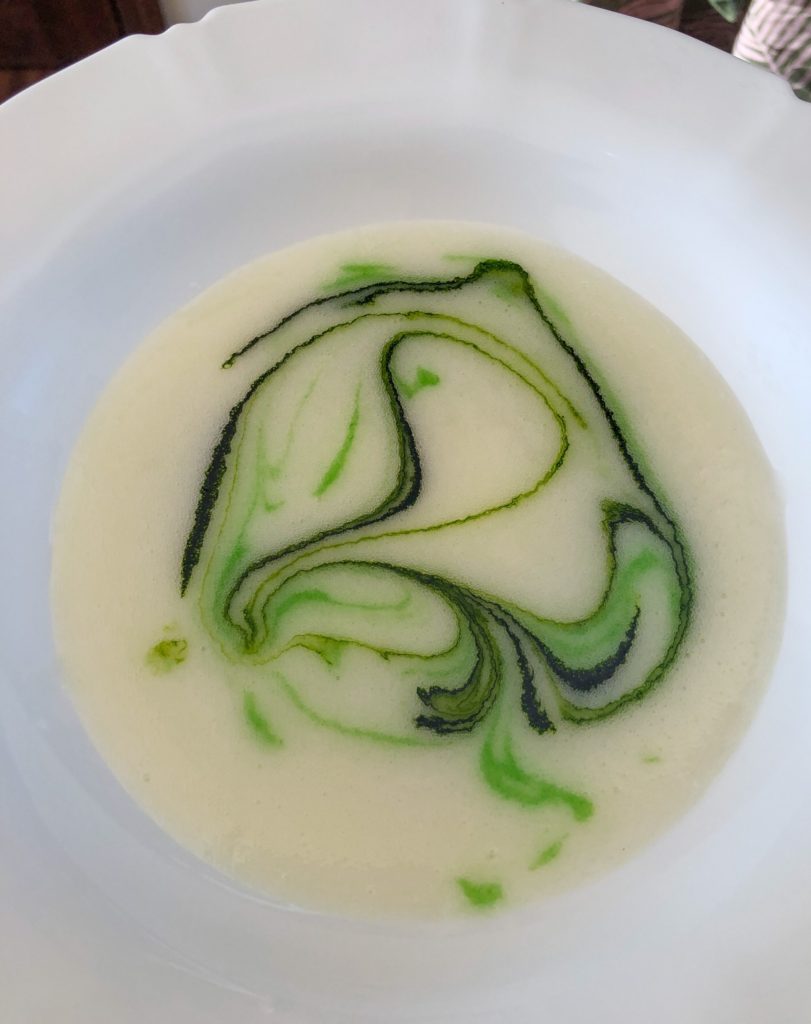 Easy Recipe:
I have to admit that for most of my baking recipes, the first step is Plan Ahead! Because I believe in room temperature eggs and butter. But not for this one! Which makes this recipe even easier and another bonus - there is no chilling time like this cookie recipe. Double the fun and no planning ahead! So when craving hits, you can make this recipe right away. I mean - is that a major plus or what!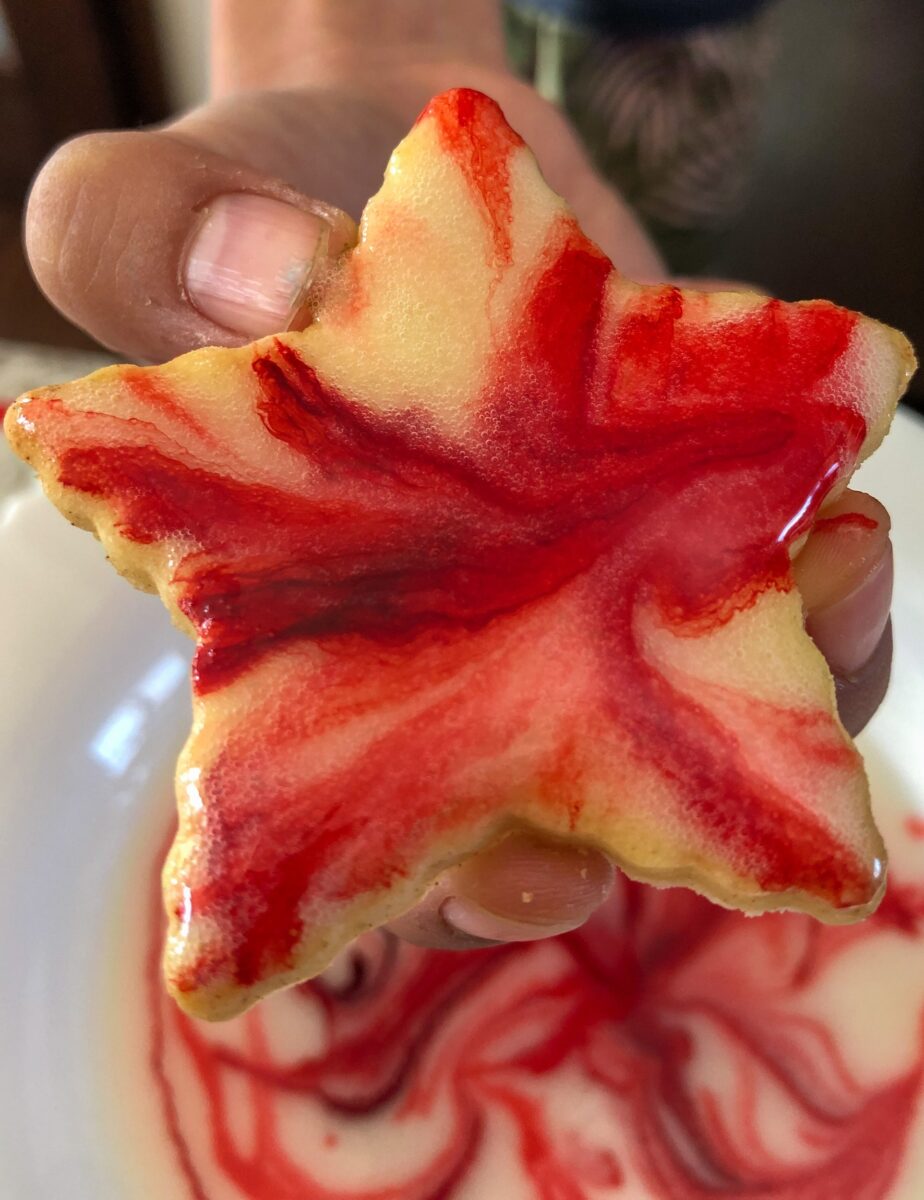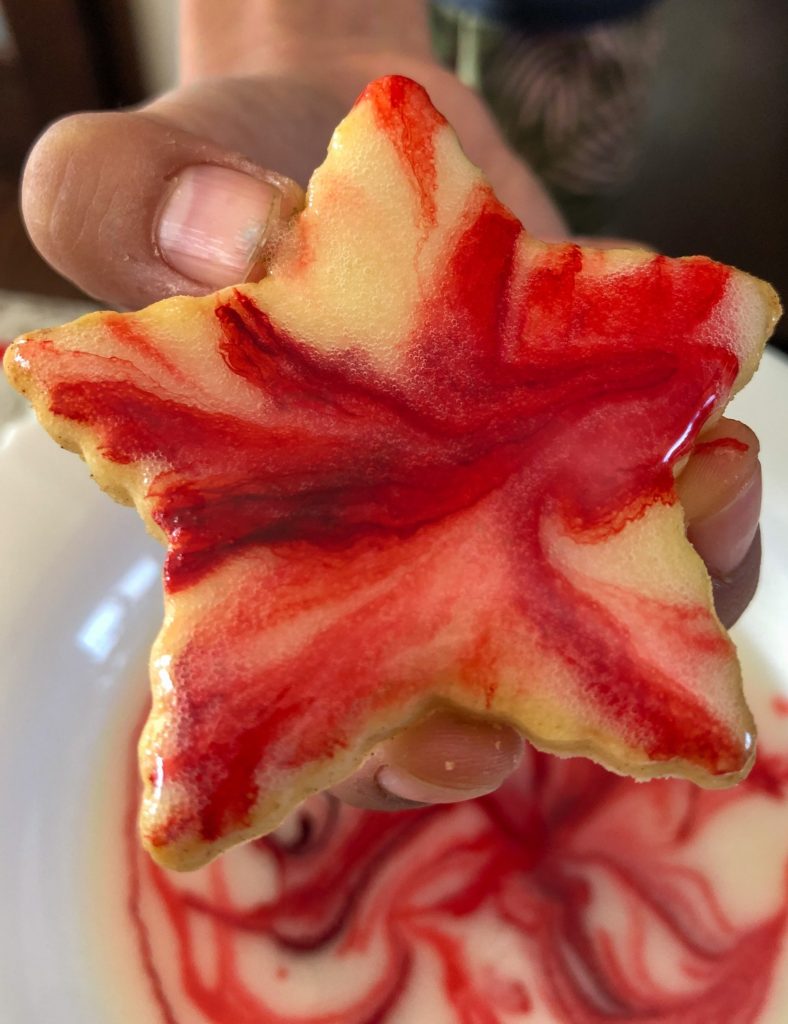 Here's your printable recipe card:
Easy Cut Out Lemon Sugar Cookie Recipe
Adding a fresh twist to the classic cut out sugar cookie, this recipe of lemon sugar cookie will be a great addition to your cookie recipe collection. Easy to roll out and with a simple glaze idea that will brighten up your cookie spread.
Ingredients
For the Dough:
3

cups

All-purpose flour

+ more for dusting

2

teaspoon

Baking powder

1

cup

Sugar

1

cup

Butter

or 2 sticks, cold and cut into chunks

1

Egg

large

¾

teaspoon

Pure vanilla extract

1

Lemon

zested and juiced

1

teaspoon

kosher salt
For the glaze:
1.5

cups

Confectioners' sugar

2

tablespoon

Milk

or half-and-half

1.5

tablespoon

Lemon juice

Red and green gel food coloring
Instructions
Preheat your oven to 350 degrees F or 175 degrees C.

In the bowl of your stand mixer, cream sugar and butter at medium speed. Mix the flour and baking powder in a mixing bowl, set aside.

To the butter and sugar mixture, add the egg, vanilla extract, lemon zest and juice and mix in on low speed.

Gradually add the flour mixture and beat on low speed until just combined, scraping down the bowl.

Transfer the dough out on a floured kitchen counter, the dough will be crumbly, so knead it together with your hands just a little bit.

Using a rolling pin, roll the dough to about ¼″ to ⅜″ thick, and cut into desired shapes (stars in this case). If you do not have a shaped cookie cutter, you could also use a glass jar or cup to cut a circular shape.

Place on parchment or silicone mat lined baking sheets and bake for 10-12 minutes. Let sit a few minutes on the cookie sheet, and then transfer to a cooling rack. Let cool completely.

While the cookies are cooling, make the glaze.

In a medium bowl, whisk all glaze ingredients except the food coloring until smooth. Take another bowl and divide the glaze into two parts.

Drip a few drops of gel food coloring on top of glaze in each bowl, then swirl with the tip of a paring knife for a marbled effect.

Dip the cooled cookies into the glaze, letting any excess drip off, then place on a wire rack to set for 15 minutes before serving or packing.
Notes
For more distinct marbling for all the cookies, add a tablespoon of glaze into a separate bowl for each color and make a lighter shade of the food color. Then add a few drops of this to the glaze bowl along with a few drops of straight up gel color.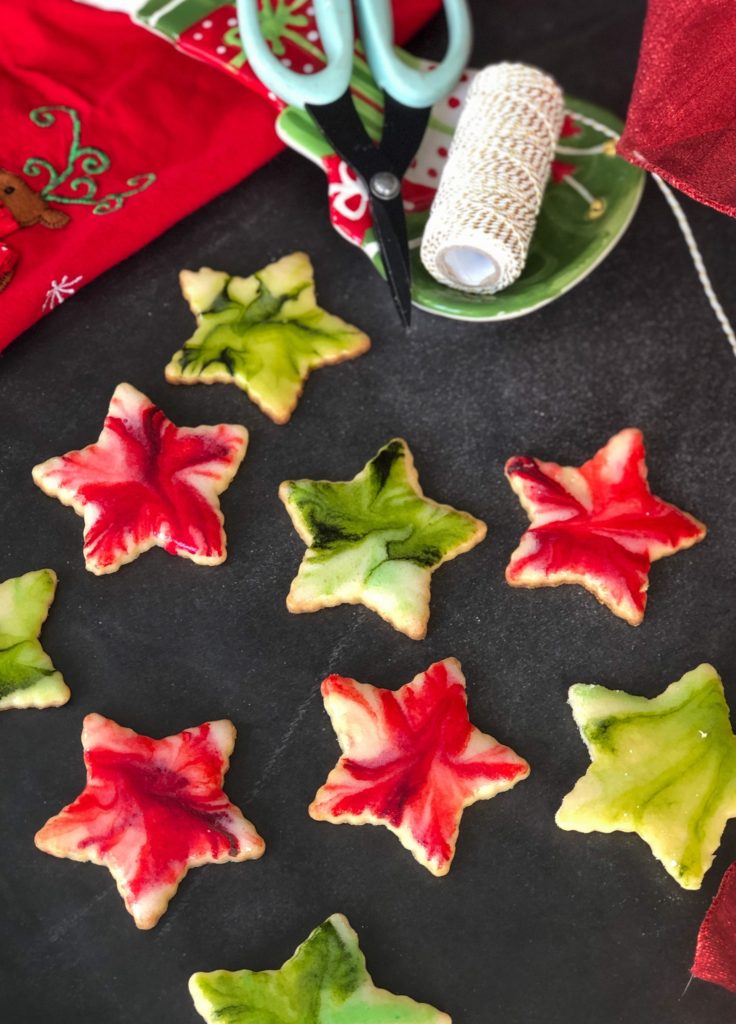 If you make these Easy Lemon Sugar Cookies, please leave a comment and/or give this recipe a rating! I love to hear from you guys. And if you do make this recipe, don't forget to tag me on Instagram and Facebook! I love to look through your creations!!
Love – Vaishali
Key Recipe Tools and Ingredients:
Silicon Baking Mat:
Cookie Cutters:
Gel Colors:
Cooling Rack: