Enjoy your coffee with a boost of protein with this easy iced protein coffee recipe. Easily customizable to your dietary needs
This post may contain affiliate links · As an Amazon Associate I earn from qualifying purchases
Jump to Recipe
I have a confession to make - I am a coffee addict and I don't drink tea. There I said it! For an Indian gal to not drink tea might be a sacrilege but I never really liked the "smell" of tea (remember this Indian Whipped Coffee?). Good coffee aroma, on the other hand, makes me go weak in my knees. Every single time. This sentiment clashes with my mind telling me in the mornings that I need my protein shake/smoothie to fuel up. So I came up with this idea of making my coffee with some protein powder mixed in it. Pretty darn brilliant if you ask me. Also, iced coffee for life!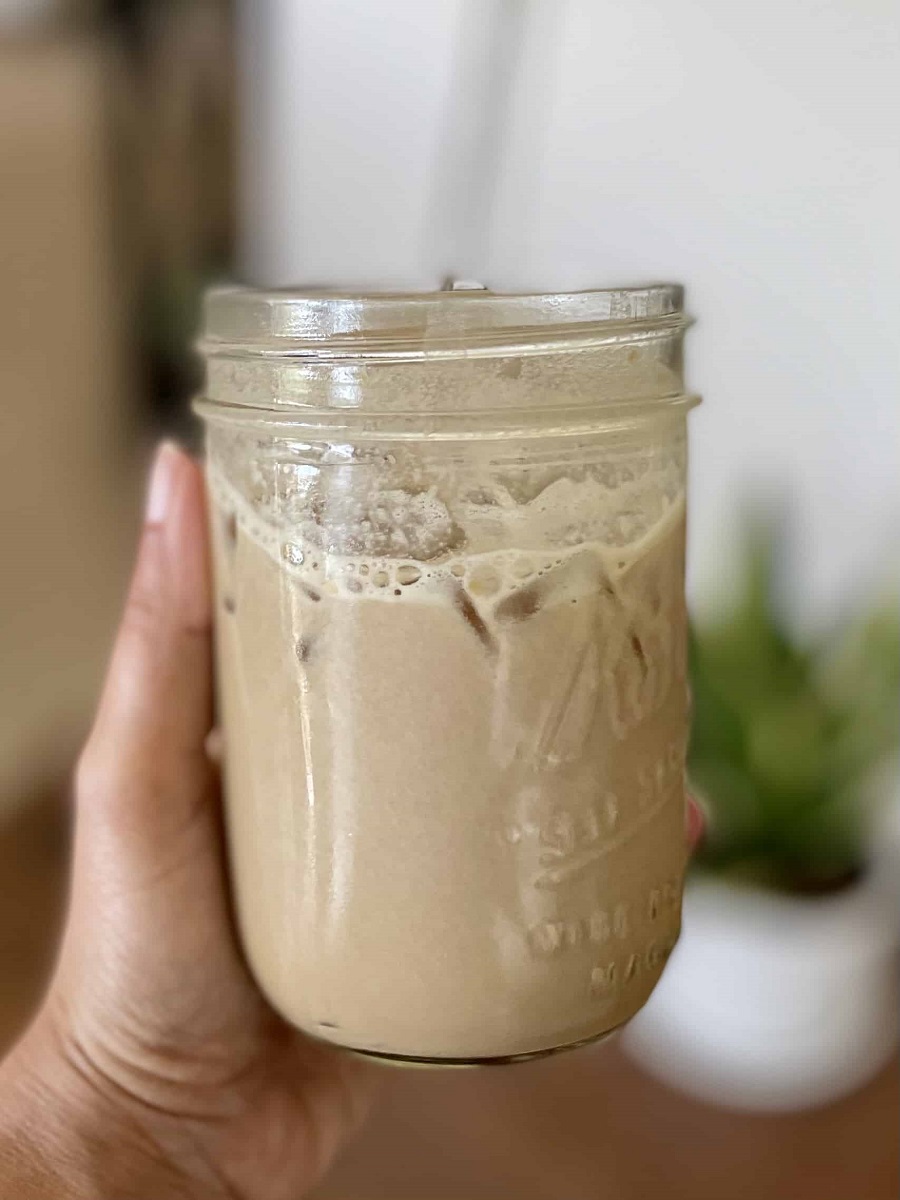 I shared a reel of this protein coffee on my instagram and there were several requests for a recipe. Which I debated for sometime…if it's worth a blog post. But then I thought …whatever I do here, I do it for all you beautiful people. So here we go. It needs a few simple ingredients, takes absolutely no time at all, and I am very sure it is so much cheaper than your favorite coffee shop to make this at home!
It's a non-traditional latte!
That is, it has milk. Traditional latte will have a shot or two of espresso and then creamy, frothy milk added to it. So, this is non-traditional. Like many other recipes you find here. I used a mix of instant coffee and espresso here but you can, by all means, use a shot of your favorite coffee/espresso. I have made this with good ol Nescafe Instant Coffee as well as with Nespresso shots. if you use brewed coffee/espresso shot, just let it cool down a bit.
Protein in Coffee?
Nothing wrong with that. I found no literature or information that suggests that protein powder cannot be added to coffee. If it's not bad then it has to be good, right? Plus it's like shooting two birds with one stone - you get your caffeine fix and its nutrient dense due to the protein powder. I used Vegan Orgain vanilla protein powder. But if you are not restricted by any diet preference you can use any kind of vanilla flavored protein powder of your choice. I have found that 1 scoop of protein powder (½ serving size/day) is enough for this iced coffee recipe, more will make the coffee too sweet.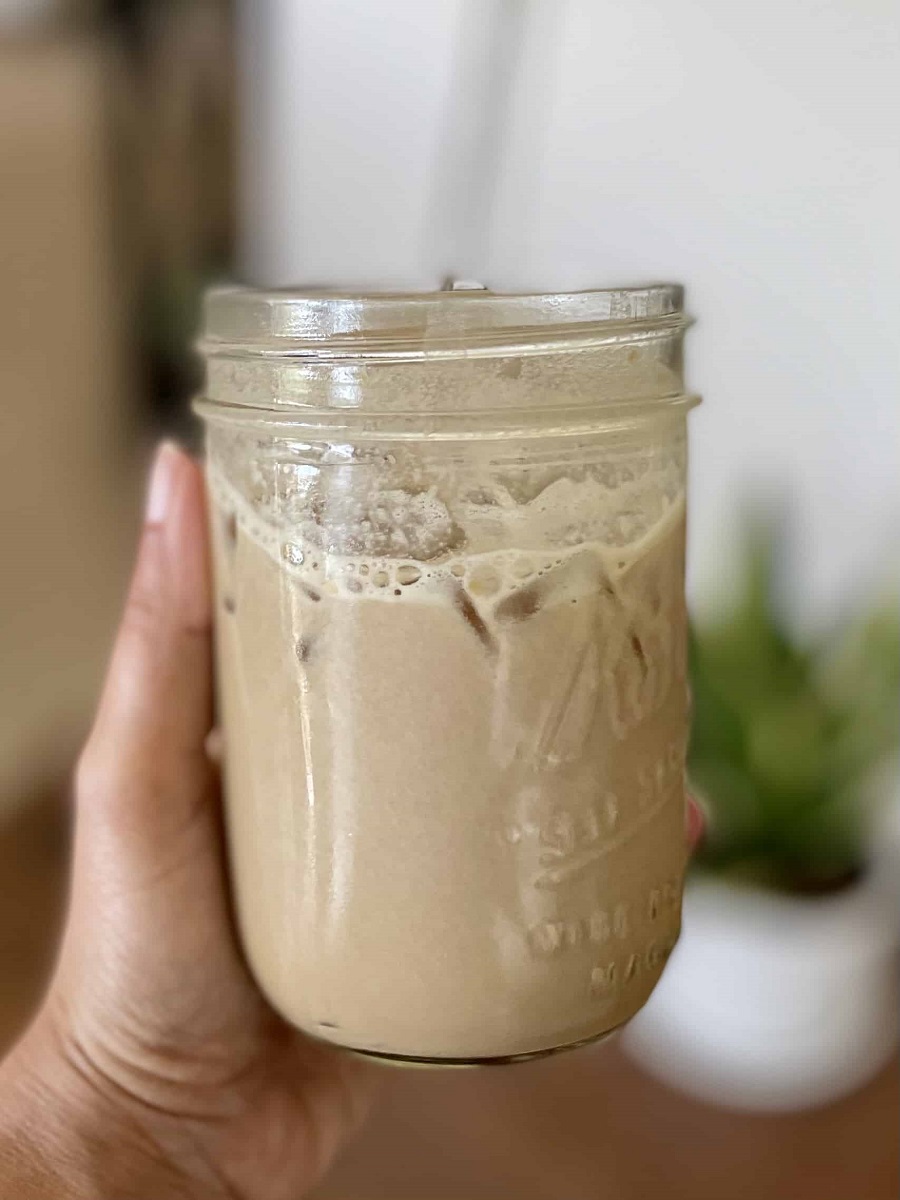 Make it Vegan
Making this Iced Protein Coffee is super easy. Just use a vegan protein powder (like this one) and your favorite plant based milk and you have transformed this coffee to a vegan one.
Recipe Run Down
Like I said - not really a recipe but I guess the quantities noted down are always helpful. Start with some water and add your protein powder to it. Add the coffee powder. If using a shot of brewed coffee, skip the water and coffee powder and add the protein powder directly to the cooled down coffee shot. Using a handheld frother or small blender, whip until fluffy and pale brown in color. Add milk, stir until mixed well and top it up with ice. Enjoy chilled!
Here's your handy dandy printable: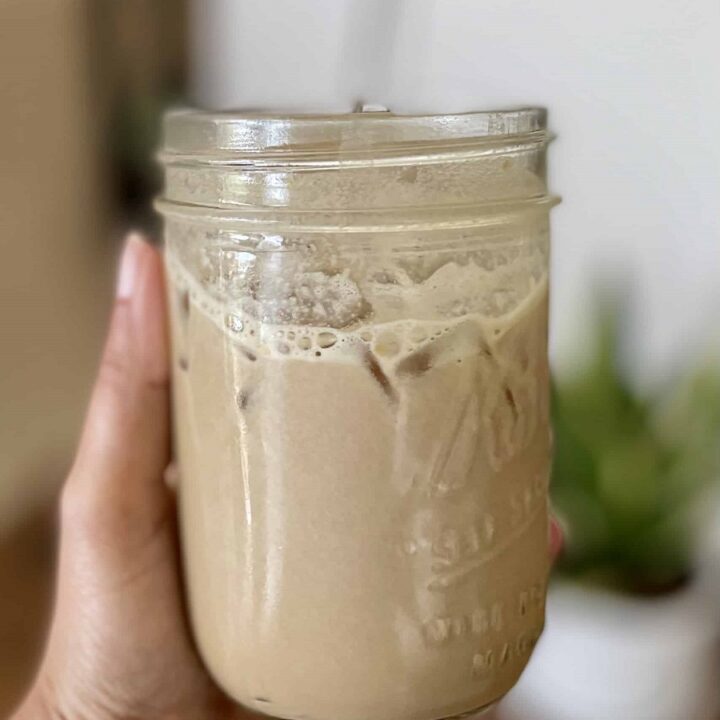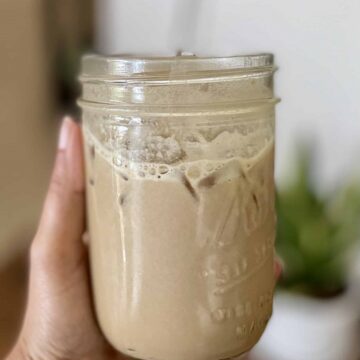 Easy Iced Protein Coffee | Latte, Vegetarian, Make it Vegan
Enjoy your coffee with a boost of protein with this easy protein coffee recipe. Easily customizable to your dietary needs
Ingredients
2

teaspoon

Instant Coffee/Espresso granules

1

scoop

Vanilla Protein powder

about 1.5 tbsp

⅔

cup

milk

Ice to serve
Instructions
In a cup or mason jar, add 2-3 tablespoons of water. Add the protein and coffee powders to it. Using a handheld frother or small blender, blend it until light and fluffy, about 10-15 secs.

Add milk, mix with a spoon and top with ½ cup ice and enjoy chilled.
If you make this Iced Protein Coffee, please leave a comment and/or give this recipe a rating! I would love to hear from you guys. And don't forget to tag me on Instagram and Facebook! I love to look through your creations!!
Love – Vaishali
Shop this post:
Instant Coffee:
Vegan Vanilla Protein Powder:
Handheld Frother: