Zucchini zucchini everywhere….my garden runneth over dear friends! Not that I am complaining…..we love Zucchini in our family. Such a great vegetable to have. Though you can get zucchini pretty much all year round in the grocery stores (from green house or cold storage stores or imported from warmer parts of the world…who knows??), but there is something different and very satisfying about produce that is in-season and fresh. The colors, the texture, and above all the flavors are hard to beat.
This is our second year growing zucchini and we cannot be more in love with it. There are so many ways to enjoy zucchini when it is in season. When you grow it in your garden, there are many different growth stages of zucchini that you get to see and taste, some of which you might never see in a supermarket or not at least in a regular neighborhood grocery stores. You might see them may be in some good farmer's markets or fancy-schmancy gourmet food stores. On such stage is the really small and tender baby zucchini. It is very crunchy and almost sweet – think about a cucumber – just more crunchy and flavorful. The baby zucchini, as we like to call it is great to be eaten raw with hummus, babaganoush, or ranch. Zucchini flowers can be batter fried, sprinkled with a little sea salt and enjoyed with a dip. In addition, there are many many ways to enjoy the full-grown zucchini. I like to use zucchini a lot in pastas, make masala zucchini stir fry for a side dish to go with dinner, shred it and put it in your egg scrambles or omelets, in zucchini bread or muffins (these chocolate chip zucchini muffins are to die for!), or in form of these savory zucchini pancakes.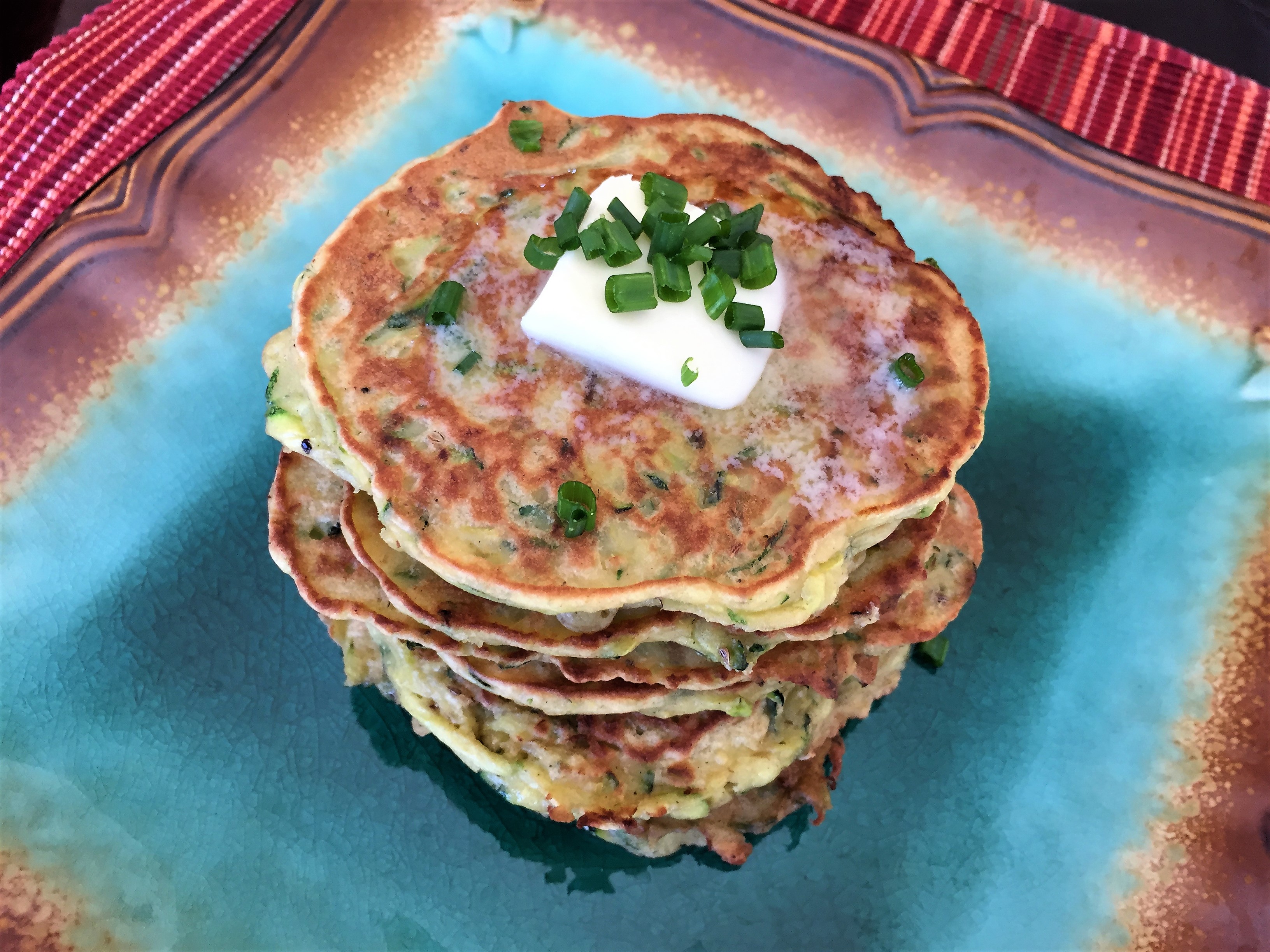 These pancakes are a perfect for breakfast – light, flavorful and above all – nutritious. Therefore, what you do when life hands you a lot of zucchini – make savory zucchini pancakes!
Ingredients:
Zucchini – 2, medium sized
Egg – 1, large
Whole-wheat flour – ½ cup
Chickpea flour – ½ cup
Scallions – 2 (optional)
Chives – 5 stems
Garlic powder – ½ teaspoon
Cayenne pepper – ¼ teaspoon (optional)
Salt and pepper – to taste
Baking powder – ¼teaspoon
Water – ½ cup
Olive oil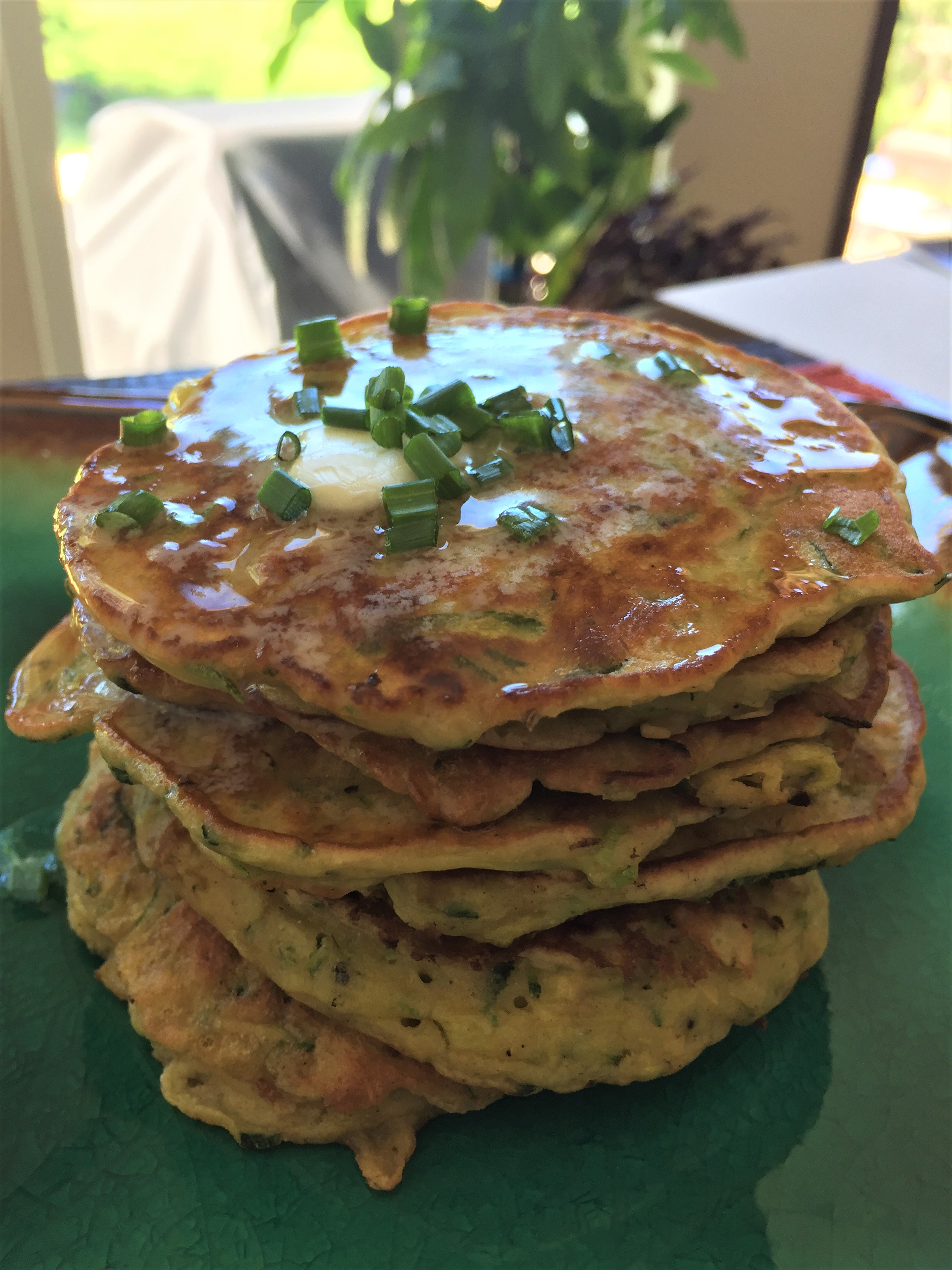 Butter – for serving
Method:
Grate the zucchini and using a kitchen towel squeeze the grated zucchini to remove any moisture. Set a heavy cast iron skillet on medium heat (as always feel free to use any kind of pan but cast iron works best). In a deep mixing bowl, add zucchini, chopped scallions, and chopped chives (save some for garnish). Beat the egg and add it to the veggies. Add the flours. If you do not have chickpea flour, replace it with all-purpose flour, though it changes the flavor profile. Add baking powder, garlic powder, cayenne, salt and pepper. Give everything a happy mix together. Start by adding ¼-cup water and eventually add more water if needed. We need to get a thick batter – almost same as you would use to make traditional pancake batter. You might need a little bit more or less water than ½ cup.
Add some olive oil to the skillet and once hot and shiny add a tablespoon of the pancake batter to it. Flip it when tiny bubbles appear on the surface. Cook for another 30 seconds. Try this tiny pancake to check the seasonings. Adjust accordingly in the batter. Now repeat by making pancakes with rest of the batter. I use a ¼-cup measure to pour each pancake on to the skillet. This is just a way to make sure all the pancakes are almost the same size. So add oil, pour batter, wait for bubbles on surface, flip, cook another 30 seconds or so and your pancakes are ready.
Serve garnished with chives and butter. I like the combination of sweet and savory so like to eat these with some maple syrup or jam. Enjoy!
Love – Vaishali.
Tools used
Box grater
Knife and chopping board
Kitchen towel
Mixing bowl
Cast iron skillet
Flat spatula to flip pancakes.