This Easy Chicken Gnocchi Soup Recipe is so good that it will leave you craving for soup even on hot summer days. Better than the one that a popular Italian restaurant chain (you know which).
Jump to Recipe
This post may contain affiliate links.
We are in the thick of soup season here in the Midwest. I am a year-round soup lover, so when cooler days come around, I celebrate. Because the whole family loves sitting down and enjoying a cozy, comforting bowl of soup and call it dinner. Depending on the type of soup we are having, I like to pair it with a hearty bread. For example, this broccoli cheddar cornbread is a great pairing for this chicken soup and this focaccia and tomato basil soup is a match made in heaven!
We are, overall, a soup loving family and everyone loves a steaming bowl of homemade soup. When Ms. A was little, a bowl of soup and bread was all she wanted at restaurants. How convenient! Two of her (and Dr. A's as well) favorite soups are Minestrone soup and Chicken Gnocchi soup from Olive Garden.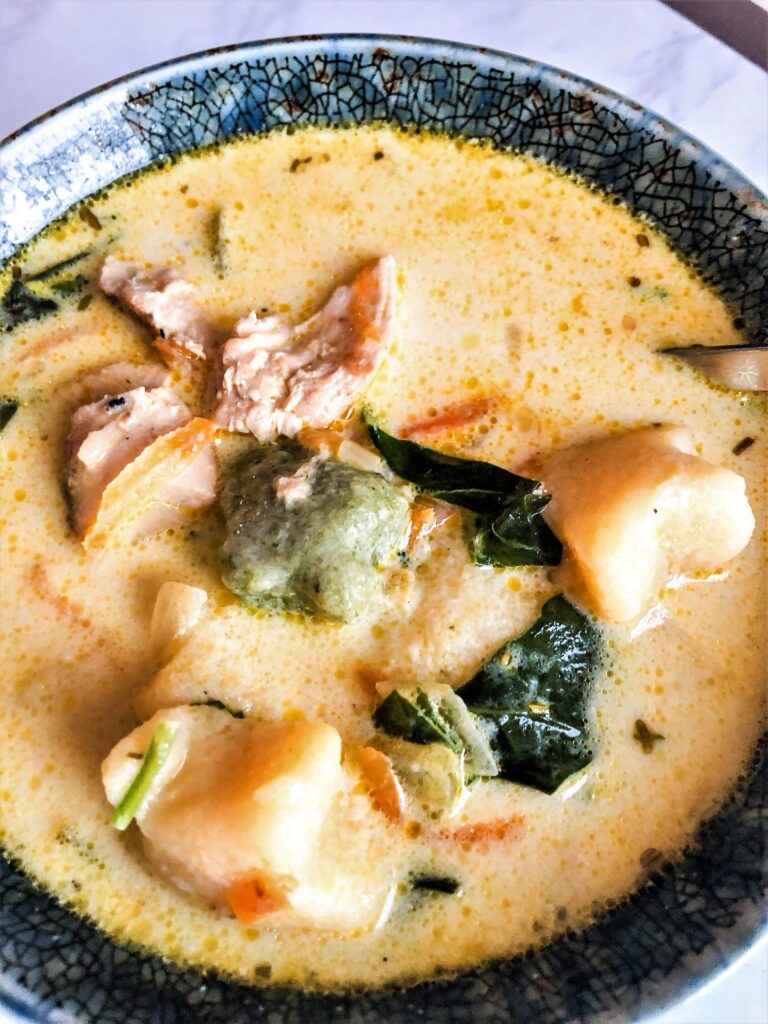 Italian Soup
Olive Garden was our introduction to American Italian food which was quite different from masalafied Indian Italian food that we were used to when moved to the US. We loved it and would go to our local Olive Garden a LOT! And no surprises that the chicken gnocchi soup was always part of our order. Over the years, we discovered what real Italian food was (dare I say that!). You know, the kind of food that you find at local, mom and pop type Italian restaurants. Where the ingredients are fresh, the sauces are made from scratch and the pasta is homemade. Needless to say, there was no looking back. But these two soups remain family favorites - not from Olive Garden anymore - just the more homely, warm and homemade kind - if you know what I mean!
This chicken gnocchi soup has everything that I love and you will love too! This soup is a case where the bland, otherwise unsightly shredded chicken takes up a whole new level of flavor and tenderness. There's something about adding an obnoxious amount of garlic to chicken that makes it super delicious. You know your girl loves garlic! And I might have discovered the best tool Zulay Garlic Press to get your garlic recipe ready in a pinch. You can find it here (use code THEKITCHENDOCS10 to receive 10% off of your order). Also, gnocchi in soup is such a fun addition. It makes me feel like a kid with a fountain of silly youth in each slurp. Over the Christmas break, I found a star and tree shaped potato and spinach gnocchi. So fun! You bet those went in to this soup when I made it around that time.
Recipes that call for cooked chicken
Now, you need cooked chicken for this recipe (diced or shredded). My plan was to do a post on different methods of cooking chicken breasts to use in different recipes. But those pictures were just YUCK! How do you make shredded chicken look good? So here you have my two favorite ways to do it:
Skillet/pan method:
This works great for making diced chicken (for these quesadillas) and shredded too (like in this chicken gnocchi soup). Set a heavy 12-inch skillet on medium high heat (cast iron or safe non-stick works great). Take about 1.5 - 2 lb boneless, skinless chicken breasts ( 3 medium sized breasts) and season one side with garlic powder, onion powder, salt and pepper. If you know what recipe you will be using the cooked chicken in, you can use that type of seasonings. Add 2 tablespoon of oil to the pan and add the chicken breasts, seasoned side down. Season the side that's on top. Cover and cook for 7-8 minutes, untouched.
After that, flip the breasts, add ½ a cup of broth or water and cook covered for another 8 minutes or until a meat thermometer reads 165 degrees F at the thickest part of the breast. At this point, turn the heat off and let sit, covered until cool enough to handle. Shred with two forks or dice using a sharp knife.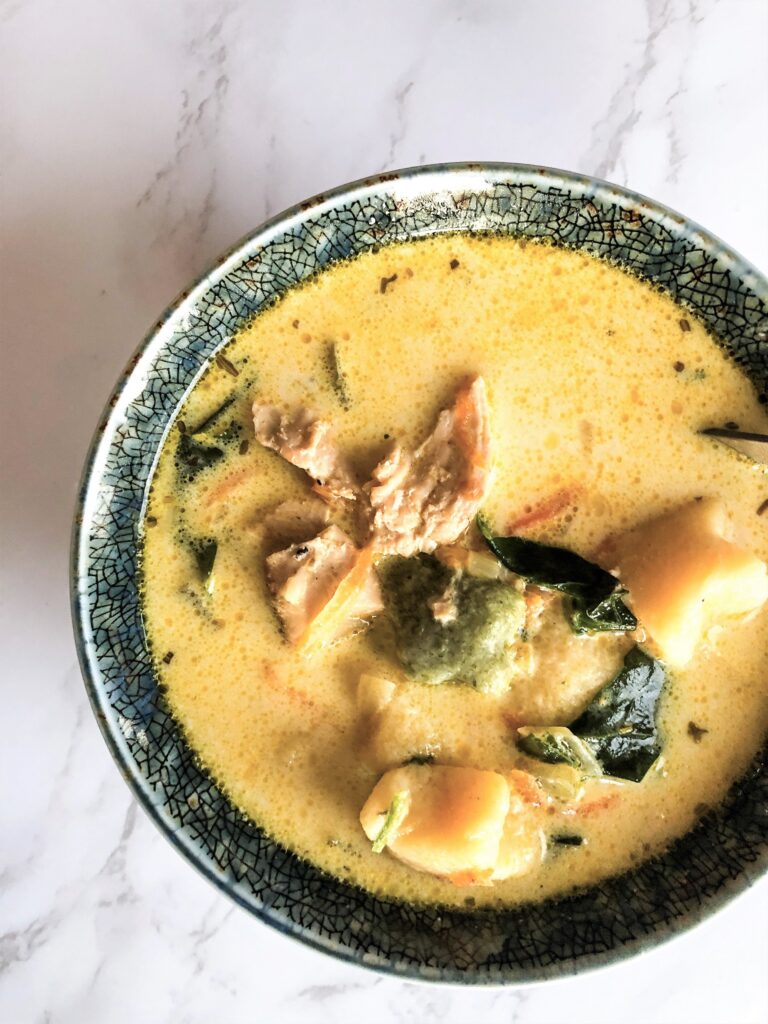 Instant Pot/Pressure cooker method
Hands down the best method if you need shredded chicken but does not work for making diced chicken. Add 1 cup water or broth to your Instant Pot or pressure cooker along with seasoning (salt, pepper, garlic powder etc…). For this chicken gnocchi soup, I highly recommend using rosemary and thyme. Give it a mix and place chicken (3 breasts, 1.5-2 lbs) in the pot. Lock the lid and set to cook on high pressure for 10 minutes. For traditional pressure cookers this means cooking for 10 minutes after the full pressure is attained (the cooker "whistles"). After 10 minutes, turn the heat off and let the pressure naturally release for 5 minutes and then manually release the pressure. Carefully open the lid and then shred the chicken (broth and all) using two forks, a hand mixer or a stand mixer.
You can by all means use store bought rotisserie chicken for this soup as well.
Recipe run-down
Set your favorite soup pot/Dutch Oven on medium high heat. We begin with sauteing a large amount of garlic in olive oil followed by the holy trinity of chopped onions, carrots and celery. Add chicken broth, herbs and seasonings. Once the broth begins to boil, add the chicken and gnocchi and wait for the gnocchi float to top. Add cream and milk along with spinach and cook a little longer. Serve piping hot with your favorite bread! Easy Peasy!!!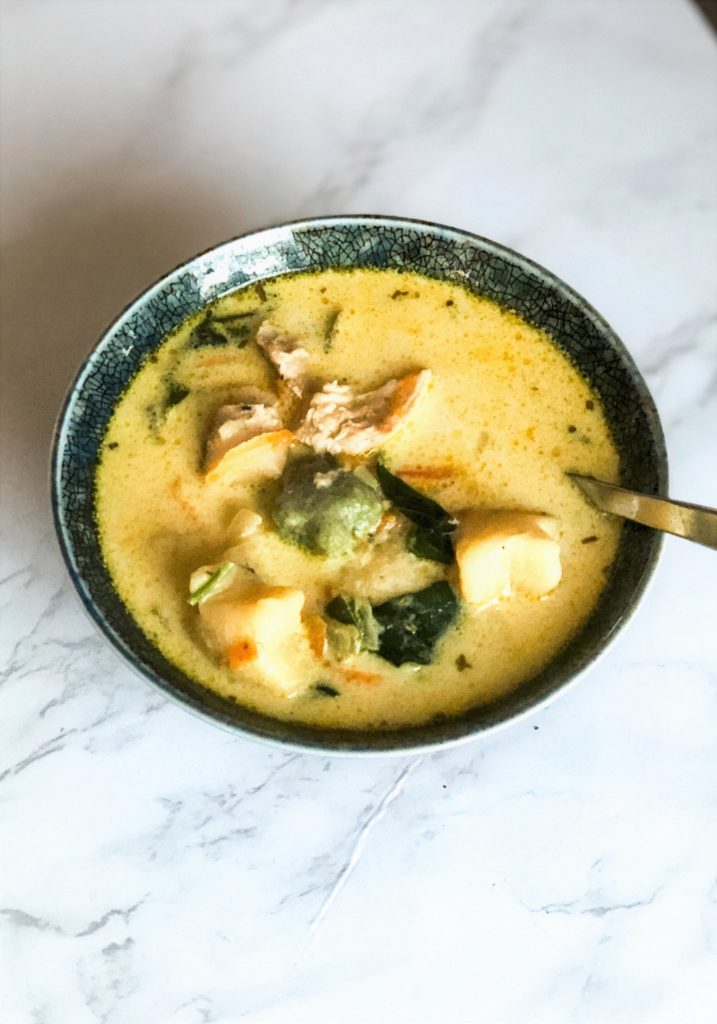 Here's your handy dandy printable:
Easy Chicken Gnocchi Soup Recipe
This Easy Chicken Gnocchi Soup Recipe is so good that it will leave you craving for soup even on hot summer days. Better than the one that a popular Italian restaurant chain (you know which) serves.
Ingredients
2

cups

Cooked chicken shredded or diced

see write up above

1

tablespoon

olive oil

5-6

cloves

of garlic

minced or pressed

1

stalk celery

diced

½

cup

diced white onion

1

cup

shredded carrots

about 2 carrots

½

teaspoon

dried rosemary

2-3

sprigs of fresh thyme

or ½ teaspoon dried, optional

4

cups

low sodium chicken broth

see notes

1

cup

water

optional

2

cups

gnocchi

see notes

1

cup

milk

1

cup

heavy cream

see notes

3

cups

chopped spinach

packed

Salt and pepper

to taste
Instructions
Set a heavy pot or dutch oven to medium low heat. Add the olive oil and garlic.

Saute for a minute and then add onions, celery and carrots. Add rosemary and thyme along with some salt and pepper.

Saute for 2-3 minutes until the onions are slightly translucent.

Add the broth, cover the pan with a lid, increase the heat to high and wait for the broth to come to a boil, about 5 minutes.

Take the lid off, add your cooked chicken and gnocchi. Gently stir, reduce the heat to medium low and cook for 10 minutes.

After 10 minutes, add the cream and half and half along with the chopped spinach. Season with more salt and pepper. At this point, if your soup is too thick you can add up to a cup of water to adjust the consistency.

Increase the heat to medium high, bring to a boil and cook for 1-2 minutes so that the spinach is tender. If you used thyme sprigs, now would be the time to fish them out of the soup.

Serve warm with freshly cracked black pepper on top (optional).
Notes
I used low sodium chicken broth. The color of your soup will depend somewhat on the brand and color of chicken broth you use.
You can use cauliflower or sweet potato gnocchi to make this soup low-carb.
You can use all milk instead of cream and milk to make the soup lighter.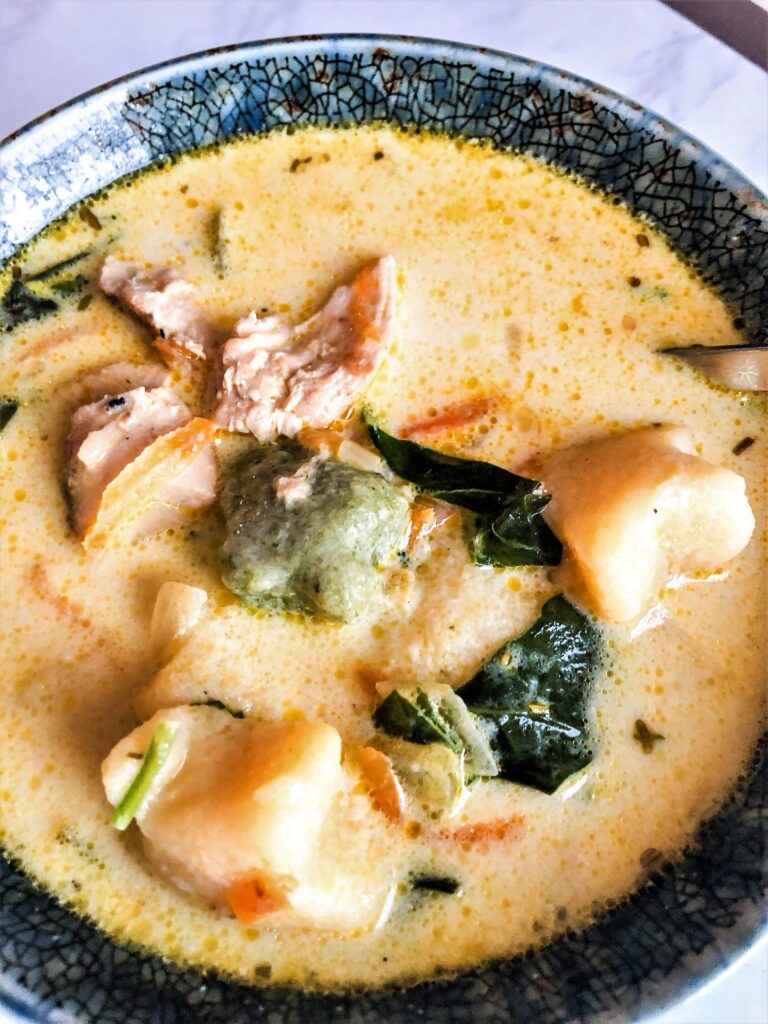 If you make this Chicken Gnocchi Soup, please leave a comment and/or give this recipe a rating! I love to hear from you guys. And if you do make this recipe, don't forget to tag me on Instagram and Facebook! I love to look through your creations!!
Love – Vaishali
Key Recipe Tools:
Dutch Oven: