One of my biggest challenges in kitchen has been baking breads. I have tried many recipes; some that require proofing the starter for days and some that are no-knead. I really cannot put my finger on a regular sandwich or whole wheat bread that I love. YET. I am pretty sure that one day I will perfect a whole grain bread recipe that will be the perfect balance of sweet and yeasty. Soft on the inside and slightly crusty and chewy on the outside. One that will taste excellent with just a slather or butter as well as with some loud toppings. Until then my friends – let me introduce you to this focaccia. It is a blend of two or three different focaccia recipes that I have tried over time. Thyme and rosemary are a match made in heaven – with an aroma that is out of this world. If you have access to some lemon thyme, even better. If not, adding lime zest to this recipe takes it to a completely different level.
Remember the tomato soup we made a few days ago, or that tomato chutney. This bread with the above mentioned tomato blends is the way to enjoy summer produce. I would suggest making this recipe in a square baking dish (I use 8 inch Pyrex) and then slicing it the way you like. It is best to slice the bread and then cut into half horizontally to get a chunky sandwich bread thickness. This bread is also great for toasting and eating like a crostini.
This recipe comes together fairly easy. If you have a stand mixer, then it's a breeze but even if you don't, put some elbow grease into it and you will love the fruit of the hard work you put in. The bread dough has to proof and rise so please keep that time factor in mind when planning on making this loaf of focaccia (technically not a loaf…:P).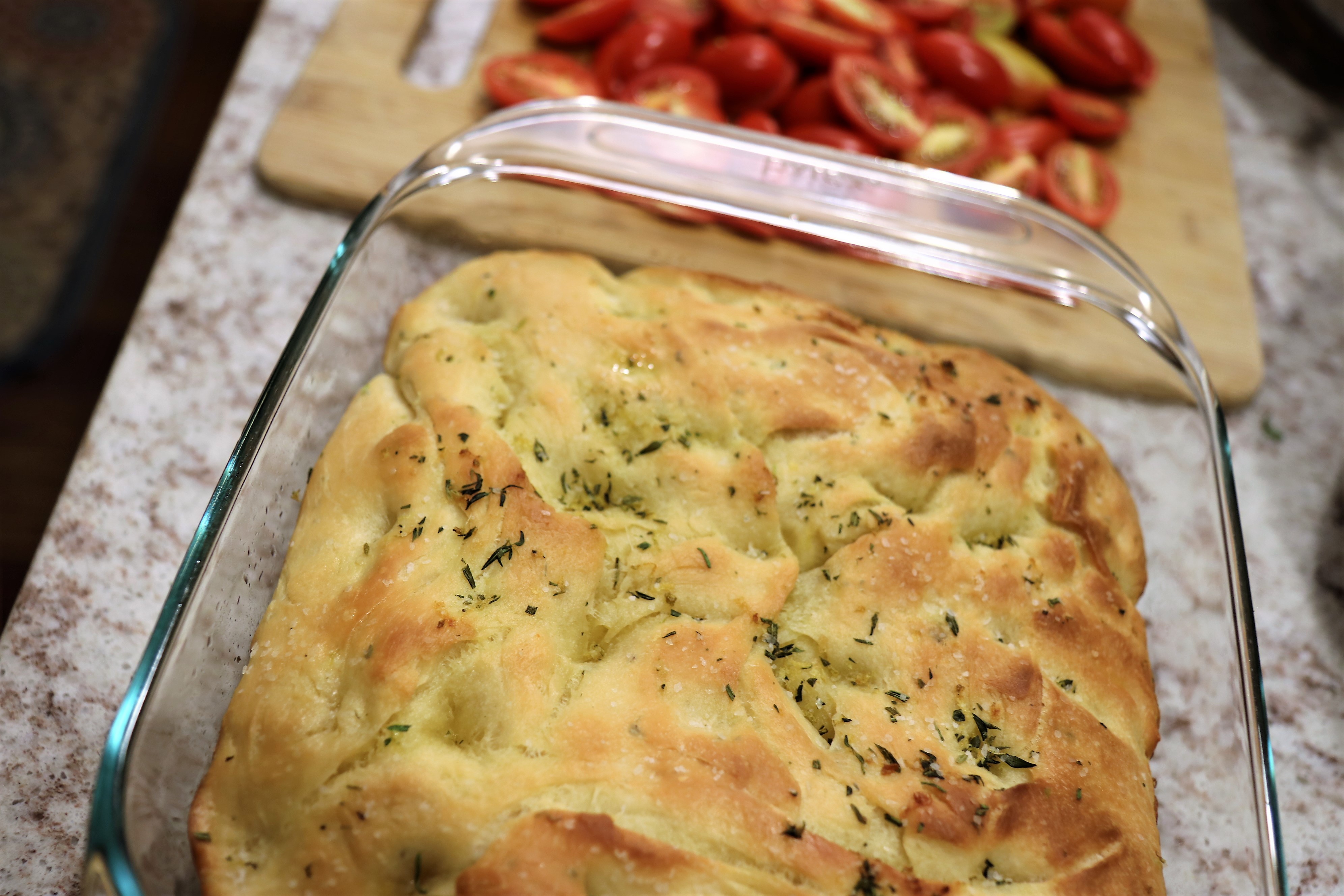 Ingredients
For the bread dough:
Whole milk – 1 cup
Brown sugar – 1 tablespoon
Active dry yeast – 1 ¼ teaspoon
Olive oil – 1 tablespoon
All-purpose flour – 2 ½ cups
Salt – 1 teaspoon
Fresh Rosemary – 1 teaspoon
Fresh thyme/lemon thyme – 1 teaspoon
Zest of ½ lime
For the herbal oil:
Olive oil – 2 tablespoons
Fresh rosemary – ½  teaspoon
Fresh thyme – 1 teaspoon
Lime zest – from half a lime
Flaky salt – for sprinkling
Method:
Finely chop or mince the rosemary and thyme. Zest the lime and divide the zest into two equal parts. Be careful not to divide the zest unevenly as it will ruin the focaccia. Umm…just kidding.
In a glass measuring cup, whisk together milk and brown sugar. Nuke it in the microwave for about a minute or until a finger dipped in the milk feels hot, approximately 115˚F. If you own a thermometer, now would be a good time to bring it out of the hiding and use it. Add the yeast, stir and let it bubble and froth. This thing is alive people!! After about 5 minutes, add a tablespoon of good quality olive oil.
Add rest of the dough ingredients into the bowl of your stand mixer. Using the dough hook, mix these ingredients. Slowly pour in the yeast and milk mixture. The dough will be tacky to start with, but keep at it for about 5-7 minutes on medium speed and it will all come together. You gotta trust me here. It might look like that you've messed up big time, but give yourself a break and let the stand mixer work it's magic. If kneading by hand, mix the dry and wet ingredients in a deep mixing bowl and then transfer to a floured surface/counter-top and knead for about 10 minutes, until a smooth ball forms.
At this point, take some oil in your hand and grease the dough ball with it. Pour some oil in your bowl and swirl around. Now put the dough ball in the oiled mixing bowl, cover with a kitchen towel and set in a warm place or a spot away from any draft or cold air. Let it sit for about an hour or until doubled in size.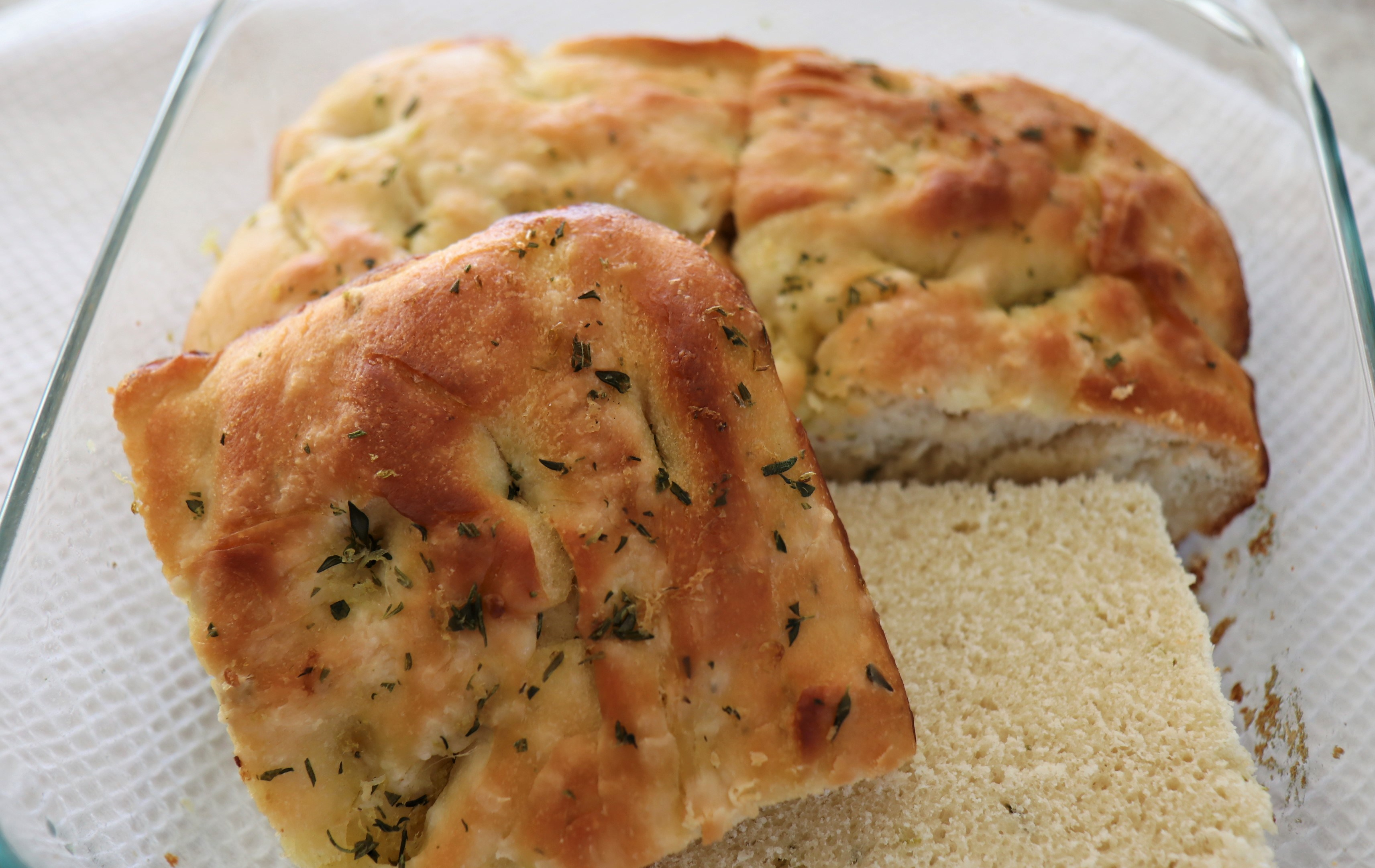 Grease your baking pan with olive oil. After an hour or so, take the dough and put it in the greased baking pan, spread it around in the pan to a uniform layer. Just like traditional focaccia, poke the dough with your fingers to "dimple" the dough, making sure not to poke too deep into the dough. Cover and set the dough aside for another 30 minutes or so for the second rise.
For the herbal oil, mix all the ingredients in a glass bowl and microwave for 30 seconds. This heating will help release all the flavors of the herbs and lime zest and infuse the oil. Let the herbal oil cool while your dough is rising for the second time.
Preheat the oven to 425°F.
Drizzle the herbal oil evenly over the dimpled dough and sprinkle with flaky salt. Bake for about 20 minutes or till light golden. Serve warm or at room temperature. This bread can be stored in the refrigerator for about a week. If stored in the refrigerator, cut a slice, toast it and then enjoy it the way your heart desires.
Love – Vaishali.
Tools used:
Knife and chopping board
Measuring cup and spoons
Thermometer
Stand mixer
Square baking dish (glass)
Whisk
Microwave and oven