Easy and Best ever cinnamon rolls…the perfect weekend or holiday breakfast. Buttery, soft, stretchy dough swirled with butter and cinnamon sugar.
This post may contain affiliate links. As an Amazon Associate I earn a small commission from qualifying purchases.
Jump to Recipe
Best ever cinnamon rolls?
That's a bold claim to make but I'm sticking to it since these are actually the Best ever cinnamon rolls. The bread is perfectly soft, very slightly chewy with the traditional stretch, the filling gooey, buttery, and cinnamony without being overly sweet. And all these things make these the best cinnamon rolls ever.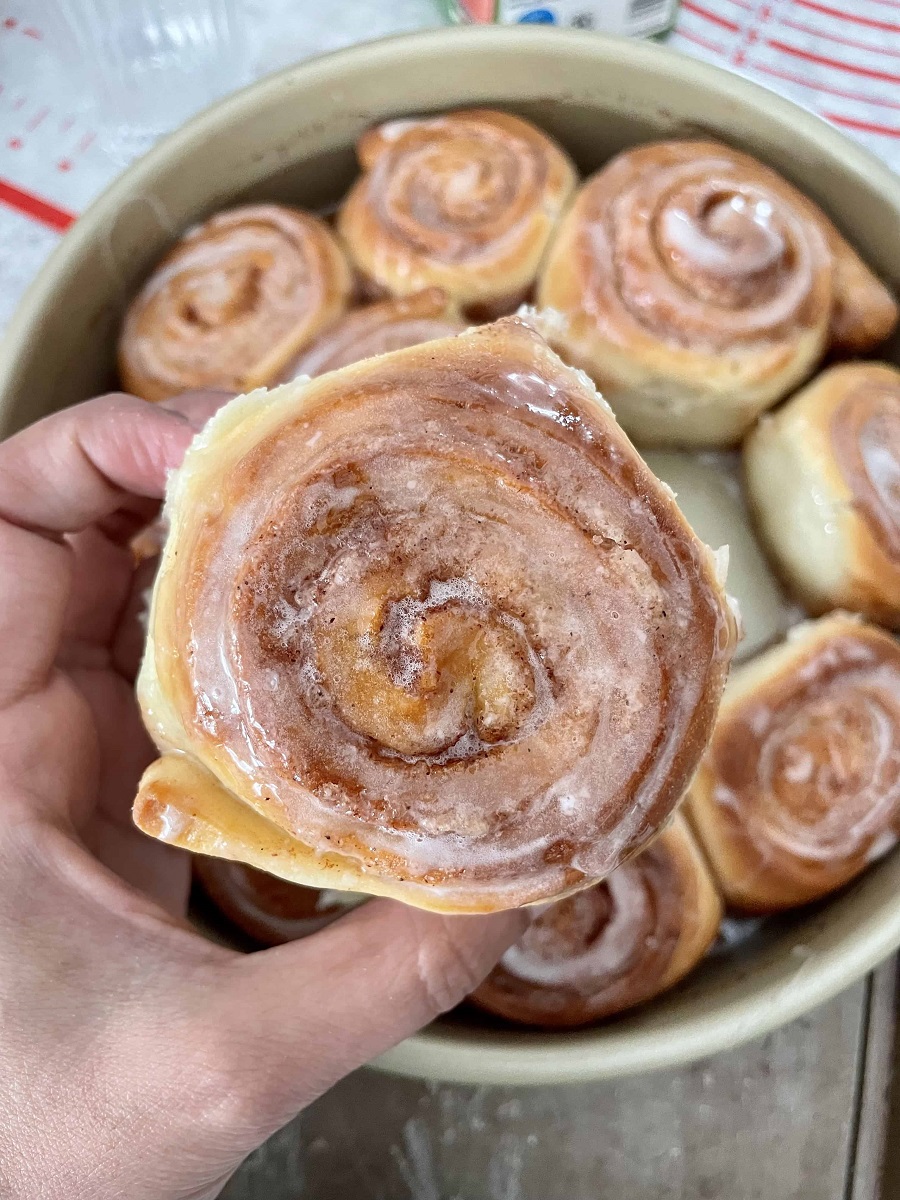 Now, if you have ever read the "About Me" section of this space, you might imagine that I did not grow up making cinnamon rolls. So, this best ever cinnamon rolls recipe is not my mom's or my nana's. This recipe has been developed from a recipe that a friend gave me in Auburn and then built upon over time by experimenting.
Ms. A is the biggest cinnamon roll fan in our house and requests these more than I would like to admit. But it has for sure become a Christmas morning tradition and I have a feeling that now that the recipe has been "finalized" and published, these will be made more in our kitchen and I sure hope in your kitchens as well.
There are three main components of this best ever cinnamon rolls recipe - the dough, the filling, and the frosting drizzle.
The Dough
Several crazy iterations have gone into perfecting this dough and by crazy I mean…don't even ask. The bottom line is that this is the right dough! Yeast based, bread flour, no egg, and milk! Bread flour is the key here. It makes the rolls soft and light. The higher protein and gluten content makes the rolls chewy yet soft…perfection. I also use bread flour for my pizza dough…but that;s a story for another day. Would all purpose flour work? Yes, it will, in a heartbeat! But I'm not sure if those cinnamon rolls would be " Best ever cinnamon rolls ". Just putting it out there as a disclaimer!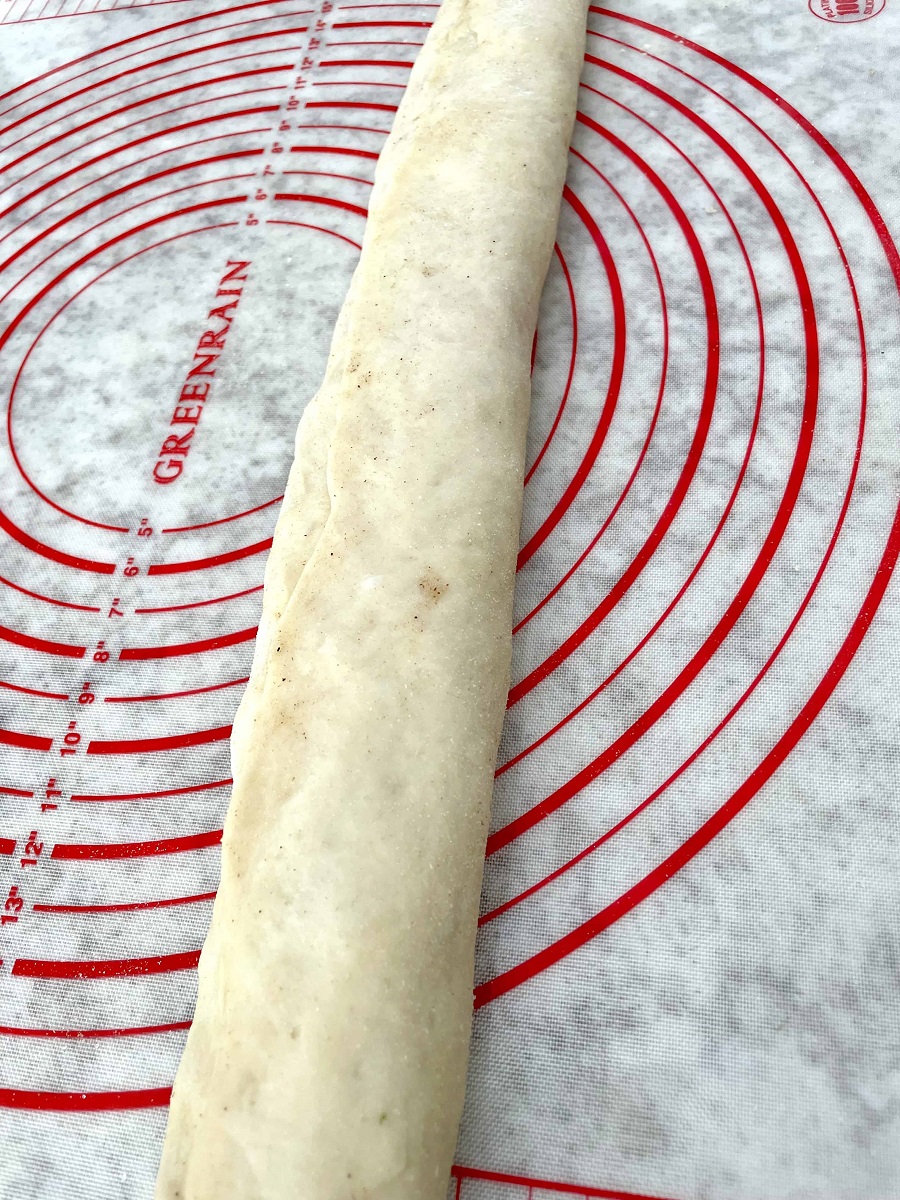 I used active dry yeast in this dough. This yeast needs to be dissolved in a liquid and needs to "feed on" sugars to get activated and proof the dough. If you are using instant yeast, you can add it straight to the dry ingredients but you will still need the milk to be warm and some sugar.
I used a stand mixer for this dough. If you don't want to use one, you can use a wooden spoon for the first step of dough mixing and then knead for 8-10 minutes after the first hour rise (see recipe instructions below).
The Filling
If the dough is the heart of this recipe then filling is the soul! The thing that I have come to love about this recipe is that you control the amount of butter, sugar and cinnamon. Yes, there are measurements that I provide in this recipe, but they are guidelines to make buttery cinnamon rolls that are not cloyingly sweet with cinnamon that goes down smooth. I have used regular sugar in this recipe but you can surely use half brown and half white sugar if you would like.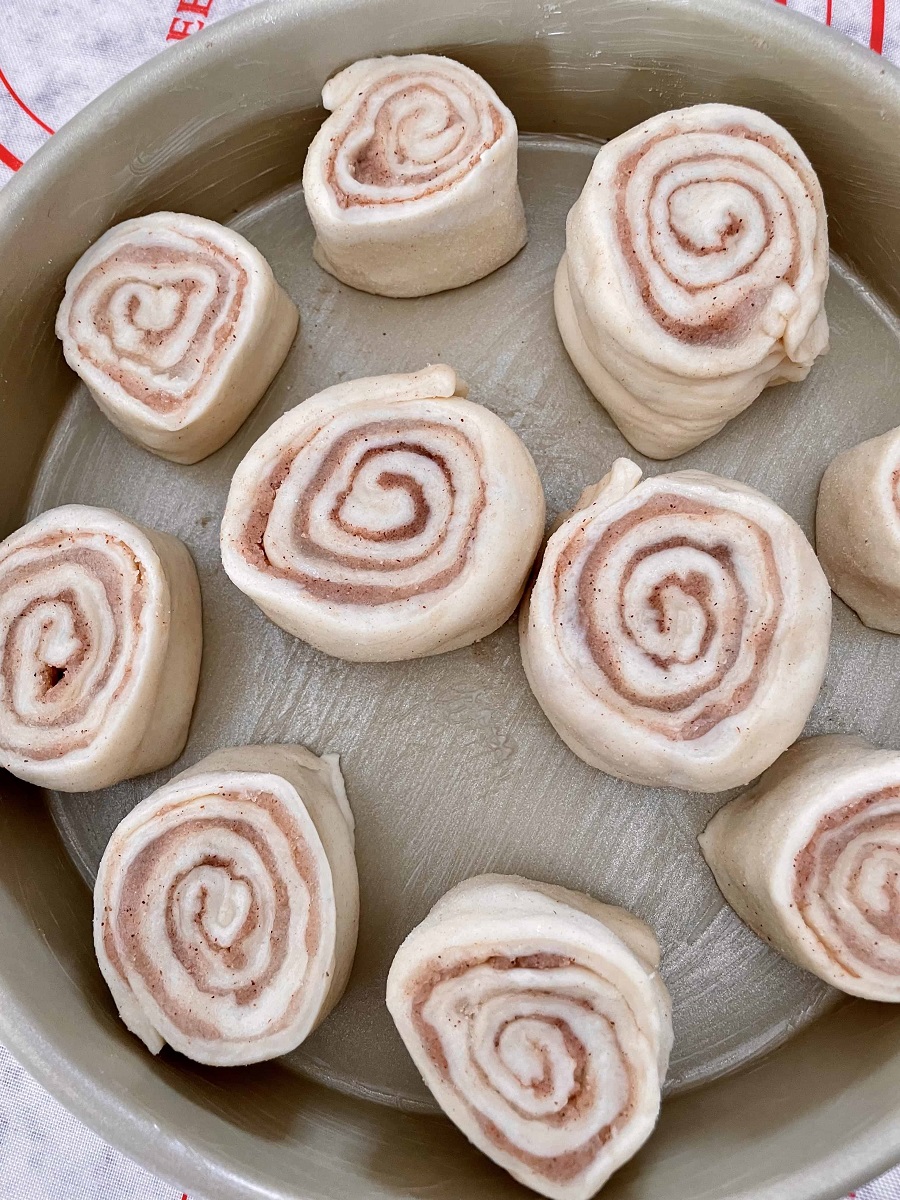 The Frosting Drizzle
It's not an frosting, it's a frosting drizzle! You get it, right? It's like this frosting on these donuts with no lemon and more vanilla in it. If you want to add a light, sweet drizzle to any dessert, this frosting should be your go to. Just confectioner's sugar, milk, and a splash of good quality vanilla. IMO (a very unpopular one), the traditional cream cheese frosting takes away from the cinnamon roll bread, and it's buttery, sugary, cinnamony flavor. If you want to make cream cheese frosting, you can mix 4 oz cream cheese, 2 tablespoon butter, ½ cup powdered sugar and a splash of vanilla. Ms. A loves it!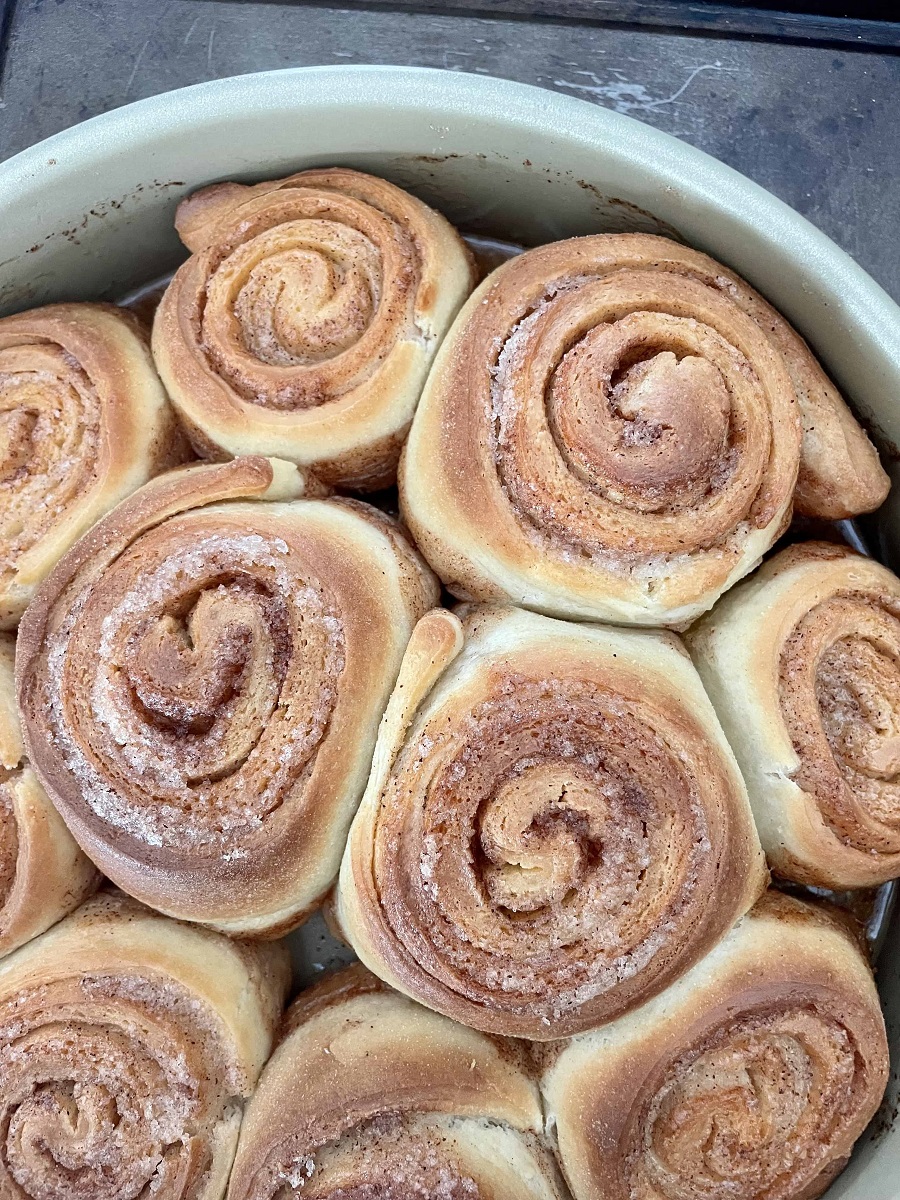 Some Tips
Use Bread Flour
Don't overheat your milk - it will kill the yeast! Use the kitchen thermometer that's begging for attention in that utensil drawer! It has to be between 105-110 degrees F (40-43 degrees C). Another test is to dip your finger (washed hands please) in the milk and count till 3. You should be able to do it comfortably with the milk feeling warm and not too hot.
Take out butter from the refrigerator, you need it both for the dough and the filling. For the willing you will need to melt it and it's easier to do it this way then when it's super cold. I prefer salted butter in this recipe.
Use good quality cinnamon - needless to say, but the top shelf stuff has the best flavor!
If you have time and can plan ahead, make the dough the night before and chill in the refrigerator 4-6 hours. Makes it easier to work with and roll.
Use Bread flour - yes, it's worth mentioning twice! Easily available at most grocery stores nestled close to apf.
If your dough is too sticky while rolling you can sprinkle more flour, 1 tablespoon at a time. You do not want the dough to get dry.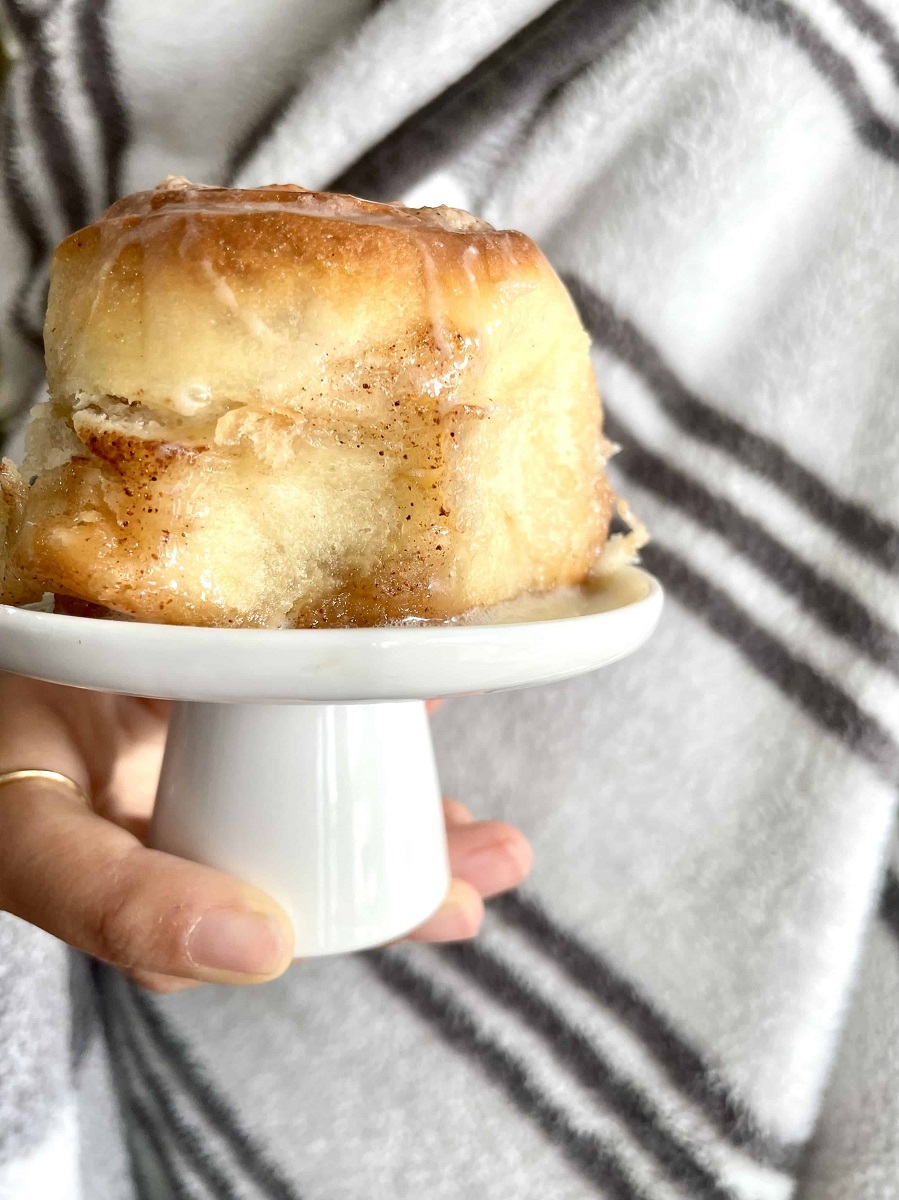 Looking for other similar recipes?
Here's your handy dandy printable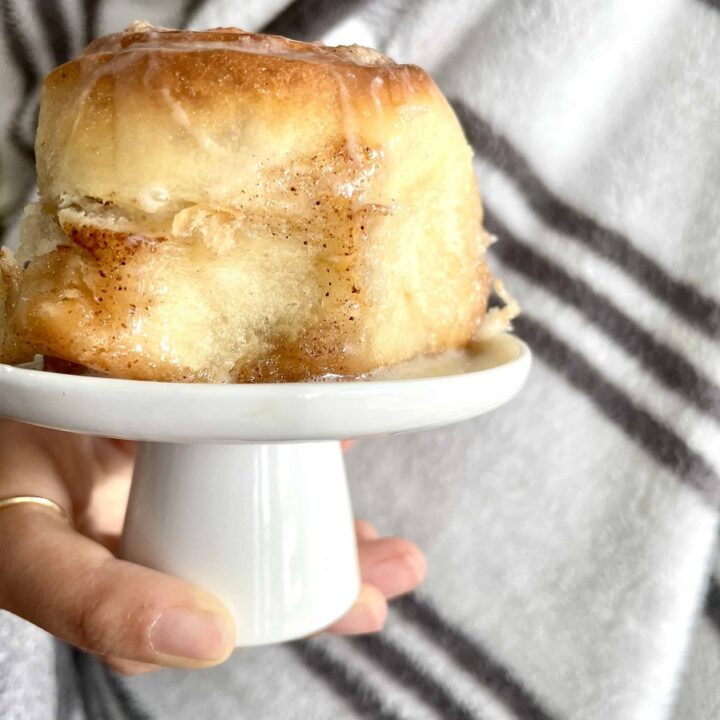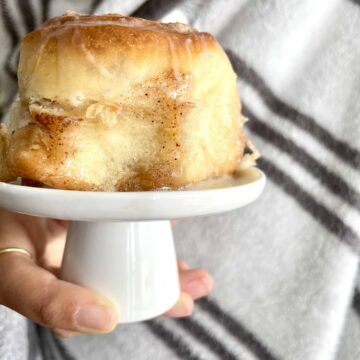 Best Ever Cinnamon Rolls
Easy and Best Ever Cinnamon Rolls…the perfect weekend or holiday breakfast. Buttery, soft, stretchy dough swirled with butter and cinnamon sugar.
Ingredients
For the dough
1

cup

whole milk

¼

cup

room temperature butter

¼

cup

sugar

¾

teaspoon

active dry yeast

3.5 g/0.125 oz

2 ¼

cups

bread flour

divided, 2 cups and ¼ cup extra reserved

¼

teaspoon

heaping baking powder

¼

teaspoon

scant baking soda

¼

tablespoon

salt
For the filling
½

cup

melted butter

½

cup

sugar

Generous amount of cinnamon

1 ¼ - 1 ½ tablespoon
For the frosting drizzle
1

cup

confectioner's sugar

powdered sugar

½

teaspoon

pure vanilla

¼

cup

milk
Instructions
Add milk, ¼ cup butter, and ¼ cup sugar in a medium saucepan and heat it up on medium high heat until scalding (Ina Garten defines it as just before it starts boiling). Turn the heat off and let cool to 110 degrees F, about 15-20 minutes. Alternatively, you can add the ingredients to a 4 cup glass measuring cup or large microwave safe bowl. Microwave the mix to 110 degrees F, about 40-45 seconds.

When the mixture is lukewarm, add the yeast and let it sit and get all frothy (about 5 minutes).

While the yeast is doing its thing, add 2 cups of bread flour to the bowl of your stand mixer.

Fit the stand mixer with the dough hook, give the milk mixture a stir and add it to the stand mixer. Turn the mixer on low speed and slowly increase the speed to medium. Mix the flour with yeast-milk mixture until it just comes together. The dough will look tacky. Ignore the thought, cover the bowl with a kitchen towel and let it be for an hour.

After an hour, take the kitchen towel off, add remaining ¼ cup flour, baking soda, baking powder and salt and mix on medium speed until everything is mixed together.

At this point you can proceed to roll out the dough or let it chill in the refrigerator for a few hours. See notes

Sprinkle your work surface with a generous amount of flour and dump the dough on to the prepped work surface. Using your fingers first and then a rolling pin, roll the dough into a thin, large rectangle, about 14 inches by 10 inches.

Spread softened or melted butter over the dough and try to spread it to the edges as much as possible. Sprinkle sugar followed by cinnamon over the butter.

Now, tightly roll up the dough towards you, beginning from the 10 inch side at the end away from you. Do it slowly and keep the roll tight. Pinch the seam together and place the seam side down When you are done rolling the dough, you should end up with a long log.

Using a sharp knife, make 1 inch thick slices. This log will make 10-12 rolls.

Grease a 9 -inch circular cake pan or 9 X 9 square baking pan and place the sliced rolls in the pan without crowding them together. A 9 inch circular pan should hold 7- 9 rolls. Cover the pan with a warm kitchen towel and let rise for 30-45 minutes. I use a timer.

When there are about 10 minutes left on the timer, preheat your oven to 375 degrees F (190 degrees C).

Uncover the pan and bake for 15-18 minutes or until golden brown on the edges.

While the rolls are baking, whisk the frosting drizzle ingredients together. After the rolls are done, drizzle liberally with the frosting. You will have some of it leftover which can be drizzled extra on top!
Notes
If you chill the dough, take it out of the refrigerator and let it come to room temp before you start rolling it out, about 30 minutes.
The unbaked rolls can be frozen before the second rise. When baking, let the rolls thaw overnight in the refrigerator (6-8 hrs) and then put the pan in a warm spot for an hour for the rolls to rise before proceeding to bake as per instructions.
If you make this recipe, please leave a comment and/or give this recipe a rating! I would love to hear from you guys. And don't forget to tag me on Instagram and Facebook! I love to look through your creations!!
Love – Vaishali
Shop this post:
Stand Mixer:
Baking Mat:
Rolling Pin: