This 30 minute Ginger Miso Ramen with Crispy Tofu is perfect for those nights when you need a comforting, healthy and satisfying dinner and need it fast. Skip the egg and make it vegan.
This post may contain affiliate links.
Miso and ginger has become one of my favorite flavor combos. And it works great in soups and broths. Today this flavor combination is working it's magic on some ramen noodles soup. Miso Ginger Ramen with Crispy Tofu to be exact!
Jump to Recipe
This ramen is umami, flavored with aromatic ginger, full of texture (hello crispy tofu!!), healthy (bok choy, carrots, egg, and corn), and is overall the best bowl of ramen that you will ever make at home. Bonus! Skip the egg and make it vegan. These ramen are PERFECT for a quick and hearty weeknight dinner. They are even better and more flavorful the next day for leftovers.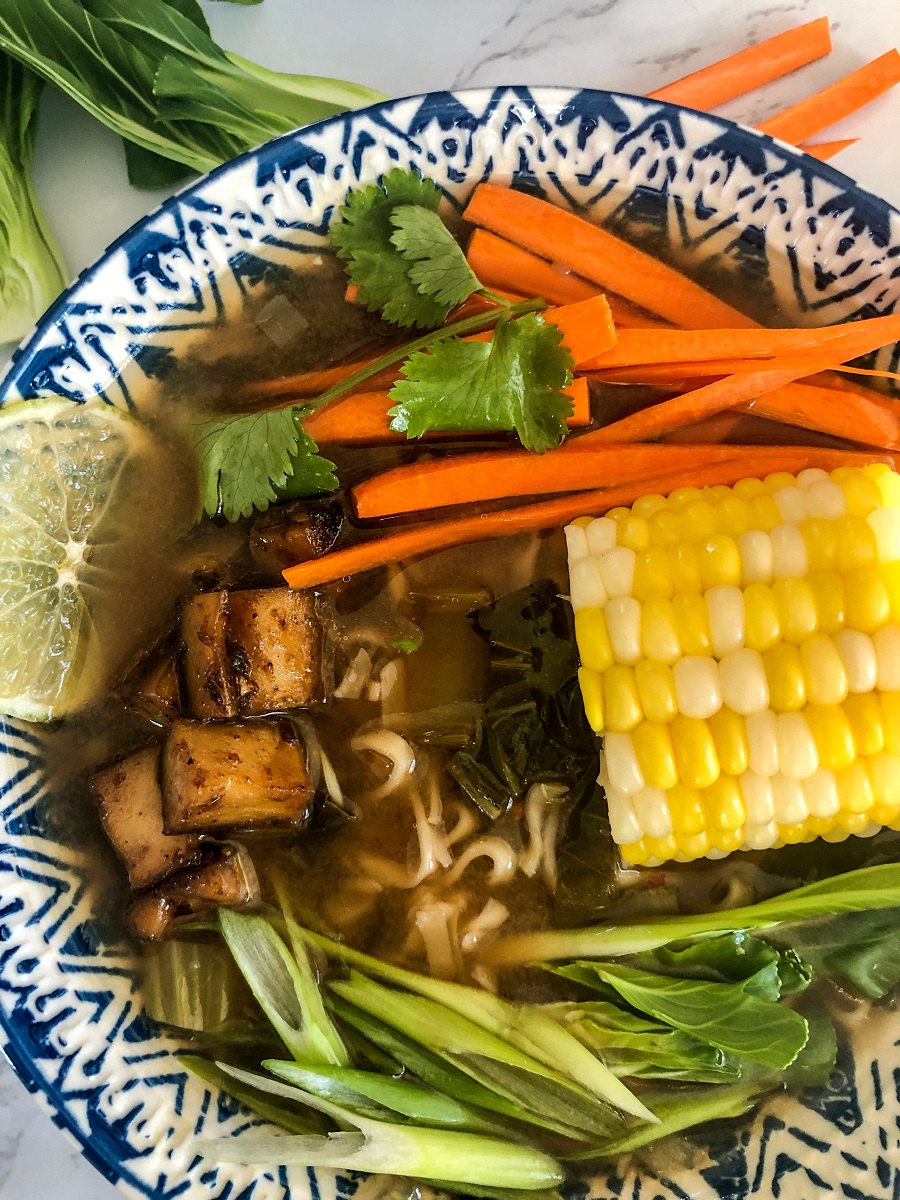 We are just now coming out of the coldest spell that I have ever seen in my life. Snow, sub zero temps, and inhuman wind chill. The sun is out today and has me dreaming about spring but who am I kidding, it's still very much winter. So I thought another soupish recipe would be OK to share. Are you guys with me? Thought this ginger miso ramen recipe will be great on a cool spring night as well. Just make use of all that spring bounty. And that corn the cob? If you have not dipped and sucked on cooked corn on the cob in this ginger miso broth you have not tasted life yet, friends!
Store bought ramen vs. this
If you have always made ramen with the stuff that comes out of a packet, I implore you ditch that and try this. Though this won't be ready in 5 minutes like the packaged one but with every sip and bite of this ramen you will thank yourself for those extra 25 minutes that you spent on this recipe.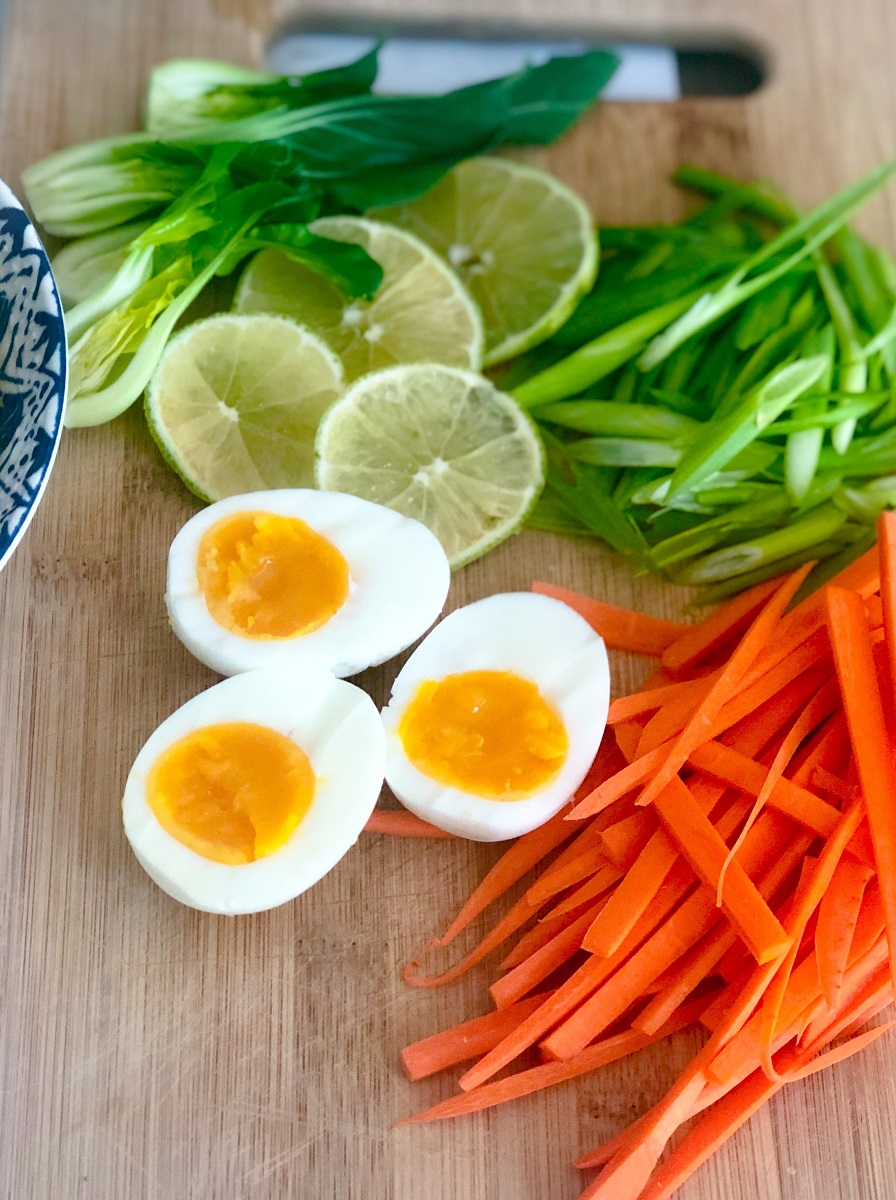 The inspiration
Don't you laugh at me now...ok? The inspiration behind this recipe came from miso broth that I found at Trader Joe's. The availability of different Miso pastes has always confused me so finding just "miso broth" gave my confused mind a break and I thought "let me count the ways I can love thee"...lol. No, but seriously, very versatile ingredient. And the first thing I tried with the miso broth was this Ginger Miso Ramen with Crispy Tofu. The base miso broth takes a different flavor level with lots of fresh ginger and garlic, soy sauce, and a little chili oil for heat.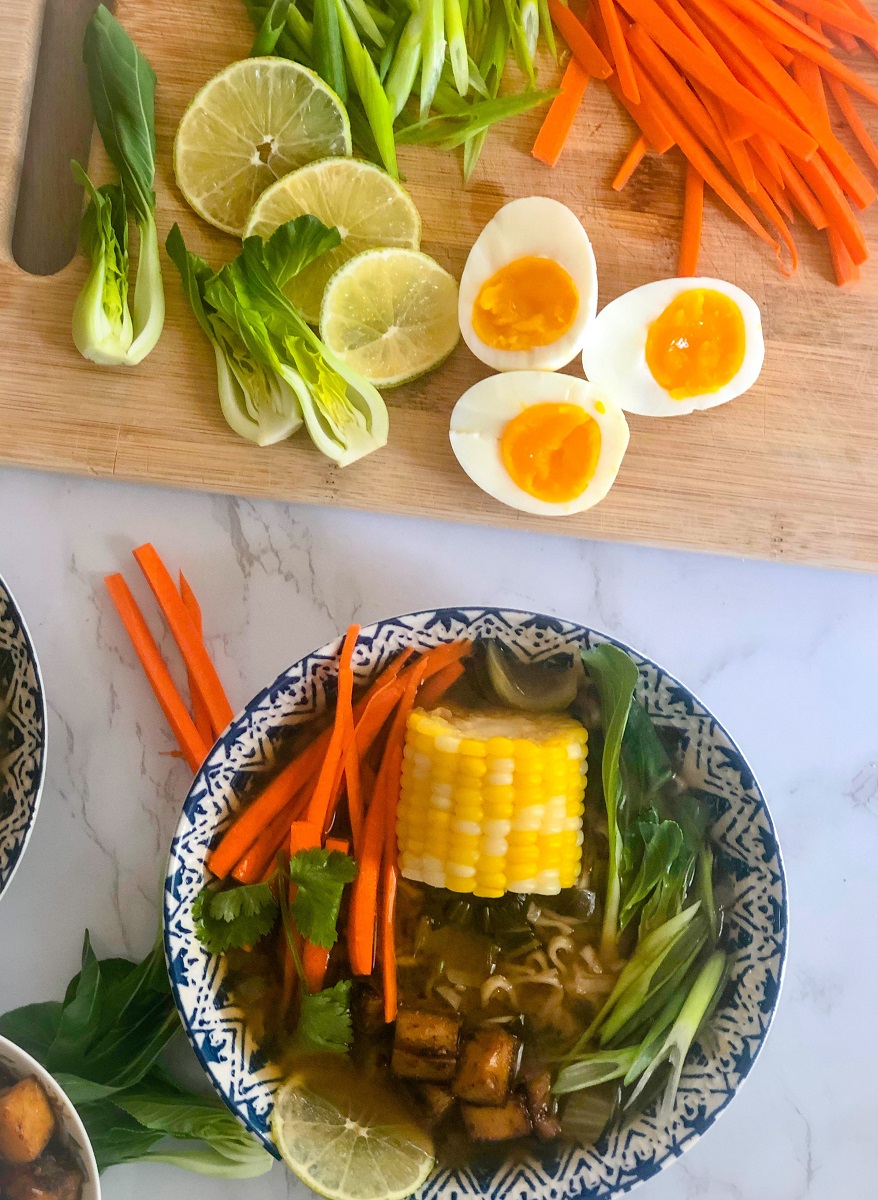 Crispy Tofu
You know I'm a fan of crispy tofu. Whether it's in a grain bowl or just as is to munch on, you cannot go wrong. The trick in this crispy tofu is adding a little bit of brown sugar along with the spices. The sugar caramelizes making the tofu extra delicious and crispy. Make it in the oven or throw it in a pan (quicker), you are bound to fall in love with this crispy tofu.
6-minute egg
If you are not making this recipe vegan, I highly recommend finishing your bowl of ramen with a 6-minute egg. The recipe is in the name. Add eggs to boiling water and boil for 6 minutes. After that, dunk in cold water, peel and serve. The luscious, silky, slightly jammy yolk adds a richness to the ginger miso broth and makes it even more delicious.
So friends, since winter is still in full force for at least a few more weeks, I'm sure you will love to have this super easy and quick recipe on hand. It's every bit as delicious as it sounds and is foolproof. Bottom line is you really cannot go wrong with this one and you'll love it!!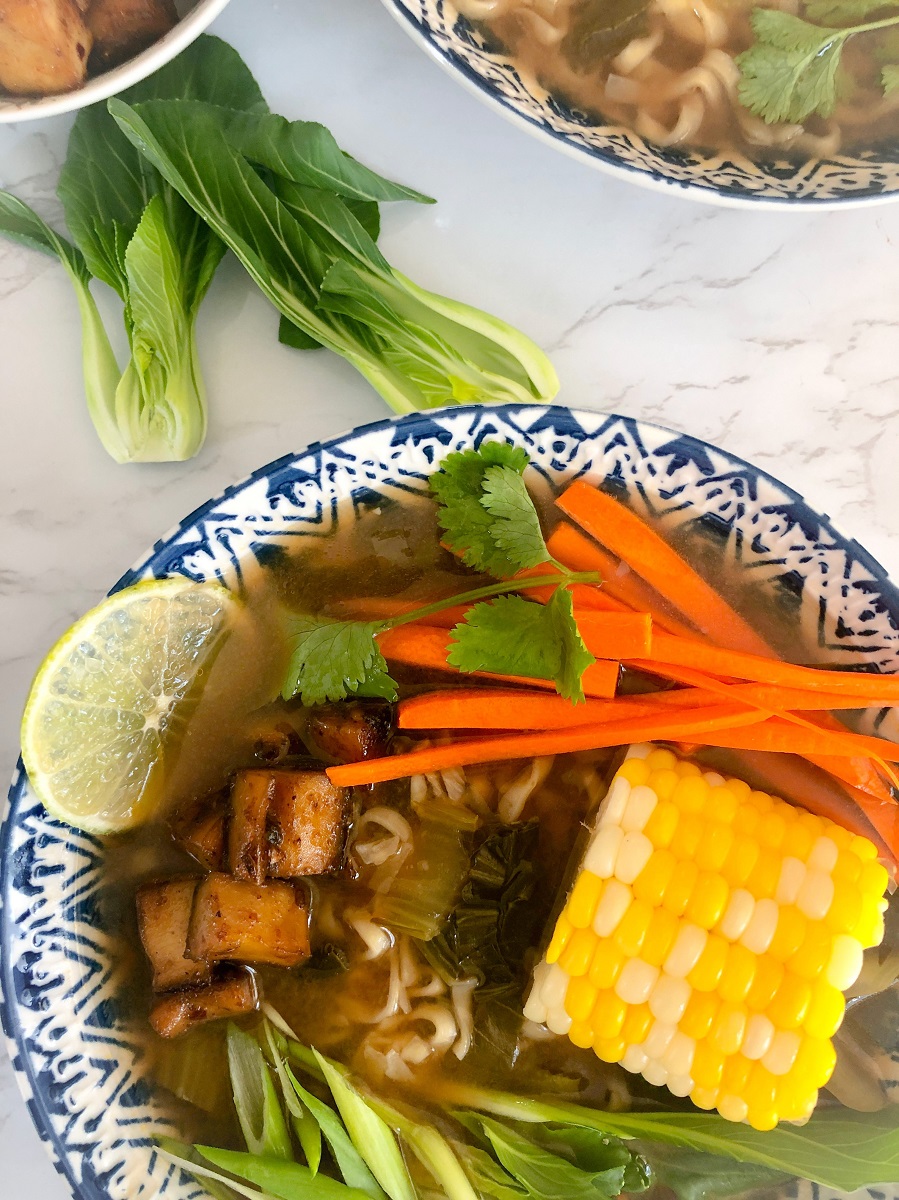 Other soup recipes that you might like:
Yellow Lentils with Beet Greens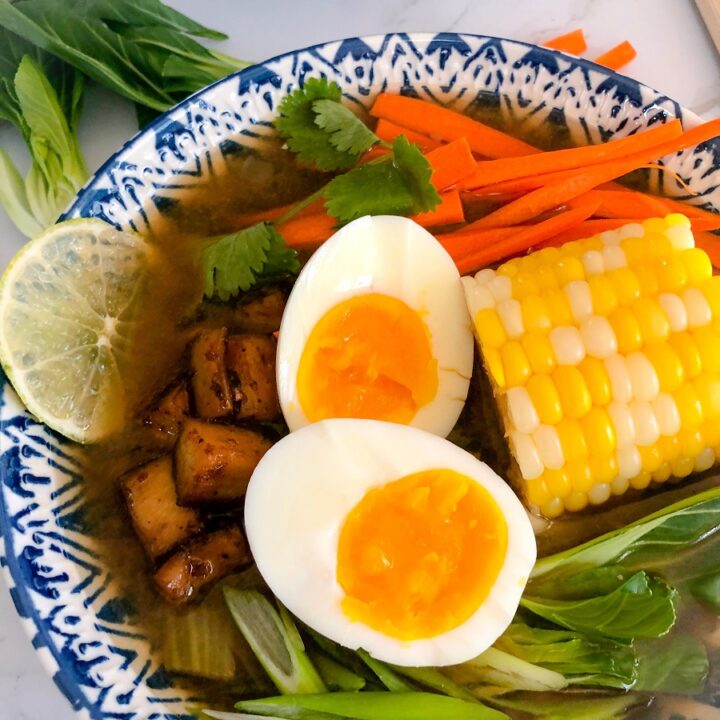 30 minute Ginger Miso Ramen with Crispy Tofu
This 30 minute Ginger Miso Ramen with Crispy Tofu is perfect for those nights when you need a comforting, healthy and satisfying dinner and need it fast. Skip the egg and make it vegan.
Ingredients
8

cups

miso broth

¼

cup

low sodium soy sauce

use more or less to taste

1

tablespoons

rice vinegar

or any white vinegar

1

tablespoons

chili oil

plus more for serving

1

inch

fresh ginger

minced or grated

2

cloves

garlic

minced or grated

3 - 4

squares of ramen noodles

1

lb

baby bok choy

sliced down the middle

¼

cup

fresh cilantro

chopped
For the Crispy Tofu:
1

block extra firm tofu

12 oz

1

tablespoon

olive oil

2

tablespoon

sweet chili garlic sauce

1

tablespoon

brown sugar
For serving:
4-6

soft or hard boiled eggs

see write up above

Sliced carrots and green onions

Cooked corn on the cob

cut into 3s
Instructions
Wrap the tofu block in a kitchen towel and press it down with something heavy. If making boiled eggs, fill a saucepan with water and set to boil.

Set a heavy bottomed dutch oven or a soup pot on high heat. Add the broth, 2 cups water, soy sauce, vinegar, and chili oil. Add the minced ginger, and garlic. Bring to a boil, lower the heat to medium-low, cover and let simmer for 20 minutes (set a timer), until the broth is very fragrant.

While the broth is simmering, get your toppings ready - julienne the carrots and green onions and microwave the corn. If you have never cooked the corn in a microwave, you should give it a try. Wrap the corn, husk and all in a wet paper towel and nuke for 3 minutes. Take out, remove the paper towel, chop the bottom end off, and squeeze out the perfectly cooked corn on the cob out from the husk.

Set a heavy bottomed or non-stick pan on high heat. Unwrap the tofu, slice the block in the middle and cut into cubes. Toss with oil, brown sugar and sweet chili garlic sauce. Add to the pan, lower the heat to medium-high, and cook until crispy (stirring occasionally), about 8 - 10 minutes.

Boil the eggs (6 minutes for soft and 12 for hard boiled). Drain and add cold water to the pan. Once cold enough to handle, peel and slice in half.

Once the timer goes off, stir the noodles in the broth along with baby bok choy and cilantro. Let cook for 5 minutes or until the noodles are soft.

Ladle the soup into bowls and top with the crispy tofu, corn, eggs, carrots, green onions, and additional chili oil. Enjoy!
Notes
If you have leftovers (highly unlikely), I would recommend storing the soup and noodles separately. When ready to eat, warm the broth and add the noodles again before serving. If you store noodles and broth together, the noodles will soak up all the broth and become mushy.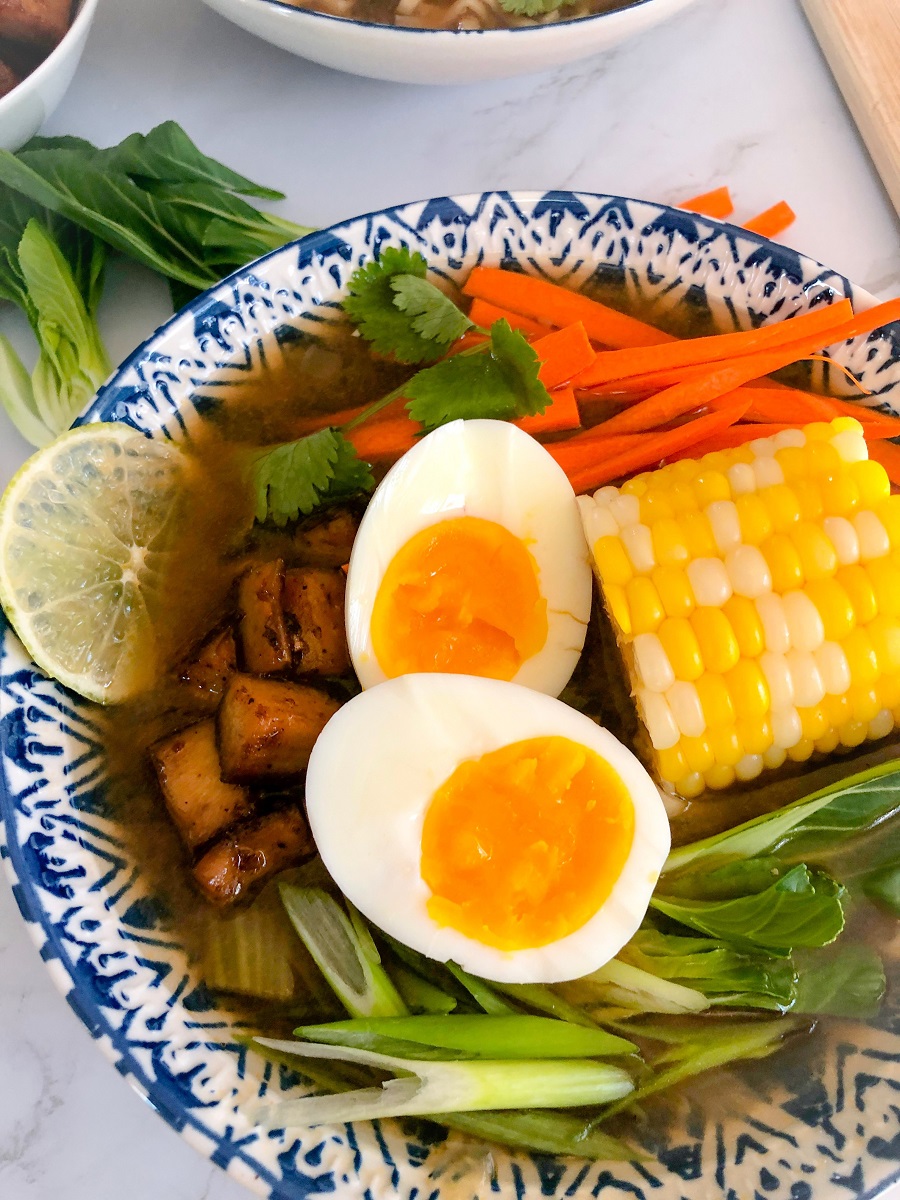 ★ Did you make this recipe? Don't forget to give it a star rating! I love to hear from you guys. And if you do make this recipe, please tag me on Instagram and Facebook! I love to look through your creations!!
Love – Vaishali
Key Recipe Tools and Ingredients: