How is it fall already? I just can't wrap my head around the fact that we are in the last quarter of this year. Though with each passing year, as the kids are growing up and their routines become more demanding, it seems like that time is going by even faster. With this year starting with a new job for me and Mr. little V starting his preschool, our lazy days of lounging around all day, reading books, story time at the library, going for walks in the park picking wildflowers, and other pleasures of mom and son time were over. These are the simple pleasures of life that we take for granted till we lose them. As much as I miss spending a lot of time with Mr. little V, I think this change has been good for both of us. He is a cuddler (is that even a word?) and is not shy of giving hugs, kisses and lots of I love yous. I love this little guy to pieces.
Anyhow, talking about fall…what is another tomato recipe doing here? Well friends, our garden Just.Wont.Stop making tomatoes. While my in laws were visiting us for past few weeks, my father in law would tour our raised bed and without fail would predict how many more days of tomatoes we have left. All I can is that all his predictions are gone down the drain and all bets are off. So I hope this is my last tomato post of the season. Hang in there with me please.
Pico de gallo is a fresh salsa of sorts (hence Salsa Fresca), made with fresh tomatoes, onions, cilantro and lime juice. This salsa is a burst of freshness for any heavy, cheesy dish and is a great addition to any of your fiesta menu when garden ripe tomatoes are in season. It is also a perfect companion to guacamole (recipe here) if you are serving it with chips. Tomatoes are not the only star in this dish, all the ingredients play an important part in this salsa coming together as a whole.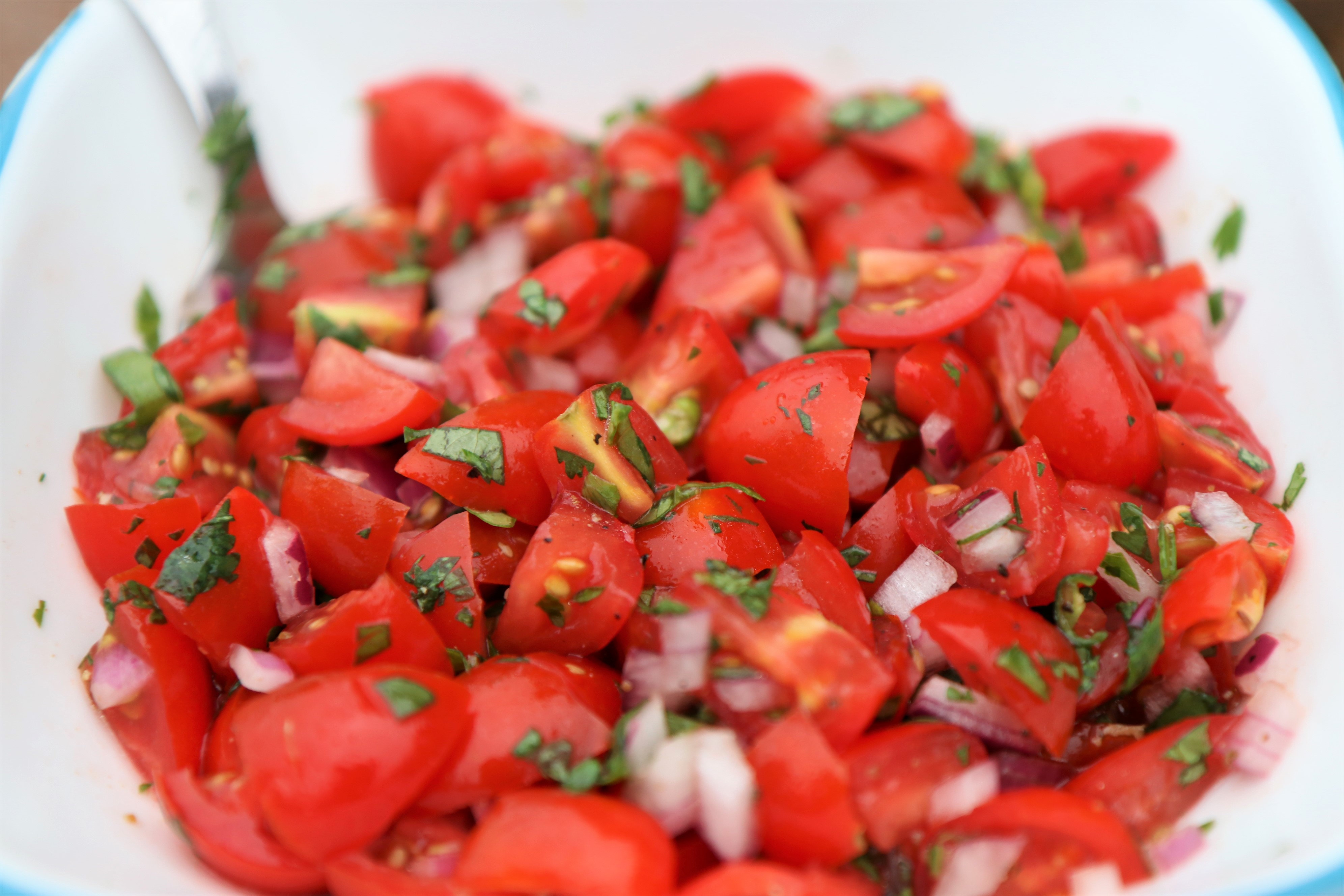 Ingredients:
2 cups tomatoes – chopped (choose cherry, grape or 2 big vine ripe tomatoes)
Red onion – ½ small, finely diced
Cilantro – 6-7 sprigs
Green chili – 2, minced (your choice of spice level – jalapeno, serrano, Thai or cayenne)
Lime juice – from ½ lime
Cumin powder – ¼ teaspoon
Salt – to taste
Method:
Place all of these ingredients together in a big bowl and give it a good stir. Give it a taste check and adjust salt and/or lime juice.
Few points to keep in mind:
You can leave seeds in your green chilies for a hotter PdG, adjusting the amount of chilies to your preferred spice level.
Remove the leaves from cilantro sprigs and discard the stems before chopping.
Don't skip the cumin powder. Trust me.
Enjoy!
Love – Vaishali.
Tools used:
Knife and chopping board
Mixing bowl
Measuring cups and spoons