Make this watermelon rind chutney once and you will never throw away watermelon rinds. A simple recipe with a handful of ingredients and easy to follow instructions. Vegan and gluten-free.
Jump to Recipe
This whole quarantine deal has been making us do things that we have never done before. Like this watermelon rind chutney. Who would have thought? The idea actually came from a pickled watermelon rind recipe that I saw on recommended videos on Instagram. And boom...a light bulb came alight in my mind. You see, some fruits and veggies are made for chutney like this tomato apple chutney or this tomato date chutney. But watermelon rind? Who would've thunk?
But why Watermelon Rind Chutney?
There is also some motivation behind trying this watermelon rind chutney recipe other than using up the otherwise destined for trash watermelon rind. Raw mango chutney is easily the most common chutney that we make in our family, especially at my in-laws'. My mom, however, is allergic to mango. So she cannot have mango chutney or pickle or mango...period. Sadness!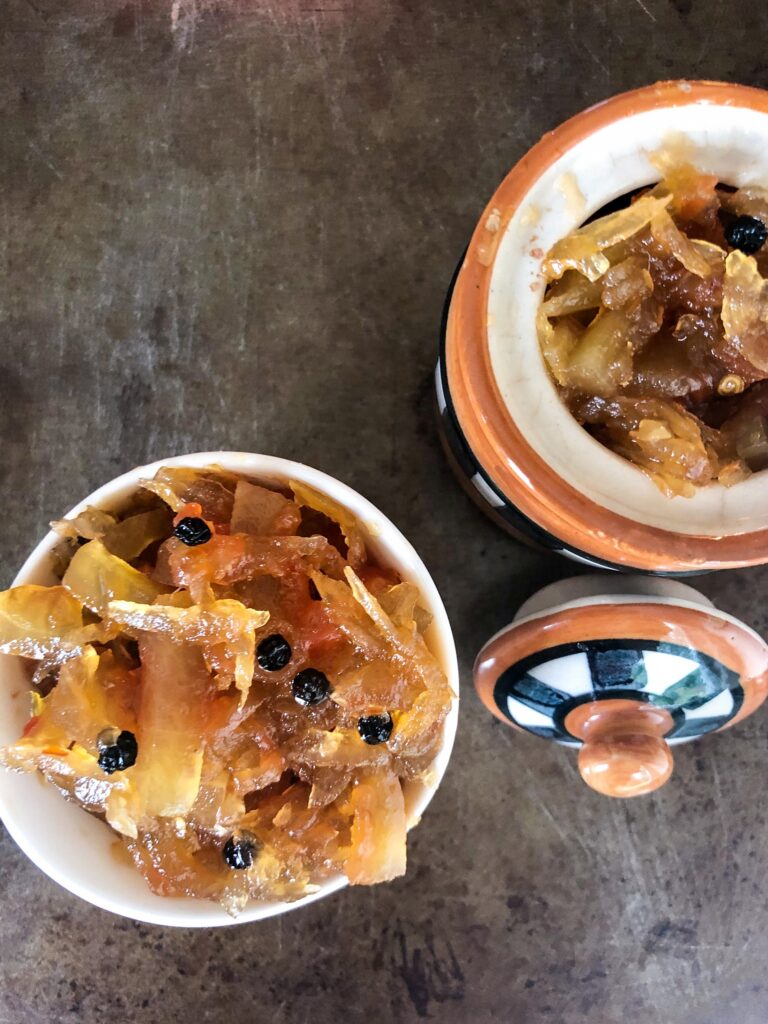 I had this idea that maybe I can mimic the flavor and spices of mango chutney but made with watermelon. And then she can enjoy a chutney pretty similar to mango chutney. Does that make sense? Now this chutney, by no means, can attain the tartness that is inherent to raw mango but it does come close.
So here goes nothing - use up those watermelon rinds people and you won't regret it. I read somewhere that the dark green part of the watermelon rind is inedible so I peeled that off and used the white part of the rind along with some pink that remained after cutting the edible watermelon part off. There is not much that can go wrong here so approach this recipe with complete abandon and feel free to add or reduce any specific spice or ingredient to your liking.
Recipe run down:
This might be the simplest recipe that I ever wrote. Shred or slice the watermelon rind. Boil water, vinegar, sugar, salt, black peppercorns, red chili powder together. Add the rind and cook for a very long time…..
Here is the handy dandy printable:
Watermelon Rind Chutney Recipe
Make this watermelon rind chutney once and you will never throw away watermelon rinds. A simple recipe with a handful of ingredients and easy to follow instructions. Vegan and gluten-free!
Ingredients
5

cups

Watermelon rind

peeled and shredded, see notes

½

cup

Water

¾

cup

White vinegar

¾

cup

Sugar

1

teaspoon

Salt

1

teaspoon

black pepper corn

see notes

1

teaspoon

red chili flakes or chili powder
Instructions
Set a heavy bottomed saucepan on medium heat. Add all the ingredients except the watermelon rind and bring to a boil.

Once boiling, add the shredded watermelon rind. Wait until the mixture starts boiling again. At this point, turn the heat to medium low, cover and cook for 45 minutes. See notes.

After 45 minutes, remove the lid and cook for another 10 minutes or until a thick, chutney like consistency is reached.

Cool the chutney and store in a clean, air tight jar (preferably glass) for upto a month in the refrigerator.

Enjoy it with toast, paranthe or anything, really.
Notes
You can grate the watermelon rind in a food processor or on the biggest grate of your box grater. You can also finely chop/slice it.
You can also use coarsely groung black pepper instead of black peppercorns.
Cooking time of your chutney might vary if the rind is shredded finer and it will lack the texture. Cook time will also depend on the variety of watermelon. My mom cooked it in India and her chutney was done in about 30 minutes. So please keep an eye, you don't want the chutney to be a mush but rather hold some texture as you can see in the pictures.
Key Recipe Tools:
Sauce Pan:
Grater:
Measuring Cups:
Measuring Spoons:
Knife:
This recipe is perfect for Meatless Monday or any other day of the week! It's vegan, gluten-free and super flavorful. If you make this Watermelon Rind Chutney be sure to leave a comment and let me know how you liked it! Snap a photo and share it on Instagram with the hashtag #thekitchendocs or share on Facebook, too.
Love- Vaishali.