Learn how to make healthier homemade garlic naan with this easy, yeast free, vegetarian recipe. You won't buy naan ever again!
Jump to Recipe
I cannot even begin to count the times I have been asked how I make naan "bread". Until recently, my answer has always been that "I just buy them". But then few months ago, I started experimenting with few dough options to get that perfect taste and texture that we all love. This homemade healthier garlic naan recipe is the final result.
Naan is how the world knows Indian flatbread (though it's not necessarily true), and eating out is partially to blame. Restaurant culture worldwide and even within India has made naan as "the" bread that India eats. And naan is just not any flat bread. It's crunchy and charred on the outside with soft and pillowy interiors. Slather it with garlic butter or ghee and you will be transported to glutinous heaven.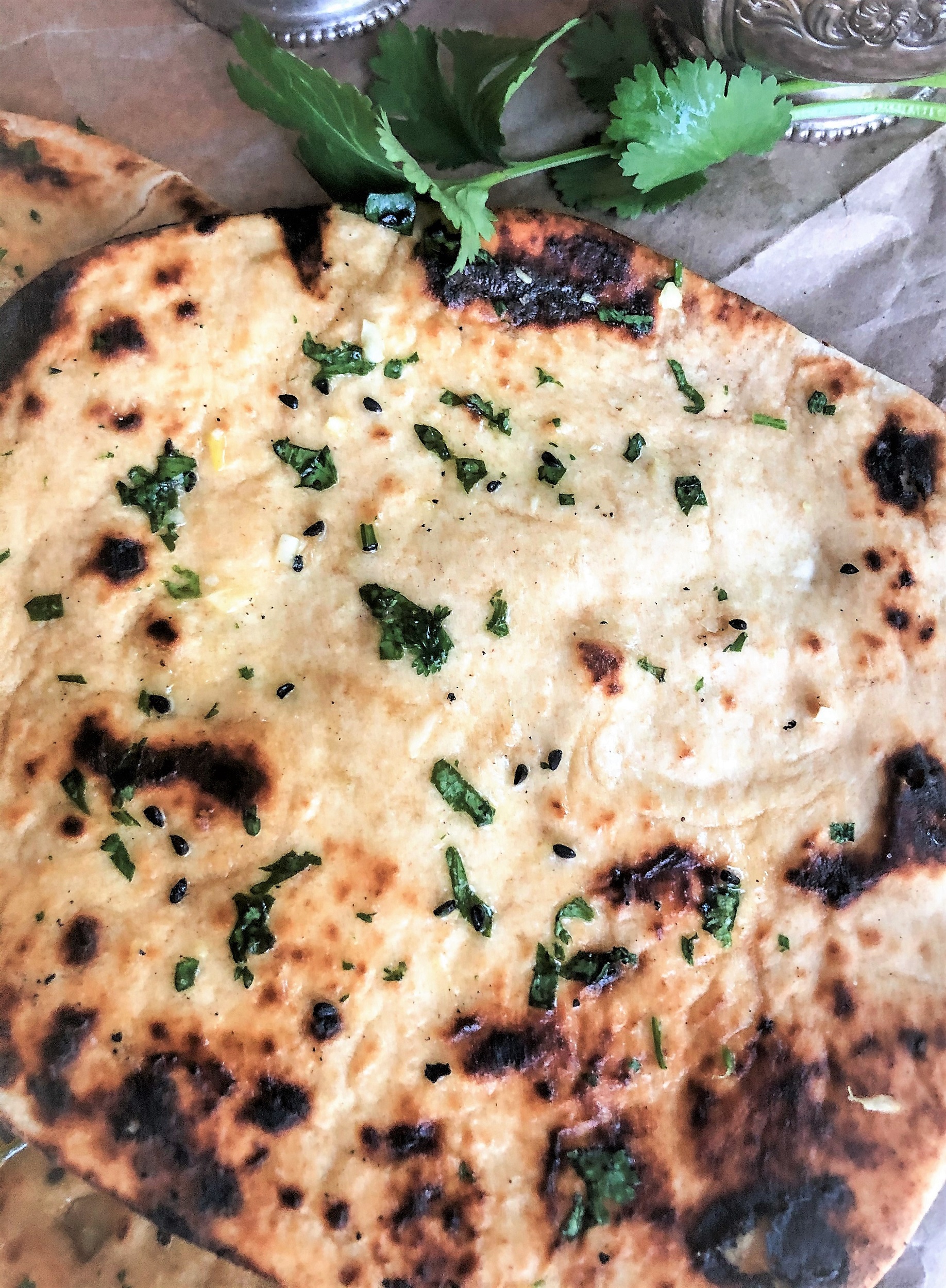 Traditional Naan
There are many different ways to make naan and combinations of ingredients to add to all purpose flour to get that slightly fermented, tacky, stretchy dough. Traditionally, naan is made in a tandoor which is a wood fired clay oven. Temperatures in tandoor can be extremely high. Rolled out naan is slapped on the walls of the tandoor to get that char and fast cooking of the bread. I recommend using a super hot cast iron skillet to achieve this effect. After rolling the naan out, I wet the surface that will come in contact with the skillet so that it sticks to the skillet. This helps in achieving the charred surface spots.
Once the flat bread comes out of the oven, it's slathered with plain ghee or butter and then served hot. A more famous version is the garlic naan, in which naan is slathered with garlic butter.
We are making a healthier version of garlic naan today.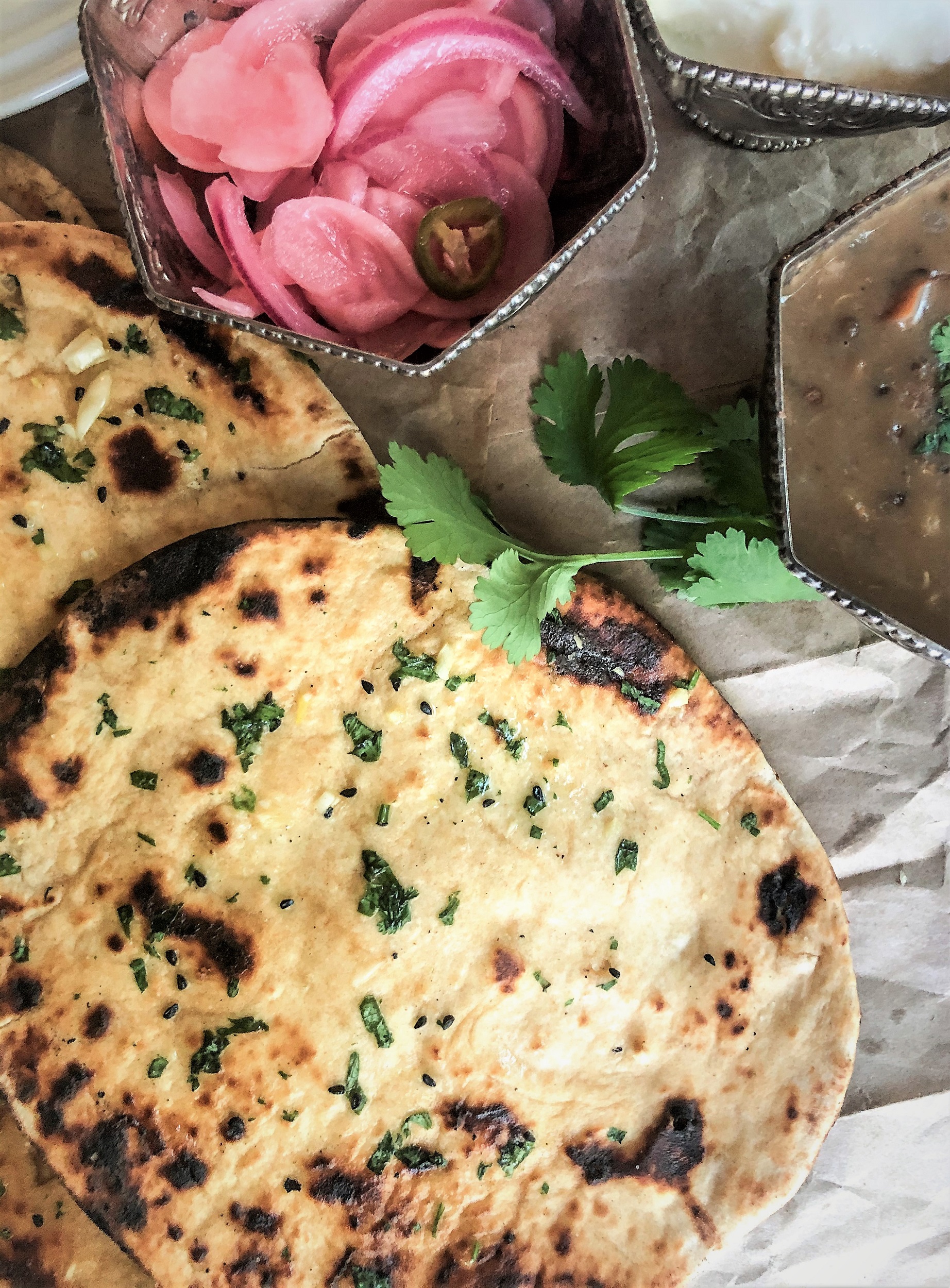 What makes this recipe healthier?
Whole wheat flour. I replaced a portion of all-purpose flour with whole wheat flour to make the naan healthier and little less of a guilty-pleasure. It can be enjoyed more frequently than the indulgent pure all-purpose flour version. I tried making the all whole-wheat flour version but you need that all-purpose flour for that chewy texture which cannot be achieved if you use only whole wheat flour. So there you have it – a healthier garlic naan for ya!
What do you eat naan with?
Ok, that's not really a question! With anything and everything. By itself. Usually, you can serve garlic naan with any curry dish – vegetarian or non-vegetarian. Soak up all the gravy and the juices from your curry with this piece of deliciousness. Pretty much all the curry (like this malai kofta), chicken, vegetable (sweet corn curry), paneer (shahi paneer) recipes that I have shared on the blog will go really well with garlic naan. Daal makhani, choley, kadahi paneer, butter chicken – you name it. You can also serve it with soups, or toast slices of naan and serve with hummus or other dips. My kids love to toast naan and sprinkle some cheese on it to eat it as naan cheese pizza.
Yeast free?
There is no yeast in this recipe. I have used yogurt (room temperature) and baking soda to get that yeasty effect and taste. Yeast is not a common ingredient in Indian cooking. Plus who wants to go looking out for yeast during this quarantine situation.
Recipe run down
Plan ahead! The dough needs to rise. The yogurt has to be at room temperature. Make sure that the butter is soft enough to mash it with some garlic. It's mostly a run-of-the-mill recipe. Mix dry ingredients, add the wet ingredients to dry. Use your stand mixer or knead the dough by hand. Cover and let the dough rise. Divide into balls, roll, cook, slather with garlic butter and enjoy. Ta-da! Here is a more detailed version that will make sense:
Yer handy-dandy printable: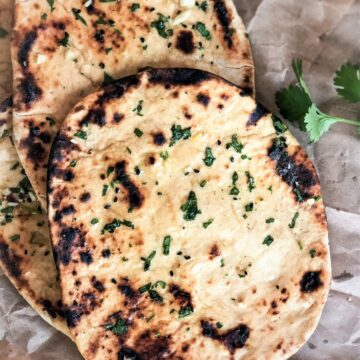 Healthier Homemade Garlic Naan
Learn how to make healthier homemade garlic naan with this easy, yeast free, vegetarian recipe. You won't buy naan ever again!
Ingredients
1

cup

all-purpose flour

1

cup

whole wheat flour

½

teaspoon

baking soda

½

teaspoon

salt

½

teaspoon

sugar

½

cup

yogurt

room temperature (see notes)

3

teaspoon

oil

½

cup

luke warm water

or as needed
For Garnish (see notes)
2

tablespoon

clear butter or ghee

3

cloves

of garlic

minced

2

tablespoon

chopped cilantro

Salt
Instructions
To make the dough: In the bowl of your stand mixer or in a deep mixing bowl, mix the dry ingredients together, add 1 tablespoon of oil and yogurt mix it well.

Then add the water gradually to make very soft dough but not sticky.

Knead the dough well for about a minute or two (med-high speed if using stand mixer) until smooth. Apply light oil to the dough and cover with a clean, damp kitchen towel.

Let the dough sit for about 3 hours in warm place. (see notes)

While the dough is resting, mix all the ingredients for garnishing, butter, garlic, salt, and cilantro. Set aside.

After about 3 hours, dough should be about doubled in size, knead the dough again on floured surface.

Divide the dough in eight equal parts, lightly roll into the flour, cover the balls and let it sit for about five minutes before rolling.

Heat the cast iron skillet on medium high heat, to check if skillet is ready sprinkle the few drops of water on it, if the water sizzles, your skillet is ready.

Roll the naan one at a time on a lightly floured surface little less than ¼ inch thick. Sprinkle the water lightly on one side of the naan.

Put water side naan on the skillet, once the naan start bubbling and dough start drying, flip the naan. If you have a gas stove, you can toast the naan at this step directly on the flame to get the "tandoori" touch and little bit of char.

Once naan is browned to your satisfaction, remove, and spread the butter mix over. Place in a on a plate and cover with a cloth to keep warm until serving. Naan is ready!
Notes
Yogurt has to be at room temperature, otherwise your dough will not rise.
Other garnish options include: nigella seeds (kalaunji), chopped jalapenos or chili peppers, chaat masala etc.
If the dough is sticky, add extra 2 more tablespoons of flour to bind the dough.
How long it takes for the dough to rise will depend on the temperature. On hot summer days, the dough can double in size in about an hour. Keep checking.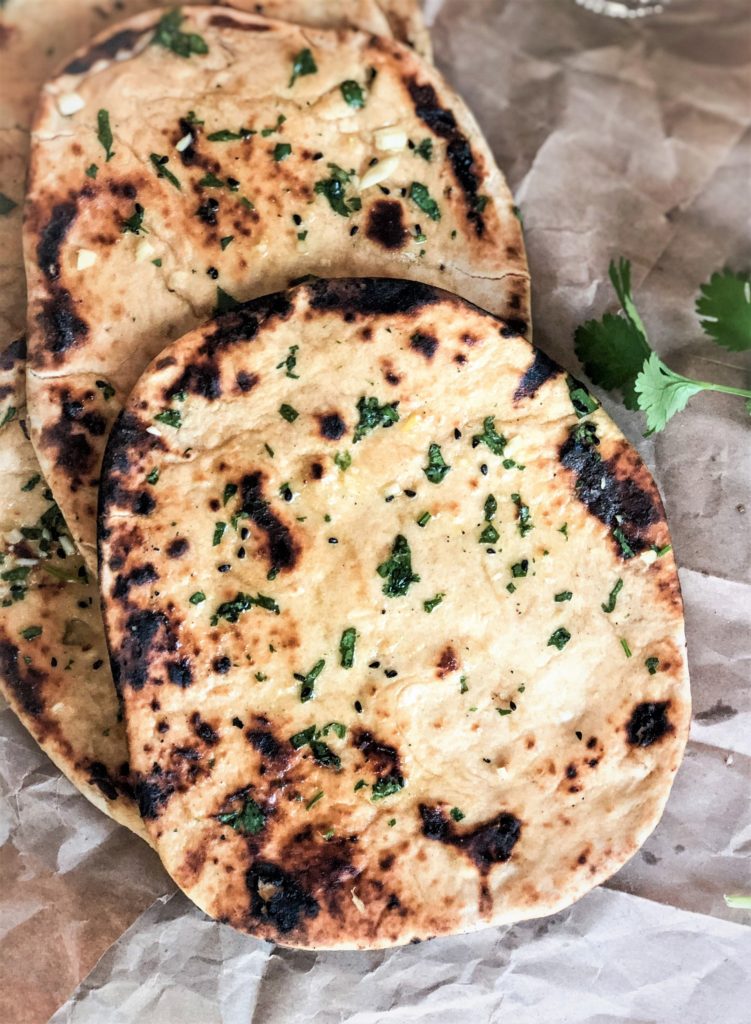 Key Recipe Tools and Ingredients:
Rolling Pin:
Cast Iron Griddle:
If you make these naan be sure to leave a comment and let me know how you liked it! Snap a photo and share it on Instagram with the hashtag #thekitchendocs or add it to share on Facebook, too.
Love always - Vaishali!