Your favorite strawberry scones made healthier by using whole wheat flour and more flavorful with strawberry glaze. Easy recipe from your own kitchen!
This post may contain affiliate links.
Jump to Recipe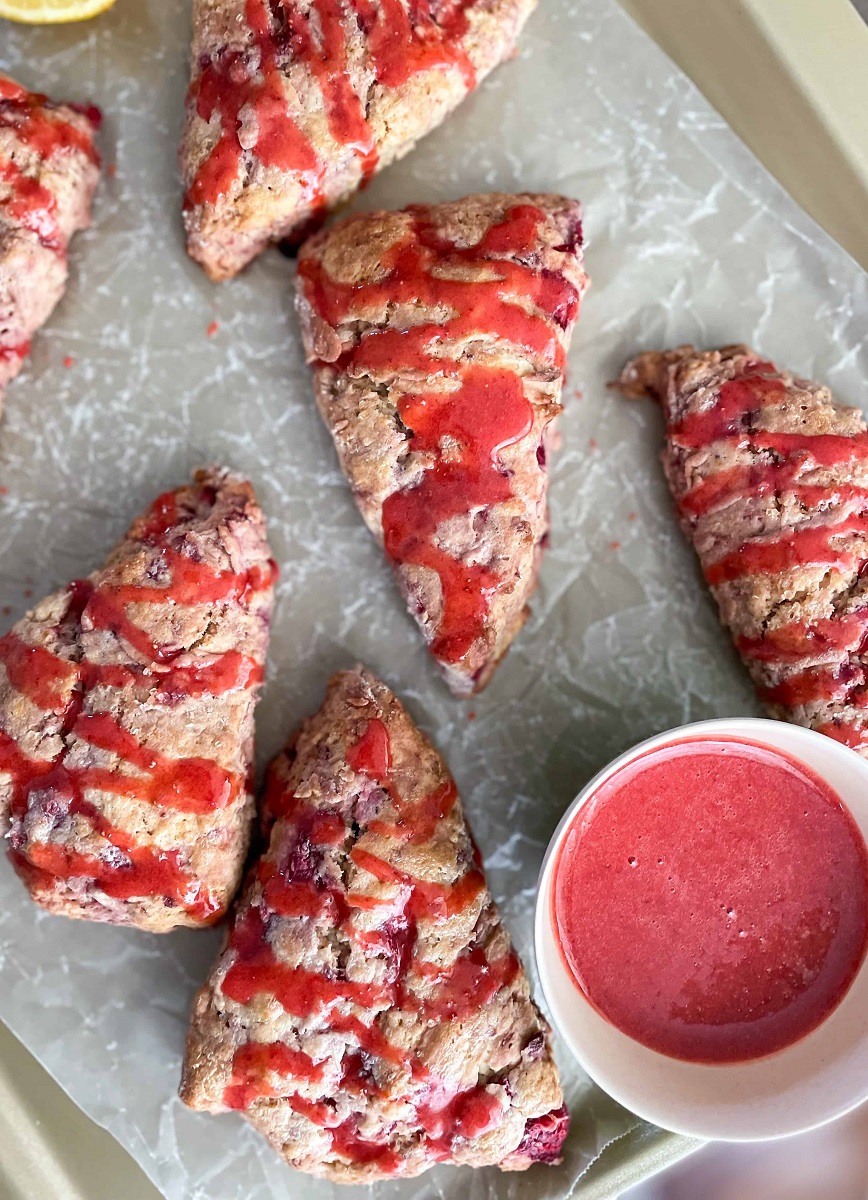 If there's one thing on a coffee shop or bakery menu that Dr. A eyes the most, it's scones. And make them fruity and you have a winner right there. I would say we have come a long way from our days when we thought Panera Bread had the most legit scones. Nothing against Panera but we have since explored so many local bakeries, little mom and pop shops dotted around the country, that it's hard to give the crown to PB. And scones also speak to me since they are not overly sweet like some of the other treats on a bakery counter!
The Strawberries
And you know about it - you know about the strawberries! Picking them straight off the beds. The juiciest, the reddest, the best ever! If you have not heard the story, go read it here. So much so that I think this space might be turning into a baking blog...ha ha. I absolutely love to bake - it's therapeutic. There's something about flour and sugar and butter that's magical. However, I do not share a lot of our (including Ms. A) baking adventures here. I don't know why but that seems to be changing. Don't worry about the savory recipes. They are here to stay but right now I'm on a baking kick and the strawberries are to blame. Hence, the strawberry scones!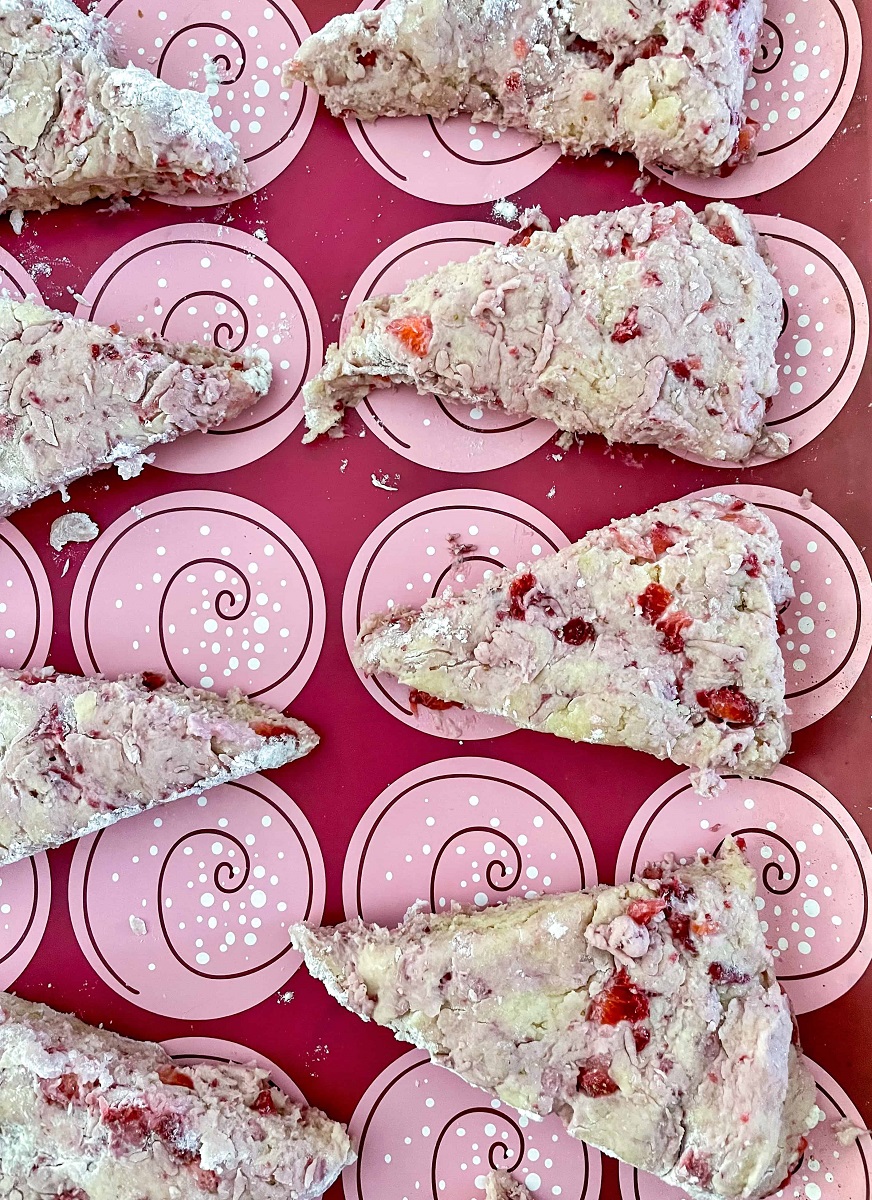 If you are a blogger or a recipe developer, you might constantly hear people complain about you taking pictures of food that is so darn tempting that it's hard to control yourself. Sometimes you are able to hold your fort and sometimes you get lost in the moment, ingest every single crumb, and when the moment subsides, you realize you didn't take that "featured image" that you needed? Yup, we came extremely close to this situation with these scones but the danger was eliminated after certain people were able to gain control of their emotions. Uhmm!
The Ingredients for Strawberry Scones
Remember whole wheat! So yeah you need whole wheat flour - pastry or regular - both will work. Some textural difference but nothing that'll break the world. And strawberries - the best kind you can get! Other cast of characters for these strawberry scones include sugar, butter, baking powder, cream...all the good stuff. The glaze takes these to a whole different level and is as simple as can be - more strawberries, confectioner's sugar and lime juice.
Tips
The butter should be cold
Do not overmix the batter/dough
If the dough gets too soft or warm, stick it in the refrigerator before cutting the strawberry scones.
Each oven is different. Start checking your scones at 20 minute mark and take them out once browned at the bottom and edges.
These scones are not really sweet as such. The glaze is what add the sweetness so add as much or as little you like.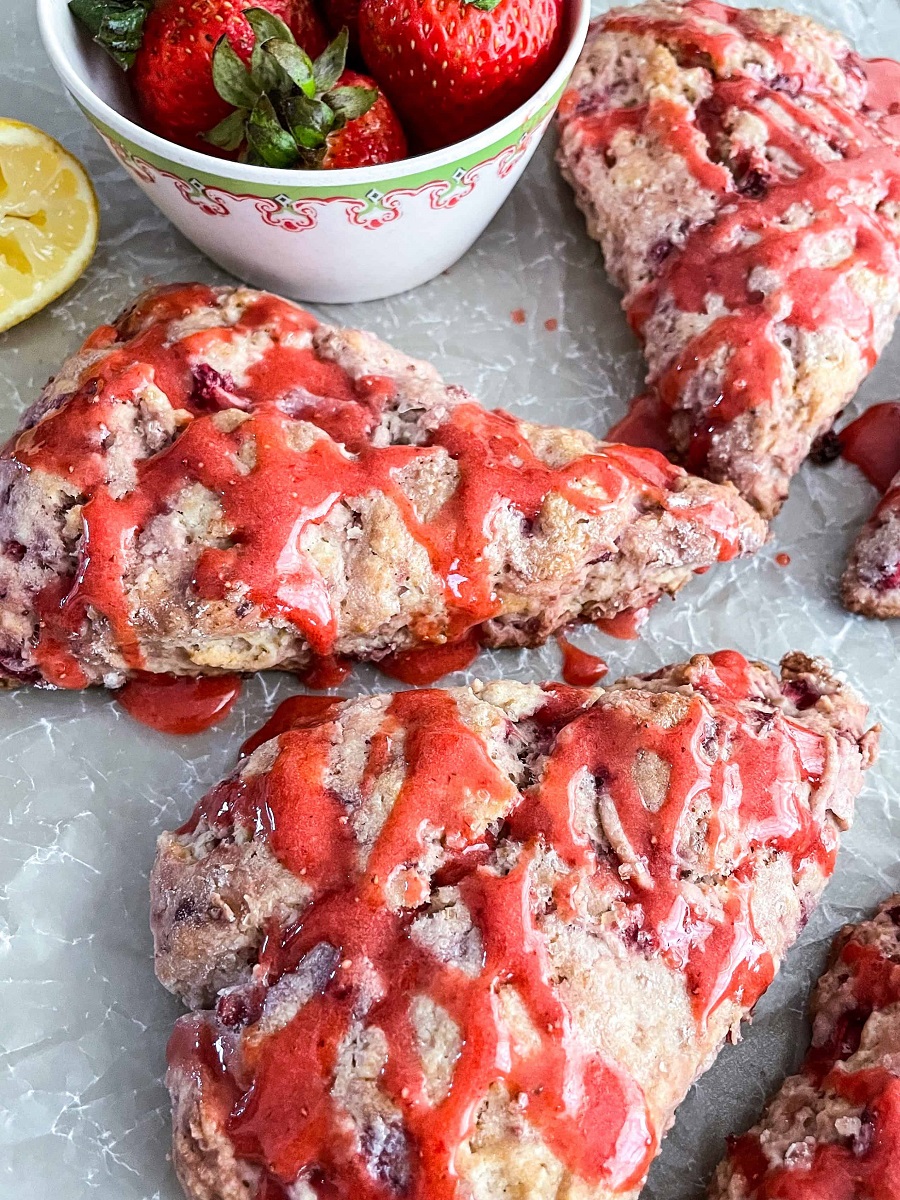 I used a food processor to make the dough. If you do not want to use one, then first whisk the dry ingredients and then cut cold butter into them using a pastry cutter or sturdy fork. Work quickly so that the butter stays cold. Once mixed the mixture should resemble coarse bread crumbs or peas. Add the heavy cream mixed with vanilla using a wooden spoon. Rest of the method is the same as given in the recipe card below.
Other similar recipes:
If you enjoyed these whole wheat strawberry scones, you might also like: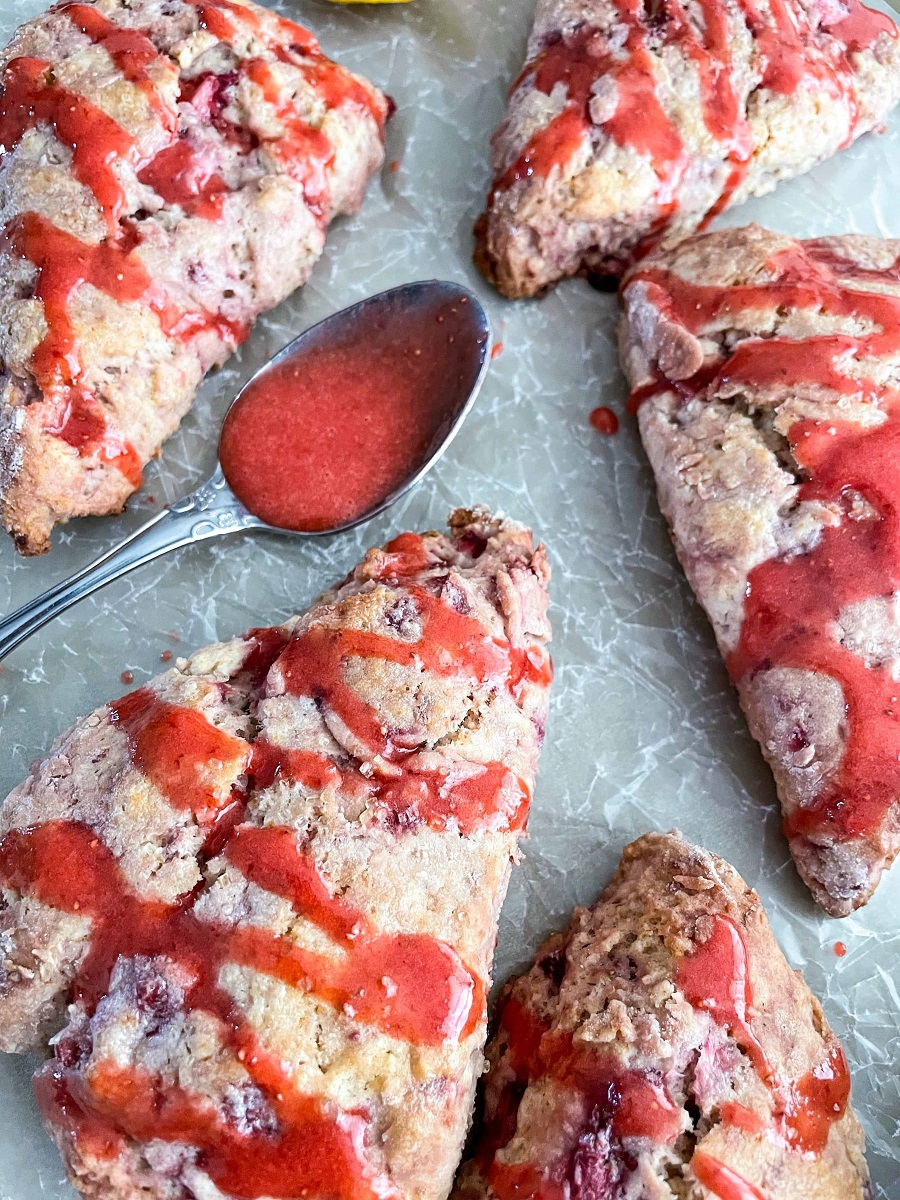 Here's your handy dandy printable:
Whole Wheat Strawberry Scones with Strawberry Glaze
Your favorite strawberry scones made healthier by using whole wheat flour and more flavorful with strawberry glaze. Easy recipe from your own kitchen!
Ingredients
2

cups

Whole Wheat Flour

1

tablespoon

Baking powder

¼

cup

Sugar

½

teaspoon

Salt

6

tablespoon

Butter

1

c

Heavy cream

1

teaspoon

Vanilla

1

c

Strawberries

2

tablespoon

Turbinado sugar
Strawberry Glaze
½

c

Strawberries

1

c

Confectioner's sugar

1

teaspoon

Lime juice
Instructions
Preheat the oven to 400 degrees F/ 200 degrees C.

Add flour, sugar, baking powder and salt to your food processor and pulse to combine. Add the cubed, cold butter and pulse until the mixture resembles coarse bread crumbs or peas.

In a measuring cup, take 1 cup of cold heavy cream and add vanilla to it. Add this cream-vanilla mixture to the flour butter mixture and pulse until just combined. Do not overmix.

Take the blade of the food processor out and add in chopped strawberries. Gently mix.

Take the dough out on a well floured surface or baking mat. Working quickly with your hands, bring the dough together and form into a 1 inch thick circle.

You might have to pat and press the dough together but you do not want to overwork the dough so that the butter does not get too warm. Cold butter makes flaky scones. Using a sharp knife, cut the circle into 8 pie sliced scones.

Lay the scones on a parchment or silpat lined cookie sheet. See notes. Brush the scones with cream and sprinkle some coarse sugar on each one. Bake for 20-23 minutes or until the bottoms and edges are slightly browned.
Strawberry Glaze
Meanwhile make the glaze. Wipe down or rinse the food processor and puree the strawberries (see notes). Add confectioners' sugar and lime juice and blend until smooth.
Finish the scones
Once the scones are done, take them out of the oven and let them cool on the cookie sheet for 10 minutes before moving them to a cooling rack and letting cool for another 5 minutes.

Once completely cooled, generously glaze the scones with strawberry glaze. The glaze will set in about 30 minutes…but who are we kidding. No one can wait that long! So grab a cup of coffee or milk and enjoy this one.
Did you make this recipe? Don't forget to give it a star rating! I love to hear from you guys. And if you do make this recipe, please tag me on Instagram and Facebook! I love to look through your creations!!
Love – Vaishali
Key Tools and Ingredients:
Food Processor:
Baking Sheet:
Pastry Brush:
Measuring Cups:
Measuring spoons:
Knife: