This is a step away from the traditional Irish Soda Bread recipe but has a great flavor combination of caraway and raisins in it.
Over 12 years ago, we left the comforts and warmth of our motherland and ventured into an exciting dream and vision of exploring research opportunities in this marvelous land that we now call home. If you have been reading the blog for some time, you might know that Dr. A and I came to the United State as graduate students. We are blessed to have lived in small college towns ever since with a brief stint in a big city in the Pacific Northwest. A special community feel and camaraderie exists in college towns that are hard to find in other places. Today I am reflecting on a wonderful program called World Friendship and my awesome neighbor Becky who introduced me to it along with her Almost Irish Soda Bread recipe.
Jump to Recipe
World Friendship
World Friendship is a program that our university and some great, selfless and just overall beautiful women from the town run. The idea behind the program, as I understand it, is to help women from all over the world that come to town with their families to be a part of the University system. They can be students, wives or relatives of students, postdocs, visiting scientists or here in some other capacity. World friendship meets once a week when semester is in session and provides free childcare. There are different focus groups that range from learning English to painting and everything in between.
When Becky told me about the World Friendship I was a stay at home mom and Mr. Little V was almost 2 years old. I thought it would be a good break in routine for both of us and Mr. Little V can be introduced to the concept of day care. After almost a decade in the United States, it felt like that life has come a full circle for me, who was once at the receiving end of programs like these. I enjoyed meeting with and connecting with these ladies who were new to the country. They were just like me from 10 years ago. Happy and excited while being confused and a little intimidated by the new culture.
Sometimes, all it takes is a friendly touch, an expression of "I've been in your shoes" or just a hug and it can clear the fog of uncertainty that fogs your heart and mind. Soon I was sharing Indian recipes (made this) in cooking interest group and learning sewing at the same time. In one of the cooking interest group sessions, Becky shared this recipe of her almost Irish soda bread and we all enjoyed it warm with some butter. It was delicious!
Last year, after I started blogging, I asked Becky for this recipe around St. Patrick's day and she asked if I would post it. I told her that I was planning to. Well I am a year late, but here is Becky's recipe for you. I am sure she is as thrilled as I am that you will also get to enjoy this deliciousness.
Recipe run down
This bread has with all purpose flour, buttermilk and baking soda. Becky's notes say that the traditional Irish soda bread just had four ingredients in it. Since this one has a few more, Becky calls it "Almost/Americanized" Irish soda bread. Ha ha. You start by preheating the oven to 375 degrees F/ 190 degrees C. Like a good baker that you are, sift together flour and salt and stir in sugar along with caraway seeds. Cut in the butter with a pastry cutter (yeah, right! I do not even own that contraption). Mix the wet ingredients that are buttermilk, egg and vinegar. Becky's recipe calls for cream of tartar but since I have never used it before and might not likely use it again; I consulted my trusted Southern Living Cookbook and substituted it with white vinegar. Add baking soda to the wet ingredients and add it to the butter and flour mixture. Stir in the raisins, form into a boule and bake until done. Let it cool before slicing (like that's going to happen..hah).
Here's your handy dandy printable
Becky's Almost Irish Soda Bread
This is a step away from the traditional Irish Soda Bread recipe but has a great flavor combination of caraway and raisins in it.
Ingredients
4

cups

all purpose flour

scooped and leveled with a knife

¼

cup

sugar

1

teaspoon

salt

¼

cup

butter

2

tablespoon

caraway seeds

1 ½

cup

buttermilk

3

teaspoon

white vinegar

see notes

1

egg

at room temperature

1

teaspoon

baking soda

2

cups

raisins

see notes
Instructions
Take the egg out of the refrigerator

Preheat your oven to 375 F or 190 C

Sift together the flour and salt in the bowl of your stand mixer fitted with the paddle attachment (or in a deep mixing bowl)

Add sugar and caraway seeds and mix. Add the butter (cut into small cubes) to the flour mix and stir on low speed until the flour resembles coarse corn meal (if you are doing this with hand, you can use a pastry cutter or a sturdy fork).

In a glass measuring cup, measure buttermilk and add white vinegar and egg to it. Whisk and then add the baking soda. The mixture might froth up, do not worry this is a common chemical reaction that will make your bread nice and light.

If you are using a stand mixer, with the mixer on low speed, slowly pour in the wet ingredients. Add the raisins and mix until the raisins are just incorporated, 5-10 seconds.

Now change the paddle attachment with dough hook and knead the dough on medium speed until it comes together, about 30 seconds.

If you are not using a stand mixer, use a wooden spoon to mix dry and wet ingredients and add the raisins. Dump the dough on to a clean surface dusted with flour and knead with hands until the dough comes together.

Take a cookie sheet and grease it with butter (see notes).

Place the dough ball formed into a boule in the middle of the cookie sheet. Using a sharp knife, cut a ½ inch deep cross end to end across the boule.

Bake uncovered for 50 minutes and then cover with foil before baking for another 10 minutes. So total bake time is 1 hour.

After 1 hour, take the bread out of the oven, remove the foil and let cool on the sheet for 10 minutes. Then move it to a cooling rack for further cooling rack (see notes).

Once the bread is cooled, slice and enjoy spread with some butter or your favorite jelly/jam.
Notes
The original recipe calls for cream of tartar. If you have it on hand, add 1 and ½ teaspoon to flour and salt mixture before sifting.
I used dark raisins in this recipe since that is more traditional. Feel free to use golden raisins or a mix of golden and dark. Your call.
I like to save the paper that the butter is wrapped in and then use it to grease my baking pans and cookie sheets.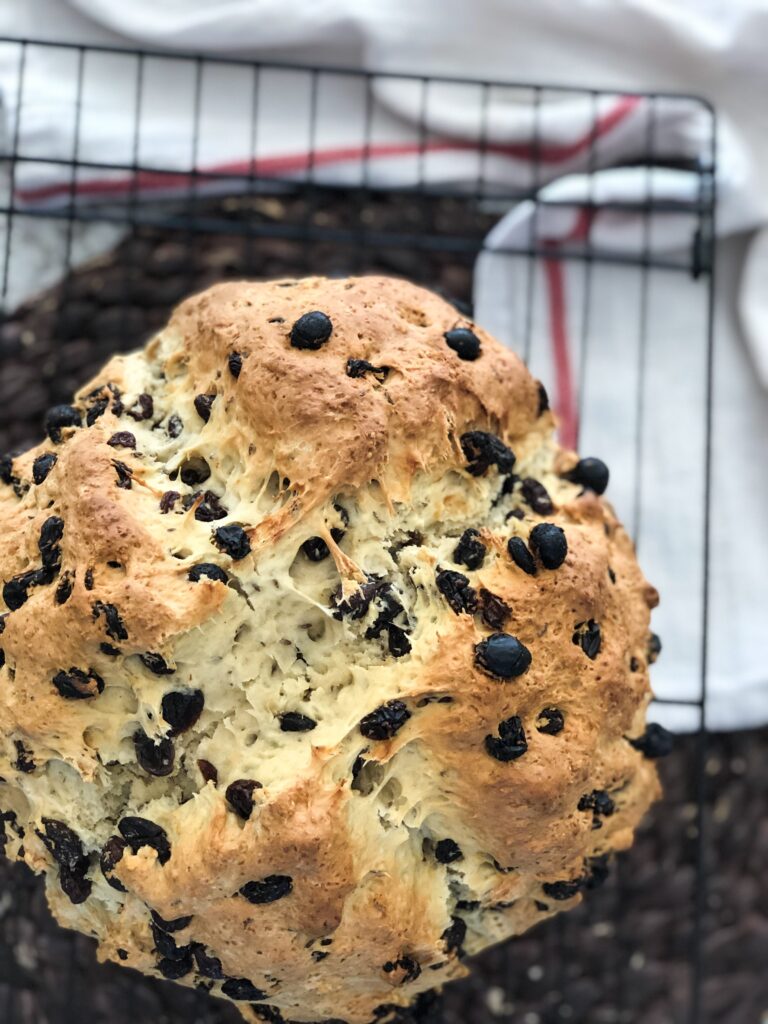 Becky's notes say that you can also make it into smaller size and then use it in lunch boxes. The texture of the bread is on the drier side, so I would not recommend storing it for a very long time as it may dry out. In my opinion, it tastes best eaten freshly baked or toasted. I store it wrapped in plastic wrap or foil.
If you want to store it for a longer time, once cooled completely, wrap it tightly first in plastic wrap, and then aluminum foil. Put in a ziptop freezer bag and freeze up to two months. Thaw, toast and enjoy!
St. Patrick's Day or not, I hope you give this semi- traditional recipe a try and let me know in comments how you like it.
Love - Vaishali.
Tools Used:
Stand Mixer:
Measuring Cups:
Measuring Spoons:
Cookie Sheet:
Cooling Rack:
Bread knife: