Make this Indian classic even better than your favorite Indian restaurant - Instant Pot Butter Chicken ready in under 30 minutes!
I am not very adventurous when it comes to chicken recipes and that's why you will find only a handful of chicken recipes on the blog (like this chicken shawarma, this grilled chicken bowl or this Indian spiced coriander chicken). But butter chicken is hands down our family's favorite way to eat chicken and is also the most requested recipe whenever friends come over.
All about Butter Chicken
I make butter chicken several ways, making the sauce separate and then adding grilled marinated chicken to it (the most traditional way) or the crock pot butter chicken way, which is the favorite. But that might have changed with this Instant Pot Butter Chicken. This recipe of Instant pot butter chicken takes the crown, ladies and gents! The reason that I used to prefer making butter chicken in crock pot is that since we are not big fans of bone-in chicken, the boneless chicken cuts would get dry in any other method of cooking. Trust me I've had more than my share of chicken curries with dry pieces of boneless chicken that are almost inedible. The Instant Pot method of cooking chicken takes away the guess work of how long to cook the chicken and leaves the chicken pieces super moist and tender.
Instant pot - What's the big deal?
I am definitely a late invitee to the Instant Pot party. I have tried a few recipes in my Instant Pot and have been very happy with them. So much so that some of them have made it to the blog also like this Saag paneer and this Lentil carrot soup. I still use my traditional pressure cookers pretty much everyday but I like that the instant pot is a smarter version of my old faithful and I am showing it some love and trust to build up a relationship. You see that's how things roll in TKD kitchen.
So presenting an easy, healthy (ier) recipe for Indian butter chicken made with easy to find ingredients, in the fraction of time that the traditional recipe would take, in your favorite new kitchen gadget – the Instant Pot! The curry is delicious and not too spicy! This recipe of Instant Pot Butter Chicken requires minimum prep work and time and is so easy to make that it will be on rotation on your weeknight meal list.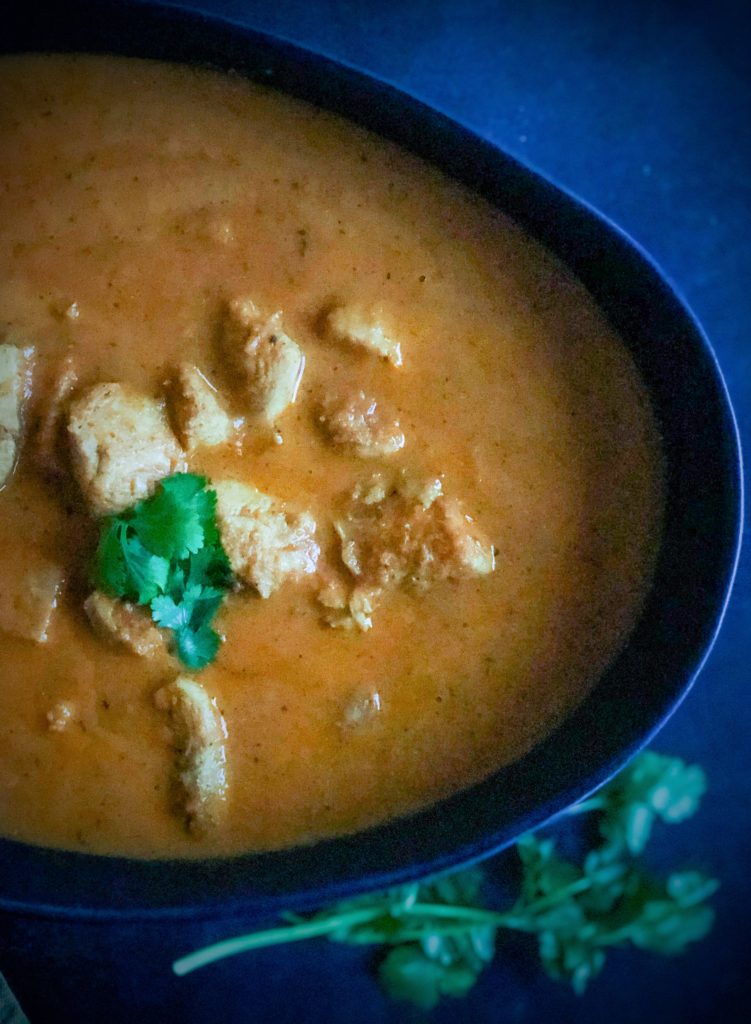 Recipe Run Down
The magic of pressure cooking, conventional or Instant pot, is infusing of flavors into the food quickly at high pressure. In traditional Indian dishes like butter chicken, marinating chicken for long period of time and then roasting it in a clay oven over crazy high temperature before dunking the roasted meat into a flavorful creamy sauce. In this Instant Pot Butter Chicken recipe we are able to develop the same flavors in a short time by utilizing pressure cooking. Start by marinating the chicken as the first step. While the chicken marinates, prep the sauce ingredients. Warm whole spices like green cardamom, cloves and cinnamon along with aromatics like ginger garlic and onion get mixed with tomatoes to form the base of our butter chicken gravy/sauce. Sauté the sauce ingredients in your instant pot and remove to a blender to cool.
Next we saute the "marinated" chicken, add the blended sauce and let the Instant Pot do the rest of the work. So, without further ado, here you go!
Printable Recipe
Instant Pot Butter Chicken
Make this Indian classic even better than your favorite Indian restaurant - Instant Pot Butter Chicken ready in under 30 minutes!
Ingredients
2

lbs (1 kg)

Boneless skinless chicken breasts (or thighs)

cut into cubes/chunks
For Marinade
2

tablespoon

Tandoori Masala

see notes

½

teaspoon

Ginger powder

1

teaspoon

garlic powder

Lime juice – from ½ a lime

1

teaspoon

Mustard/olive oil

1

teaspoon

Salt
For Sauce
1

tablespoon

Butter

1

teaspoon

Cumin seeds

2

Green cardamom

2

Cloves

1

inch piece

Cinnamon stick

½

White Onion

cut into chunks

3

cloves

Garlic

smashed

1

inch piece

Ginger

cut into chunks

1

Green chili

optional, cut into fourths

¼

teaspoon

Turmeric powder

¼

teaspoon

Red chili powder/Parika

2

teaspoons

Coriander powder

2

cups

Tomatoes – crushed/pureed

about 4 big tomatoes See notes

1

tablespoon

Sugar/honey

1

teaspoon

tomato ketchup

1

tablespoon

Kasuri methi/dried fenugreek leaves

¼

cup

Heavy cream

Salt – to taste

4-5

sprigs

Cilantro

chopped
Instructions
Mix all the marinade ingredients together and let it marinate until you need it.

Turn the Instant Pot to Saute mode and add the butter.

Add cumin, green cardamoms, cloves and cinnamon. After about 30 seconds, add the chopped onion and smashed garlic cloves. Cook the onions for about a minute and then add ginger and green chili. Mix in and all the spice powders followed by the crushed tomatoes. Add a pinch of salt and cook till the sauce is bubbly, about 3 minutes.

Cancel the saute mode and transfer the sauce into a blender and let it cool for a few minutes.

Turn the Instant Pot back to saute mode and add the marinated chicken pieces. Sear the chicken on both sides for about a minute. While the chicken is searing, very carefuly blend the sauce until smooth and silky.

Add the blended sauce to the instant pot (that already has the chicken in it), making sure it covers the seared chicken. Add salt, tomato ketchup and sugar.

Cancel the saute mode and turn the Instant pot to manual/pressure cooker mode. Set the timer to 5 minutes. Close the lid and make sure that the vent is set to "sealing" position.

It will take about 10 minutes for the Instant pot to reach high pressure. After 5 minute timer is over and the Instant pot beeps, carefully move the valve to "venting" to quick release the pressure.

After the pressure weight drops, open the lid. Finish the butter chicken with kasuri methi and heavy cream. Check and adjust seasonings if needed.

Garnish with cilantro and serve hot with homemade garlic naan (recipe here), chapathi (recipe here) or rice (recipe here). Your taste buds will be forever grateful!
Notes
If you do not have tandoori masala, please follow the marination spices from this post on butter chicken.
If you are comfortable using canned tomatoes, use 1.5 to 2 cans.
More Similar, Delicious Recipes
Love - Vaishali.
Tools used:
Instant Pot:
Blender:
Mixing bowl:
Measuring cups:
Measuring spoons:
Knives:
Chopping board:
Spatula: