Shahi Paneer is a fixture on Indian restaurant vegetarian menu. This easy recipe is the nut free version of a classic. Cubes of paneer dunked in a creamy curry sauce that is naturally glutenfree.
Jump to Recipe
If I try to think about a recipe that is most requested at our house among family and friends, this recipe of shahi paneer is easily in top 10 (trust me there are many). Everything—from the homemade paneer, to the creamy, rich sauce, to the plump and juicy raisins to the buttery roti it's served with—is just divine.
Throwback to my days in India, Shahi paneer is a fixture in all North Indian parties and is omnipresent on restaurant menus. Shahi literally translates into "royal" and this dish is every bit so. Traditionally made with a paste of cashews, I have steered away from that, keeping it nut free to accommodate Mr. little V's allergies. Paneer happens to be his favorite (including this recipe and this one too). A rich milk and cream based sauce becomes the flavor boat to carry cubes of melt in your mouth paneer with little bits of sweetness scattered around in form of golden raisins. Ok, I think that's enough of a foreplay, here's how to make it!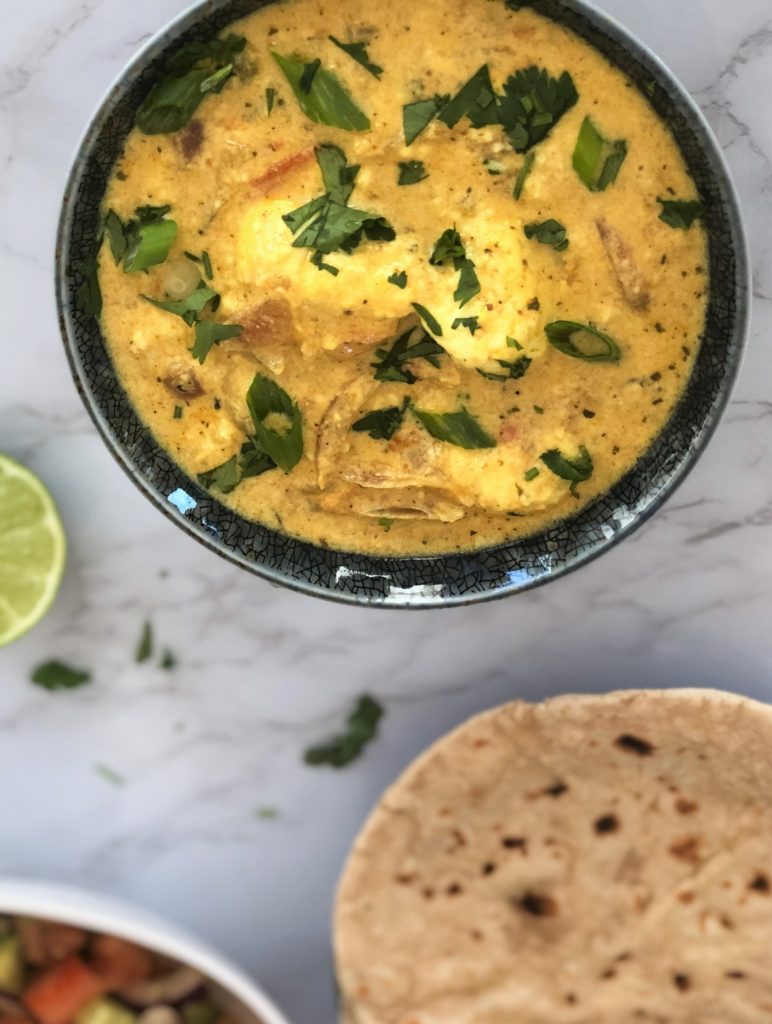 Recipe run down
Start by making a batch of homemade paneer. Or pull out a batch that you made few weeks ago and froze for later – brilliant! Or buy a package of paneer from the store. All the power to you! Next chop up (I love my knife) some onions, tomatoes, ginger, garlic and cilantro – you know the regular flavor culprits. Line up your spices (all about Indian spices here), whole and broken (uhmmmm…I mean ground). These would be green cardamom, cloves, cumin powder, turnmeric, cayenne pepper, coriander powder, garam masala, kasturi methi and SALT. Don't forget the salt!! Milk and cream – don't go buying cream if you do not have some, just milk would work too. But – if you are making this for company, I would take that trip to the grocery store and buy some cream.
This recipe is definitely not up your healthy food alley but is on the summit for foods that you take a bite of and a moan escapes your mouth. And that might actually be a little embarrassing - don't even ask how I know that!! Take your trusty skillet (this is my love), bhoono (you know what that is, right? If not go here to find out) the masala until it is all one and then carefully add the milk/cream stirring constantly to make sure that the sauce does not "break". Bring to a boil, add paneer cubes, raisins, finish with garam masala, kasoori methi and cilantro. Cover and let sit. Serve with roti (recipe here)/ healthier homemade garlic naan (recipe here) or rice (recipe here).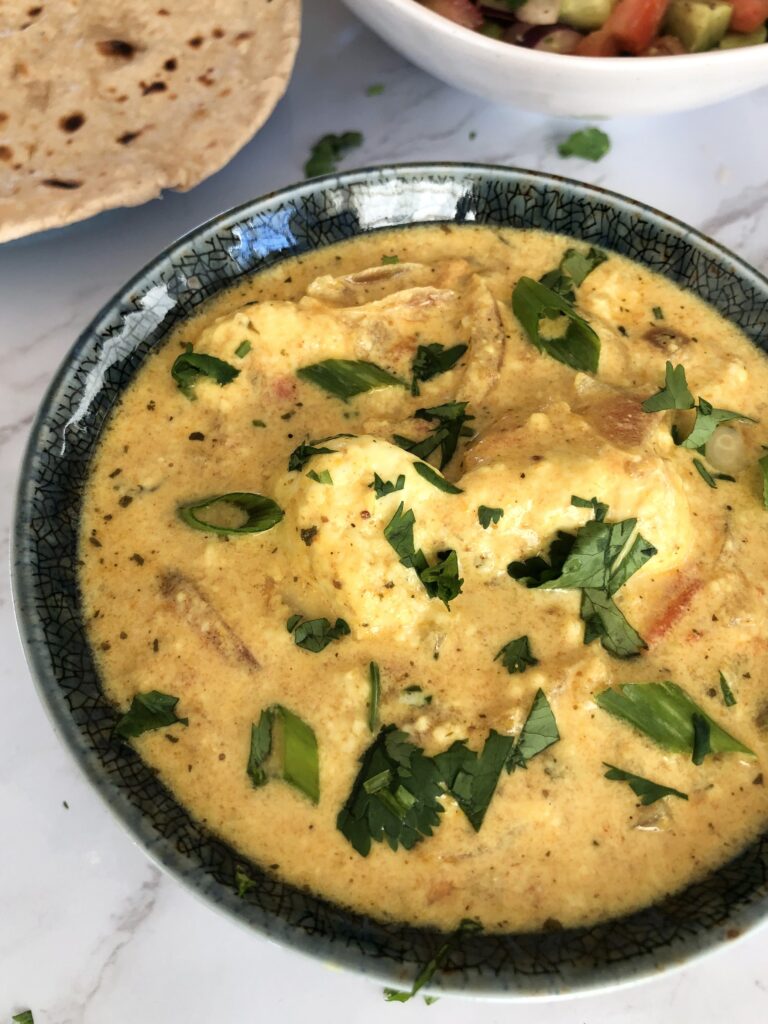 CAUTION: Sit down before you take your first bite! Because most likely you will get weak in your knees – you have been warned!!
You need this printable: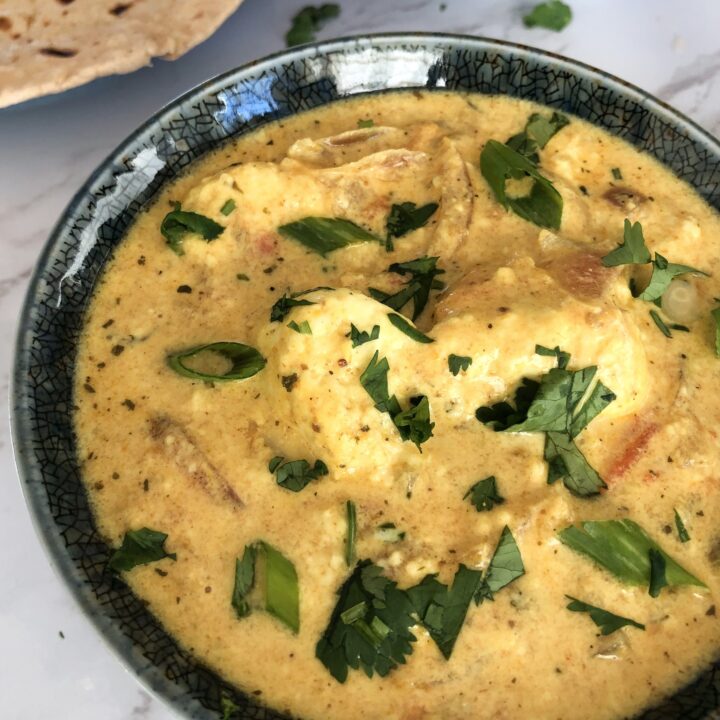 Shahi Paneer Recipe
Shahi Paneer is a fixture on Indian restaurant vegetarian menu. This easy recipe is the nut free version of a classic. Cubes of paneer dunked in a creamy curry sauce that is naturally glutenfree.
Ingredients
1

batch

paneer

cubed – about 2 cups

1.5

tablespoon

oil

2

green cardamoms

2

cloves

½

white onion chopped

about 1 cup

2

cloves

garlic minced

1

inch

piece of fresh ginger minced or grated

1

big tomato, chopped

on the vine work best (1 cup)

1

teaspoon

cumin powder

¼

teaspoon

turmeric powder

¼

teaspoon

cayenne powder

optional

1

tablespoon

coriander powder

½

teaspoon

garam masala

1

teaspoon

kasoori methi dry fenugreek leaves

1

cup

milk

2

tablespoon

heavy cream

optional

1

teaspoon

sugar or honey

1

tablespoon

golden raisins

Salt to taste
Instructions
If you are using frozen paneer, soak it in warm water and cube it (see notes).

Set a heavy bottomed skillet on medium low heat and add the oil, cardamom, cloves and garlic. As the oil heats up the aromatics will release their flavors and your kitchen will smell great.

After the garlic starts sizzling lightly (do not let it brown), add the chopped onions with a pinch of salt. Adding salt draws the moisture out of the onions and they cook faster.

After about a minute, add ginger and cook for a minute more.

Sprinkle in cumin powder, turmeric, cayenne (if using), coriander powder and chopped tomatoes. Give the masala a mix.

Cook the masala for about 5 more minutes, stirring and scraping the bits (If they are sticking to the pan). If the masala starts sticking to the skillet, sprinkle a few drops of water to loosen the bits. This is Bhhonoing!!

When the masala is cooked, it will all come together and you will be able to see tiny droplets of oil on the edges of the masala.

While the masala is bhoonoing, microwave or warm the milk so that it's luke warm. This helps in preventing curdling when you add it to the masala.

Turn the heat under the skillet to low, and carefully start adding the warm milk, whisking constantly (see notes). Once all the milk is added, turn the heat up and bring the sauce to a boil, still stirring it.

Add the cream (if using), sugar, salt, raisins and paneer. Bring to one more boil, turn the heat to medium low.

Mix in garam masala, kasoori methi and chopped cilantro. Give it a taste check and adjust salt and sugar. The sauce should have a very slight sweetness to it. Cover, turn the heat off and let the flavors mingle.
Notes
You can pan fry the paneer cubes if you are making this dish for company. This will ensure that the cubes do not fall apart in the sauce.
If you are concerned about biting on a whole spice like cardamom or clove, you might want to fish that out from the curry after it's cooked. I know it's a pain! Or you can use ¼ teaspoon each of cardamom and clove powders (I'm not a big fan).
Sweet white onions are recommended but red will work just as well though the color of your sauce might be a tad darker.
If your sauce breaks or curdles when you add milk, don't worry. It will still taste good though it might not look as silky. Just keep whisking and continue. Trust me, have done that a few times!!
You can add toasted cashews and almonds along with raisins to give the dish a more "royal" feel.
Leftovers of shahi paneer are divine. Will stay good in the refrigerator for 2-3 days. I would not recommend freezing shahi paneer.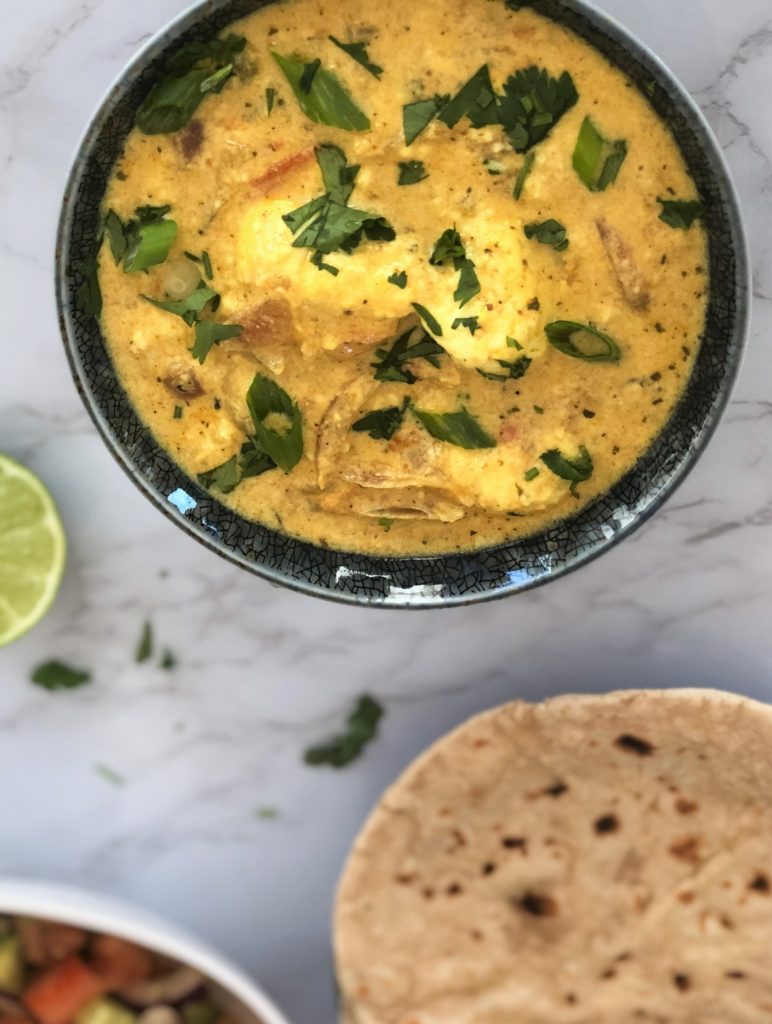 I hope you try this and love it as much as we do!
Love – Vaishali.
Oh, if you make this recipe, tag #thekitchendocs on Instagram
Three more Paneer Recipes: