An easy and quick lentil carrot soup recipe in which lentils and carrots cook together with aromatics like ginger, garlic, onions and healing and immune boosting spices like turmeric. Then the yummy, vegan concoction gets pureed into a luscious, silky smooth bowl of goodness.
Jump to Recipe
There is something very comforting about a bowl of soup. A seven star recipe of soup for you all today. Five stars, of course for the depth of flavor of this recipe. Star number six for being a complete meal – protein rich lentils, nutritious veggies, along with healing and immune boosting spices. Add a slice of a crusty bread or a piece of buttery garlic naan and get ready to be transported into flavor heaven. The seventh star for this Lentil Carrot Soup is for a one pot recipe.
Soup for both hot and cold months
This lentil carrot soup is great for cold winter months but is also awesome for warm months when you don't want to be in the kitchen for too long. I don't know about you but when it's hot outside I don't want to stand beside the stove or oven for hours to get dinner ready. Its freezing outside so right now it feels good to think about warm months. We got around 8 inches of snow this past weekend and the temps have been pretty low so its still on the ground. I didn't think I will ever say this but I don't mind being in cold/snow weather anymore, or at least not as much as I disliked it around 5 years ago.
Make this soup in Instant Pot or Pressure Cooker to save time. But if you do not own one, don't let that stop you. I will add stove top instructions in the recipe below. This lentil carrot soup meets all the seasonal requirements at the moment. Its bright, its festive (that color!!) and is, above all, comforting! Which is the spirit of the season! And we are rolling with it.
The health point of view
You know I am a big fan of lentils, which are a plant based protein power house. Lentils are versatile, easy to cook and can take up any flavor profile. The beautiful orange color of the soup comes from beta carotene rich carrots is converted into vitamin A (also known as retinol) and we need vitamin A for healthy skin; eye health and vision; and overall healthy immune system. Turmeric also adds a golden hue to this lentil carrot soup and I have talked about turmeric in multiple posts (read here and here). It offers tons of benefits like being a brain health booster, stress buster, helps in preventing cancer, balancing blood sugar levels, and relieving pain. Ginger adds a nice warm spice to the soup and has anti-inflammatory effects and helps to protect against cancer and garlic brings antibacterial and antiviral values to the bowl of this lentil carrot soup. So, if you are thinking what I am thinking – this soup might as well be on the cure it all list of foods that you cook.
Recipe run down
This Lentil Carrot soup is a one pot recipe and comes together rather quickly. When cooking lentils and a hearty vegetable like carrot, pressure cooking is a great option. You begin with sautéing the aromatics in fat of your choice, add the spices, lentils, carrots and broth of your choice. If pressure cooking, you can achieve cooked lentils and carrots in about 5 minutes of high pressure and on the stove stop it will need about 15-20 minutes. Once the carrots and lentils are done cooking, all the soup needs is a whirl in the blender or hand blender and that's it. Serve it with a slice of bread or a piece of garlic naan (recipe here) and you have a healing, comforting and tasty meal taken care of.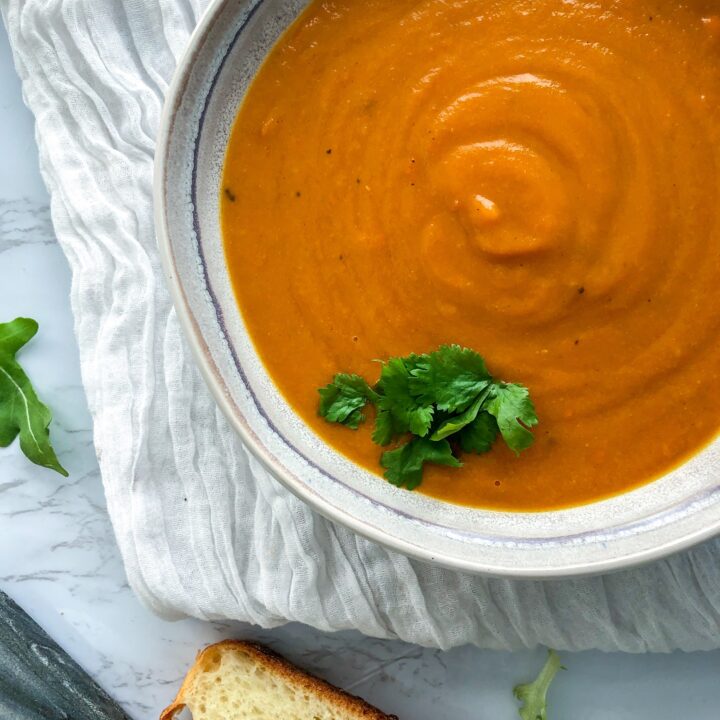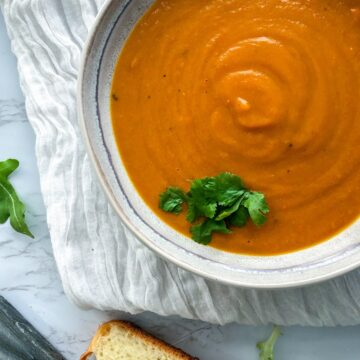 Instant pot lentil carrot soup
An easy and quick lentil carrot soup recipe in which lentils and carrots cook together with aromatics like ginger, garlic, onions and healing and immune boosting spices like turmeric. The yummy concoction gets pureed into a luscious, silky smooth bowl of goodness.
Ingredients
1

tablespoon

olive oil

or avocado oil

1

inch

piece of ginger

about 1 tablespoon chopped

1

medium onion

chopped

2

cloves

of garlic

minced

2

stalks of celery

chopped (optional)

¼

cup

orange lentils

rinsed

3-4

big carrots roughly chopped

about 1 pound (450 g)

½

teaspoon

turmeric powder

½

teaspoon

cumin powder

3

cups

vegetable broth

or water

Salt and fresh cracked black pepper

to taste

Chopped parsley or cilantro

for garnish
Instructions
Instant pot method
Turn your Instant Pot on Saute mode, once it displays hot, add oil, flowed by garlic, onion, celery (if using) and ginger

Saute for a minute, add turmeric and cumin powder followed by lentils and chopped carrots. Stir until the lentils are lightly toasted, about a minute. Add salt and black pepper.

Add vegetable broth or water. Close the pot with the lid and set the mode to manual or pressure cook button and set to cook on high pressure for 5 minutes. Make sure the pressure valve is in sealing position.

After 5 minutes are up, let the pressure release naturally for 5 minutes and then do a quick pressure release.

Open the lid and blend the ingredients to a smooth soup using hand blender. If you don't have an immersion blender, let the contents in the pot cool down a bit and then blend using your regular blender.

Transfer soup to serving bowls, garnish with cilantro and serve.
Regular pressure cooker method
Saute all the ingredients as given in instant pot instructions. Close the lid and let the cooker come to full pressure.

After a whistle, or full pressure is attained, cook for 5 minutes and then turn the heat off. Set a timer to 5 minutes and release the pressure. Proceed to blending the soup and serving as above.
Stove top method:
Use a heavy bottomed sauce pan with a lid and follow the sautéing instructions as above. After all the ingredients are in, bring to a boil on high heat and turn the heat to medium low, cover and cook for 15-20 minutes or until the lentils and carrots are done. Blend and serve.
I hope you like this Lentil Carrot Soup recipe and give it a try in your kitchen and if you do please tag #thekitchendocs on social media.
Love - Vaishali.

Tools used: