Aloo Parantha is a classic Indian breakfast. A spiced potato mixture stuffed inside a whole wheat flatbread and pan fried. Delicious!!
This post may contain affiliate links.
Jump to Recipe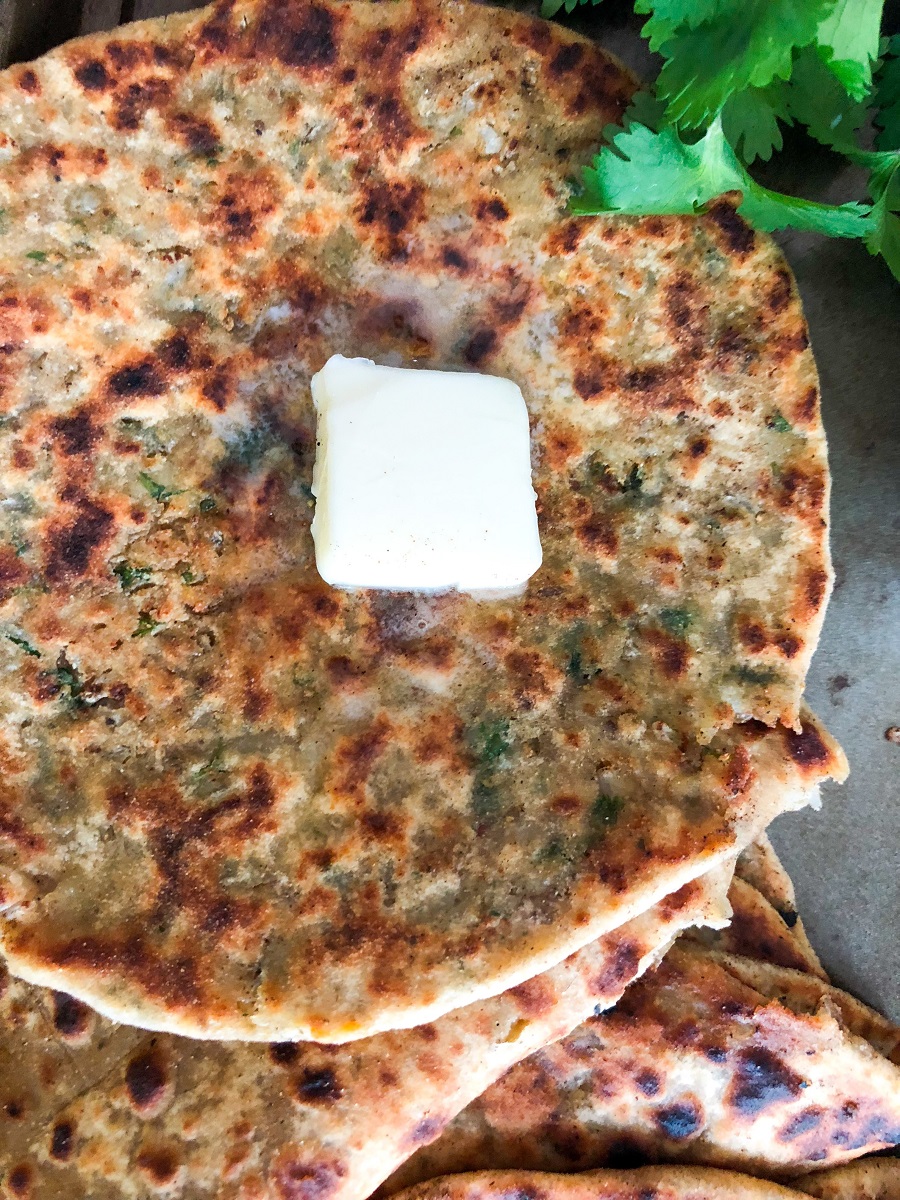 You know how they say "you can take a person out of _____ but you cannot take _____ out of a person". This is true for aloo paranthas and Punjabis. I am not even kidding. There are so many recipes that are truly and authentically Punjabi but aloo parantha is definitely the most popular, most common, and easiest to make. I have yet to meet a person who doesn't love a good aloo parantha with a generous dollop of butter and yogurt and pickles on the side. Well, except my sister. She's truly an exception and believes that potatoes give her a tummy ache. Yup, that's her!
Anyways, back to aloo parantha. It literally translates into Potato stuffed flatbread, aloo = potato and parantha = stuffed flatbread (liberally speaking). I want you to visualize and fantasize about this stuffed flatbread. If you have never had one, think about a food that is so satisfying that a bite of it (think moist and dripping in butter) can make you go weak in the knees. Does food do that to you? I have found myself holding onto something after taking that first bite so that I don't trip or anything...you know, make a complete fool of myself. Who falls down after taking a bite of aloo parantha? But trust me - it can happen. So enjoy this recipe with a hint of caution...lol.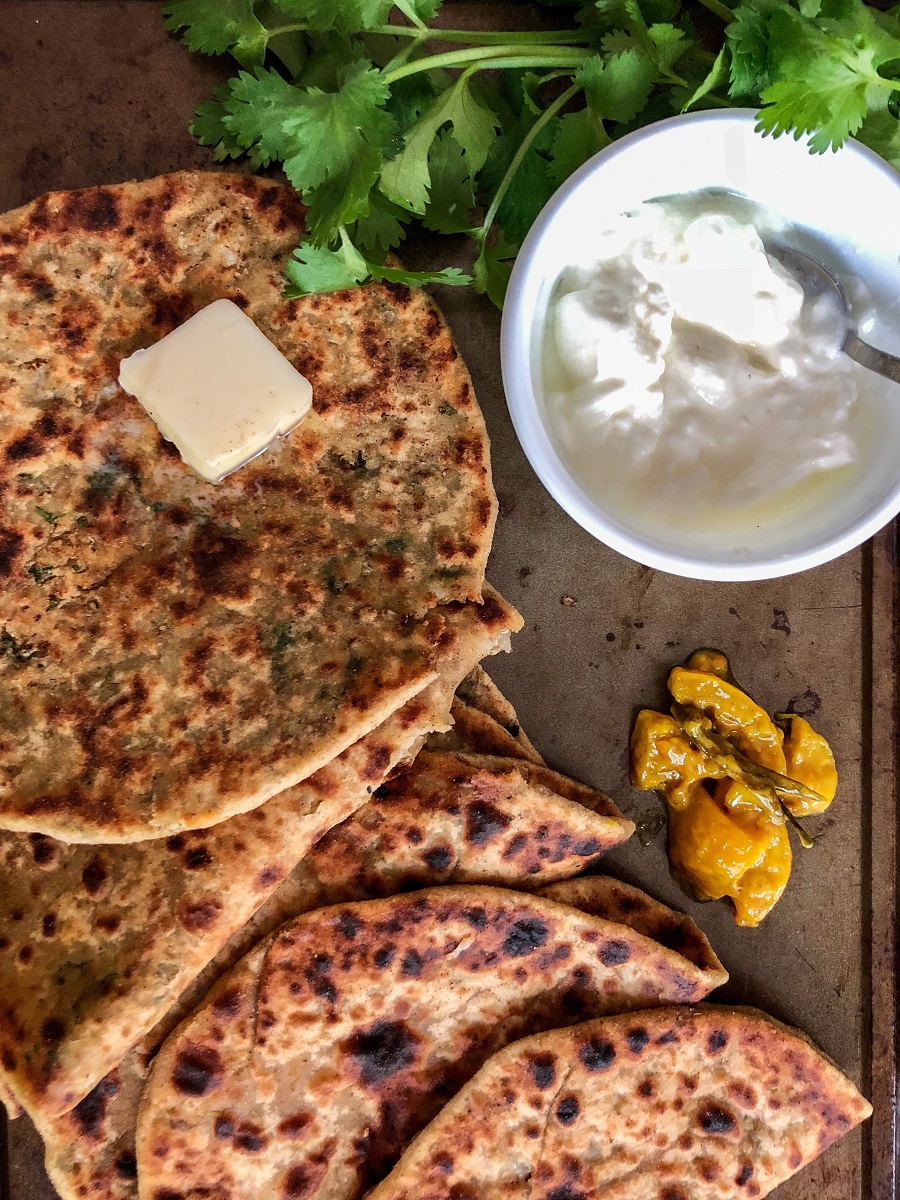 There are two components of this recipe - the dough and the potato filling/stuffing. Let's unravel the mysteries here:
The dough
Simple and humble as can be. Just whole wheat flour and water. No oil, no salt, no yeast. Nothing. You can find the "recipe" here. Basically knead flour and water together until it forms a smooth dough, little but "tighter" than pizza dough.
The Filling
This is where the magic lies. Potatoes (duh) boiled and mashed, finely diced onions, chopped cilantro, green chili and grated ginger get naughty with spices like coriander powder, cumin powder, garam masala, amchur, red chili powder (optional) and salt and the result is delicious! Give it a mixy mix, taste check (should taste potent) and we are good to go.
The Parantha
We start the same way as you would for a roti (recipe here) but won't roll it out quite as thin. Put the yummy potato stuffing in the middle. Fold the dough over the stuffing, dust it with flour and then roll it out again. We then cook it on a hot skillet and by hot I mean HOT. I prefer cast iron skillet or tava for this but if you have a not stick skillet, that will work too. Be careful with how hot you can safely heat your pan upto. Pan fry the parantha with some ghee, olive oil or avocado oil. The parantha itself is vegan so if you want to skip ghee and not serve with butter and yogurt or want to choose dairy free options, that will work just as fine too.
Here's your handy dandy printable:
Easy Aloo Parantha | Spiced Potato Stuffed Whole Wheat Flatbread
Aloo Parantha is a classic Indian breakfast. A spiced potato mixture stuffed inside a whole wheat flatbread and pan fried. Delicious!!
Ingredients
Dough:
1

batch

whole wheat dough

Recipe in Tips
Potato Stuffing:
2

big russet potatoes

boiled, peeled, and mashed See Tips

½

cup

finely diced onion

1

inch

piece of ginger

peeled and grated

6

stalks of cilantro

leaves stripped and chopped

2

green chilis finely chopped

1

tablespoon

coriander powder

1

teaspoon

cumin powder

½

teaspoon

garam masala

½

teaspoon

amchur or dry mango powder

optional

½

teaspoon

cayenne powder

optional

Salt to taste
Instructions
Plan ahead. This recipe does not include time for making the dough and boiling potatoes. I am assuming that you have these two basics ready to roll some aloo paranthas.
Potato Stuffing:
Boil and peel the potatoes. See Tips.

Take a deep mixing bowl and add the peeled, boiled potatoes to it. Using a potato masher or sturdy fork, mash the potatoes until no big chunks remain. You want the potatoes to be smooth but not pasty. Retain some texture.

Add rest of the stuffing ingredients and mix. Give it a taste check and adjust spices and salt to make sure that the stuffing tastes potent and strong flavored.
Making the paranthas:
Set a cast iron or any heavy bottomed pan on high heat.

Divide the dough into 8 golf ball sized balls. Take one dough ball at a time and using some dry whole wheat flour, roll it into a disc about 4.5 to 5 inches in diameter.

Take half a teaspoon of ghee or oil and place it in the center of the rolled dough disc, spread it around with your fingers or back of a spoon.

Take a heaping tablespoon and a half of the potato stuffing and place it in the center of the disc, making sure there is about an inch or two of space from the edge of the rolled dough disc.

Start from one side of the dough disc edge and bring it in the center, moving slowly all around the disc forming a closed package pleated in the middle. Make sure the pleats come together in the middles and there is no opening. Otherwise the parantha will open while rolling and the stuffing might come out. We don't want that!

Dust this potato stuffed disc with dry flour and flatten it using your fingers. Using a rolling pin roll the parantha out to about 6-7 inches wide or to whatever size you can comfortably do it without breaking it. Dust with flour as needed.

Place your rolled out parantha on the hot skillet or tava. Watch for small bumps on the surface, take a peek at the surface that's on the skillet and if you see brown spots all over, flip it (around 10-15 seconds, remember our skillet is HOT; See tips). Let it cook on the other side and then flip again.

Add about a teaspoon of oil/ghee on the surface that's facing you and spread it around. Flip the parantha and oil the side that is now on top. Flip again until both the surfaces have nice brown spots on them and are slightly crunchy. You can use a spatula to gently press the edges on the skillet for maximum contact and crispiness.

Take the parantha off and keep it warm in a foil and paper towel lined basket or tortilla warmer.

Repeat for other 7 dough balls.

Serve the paranthas piping hot with a dollop of butter and fresh unsweetened yogurt and Indian style pickle on the side.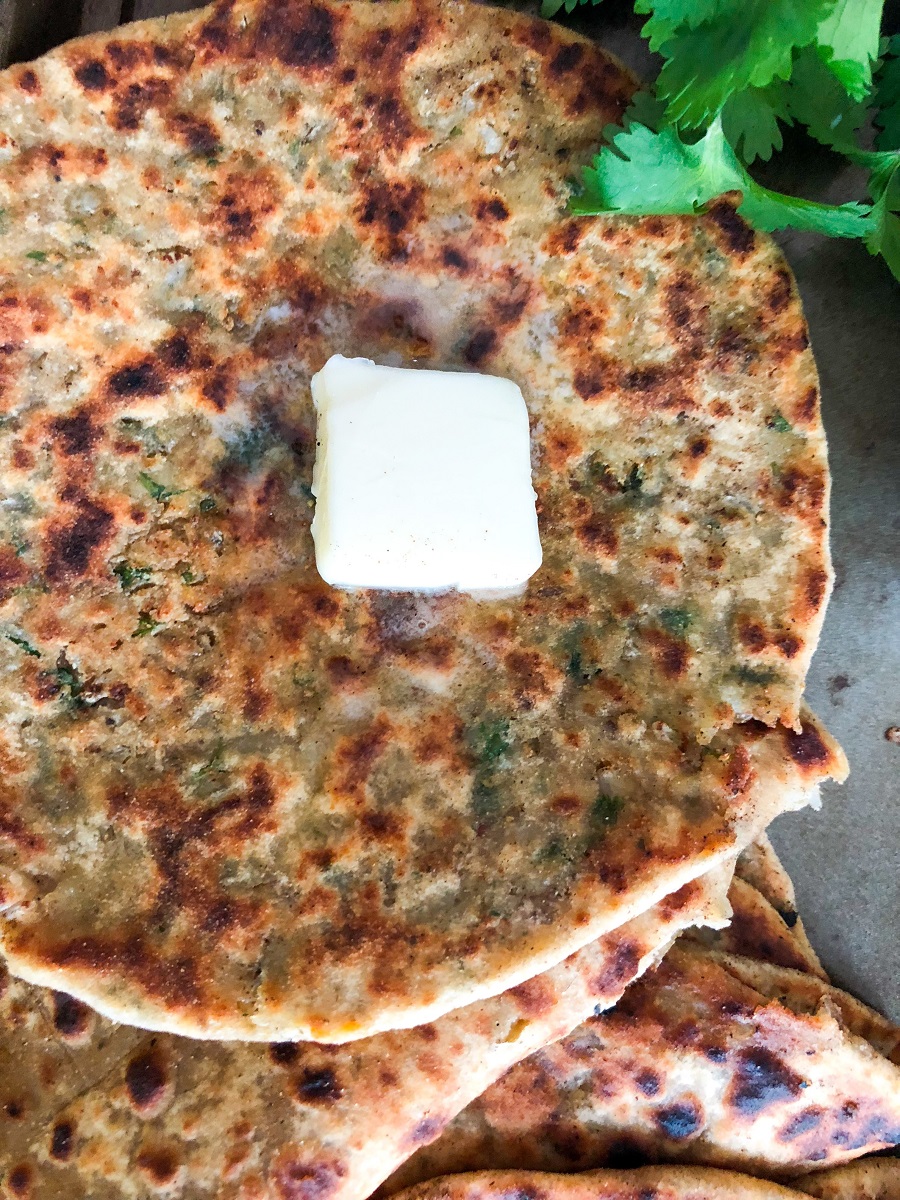 Tips:
I use a pressure cooker to boil the potatoes. Place unpeeled potatoes in a pressure cooker and add enough water to cover the potatoes. Put the lid on and cook on high heat for 1 "whistle". Turn off the heat and let the pressure release naturally. For instant pot - after covering the potatoes with just enough water, set the IP to pressure cook (manual) and set a timer of 0 minutes. After the pressure is attained, let the pressure release naturally. Depending on the size of your pressure cooker (or IP), this will take about 10-12 minutes.
Make sure your skillet is hot. If it's not hot enough, the paranthas will take longer to cook and become hard and chewy. You will miss that crispy, almost falling apart texture that is so characteristic of a good aloo parantha.
You can spice up the aloo stuffing mixture with other flavors like dried mint, toasted anardana powder (pomegranate seeds), pink salt etc.
If you want to make the paranthas healthier, skip the pan frying and dry roast the paranthas on the skillet. After they come off the skillet you can spread some butter or ghee, if desired.
These paranthas store really well. Store them wrapped in foil in the refrigerator for upto a week. When ready to eat, heat them up in a toaster oven or a skillet.
To freeze, layer parchment/wax paper between each parantha, wrap in foil and store in a freezer bag for upto 4 months. Thaw on the counter or in the microwave and then crisp up in a toaster oven or a skillet.
Making them for the kids? Skip green chilies.
Great for lunch boxes. I spread butter and then roll them up, wrap in a piece of foil before tucking in a lunch box.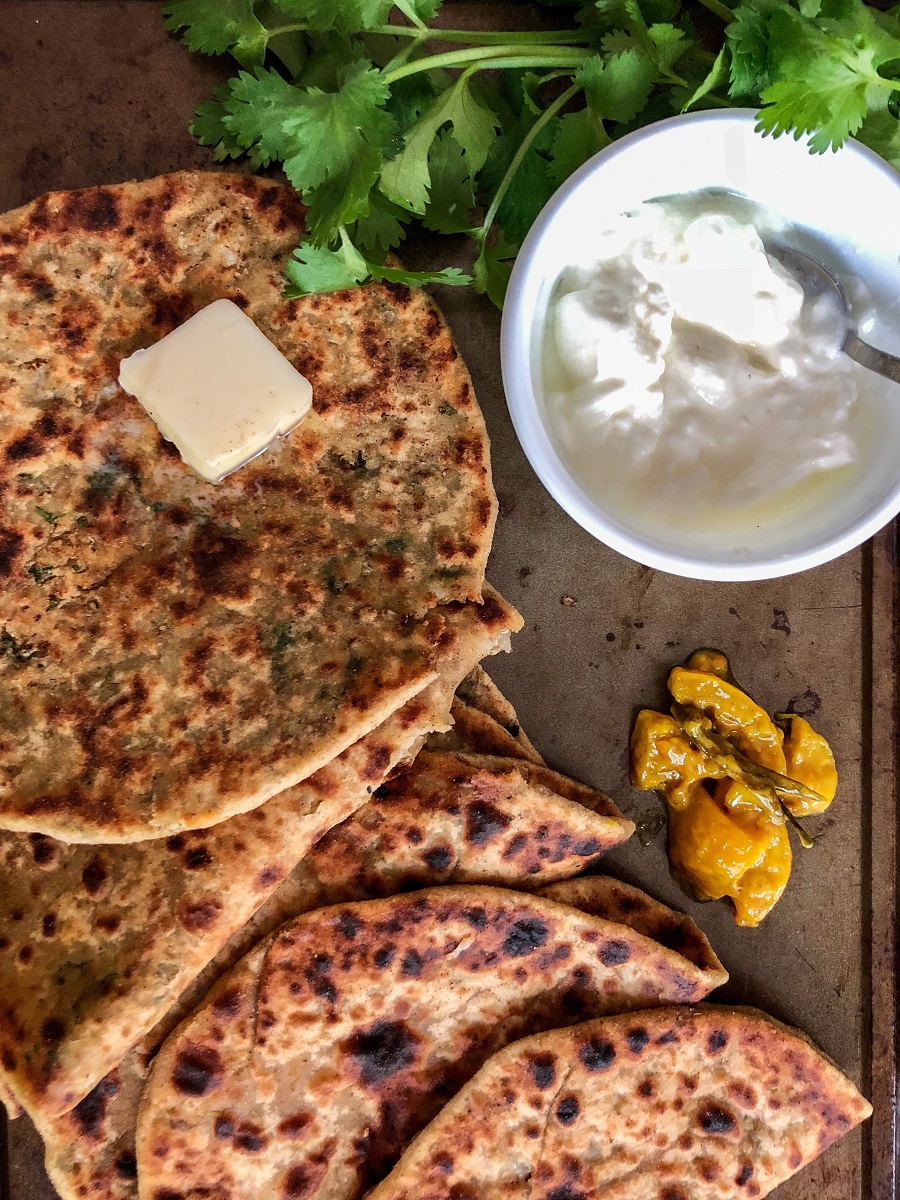 Did you make this recipe? Don't forget to give it a star rating! I love to hear from you guys. And if you do make this recipe, please tag me on Instagram and Facebook! I love to look through your creations!!
Love – Vaishali
Key Recipe Tools and Ingredients:
Coriander Powder:
Whole Wheat Flour: