Yesterday, I celebrated walking this beautiful planet for a few less than four decades. I was born thirty something years ago on Karvachauth day. This year, my birthday and Karvachauth happened to be on the same day. I reflect back on the yesterday and feel deeply that I have been blessed to have experienced love and warmth of family and friendships that some people do not get to experience in a lifetime. I have inherited a strong sense of optimism from my father and this birthday, I am determined to always look on the sunny side of life along with a deep sense of gratefulness for all the wonderful people that have been put in my life.
Karvachauth is a daylong fasting festival that we do in India. I cannot claim to know the legend behind this tradition but it is a beautiful one. Though the scientist in me might not always agree with the basis or bias in some of our traditions, the beauty and thoughts behind wishing and praying for well-being of our loved ones keep me following these lovely rituals that have been passed down generations. Karvachauth back in the day was a festival where women would fast from before sun rise to after moon rise without eating or drinking anything, to pray and wish for long, happy and healthy life of their husbands. I say back in the day because in present times I see girls doing it for their boyfriends, boys doing it for their girlfriends, husbands for wives and some just doing it to enjoy the festival and hoping and wishing for a special someone in their life. Which, by the way, is powerful and I love when the society and culture come together and rise above certain stereotypes. The day is full of color and festivities that include applying henna or mehndi to hands and/or feet, dressing up in bright beautiful outfits and jewelry, getting together with your special someone, family and friends and lot of yummy food after moon rise.
Food…now you see where I am ultimately going with this. My mom always made daal makhani (recipe here) and rice (recipe here) for Karvachauth dinner along with some dry sabzi like aloo gobhi accompanied by rotis, yogurt, salad etc. I have tried to keep the tradition going by making daal makhani, though other things on Karvachauth menu might change. We had a big potluck style meal yesterday marking the occasion with a group of great friends and there were so many dishes that I cannot even begin to list.
I am sharing the recipe of my kadaahi paneer today. The name comes from making paneer in a kadaahi, which is a wok-like dish that gives you an ample space to stir and fry your ingredients, so think of it as a stir-fry. Please note that I did not make my kadaahi paneer in a kadaahi so you don't need to feel restricted by that…lol.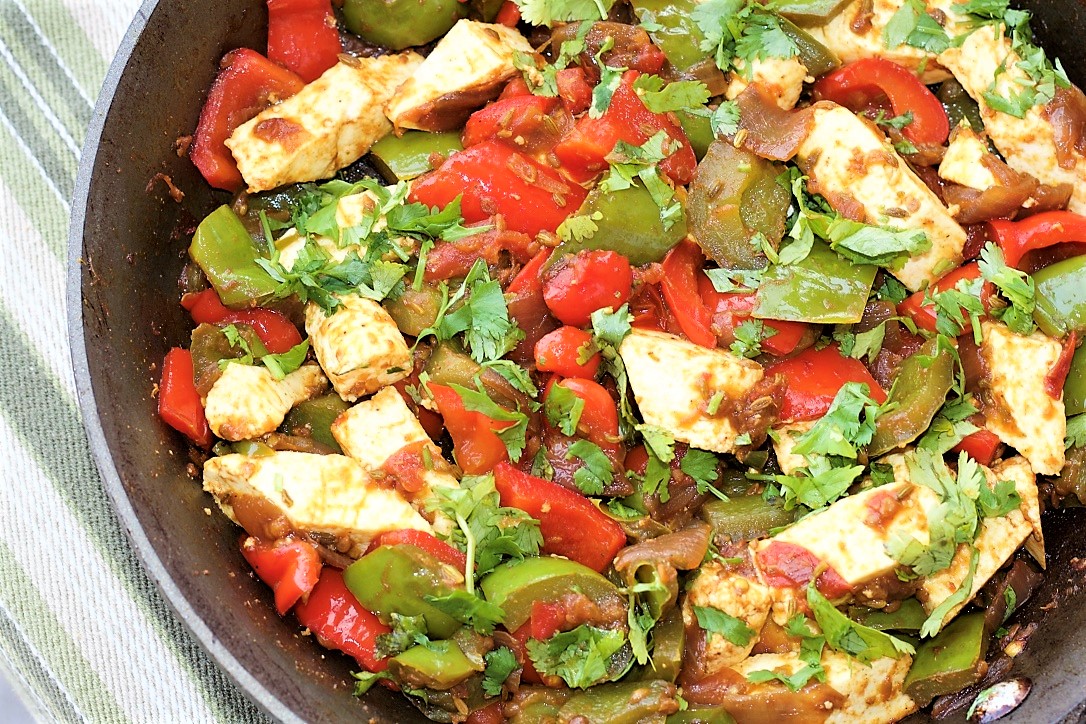 Ingredients:
For Dry Kadaahi masala
Coriander seeds – 2 tablespoon
Cumin seeds – 1 tablespoon
Dry red chili – 1
Other:
Oil – 2 tablespoon
Red onion – 1
Ginger – 1 inch piece
Garlic – 3 cloves
Red bell pepper – ½
Green bell pepper – ½
Tomatoes – 3 big
Green chili – 1
Paneer – 1 batch (recipe here), approximately ½ lb or 250 grams
Garam masala – ½ teaspoon
Kasoori methi – 1 teaspoon
Salt and freshly crushed black pepper – to taste
Coriander leaves – from 5 sprigs
Method:
In a medium skillet or the kadaahi you are using, dry roast coriander seeds, cumin seeds and dry red chili over low heat till fragrant. Turn the heat off, remove the masala from the skillet/kadaahi and let them cool before grinding the masala into a coarse powder.
While the dry masala is cooling, cut the onion and bell peppers into about half an inch pieces. Chop the green chili, tomatoes and cilantro leaves. Grate/mince the ginger-garlic and cut the paneer into cubes (if I'm making this dish for company, I sometimes pan fry paneer cubes in olive oil but mostly I don't because I'm lazy like that..lol).
Set your kadaahi or any big, heavy bottomed skillet over medium heat. Add oil and once the oil is shiny, add garlic and green chili and stir around for a few seconds. Add chopped onion with a pinch of salt and sauté till translucent. Add ginger and cook for a minute or till the raw smell of ginger goes away. Add the dry kadaahi masala that we ground earlier. Mix and add the chopped tomatoes and cook till the whole masala is cooked. You can tell this when tiny droplets of oil start to separate at the edge of masala and it starts coming together, about 5-6 minutes. If any point the masala starts to burn or sticking to the pan, sprinkle some water and bhoono again. Now add the bell peppers and cook for another 5 minutes. You might want to add about ¼th cup of water if you would like your dish to not be completely dry.
Now add paneer cubes, salt and fresh ground black pepper and mix well. Finally, mix in garam masala, kasoori methi, and coriander leaves. Give it a taste check to adjust seasonings, if needed. Let your kadaahi paneer sit for a few minutes before serving. Serve hot with roti (recipe here) or homemade garlic naan. Enjoy!!
Love – Vaishali.
Tools used:
Heavy bottomed skillet/ Kadaahi
Dry spice/ coffee grinder
Spatula
Measuring spoons and cups
Knife and chopping board
Grater