A refreshing summer strawberry salad that brings together all the summer's best - strawberries, cucumber, and corn along with the nutritious avocado.
This post may contain affiliate links.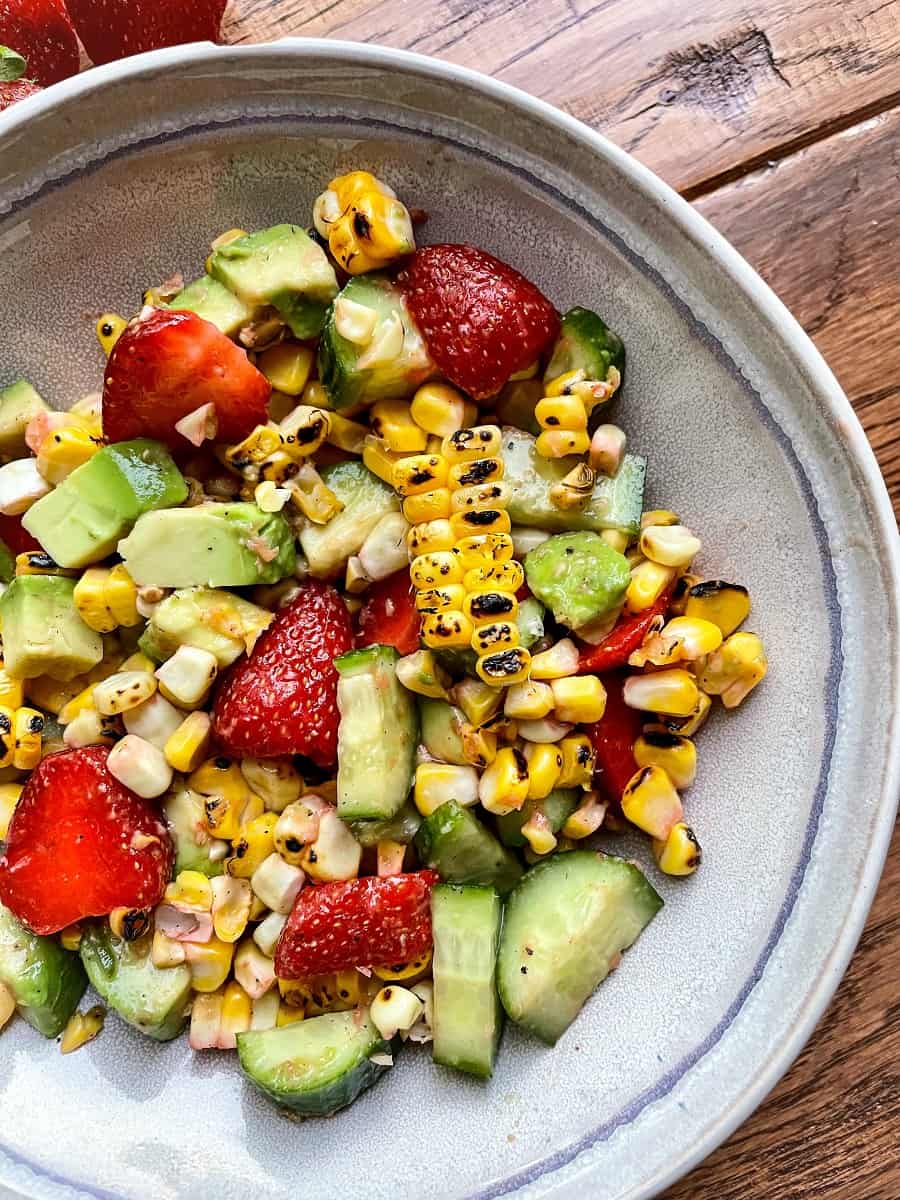 It has finally started to feel like summer and boy you cannot miss the signs. The mercury is touching 100 degrees this week and that is HOT. So much so that you can actually smell the heat in the air. But I cannot complain, we had a long and pretty spring this year with abundant rains. Though my summer garden is a bit slow to pick up due to this reason, we have enjoyed beautiful spring flowers and fruits. Last weekend, we got to visit a U Pick farm and picked up gorgeous, juicy and most delicious strawberries that I have ever tasted. To say we got carried away while picking the strawberries is an understatement. Hah!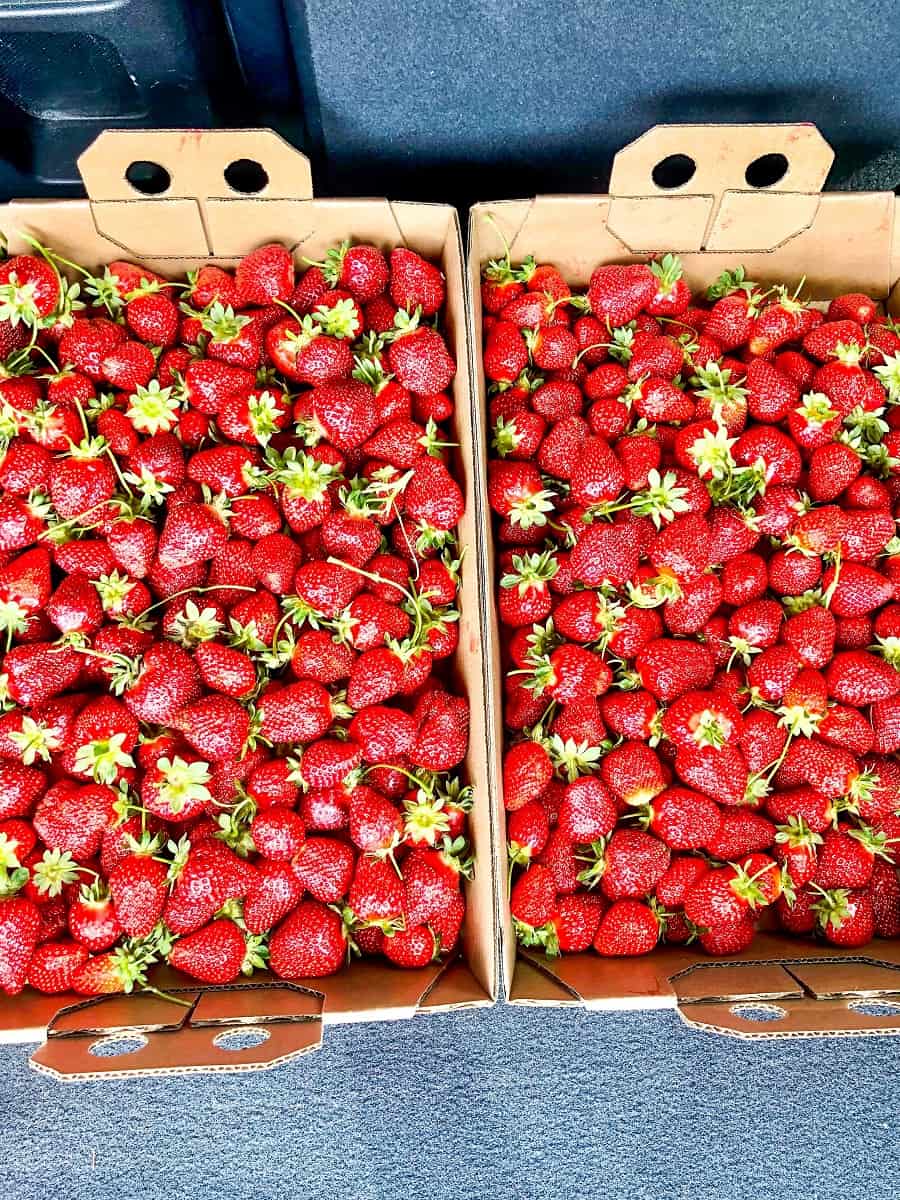 Strawberry Recipes
You know it. I had to make all the strawberry recipes that I could while enjoying them fresh and as such by bowlfuls. If you have never tried a fresh, hand picked strawberry, you are missing out on one of the best flavors that nature has to offer. Some of our family favorite strawberries include these latest strawberry muffins that we are obsessed with. Dr. A loves a good strawberry shortcake so these were bound to happen. This fruit salad with honey and mint vinaigrette is so easy to put together and makes the best use of all the early summer fruits.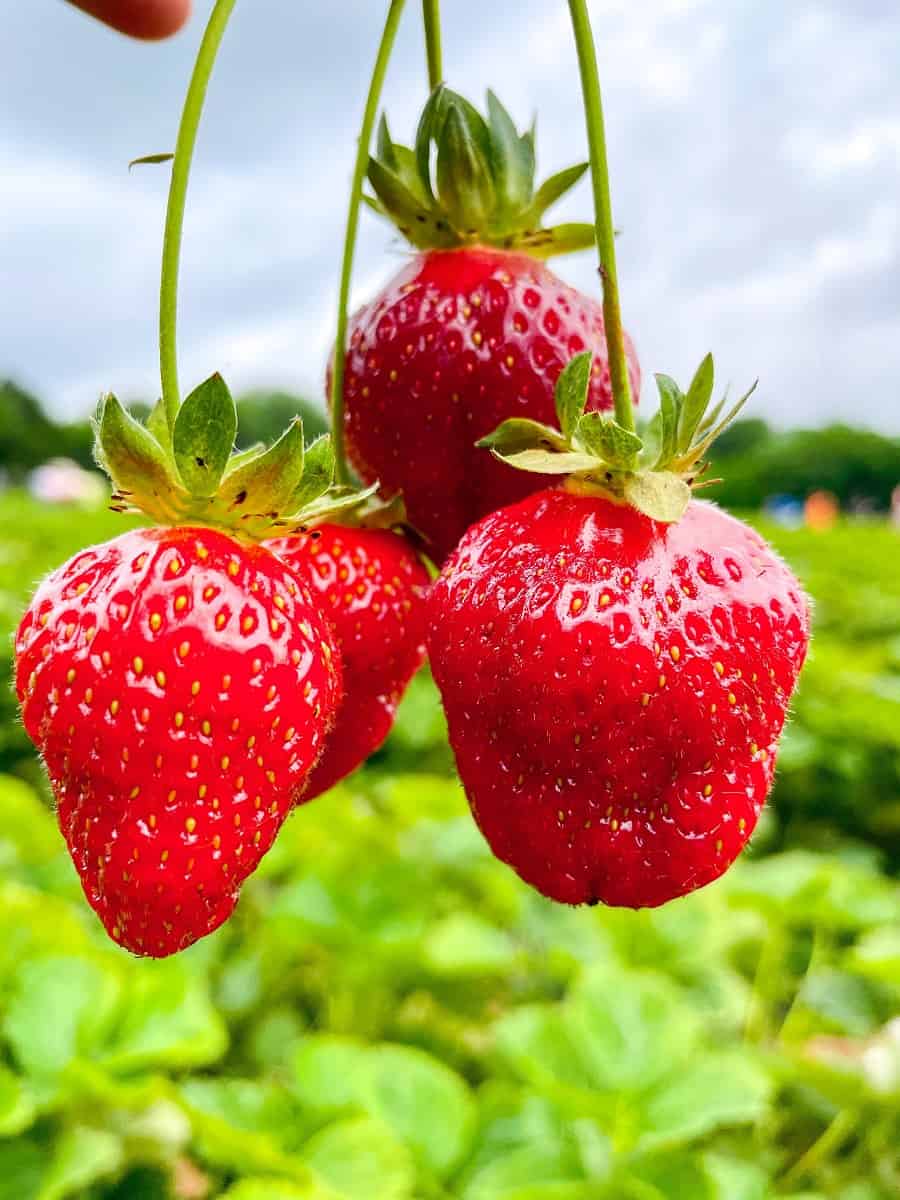 Strawberries in savory recipes
You know your girl is more of a savory foods type person. So after all the sweet things goodness, my heart was still longing for something new, something savory. This savory feta and strawberry salad is brilliant and super easy to get on the dinner table. But then I wanted to pair it with something else and I thought about this salad from last year and new ideas started dancing in my mind. I had a few ears of corn that needed using up and hence this summer strawberry salad with corn, cucumber and avocado happened.
Summer Strawberry Salad Recipe run down
This is a no recipe kind of recipe. It is easy, vegan and gluten free. There's juicy sweetness from strawberries, a burst of summer juice from fresh sweet corn, crunch from crisp cucumbers, and creamy, healthy fats goodness from avocados. I started with about a pint of strawberries from our u pick stash and thought about other ingredients I had on hand. As I looked at the ingredients side by side, I thought they might complement each other and I was right. I went with using equal amounts of strawberries, corn (almost), cucumber and avocado. I cut all the salad ingredients close in size to the strawberry slices. The dressing is basic but dynamite in this salad. S&P with lime juice and works great with the delicate flavor of the strawberries.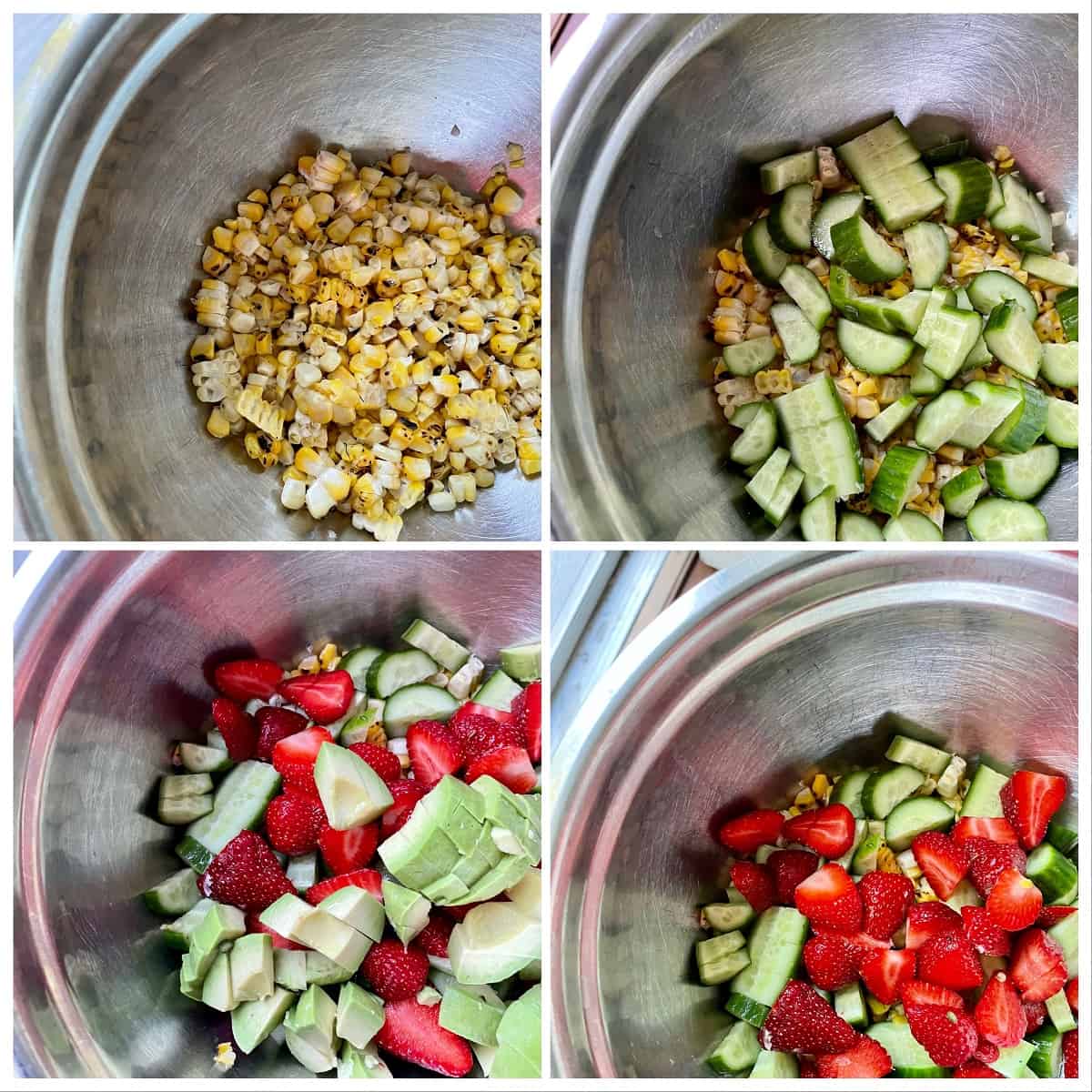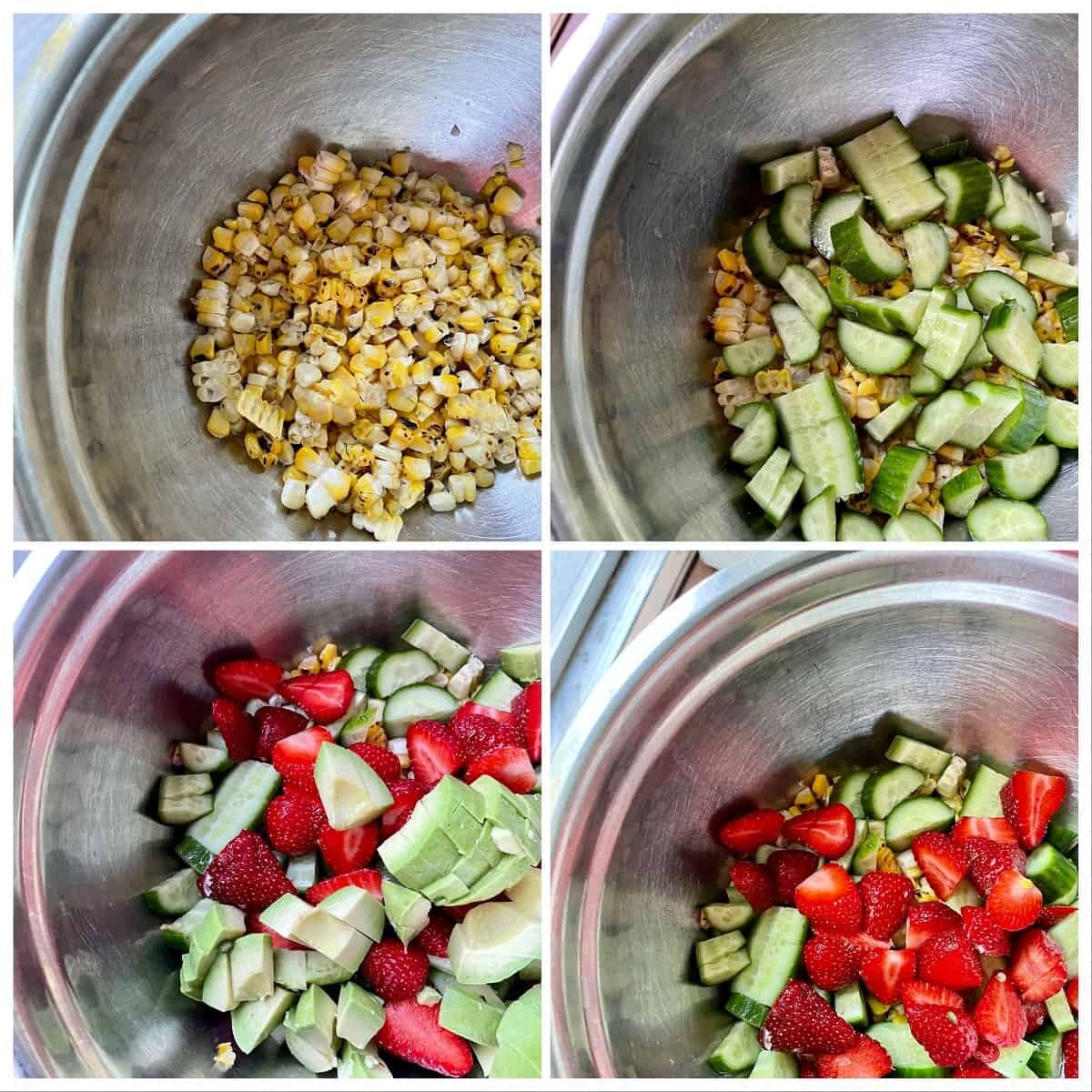 Prep
Grill or char the corn on a gas stove and then using a sharp knife (this knife is my favorite) cut the kernels off.
Chop the other ingredients roughly the same size.
Dressing
Told ya - salt, pepper and lime juice. This works and there is no reason to over complicate things. Especially because it is summer and it is hot and we want minimum effort recipes. Amen!
Pairing
How about eating it by itself? Yumm. Wash it down with an Italian soda or chilled beer.
If a salad for dinner is not your thing (like Dr. A), this salad will go great with any of your summer grilling recipes like these chicken burgers, with a bowl of this lentil soup or daal, tandoori wings...so many options.
Similar Recipes
Here's your handy dandy printable
Summer Strawberry Salad | Easy, Vegan and Gluten Free
A refreshing summer strawberry salad that brings together all the summer's best - strawberries, cucumber, and corn along with the nutritious avocado.
Ingredients
1

cup

strawberries

sliced

1

ear

corn charred and kernels sliced off

about 1 cup corn kernels see notes

2

Persian cucumbers cubed see notes

1

avocado chopped

Salt to taste

Fresh cracked black pepper to taste

1

lime

juiced
Instructions
Add strawberries, corn kernels, cucumbers and avocados in a deep mixing bowl. Add salt and pepper and squeeze lime juice.

Gently toss together. Check and adjust seasoning and serve!
Notes
If you do not have fresh corn, you can also use frozen corn that has been thawed. Canned corn will not work.
You can also use English or regular cucumbers. About 1 cup cubed.
Did you make this recipe? Don't forget to give it a star rating! I love to hear from you guys. And if you do make this recipe, please share and tag me on Instagram and Facebook! I love to look through your creations!!
Love – Vaishali