If you have ever had a chance to read my About section (here), it talks about how I am constantly learning about different cuisines, their culture, their foods and how our friends are always a great source of regional recipes and flavors. This recipe of these sweet and sour lentils with spinach is one such story. I once was visiting a friend of ours, who happens to be from Western part of India. I overstayed at their house enjoying some great conversations without realizing that it was already dinner time and as gracious as they always were, they insisted I stay for dinner. That is when my friend made these lentils and I was blown over by the plethora of flavors in this humble dish. Also, the proteins of lentils plus spinach – bring it on! It was something my friends!
Life happens, so we moved to different towns in different parts of the country and a few years passed. May be year (or two) after I first tried this daal, I texted and asked my friend for the recipe. And she most graciously typed the whole recipe and texted back. I have made this recipe innumerable times now and over time have changed a few things here and there, but more or less followed the original recipe. One of the strict instructions of my friend's recipe was not to use garam masala, and as hard as it is for me to not sprinkle the magic dust on every daal that I cook, I have always followed this rule. And trust me when I say that it doesn't need any garam masala.
You can pressure cook the lentils or in an open pot. If you are cooking in an open pot, plan ahead, soak the lentils for about an hour and cook with plenty of water. Different lentils have different cooking times depending on their size and texture and whether the lentils are whole or split. The lentils used in this recipe are called Arhar/Urhur or toor daal/ Split Pigeon pea lentils and this daal is easily available from most Indian grocery stores and some specialty/health food stores. You can definitely switch the lentils used to Moong daal (yellow daal or green split gram without skin), Masoor daal (red/orange daal or brown split lentils without skin), or Chana daal (split black gram without skin – Bob's red mill has chana daal); though flavor and cooking times will vary with the type of daal you choose. Try to make it with Arhar daal – will you please?
The sweet and sour notes in this recipe come mainly from addition of tamarind paste (sour) and jaggery (sweet). Tamarind comes from a pod-like fruit of tamarind tree, the pods have seeds that have sticky and extremely tart pulp and a strong flavor. Conveniently, the pulp is packaged in small bottles and made available in almost all Asian/Indian grocery stores. I would give you a replacement for using tamarind paste in this recipe, but sadly there is not. Jaggery comes from sugar cane juice, made by boiling and reducing down the juice. Think about it as a cross between molasses (not as strong) and caramel (not as sticky and sweet). If you cannot find jaggery, you can use brown sugar that you would normally use for your baked goods. However, the quantity used might need to be adjusted according to sweetness desired.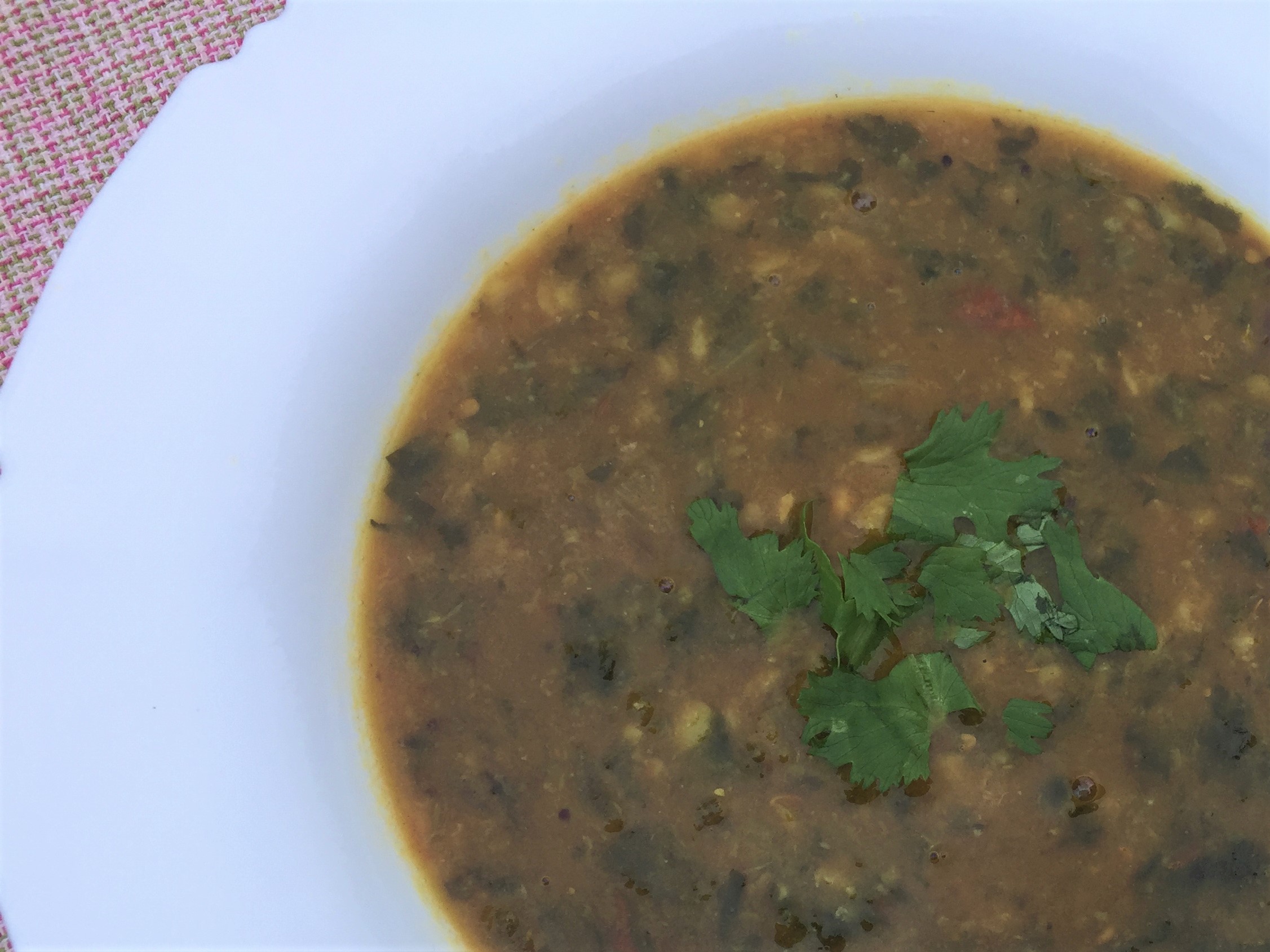 Ingredients:
Arhar/Split pigeon pea lentils – 1 cup
Water – 3 cups* + more for adjusting the consistency of daal
Ghee/oil – 1 tablespoon (ghee recipe here)
Heeng/Asafoetida – a pinch
Mustard seeds – ½ tablespoon
Cumin seeds – ½ tablespoon
Curry leaves (optional) – from 1 sprig
Garlic – 3 cloves (fresh grated or minced)
Green chili – 1 (optional)
Onion – 1 small
Ginger – 1 teaspoon (fresh grated or minced)
Turmeric powder – ¼ teaspoon
Coriander powder – 1 tablespoon
Red chili powder – ½ teaspoon
Tomato – 1 big
Spinach – 3 cups
Tamarind paste – 1 teaspoon
Jaggery/Gudh/Shakkar – 2 tablespoon
Lime juice – from ½ a lime
Cilantro – from 5-6 sprigs
Salt – to taste
Method:
Wash and rinse the lentils. Set a pressure cooker on high heat and add the lentils along with three cups of water. Put the lid on and cook for 1 whistle, after which lower the heat and cook for another 10 minutes. Turn the heat off and let the pressure release by itself before opening the lid, another 10-15 minutes.
If you are not using a pressure cooker, wash, rinse, and soak the lentils in plenty of warm water for an hour. Set a big sauce pan over high heat, add the lentils and about 4 cups of water, bring to a boil, lower the heat to medium and cook for 20-30 minutes or till the lentils can easily be mashed between fingers.
Chop the onions and green chili and set aside. Also give the tomato a rough chop. Chop the cilantro too.
While the lentils are cooking, we can start working on making the spinach tadka or masala. Set a big, heavy bottomed pot over medium high heat, add ghee/oil and let it heat up. Once the ghee is melted and shiny, add heeng, cumin seeds, mustard seeds and let them sizzle and splutter. Then add curry leaves and stand back as the water or moisture in the curry leaves might make them splutter. Add garlic and followed by onion along with a pinch of salt and mix everything. After about 2-3 minutes, as the onion starts to brown a little, add ginger and cook for about a minute or until the raw smell of ginger goes away. Now add chopped tomatoes, turmeric powder, chili powder and coriander powder and bhoono the masala for 2-3 minutes.
I normally use this time to give my spinach a rough chop and then add it to the masala along with some salt and cook it till it's wilted, about 3 minutes. Now this is where I depart from the original recipe as it didn't call for cooking spinach with the masala at this point. But I like my spinach a little more cooked so I add it at the masala step. After adding the spinach, add your boiled lentils and mix. Add a little more salt, tamarind paste, jaggery and about two cups of water. Stir and let everything cook together for about 5-7 minutes. Finish by adding lime juice and chopped cilantro. Give it a taste and consistency check and adjust salt, lime juice, if needed. As the daal sits for some time after cooking, the lentils keep absorbing water and the daal turns thick, so I normally add some extra water to account for it. Serve hot with rice (recipe here) or roti (recipe here). Enjoy! And remember no garam masala..:-P.
Love – Vaishali.
Recipe Notes:
* Quantity of water used to cook the lentils will depend on the method of cooking you choose – pressure cooker or open pan.
Tools used:
Pressure cooker
Knife and chopping board
Measuring cups and spoons
Sauce pan
Spatula