Chicken Haleem is a complete, balanced meal in a bowl. Made in the Instant pot in a fraction of time of the traditional method, it has chicken, cracked wheat and lentils cooked with the most aromatic masala you will ever taste!
Jump to Recipe
This post may contain affiliate links.
Here's another recipe for our Friendly Fridays series. This is where I share delicious recipes from my friends and family (like here and here). Not all the recipes that I make come from my family archives, there so many that I have learned from my friends over the years. I feel incredibly fortunate that I have this forum where I can share recipes that are shared from different parts of India and even around the world.
What is Chicken Haleem?
If you have been following along for some time, you might remember my friend Roshani. She shared her delicious Coconut Chicken Cups on Friendly Fridays. Few weeks ago, Roshani shared a container full of this Chicken Haleem with us sometime ago and it was delicious. I had vegetarian chicken Haleem during my trip to India in 2018 and that one was made with lentils and wheat berries. We tried Roshani's Chicken Haleem and it was delicious. Comfort in a bowl. Think about a complete meal - protein (chicken and lentils), whole grains (Bulgur wheat) and vegetables. All cooked together with an out of the world flavorful Haleem masala. I won't tempt you any more. I asked her and she happily shared the recipe. So, here you go, below Roshani shares this recipe of Instant Pot Chicken Haleem.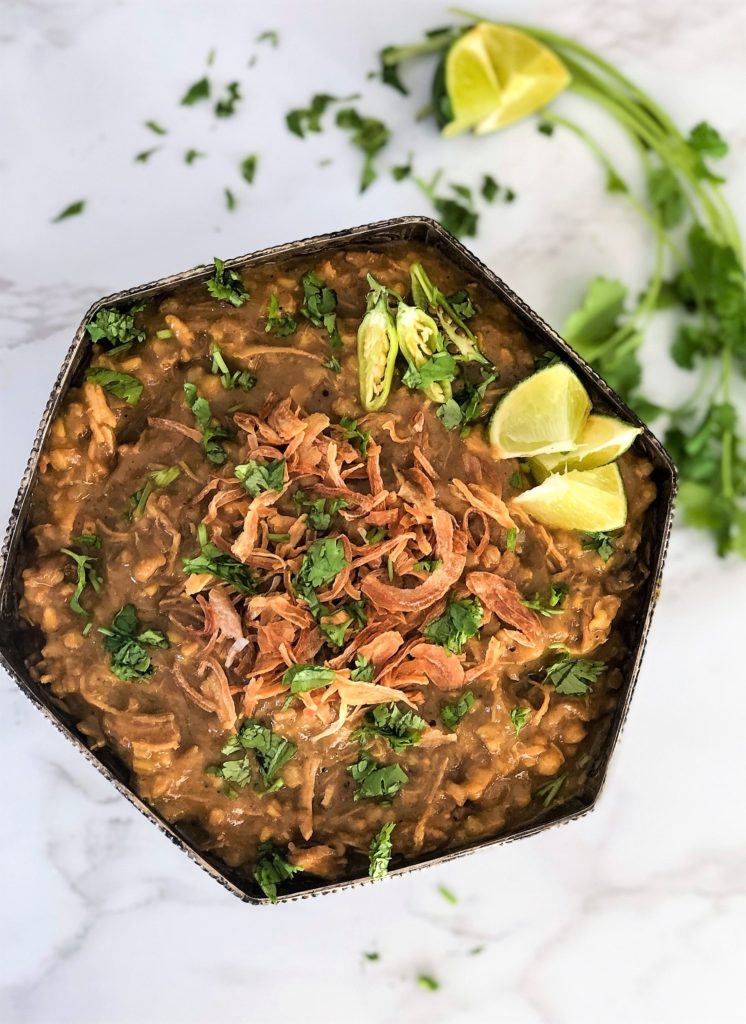 From Roshani:
"Here is the recipe. To be fair, the haleem masala mix was made by my mausi (maternal aunt) in NJ and she sent it to me, but she has given the recipe below. To make life easy, even Shan/Laziza (Indian/Pakistani spice brands) have haleem masala packets, sort of like their tandoori masala etc., so it can be substituted too. You can also make homemade haleem masala in bulk and store in the freezer. I've tried the homemade masala as well as the Shan packet, and both turn out pretty good."
*The batch she shared with us was made with homemade masala though.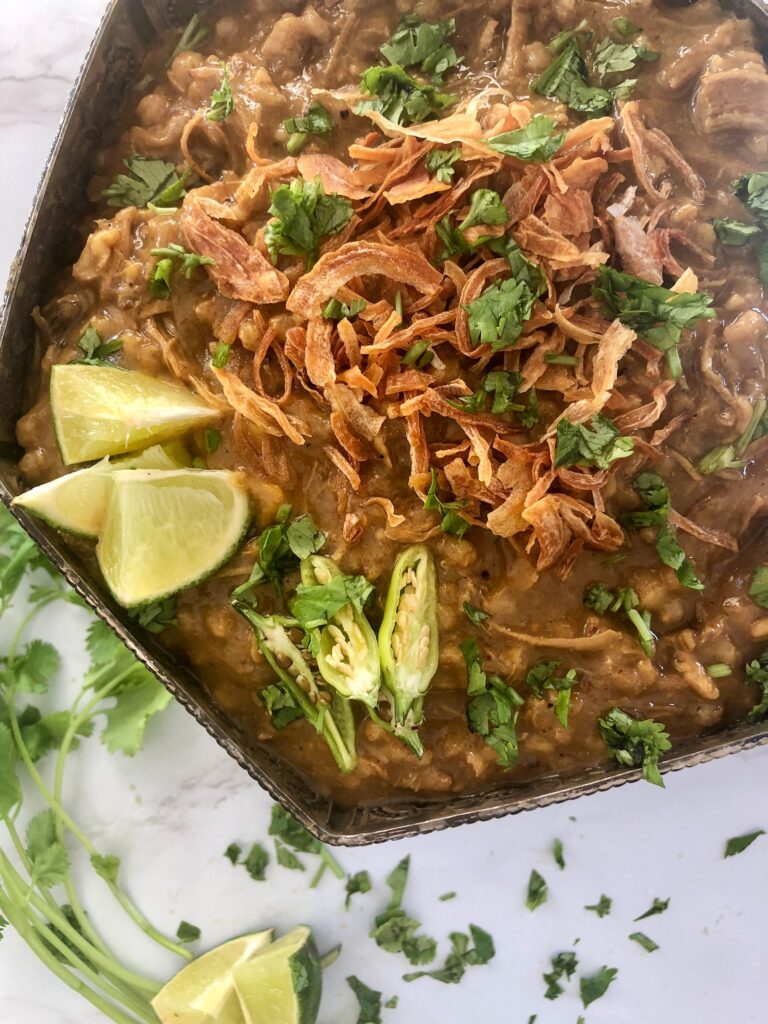 Here's your printable recipe:
Roshani's Instant Pot Chicken Haleem
Chicken Haleem is a complete, balanced meal in a bowl. Made in the Instant pot in a fraction of time of the traditional method, it has chicken, cracked wheat and lentils cooked with the most aromatic masala you will ever taste!
Ingredients
Homemade Haleem masala - Dry Roast and grind the following:
1

teaspoon

shahi jeera

3

bay leaves

4

cloves

5

green cardamom

2

inch

stick of cinnamon

1

teaspoon

cumin seeds

½

teaspoon

kalonji

nigella seeds

1

tablespoon

coriander seeds

1

teaspoon

black pepper

8

dry red chilies

6 -7

curry leaves
Other Ingredients:
2-3

tablespoon

Haleem masala

heaped, homemade or store bought

1.5

lb

Boneless skinless chicken breast/thigh or mixed cuts

3

White onions, sliced

Choose big sized onions, total about 8 cups sliced onions

1

tablespoon

Ghee

1

tablespoon

Oil

2

teaspoon

Ginger-Garlic paste

½

teaspoon

Turmeric

See Notes

1

teaspoon

Red chilly powder

See Notes

¾

cup

Cracked wheat

haleem wheat/Bulgur wheat

¾

cup

Chana daal/moong daal

either a mix or individual pulses as you prefer

Salt to taste

Chopped Cilantro

for garnish

Lemon wedges

optional

Sugar

optional

Chopped nuts

for garnish, optional
Instructions
Begin by soaking your wheat and lentils (chana daal/moong daal)

Set your instant pot to saute mode, heat oil and ghee together.

Once it is hot, add the sliced white onions and cook them until they turn brown and are nicely caramelized. Keep mixing them around so it doesn't stick to the base and burn. This will take about 10 minutes

Remove half the onion quantity and keep it aside. We will use these later for tadka (tempering) and garnish

Add haleem masala to the remaining onions. Cook for a minute.

Add ginger garlic paste, followed by chicken breasts/thighs. Mix well until the chicken is well coated with masala and begins to cook. If you're using homemade haleem masala, add turmeric and red chili powder per your spice level. If using Shan haleem masala, they'll advise to put the whole packet in, and it already has these spices added in.

Once the chicken has turned opaque on the surface (slightly white) on the surface (this will take about 5 minutes), drain and add soaked cracked wheat and pulses. Mix everything well.

Add 7-8 cups of water, slat to taste and mix well.

Turn off saute mode, switch to pressure cook mode and cook on high for 35 minutes.

Once the 35 minutes are up, let the pressure release naturally (about 15-20 minutes). Open the lid and with the back of the ladle, mash the wheat and daal (lentils) slightly in the pot itself. Shred chicken pieces with a two forks or with the ladle in the pot itself. Mix everything together again.

Switch to saute mode and continue to cook for about 5 mins.

While the haleem is cooking on saute mode, make the tempering. In a small frying pan, add a tablespoon of ghee and let it melt. To prepare the tempering/tadka add half of the saved sauteed onions and about 1 teaspoon of haleem masala. Mix and pour this tadka over the haleem and give it a stir.

Once everything is mixed well, turn the saute mode off and switch to Slow Cook mode. Set the time to 60 mins and let the Chicken Haleem simmer away.

After an hour, stir, adjust salt. You can add lemon juice and some sugar, if desired.

Serve hot in a bowl, garnished with cilantro, remaining caramelized onions, lemon wedge and some nuts (optional).
Notes
The wheat and pulses together should be about 1.5 cups in quantity.
Store bought masala already has turmeric and chili powder in it. So, only add if using homemade Haleem masala.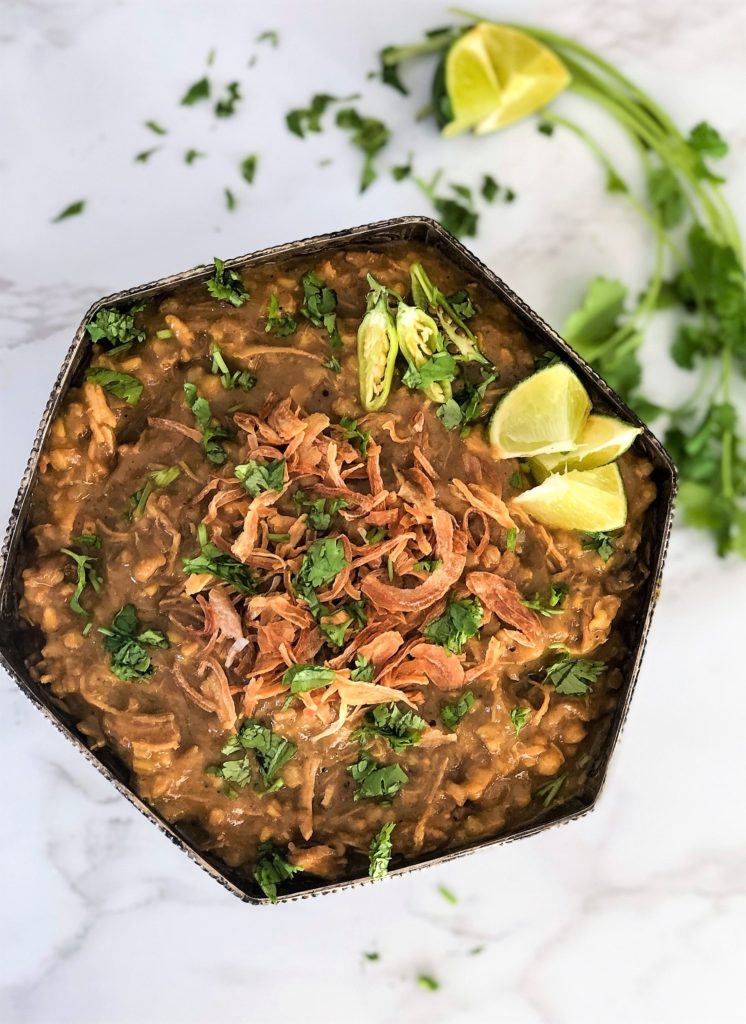 If you make this Instant Pot Chicken Haleem, please leave a comment and/or give this recipe a rating! I love to hear from you guys. And if you do make this recipe, don't forget to tag me on Instagram and Facebook! I love to look through your creations!!
Love – Vaishali.
Key Recipe Tools and Ingredients:
PIN this post to Pinterest for later: