Masala Chicken Burgers Recipe - perfectly spicy, unbelievably easy and ready in 30 minutes! You won't believe the flavor punch these burgers pack and how quickly these come together
This post may contain affiliate links.· As an Amazon Associate I earn from qualifying purchases
This is a recipe born out of necessity. A necessity to enjoy a burger that is beef free but still is a burger. You know what I mean? It's not a chicken sandwich – which can be sliced or a whole chicken breast that is grilled or fried but it's a burger. You know the ground meat kind. Yup, that's it!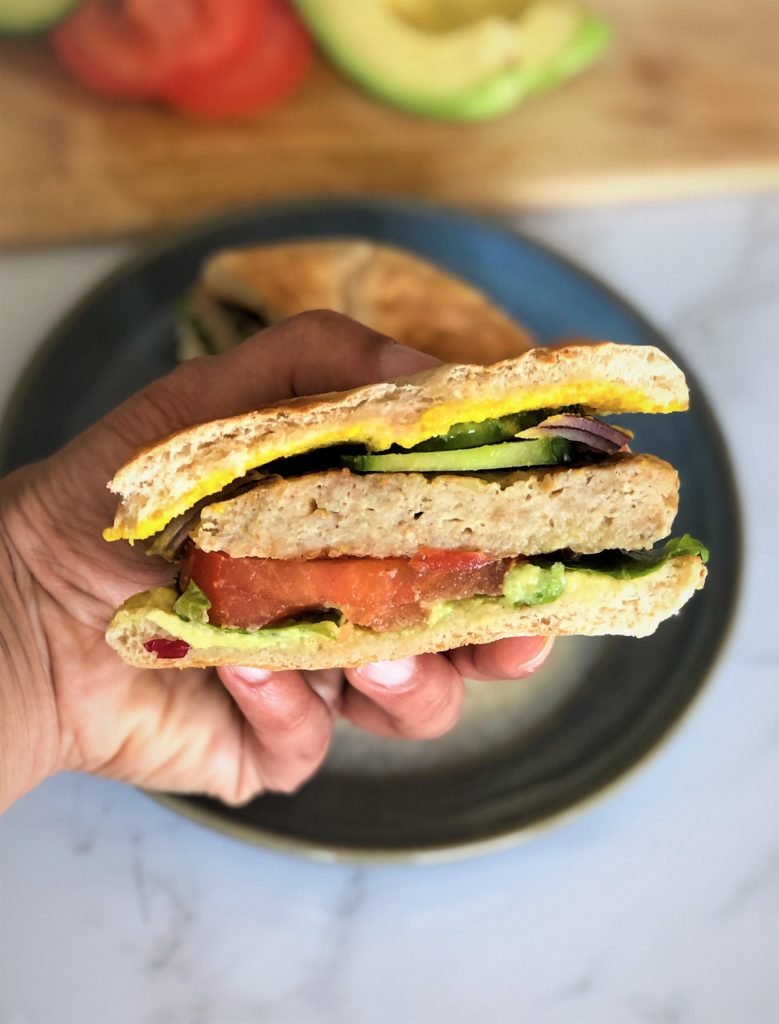 Now, to that bland and boring ground meat (chicken in this case), add an oomph of flavor with aromatics like ginger and garlic and warm earthy spices like coriander powder and garam masala. And you have got yourself an Indian style Masala Chicken Burger that is packed with flavor and is easy enough for a weeknight meal and is also great for serving at parties. I cannot tell you how many times we have entertained our guests with a DIY style burger bar with these Masala Chicken Burgers being the focal point. Needless to say, it is always a hit.
These masala chicken burgers are surprisingly easy to make and require nominal grocery shopping (if you keep a well stocked pantry, that is). As most of TKD recipes these are not overly spicy but you can always add more or less green chilies depending on your desired level of spice.
What goes in the burger?
As I mentioned earlier, this is a simple recipe. You need ground chicken (duh), aromatics – ginger, garlic, onion, cilantro; spices – fresh green chili, coriander powder, cumin powder, garam masala and salt; binders – whole wheat bread crumbs and egg. That's it – mix everything together, form patties and cook.
How to cook the burgers?
I have tried cooking these masala chicken burgers several ways – on the outside grill, in the oven, in a grill pan, cast iron pan, and non-stick skillet. A grill pan or cast iron pan is hands down the best way to cook these burgers. Quick, fail proof, healthy (minimum oil) and super juicy burgers every single time.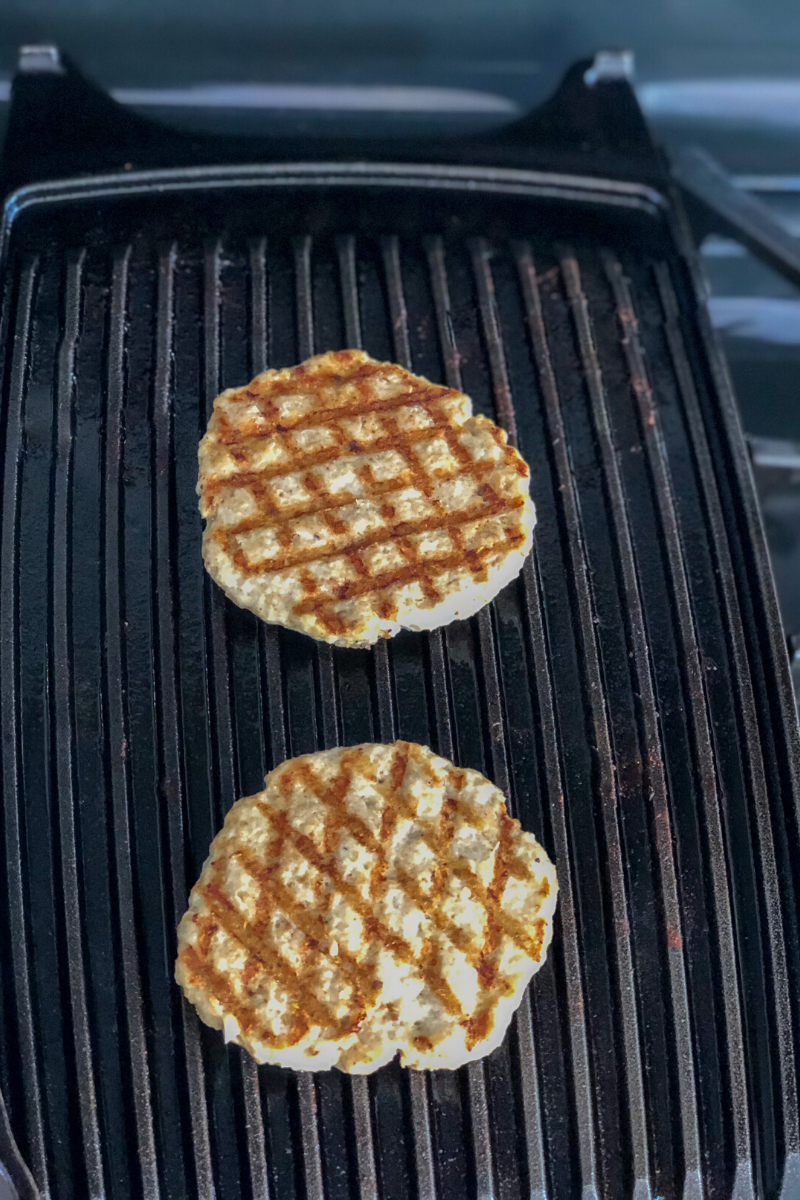 How to serve the burgers?
Nothing beats classic toppings like lettuce, tomato, cucumber and onion for burgers like these. I love adding sliced avocado or this avocado spread to the burger. Spicy mayo or spicy mustard adds a nice flavor if you choose to use it. Dr. A loves a slice of pepper jack cheese on his. Limitless possibilities. Though potato fries might be the traditional favorites, I like mine with these sweet potato fries. So good and so easy to make. Do check these out.
Recipe run down
Prep work in this recipe is mostly dumping in a bowl and mixing. Mix together ground chicken, chopped onions, ginger, garlic, cilantro and green chili. Add whole wheat bread crumbs and a whisked egg along with coriander powder, cumin powder, garam masala and salt. You can let this mixture sit for an hour if you have time or make them right away. Do your thing. Nobody is judging. These will still taste super, I promise!
A good idea might be to get the toppings ready while the burger mix mingles – wash and tear lettuce leaves, slice cucumbers, tomatoes, red onions and avocados or make the avocado sauce. Form the burger mixture into 4 equal patties. I use a half cup measure to make the patties so that they are all the same size. You can make them bigger or smaller as per your liking. Cook the patties in a skillet or on a grill/pan sprayed with olive oil, about 5 minutes per side or until the temperature is 165 degrees F. Serve on buns with your favorite toppings.
Here's the printable: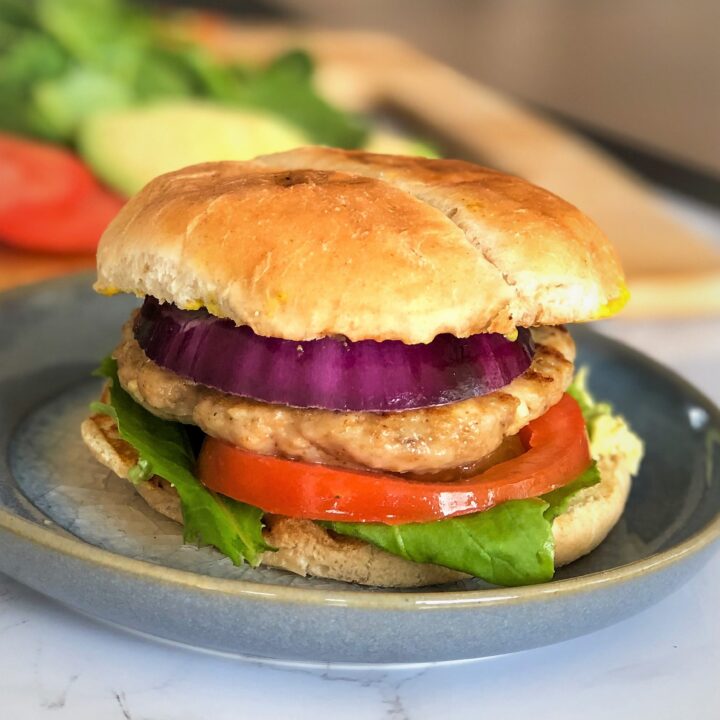 Masala Chicken Burgers
Masala Chicken Burger Recipe - perfectly spicy, unbelievably easy and ready in 30 minutes! You won't believe the flavor punch these burgers pack and how quickly these come together.
Ingredients
For the burgers
1

pound

ground chicken

½

medium onion

diced finely

3

garlic cloves

minced/grated

2

teaspoon

ginger

grated

1

green chili

minced (optional)

1

tablespoon

coriander powder

1

teaspoon

garam masala

1

teaspoon

cumin powder

1

cup

whole wheat bread crumbs

See notes

¼

cup

cilantro chopped

Salt to taste

Olive oil spray

OR upto 2 tablespoon olive oil
To Serve:
4

burger buns

Lettuce leaves

1

tomato

sliced

1

medium red onion

sliced

½

English cucumber

sliced

1

avocado

sliced (optional)

Spicy Mayo, Mustard or Avocado spread

(optional)
Instructions
To cook in a grill pan (Stove top method)
Line a cookie sheet with parchment paper, give it a light spritz of olive oil and set aside.

In a medium mixing bowl add all the ingredients for burger patties and mix well.

Using a half cup measure, scoop out the burger mixture and form into flat patties, slightly bigger than the size of the buns you are using. Feel free to make the patties bigger or smaller of you desire. This mix should make 4, ½ cup (approx.. 4 oz) patties.

Lay the formed patties in the parchment lined cookie sheet. Wetting your hands with cold water while making the patties makes it easier.

Preheat a grill pan and lightly spary with olive oil. Lay the formed patties on the grill pan and cook for about 5 minutes on 1st side, flip and cook for another 5 minutes. If you want the criss-cross grill marks on the patties, rotate them 45 degrees to chieve that look. Super cool! I always check the temperature of my burgers with a thermometer to make sure they are fully cooked (165 degrees F).
To cook on grill:
Preheat the grill at 375 degrees. Line the grill with aluminuim foil and spray oil over.

Place the patties on the grill and cook for 8 to 10 minutes and then flip over and cook the other side for additional 5-6 minutes. Use a thermometer to check the temperature (please do to make me happy..:))
Notes
To make the burgers glutenfree, you can use rice based crumbs or cooked quinoa.
If you want to add cheese to the burgers, after the first flip, add a slice of cheese, lower the heat, cover with a dome or glass lid and cook until done and cheese has melted.
Before forming patties, test the mixture for seasonings by cooking about a ½ a teaspoon of burger mixture and trying it. If needed adjust seasoning in the burger mixture.
I would strongly recommend toasting the buns and using this avocado spread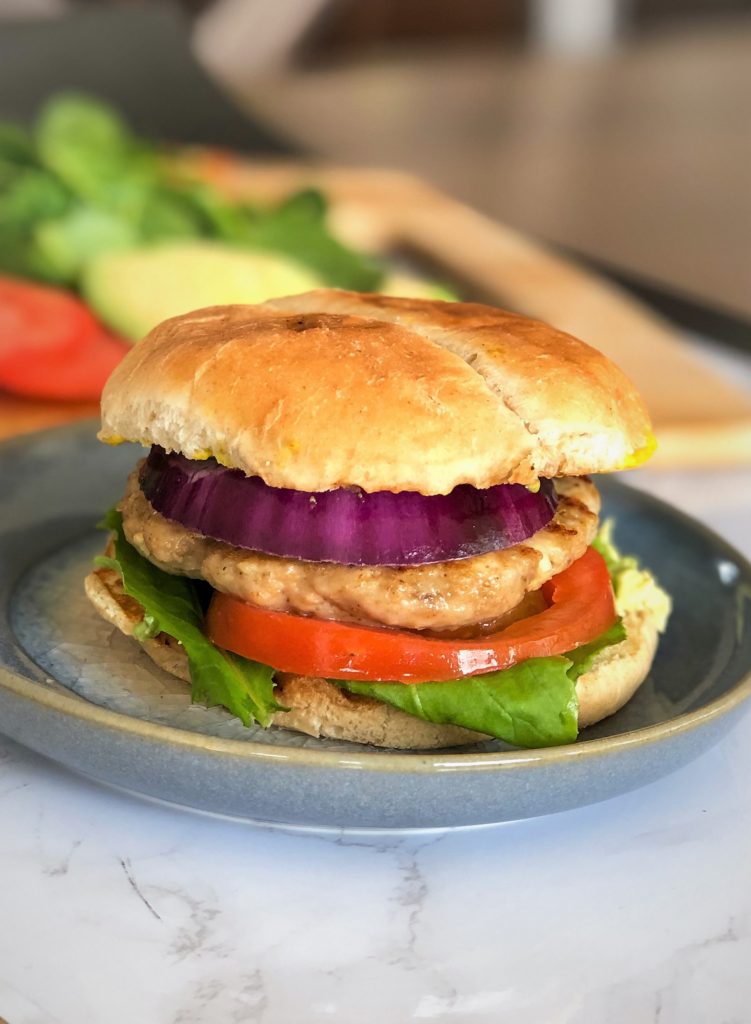 Did you make this or another #TKD recipe? Tag @thekitchendocs on Instagram. I WOULD LOVE TO SEE IT!
Tools Used
Grill Pan:
Mixing Bowl:
Utensils:
Chopping board:
Measuring Cups:
Measuring Spoons:
Cookie Sheet:
Other Pantry Stuff
This post may contain affiliate links.· As an Amazon Associate I earn from qualifying purchases