This tomato basil salad is made extra special with marinated fresh mozzarella. It is simple yet impressive for any meal or when served with some crusty bread.
This post may contain affiliate links. As an Amazon Associate I earn a small commission from qualifying purchases.
You all know my obsession with fresh, seasonal produce and within that obsession, tomatoes might be on the top. Nothing beats a fresh, juicy, straight off the vine tomato. To add to that perfection, add fresh mozzarella that has been soaked in a concoction of floral extra virgin olive oil, garlic and red pepper flakes. Yup - this tomato salad with basil and marinated mozzarella pretty much tops perfection!
All summer salads have something deeply satisfying about them, like this strawberry cucumber salad, or these roasted corn and summer strawberry salads. This tomato mozzarella salad pairs well with this delicious focaccia or you can add a small bowl of this to a summer themed snack board as well.
Jump to:
Ingredients
As is the case with most recipes with just a few ingredients (like this pasta), use high quality ingredients. See the list below and make your choices wisely..lol!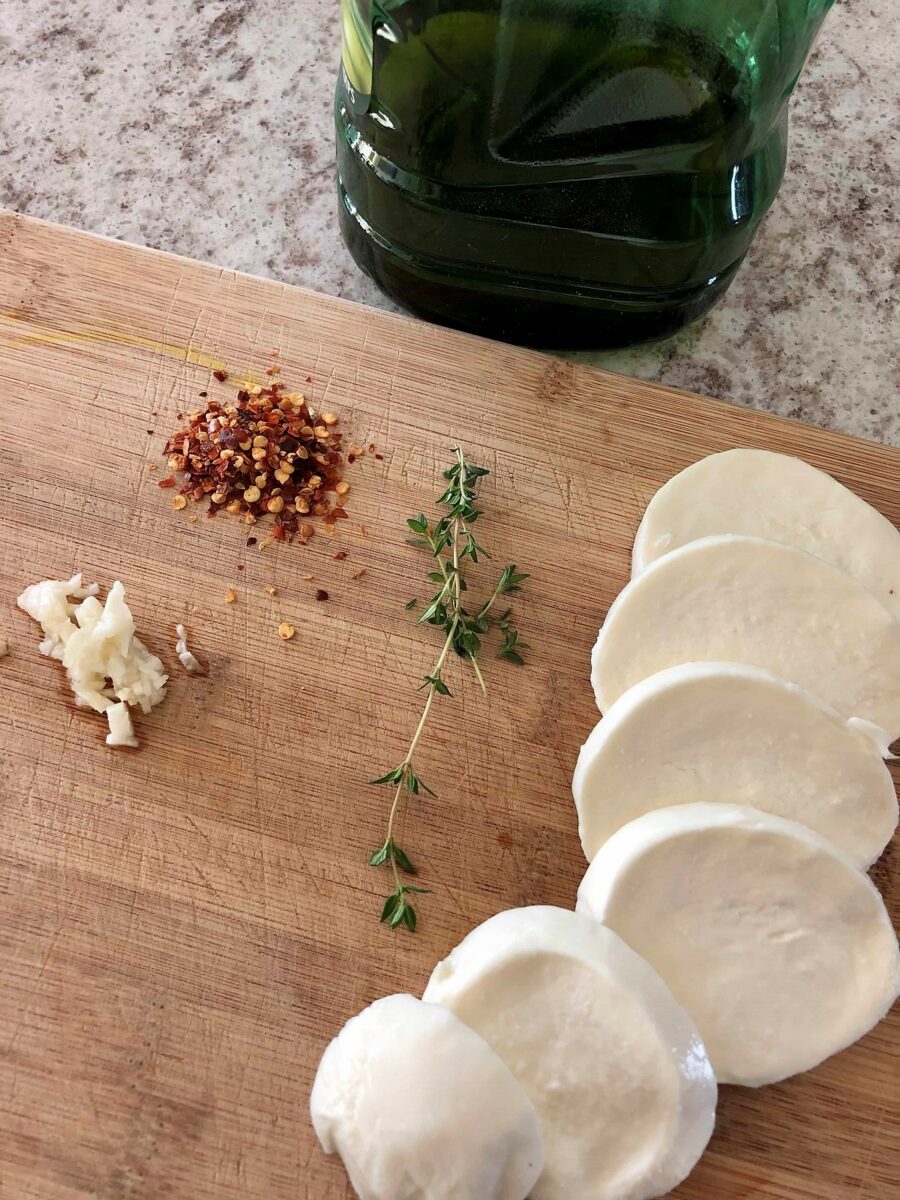 Tomatoes - seasonal, juicy tomatoes that are from a local farm stand or homegrown are best for this salad. Heirlooms are my go to!
Mozzarella - Fresh mozzarella! I used Belgioioso sliced mozzarella and then diced it. You can use smaller bocconcini, or even cut them into smaller pieces.
Aromatics - Garlic and thyme to marinate the mozzarella in.
EVOO - good quality extra virgin olive oil, the best in your pantry.
Salt and red pepper flakes - Fleur de sel and Maldon salt flakes are both excellent choices when it comes to adding a sprinkling of good quality salt to your dishes.
Basil - You can cut bigger basil leaves into ribbons or use young, tender leaves whole. I find that smaller leaves often have a sweeter flavor and less peppery bite compared to more mature leaves.
See recipe card for quantities.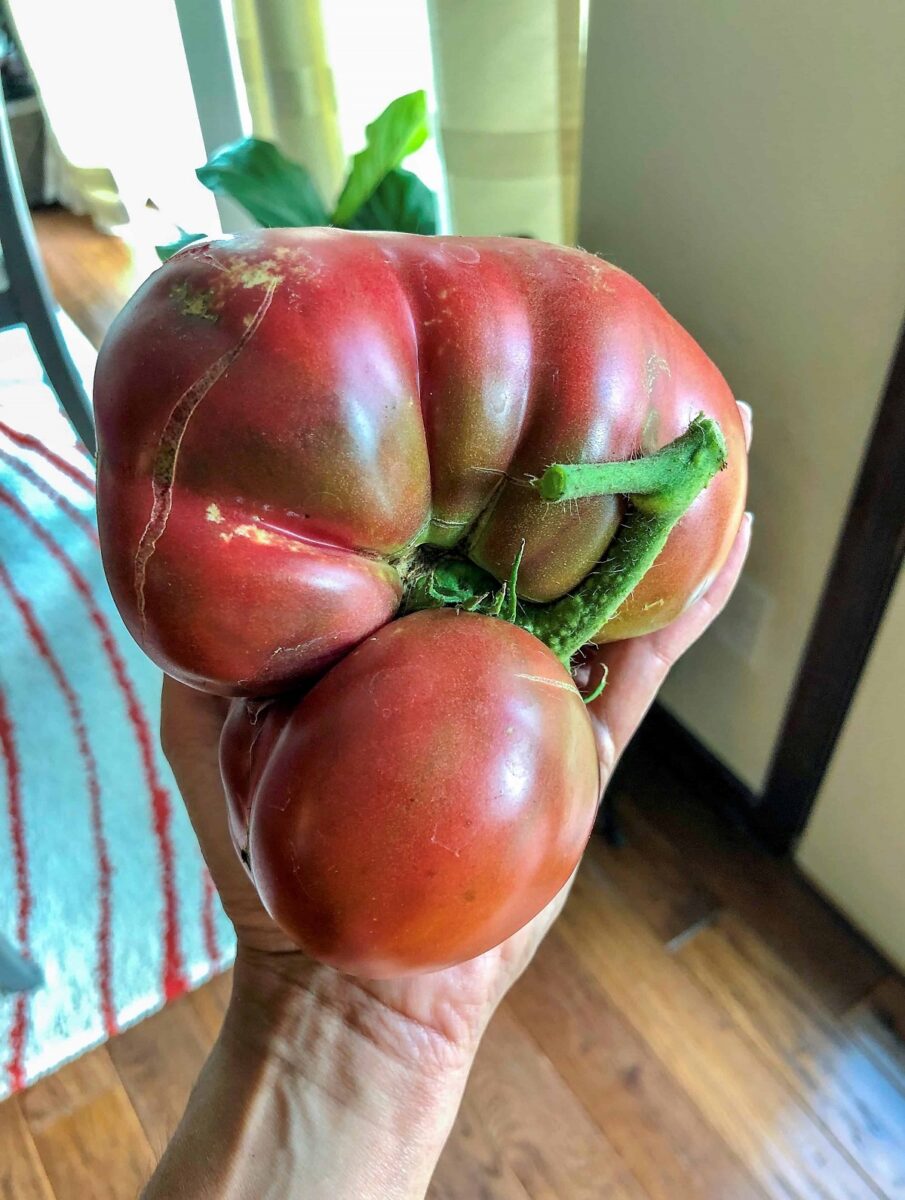 Instructions
Take into account the fact that to make this tomato basil salad you will need at least 30 minutes to let the mozzarella marinate. In a bowl combine the evoo, garlic, fresh thyme, red pepper flakes, and salt. Add the chopped mozzarella, cover the bowl with a tight fitting lid or plastic wrap and marinate the mozzarella in the refrigerator for at least half an hour..
While the mozzarella is marinating, prep your tomatoes and basil. Take the mozzarella out from the refrigerator and let it come to room temperature. Mix with tomatoes and basil, sprinkle some salt and serve!!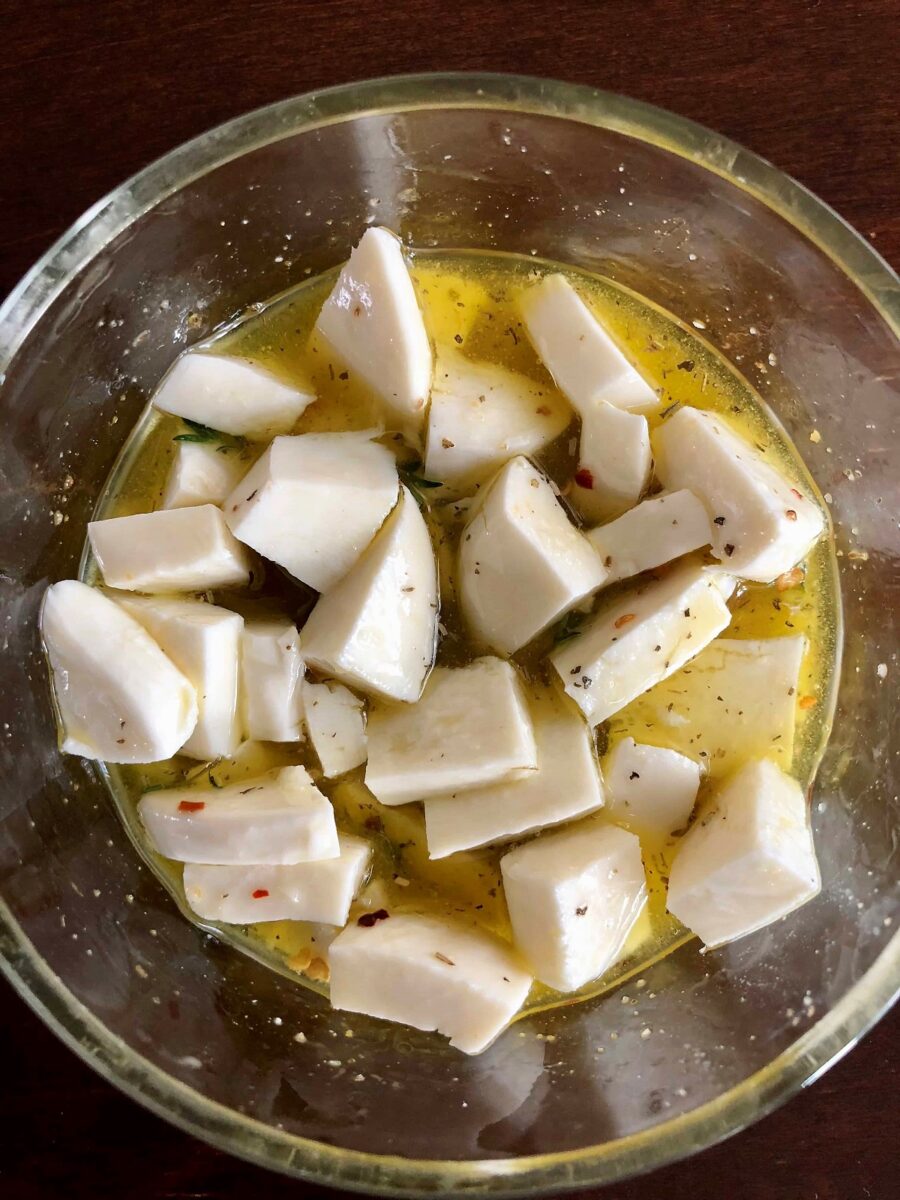 Hint: If you have time on your hands, let the mozzarella marinate for an hour. That helps in developing a deeper, savory flavor in the cheese and tales this tomato basil salad up a notch! I also sometime like to use this Italian seasoning in the mozzarella marinade as well.
Substitutions
If you want to make this recipe vegan, you can choose to use a plant based mozzarella. I have used cashew milk mozzarella from my local grocery store and it's an excellent substitution!
Variations
Make it your own. The marinated mozzarella is great with so many thing and by itself!
Spicy - add more chili pepper flakes while marinating to imbue heat into this tomato basil salad.
Sweet - if sweet and savory is your thing, you can add juicy strawberries or peaches to this salad
Kid friendly - my kids don't mind a red pepper flake here and there but feel free to replace red pepper flakes with black pepper
See this peach caprese salad recipe!
Equipment
All you need is a glass bowl, a whisk and a good knife!
Storage
You can store the leftovers (what???) in an airtight container in the refrigerator. Though it tastes the best fresh!
FAQ
Where can I find fresh mozzarella?
Fresh mozzarella is usually available in most grocery stores in the deli or specialty cheeses section. Most wholesale/bulk stores (like sams and costco) also carry it.
Is this tomato basil salad with marinated mozzarella healthy?
Absolutely! Fresh, simple ingredients that are in season and sourced locally (as much as possible) - does not get healthier than this,
What goes well with tomato basil and mozzarella salad?
It pairs well with paninis, chicken breast and pastas. We love serving it with a slice of focaccia or crusty breads! See pairing section below.
Related
Looking for other recipes like this? Try these:
Pairing
These are my favorite dishes to serve with Tomato Basil Salad with Marinated Mozzarella:
If you make this recipe be sure to leave a comment and let me know how you liked it! Snap a photo and share it on Instagram with the hashtag #thekitchendocs or share on Facebook, too.
Love – Vaishali
Tomato Basil Salad with Marinated Mozzarella
Ingredients
2

Ripe tomatoes, sliced

about 2 cups

8

oz

Fresh mozzarella

cut into bite size chunks

2

cloves

garlic

minced

2

sprigs

thyme

⅓

cup

Olive oil

extra virgin

Fresh basil leaves

Salt and red pepper flakes

to taste
Instructions
In a glass bowl, add the olive oil, garlic, thyme leaves, pepper flakes and salt. Whisk to combine and add the mozzarella. Cover with a lid or plastic wrap and refrigerate for at least 30 minutes.

While the cheese is marinating, slice the tomatoes and tear or cut the basil leaves into ribbons.

Take the mozzarella out of the refrigerator. Add the tomatoes and basil to the marinated cheese. Mix everything together. Adjust salt and serve!
Notes
You can choose how much red pepper flakes to use or swap them with fresh crushed black pepper.
Small mozzarella balls and sliced cherry tomatoes will work as well.