If you love and yearn for that classic tandoori chicken, you have to try these easy baked tandoori chicken wings. Delicious, crispy on the outside and bursting with flavorful tandoori spice juices in every bite.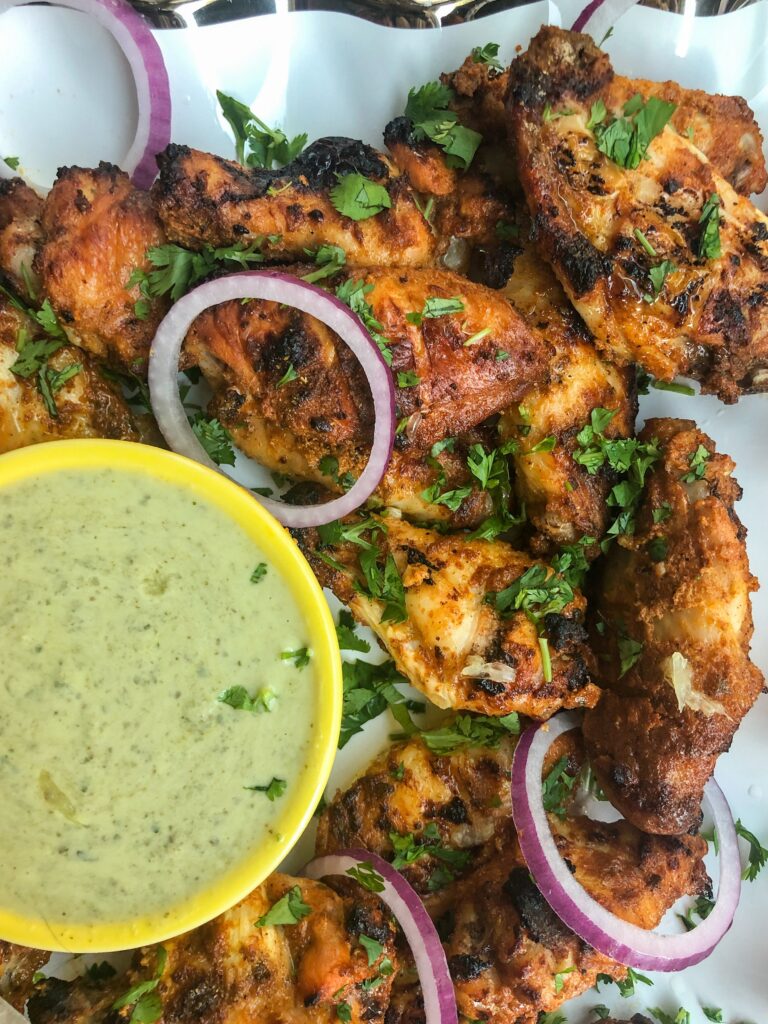 With this recipe of Baked Tandoori Chicken Wings, I am asking you to join me on a journey of extreme flavor. A flavor that purists might argue is not possible without a traditional tandoor. If you don't know what a tandoor is - it's a traditional clay oven used for cooking meats and breads in India. Head to my recipe of homemade naan to learn more about tandoor and how it works. And get this bonus healthier garlic naan recipe! As I mention in this recipe post about Tandoori Chicken Quesadillas, us Punjabis love anything tandoori. I would admit that I had never had chicken wings, or at least chicken served as wings before moving to the US. And it took me a while to graduate from boneless wings to traditional, bone-in wings but then, as they say, there was no looking back. 
Chicken Wings and I
After discovering bone-in wing flavors in Asian sauces, dry rubs, Korean spice and buffalo sauce, among others, this Punjabi kudi had to try the tandoori version. Now, now, I wanted to keep this recipe of tandoori chicken wings simple and easy. And y'all know I'm not the biggest fan of deep frying anything unless absolutely necessary for the recipe. So I tried different methods, different oven temperatures and time combinations, grilling etc. and here I present to you the "PERFECT" baked Tandoori chicken wings recipe. I usually get grossed about chicken skin unless it is super crispy but in this recipe you cannot even tell that the skin is there. The spices, the marinade, the cooking temp and time somehow magically makes the skin and meat to turn one. A perfect marriage where two souls disappear into each other. So romantic!! BRUH!!!!
So let's take this recipe step-by step:
Wings:
If your grocery store sells "party wings", buy those. It will save you time. I could not find those so used regular wings. Cut the wings into drumettes and wingettes, and discarded the tips. I will suggest against using frozen wings for this tandoori chicken wings recipe.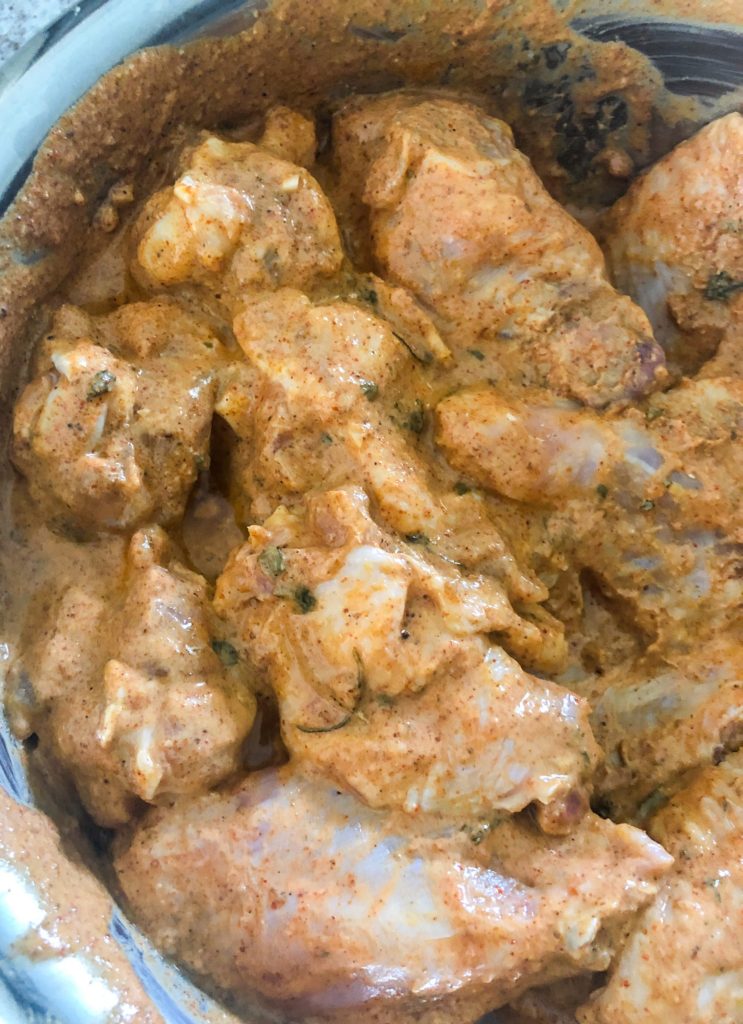 Marinade:
Marinade is the key in this recipe. Use thick, full fat yogurt (or greek yogurt) and fresh spices. A good tandoori masala (homemade or not) adds that characteristic tandoori flavor. Other ingredients include warm aromatics and spices like garam masala, cumin, cayenne or red chili, fresh garlic, and lime juice.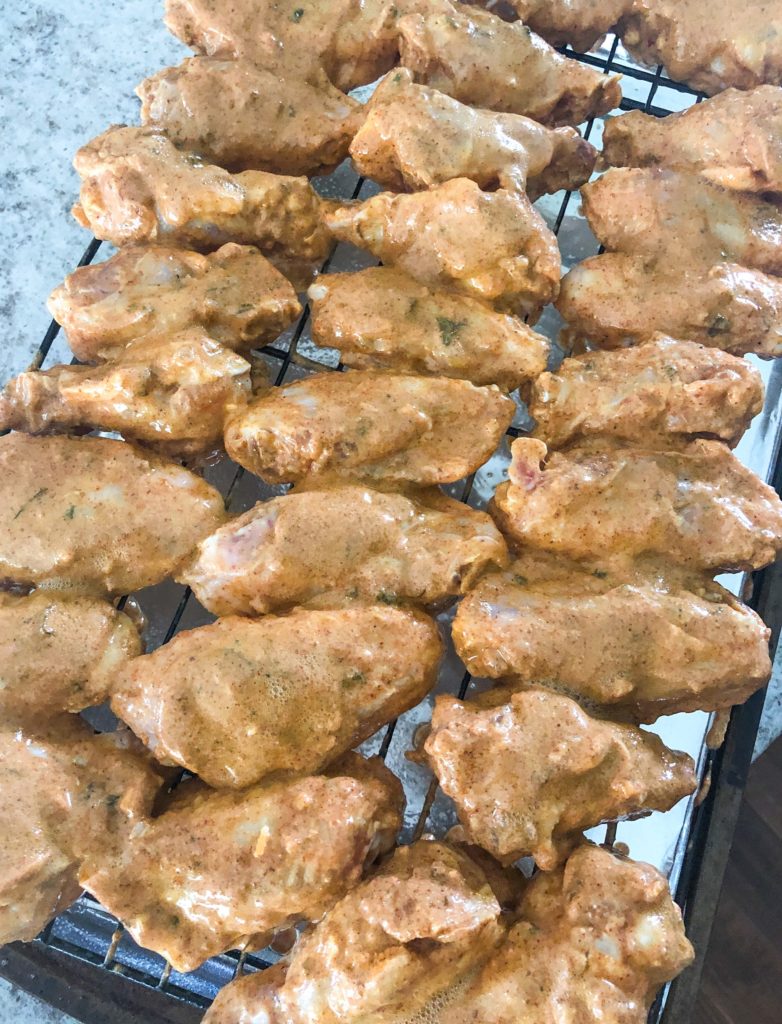 Baking temperature and time:
This is the step that took me the longest to perfect. The combination of moderately high heat and long baking time. I set the marinated wings on top of a greased cooling rack set on a cookie sheet. 50ish minutes in a 400 degree oven followed by a quick broil to get that characteristic charred flavor is the tried and tested way to make these tandoori chicken wings. Baking the tandoori chicken wings uses minimal oil and is much healthier than the traditional deep fried wings. And they are gluten free!!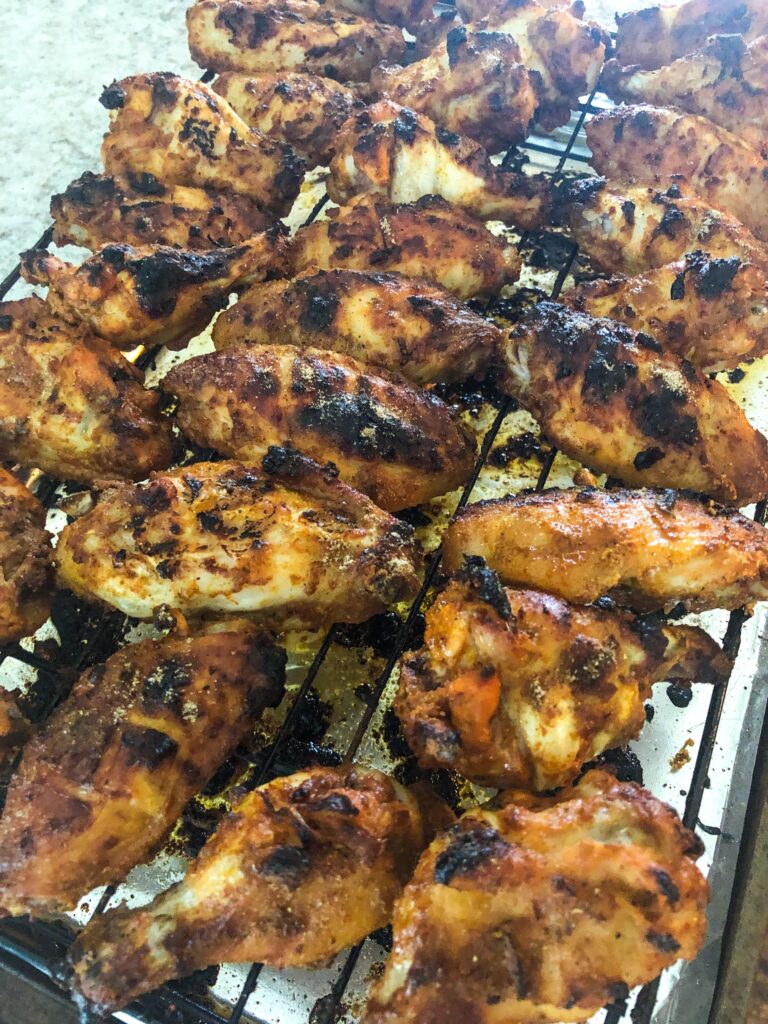 Serving:
Squeeze the hot from the oven tandoori chicken wings with fresh lime juice and sprinkle with chaat masala. Red onion cut into rings will complete the look. Serve the wings with creamy mint cilantro dip. To make the dip, take half a batch of this mint cilantro chutney and mix it with some thick Greek or homemade yogurt and add some pink Himalayan salt to it. Dip a crispy tandoori wing into the chutney dip and get ready for your taste buds to burst into a dance party.
Here's a printable recipe for you: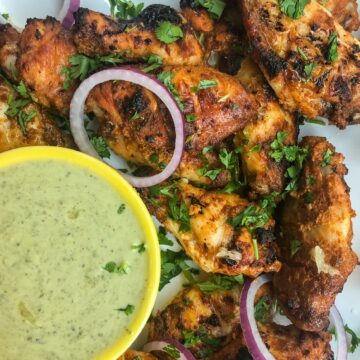 Tandoori Chicken Wings | Easy, Baked and Gluten-free
If you love and yearn for that classic tandoori chicken, you have to try these easy baked tandoori chicken wings. Delicious, crispy on the outside and bursting with flavorful tandoori spice juices in every bite.
Ingredients
4

lbs

chicken wings

Oil spray
Marinade:
⅔

cup

thick yogurt

preferably whole milk or greek yogurt

1

tablespoon

mustard oil

see notes

1

lime juiced

2

tablespoon

minced garlic

4

tablespoon

Tandoori Masala

2

tablespoon

garam masala

1

teaspoon

dry ginger powder

see notes

2

teaspoon

cumin powder

1

teaspoon

chaat masala

1

tablespoon

cayenne or red chili powder

1

tablespoon

Kasoori Methi

optional

Salt to taste
To serve:
1

Lime juiced

Chaat masala

Red onion

cut into thin rings

Lime wedges

5-6

sprigs of cilantro leaves stripped and chopped
For the dipping sauce:
½

batch of cilantro mint chutney

2

tablespoon

thick yogurt

Pink Himalayan salt to taste
Instructions
Take a large mixing bowl and add all the marinade ingredients and whisk together until well combined. Give it a taste check. It should taste spicy, slightly pungent and very savory.

Add the wings to marinade and mix until completely coated. Cover with plastic wrap and let marinate in the refrigerator for one to eight hours.

When ready to bake the wings, take them out of the refrigerator.

Set a rack in the middle of your oven. Preheat the oven to 400 degrees Fahrenheit/ 200 degrees celsius.

Take a cookie sheet and set a cooling rack over it. Spray the rack with oil spray. The cooling rack ensures that the wings cook evenly from all sides and get crisp.

Lay wings in a single layer on the greased cooling rack.

Place the cookie sheet on the middle rack and bake for 50 minutes, flipping the wings and rotating the cookie sheet at the 25 minute mark.

While the wings are baking, make the dipping sauce. Take ½ a batch of mint cilantro chutney (recipe here) and mix it with yogurt and pink Himalayan salt.

After 50 minutes turn the oven to broil and broil the wings until slightly shared, about 2-3 minutes. Watch closely.

Remove the wings to a serving platter. Serve hot , sprinkled with chaat masala, squeezed with lime juice and with freshly sliced onions, chopped cilantro, and extra lime wedges. Serve the chutney dipping sauce on the side.
Notes
Mustard oil adds a deep tandoori flavor. If you cannot find it, you can use avocado or olive oil.
If you do not have ginger powder, you can use 1 tablespoon of grated fresh ginger.
If you make these easy, healthier and gluten-free Tandoori Chicken Wings, be sure to leave a comment and let me know how you liked it! Snap a photo and share it on Instagram with the hashtag #thekitchendocs or share on Facebook, too.
Love - Vaishali
Key Tools and Ingredients for this Recipe:
Mixing Bowl:
Cookie Sheet:
Cooling Rack:
Chaat Masala: Tandoori Masala:
Pink Himalayan Salt: Ginger Powder: