I am not the one to jump on a trend wagon, but summer is all about fresh from the farmer's markets (or your garden) fruits and vegetables. So today, because it is summer, because watermelons are in plenty right now, and because they are trending (uhmm),  I am sharing my take on watermelon salad. Living in the Midwest does not give us a huge window to enjoy all the nature's bounty, so I am taking it all in while it lasts. There are so many watermelons in the stores and farmer's markets right now that it is hard to overlook them. I do not know the tricks to picking a good watermelon that people swear by, but I've not really had any bad luck with picking one. So pick a decent watermelon (the sweeter the better) and go on to make this simple and refreshing salad.
Jump to Recipe
Each component of this salad plays an important act in the final drama of this salad, so contrary to what I normally suggest, please try to follow this recipe as is. Consider this statement as a disclaimer...ha ha. This salad comes from the memory of my taste-buds. I once had something similar at a conference reception - you know the kind that you pay a ridiculous amount to buy a ticket for and they bring teeny tiny food on sticks. Yup. That kind. Another inspiration for this salad came from a friend who shared a picture of a middle eastern watermelon salad that a student brought to her world cultures class. I combined the salad of my memory with the information that my friend shared with her picture and created this salad. This salad is fresh and light with a combination of sweet and savory notes.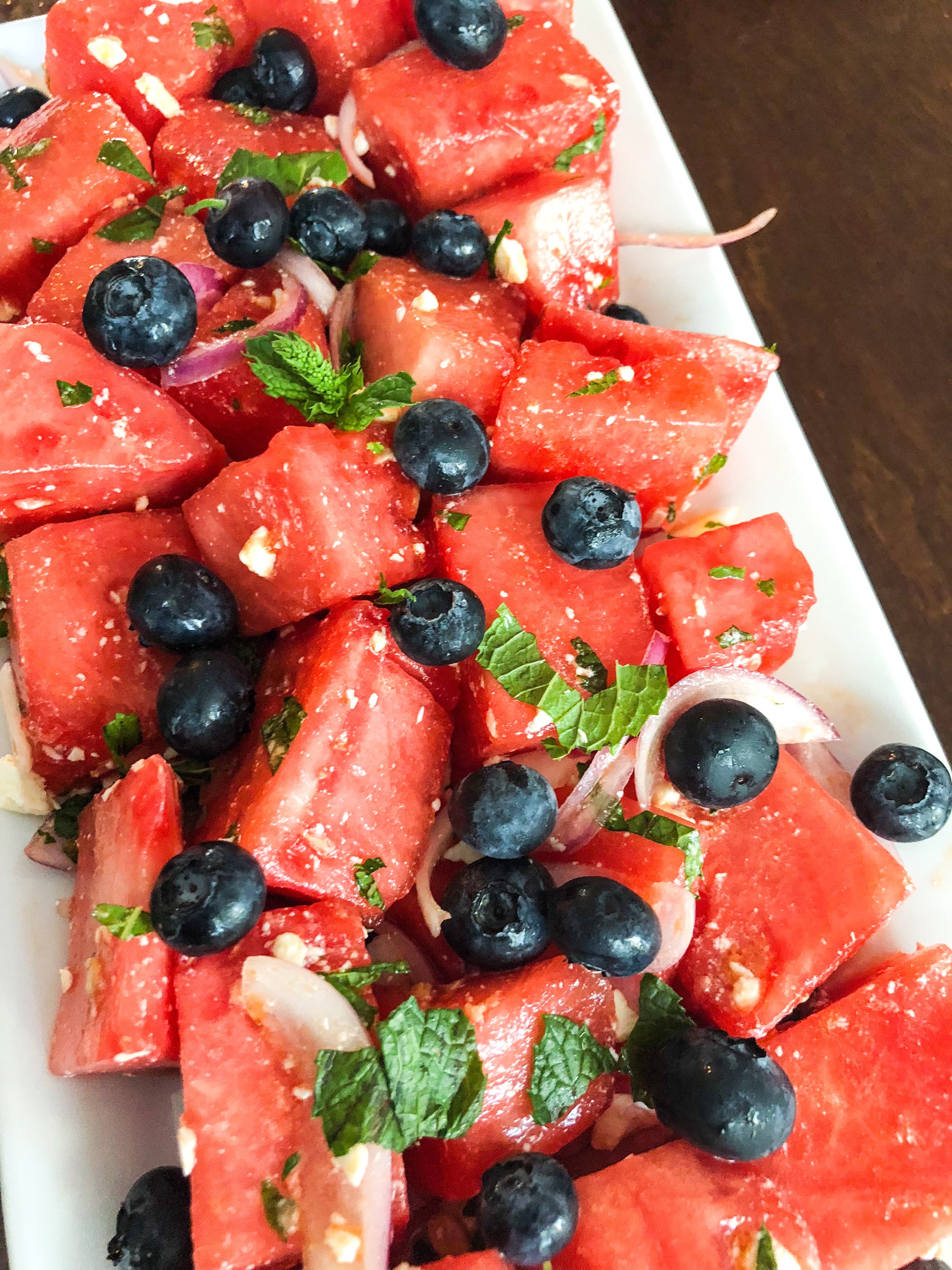 Recipe Run Down
Cubed watermelon gets mixed with thinly sliced red onion, feta cheese and fresh mint leaves. A sprinkle of pink Himalayan salt and a drizzle of good quality extra virgin olive oil take it to the next level. I would not let the salad sit for too long after being mixed since the mint kind of looses it's freshness and feta losses it's texture. So here it goes:
Easy Watermelon Salad
This watermelon salad is a celebration of summer. Light, fresh, minty, sweet and savory.

Ingredients
4

lb

seedless watermelon, about 6 cups

cut into bite size cubes

⅓

cup

thinky sliced red onions

½

cup

Feta cheese crumbles

8-10

mint leaves

thinly sliced

½

teaspoon

Pink Himalayan salt (kaala namak)

1

tablespoon

olive oil

extra virgin

½

cup

blueberries

Optional
Instructions
In a large mixing bowl, combine watermelon, mint, and red onions.

Sprinkle the watermelon salad with the pink salt, top with the feta cheese, and drizzle the olive oil.


Give a gentle mix and taste check. Transfer to a serving platter and scatter blueberries on top (if using). Enjoy!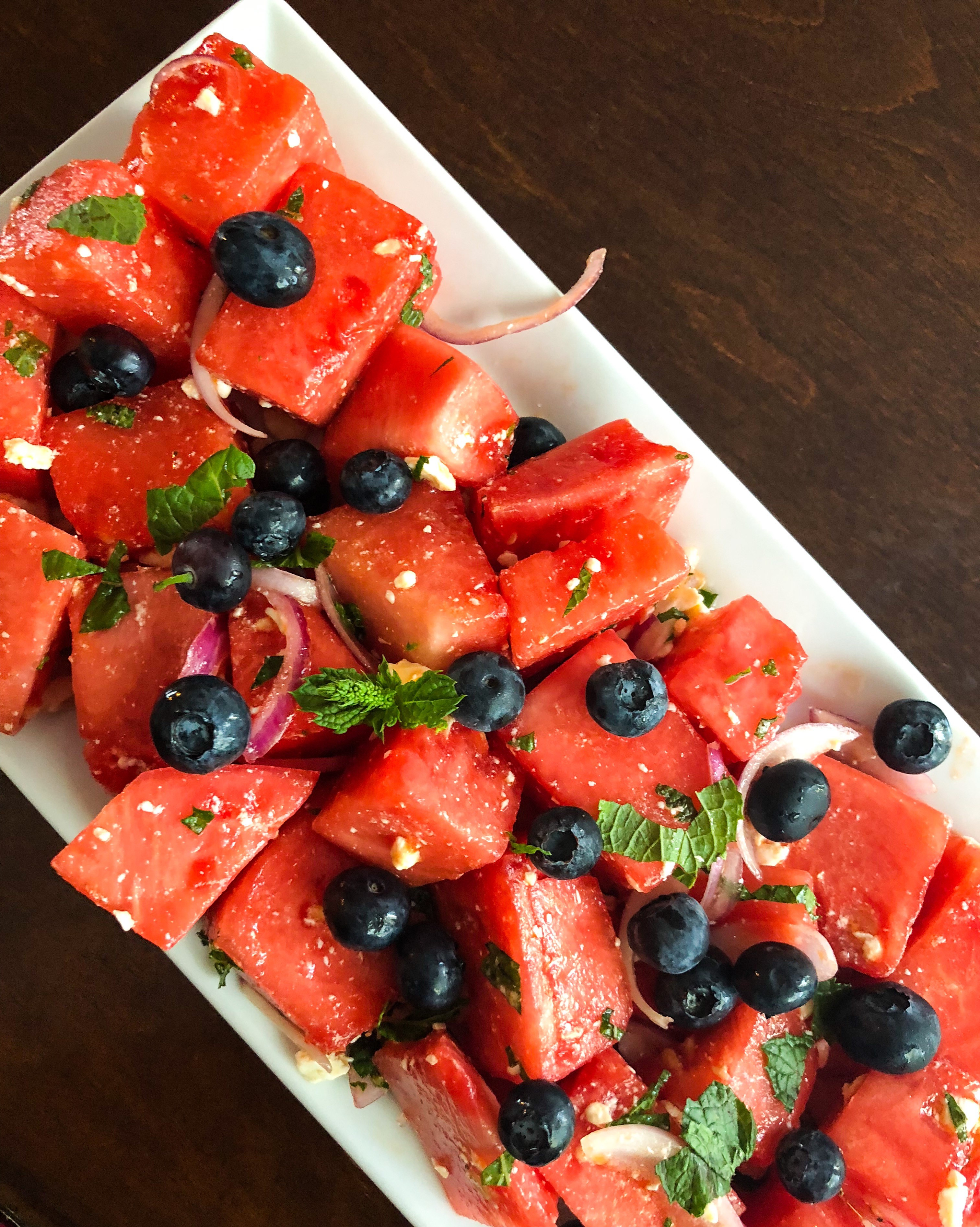 This is as simple as it gets but the flavor combination is fantastic. If you give it a try please let me know. I love hearing from you.
Love - Vaishali.
Tools used:
Knives:
Chopping Board:
Mixing Bowl:
Measuring Cups:
Measuring Spoons: