This Glazed Strawberry Muffins Recipe is a great way to use up all those yummy strawberries that flood the farm stands in spring and summer. Easy recipe made with simple, real ingredients!
Jump to Recipe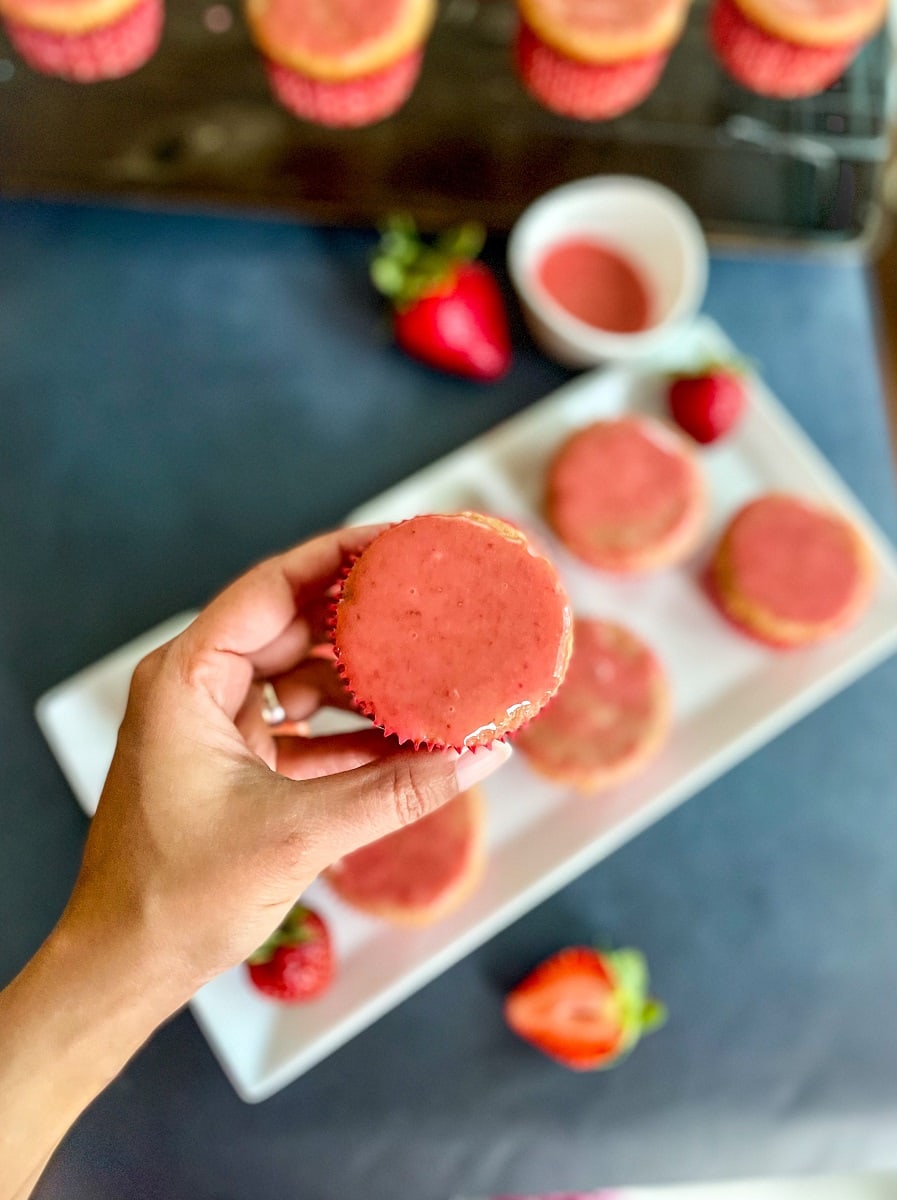 There comes a time of the year when our home runneth over with strawberries. Strawberries from friends' gardens, farmers market, u-pick strawberry patch and a lone strawberry or two from our own garden. There is something about the sweet aroma of gorgeous, deep red strawberries that is almost seductive. It's so hard to say no! And then, sometimes, you end up with more strawberries than you can eat fresh. Though there is nothing better than biting into a perfectly ripe and juicy strawberry, this glazed strawberry muffins recipe comes pretty close.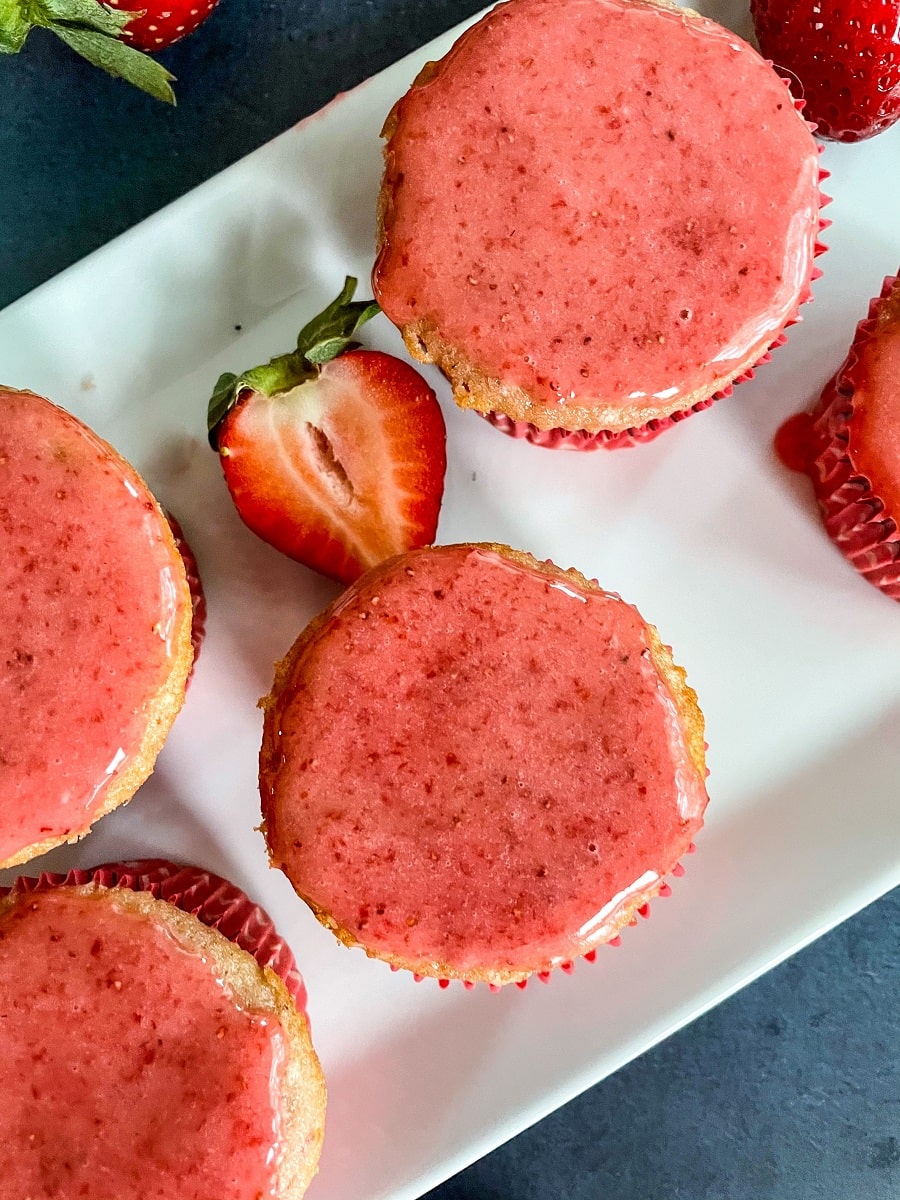 Chopped vs. Pureed Strawberries in Muffins?
I began with my recipe of blueberry muffins with the idea to replace blueberries with chopped strawberries but got distracted along the way. And happily so. You see strawberries don't squish and burst like blueberries do, so you are left with a limited strawberry experience with bits and pieces of strawberries in the muffins. To overcome this big problem, I started with pureed strawberries to use in these glazed strawberry muffins. Yes, it is an extra step but it is oh so worth it. You end up with a uniform strawberry flavor in every bite and not to mention the gorgeous baby pink hue.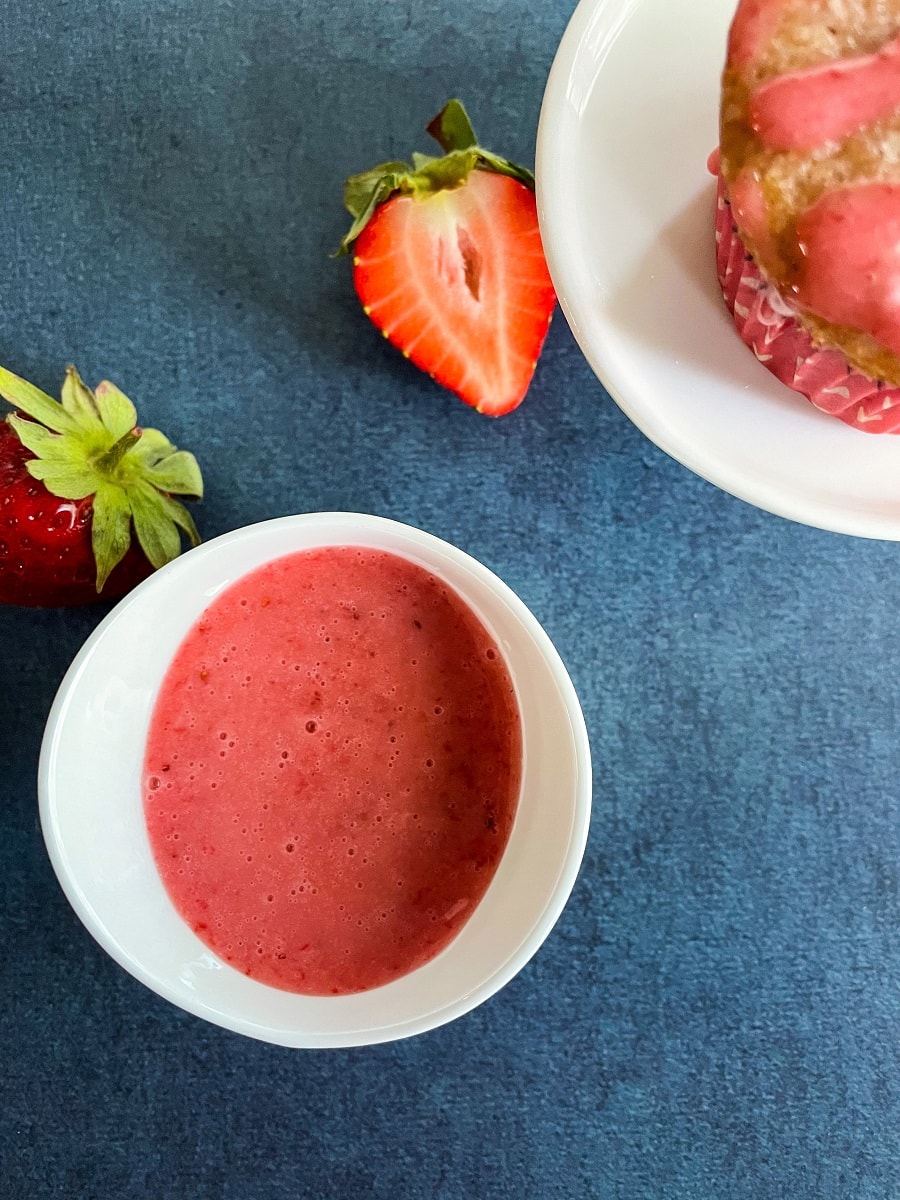 How to make these glazed strawberry muffins
I pureed the strawberries and after reserving some for the glaze, reduced rest of the puree in a saucepan to get rid of some of the moisture. This concentrates the strawberry flavor and does not alter the consistency of the muffin batter. Also, can we talk about buttermilk, please? I love the texture and crumb that buttermilk adds to biscuits and muffins. So adding buttermilk to this experimental recipe was a no-brainer for me. The result is a delicious, almost pound cake-like, dense but super moist crumb in these muffins.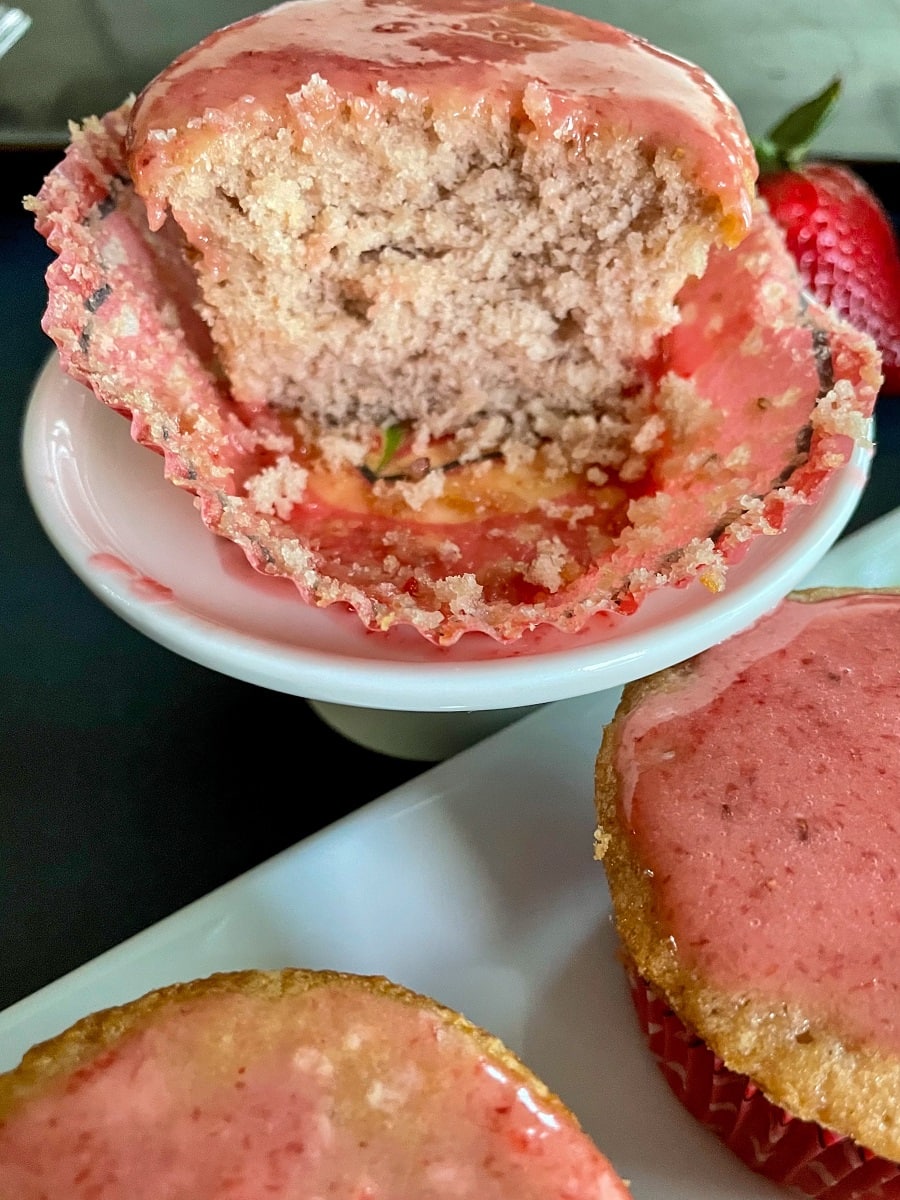 These muffins are perfectly moist and not overly sweet, and just divine with a little bit of glaze which enhances the awesome strawberry flavor. So go make these, real ingredients and no fake flavors, colors or frills. And if you're now in muffin mode, also check out these fruit based muffins that follow this same healthy yumminess policy!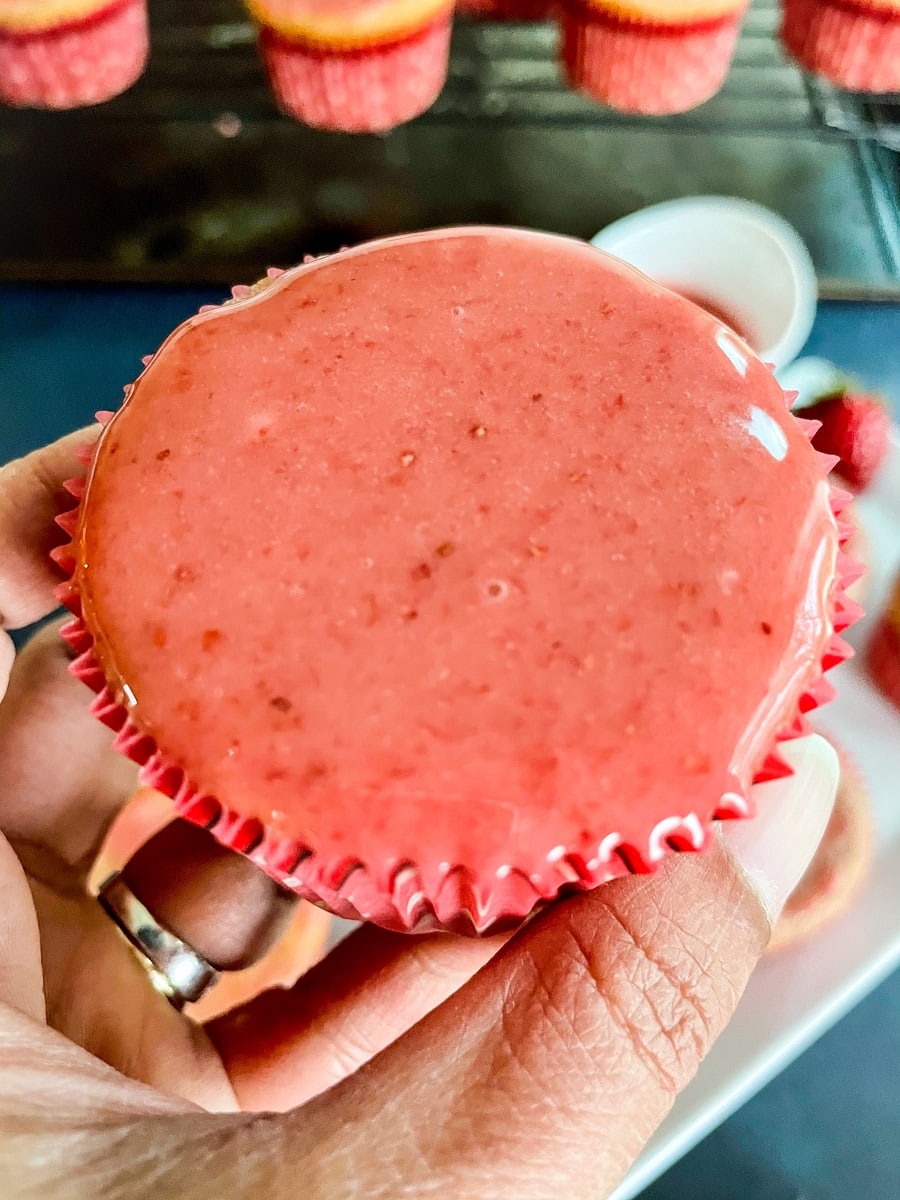 Here's your handy dandy printable:
Glazed Strawberry Muffins Recipe
This Glazed Strawberry Muffins Recipe is a great way to use up all those yummy strawberries that flood the farm stands in spring and summer. Easy recipe made with simple ingredients!
Ingredients
½

pint

strawberries

½

cup

unsalted butter

1 stick (room temp)

1.5

c

sugar

2

large eggs

room temp

1.5

c

all purpose flour

½

teaspoon

salt

¼

teaspoon

baking soda

½

c

buttermilk

see notes

½

teaspoon

pure vanilla extract
For the glaze:
2

tablespoon

strawberry puree

1

c

confectioner's sugar

1

teaspoon

pure vanilla extract

1

teaspoon

lime juice
Instructions
Puree the strawberries. Take out 2 tablespoon of the puree and set aside. Pour the rest of it into a sauce pan and reduce on medium low heat until thickened, about 15 minutes. Let cool.

Preheat the oven to 350 degrees F and line one 12 and one 6 muffin pan with paper liners.

In a bowl mix together flour, salt and baking soda.

In the bowl of your stand mixer (fitted with paddle attachment) add the butter and beat for 2 minutes on high speed. Slowly add in sugar and beat on high speed for an additional 2 minutes until pale in color and fluffy.

Add eggs, one at a time, combining well after each addition and scraping down the sides of your bowl as needed.

Turn the mixer off and add half of the flour, salt and baking soda mixture. Turn the mixer on lowest speed and mix the dry ingredients until just incorporated. Then add the remaining drwy ingredients and mix again making sure not to overbeat.

Then add buttermilk, the cooled strawberry puree, and mix until just combined.

Divide the batter evenly between the 18 lined muffin cavities in your muffin pans and bake for 25 minutes or until a toothpick inserted into the center of the muffins comes out clean.

Cool in pan for 10 minutes and then take out on a cooling rack before proceeding to glaze.
For The Glaze
Once the muffins have cooled to room temperature, whisk together 2 tablespoons of the strawberry puree, powdered sugar sifted), vanilla and lime juice until smooth and thick, but pourable.

Glaze the muffin tops and let set for 10 minutes before enjoying.
Notes
If you do not have buttermilk you can make some at home using milk and white vinegar (or lime juice). Pour ½ tablespoon of vinegar into a liquid measuring cup. Top it with milk to make ½ cup level. Gently stir and let sit for 5 minutes before using.
Did you make this recipe? Don't forget to give it a star rating! I love to hear from you guys. And if you do make this recipe, please tag me on Instagram and Facebook! I love to look through your creations!!
Love – Vaishali!
Key Recipe Ingredients and Tools:
All Purpose Flour:
Pure Vanilla Extract:
Baking Soda:
Confectioner's Sugar:
Stand Mixer:
Muffin Pan: