How are we already talking about Labor day? I mean how is it almost September already? All the fall decorations in the supermarkets, chrysanthemums around all the garden centers and fall produce showing up. Don't get me wrong, I love fall but I am not ready to let summer go yet. Not the weather, just the produce..ha ha. Soon the berry season would be over and we would have to rely on mostly frozen berries. That makes me sad. But that's how life rolls. So as a last hoorah to summer and perfect for labor day, today I present Individual berry shortcakes. I made these for Memorial Day and then Independence Day, so I thought why not for Labor Day too?
Jump to Recipe
I have talked about the story behind (read it here) the Southern Living Cookbook. Prior to trying this recipe of individual berry shortcakes, I have always made a regular strawberry shortcake from the cookbook. The recipe is excellent but I think slicing and serving the giant shortcake becomes a little messy. Also, everyone loves individual servings of everything. Personal size, bite size, individual size…etc etc.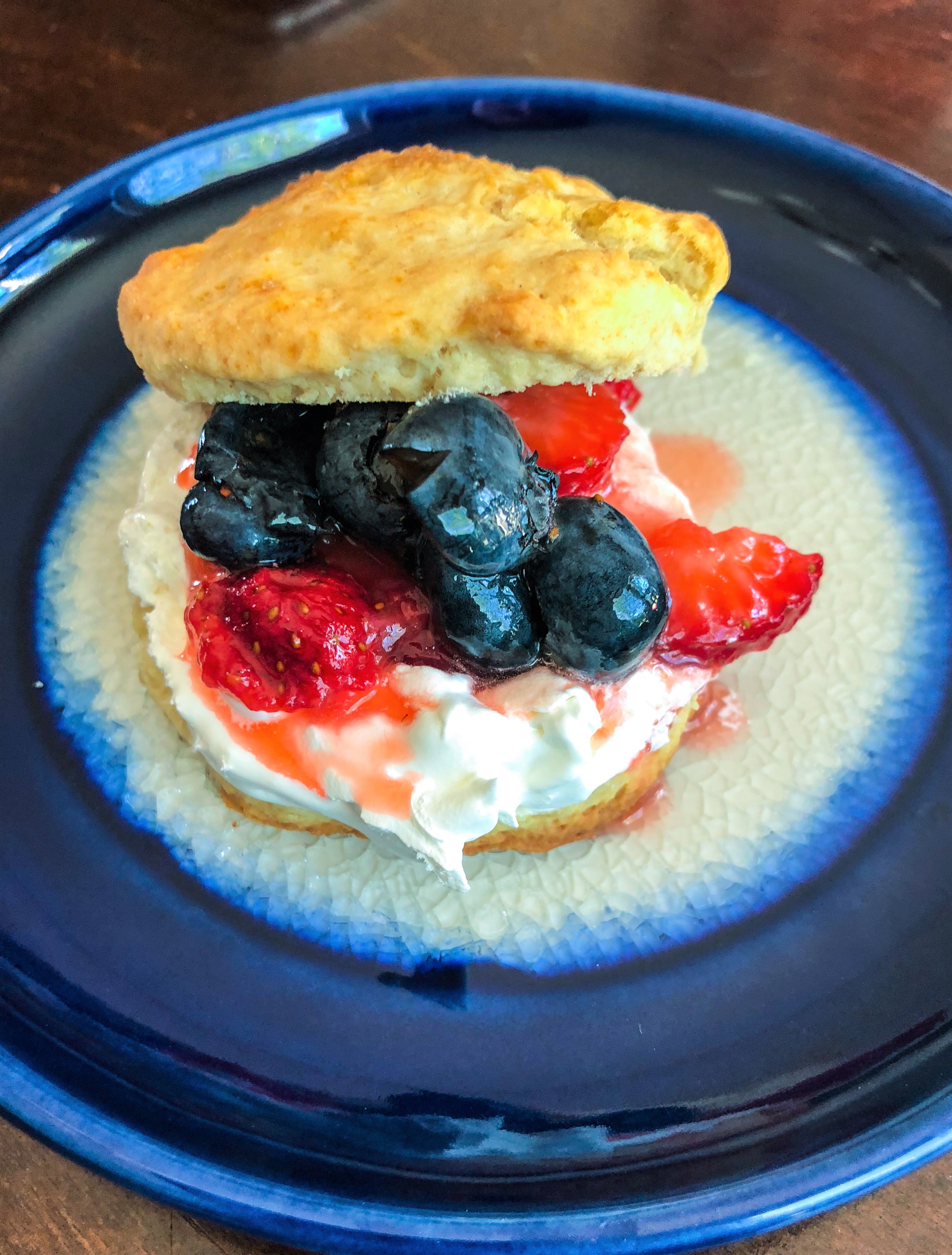 For July 4th I made these individual berry cakes with strawberries, blueberries and whipped cream to go with the red blue and white theme. In my opinion, this is the best combination of berries on a shortcake. So that is what we are going with here today.
Recipe run down
I hulled a bunch of strawberries and then mashed half of them with a fork and chopped the rest small. Macerate them with sugar and lime juice for an hour or so. You can do the same with blueberries (they won't need chopping). I used a mix of whole wheat and all purpose flour to make buttermilk shortcakes, using a biscuit cutter. Once the baked shortcakes have cooled, split them, add a dollop of whipped cream and top with berries. Put the other half of biscuit on to and serve immediately.
Individual Berry Shortcakes
The goodness of a strawberry shortcake taken up a notch by adding blueberries. These individual size berry shortcakes with lightly sweetened whipped cream are an ode to summer and outdoor eating.
Ingredients
Fruit:
1

pound

strawberries

1

pint

blueberries

¼

cup

+ 2 tablespoon sugar

divided

1

teaspoon

fresh lime juice
For the shortcakes:
1 ½

cups

whole wheat flour

2

cups

all-purpose flour

1

teaspoon

salt

1

tablespoon

baking powder

½

teaspoon

baking soda

3

tablespoon

sugar

1

stick or ½ cup

unsalted butter

cold cut into small cubes

2

teaspoon

vanilla extract

1

egg

large

1

cup

buttermilk see notes

1

tablespoon

milk

for brushing the tops of shortcakes

1

tablespoon

coarse sugar like turbinado

for topping
For Serving:
1

cup

whipping cream topping

see notes
Instructions
Hull and chop the strawberries into small pieces. In a bowl, mash half of them with a fork. Add the remaining chopped strawberries into the bowl with mashed berries. Add ¼ cup sugar and lime juice.

In another bowl, roughly mash the blueberries with a fork in a way that some are burst and some remain intact. So a rough mash. Add two teaspoons sugar. Mix.


Put both the bowls in the refrigerator until we are ready to assemble our shortcakes.

Preheat the oven to 425 degrees F or 220 degrees C. Line a cookie sheet with parchment.

In the bowl of your stand mixer (See notes), add all the dry ingredients, i.e. flours, salt, sugar, baking powder, and baking soda.

With the paddle attachment mix them together.

In a glass measuring cup, take 1 cup buttermilk and add vanilla and egg to it. Whisk to combine. These are your wet ingredients.


To the mixed dry ingredients in the stand mixer bowl, add chopped cold butter pieces. Mix until the mixture resembling peas/crumbly texture is formed. See notes

To this now slowly add the wet ingredients and mix on medium speed until the dough just holds together.

Sprinkle some flour on a rolling surface (could be your kitchen counter) and dump the dough out. You might have to knead it lightly and then pat it until it is almost ¾ of an inch thick. Using a medium size biscuit cutter dipped in flour (see notes) cut into circles.


You might have dough scraps left after cutting first few biscuits. Pat the scraps together and cut more biscuits. Repeat until all the dough is used up. I got 14 shortcakes from this dough.

Place the biscuits on the prepared cookie sheet, brush the tops with milk, and sprinkle each shortcake with turbinado sugar, if desired.

Bake for 10 to 12 minutes, until the tops are golden brown. Remove them from the oven and let cool completely.
To assemble Individual berry shortcakes:
Split each shortcake from the middle, add about a tablespoon of whipping cream and both the strawberries and blueberries.
Notes
If you do not have buttermilk, you can make your own. To make 1 cup buttermilk - take a glass measuring cup, add 1 tablespoon of lime juice or white vinegar in to it. Top it up with cold milk until you get to the 1 cup mark. Stir, let stand for 5 minutes and use as desired.
I used store bought whipping cream (the kind that you find in tubs in the freezer section of the grocery stores – you know it). But it is super easy to make at home too. Take 1 cup heavy whipping cream, add a few teaspoons of confectioners' sugar, a splash of vanilla and whip until stiff peaks form.
If you do not have a stand mixer, this can be easily done with hands using a whisk and pastry cutter to mix in the cold butter.
Cold butter is important as it helps in creating flaky and light shortcakes instead of dense and doughy ones.
If you do not have a biscuit cutter, you can use a cup or a mason jar lid to cut the biscuits.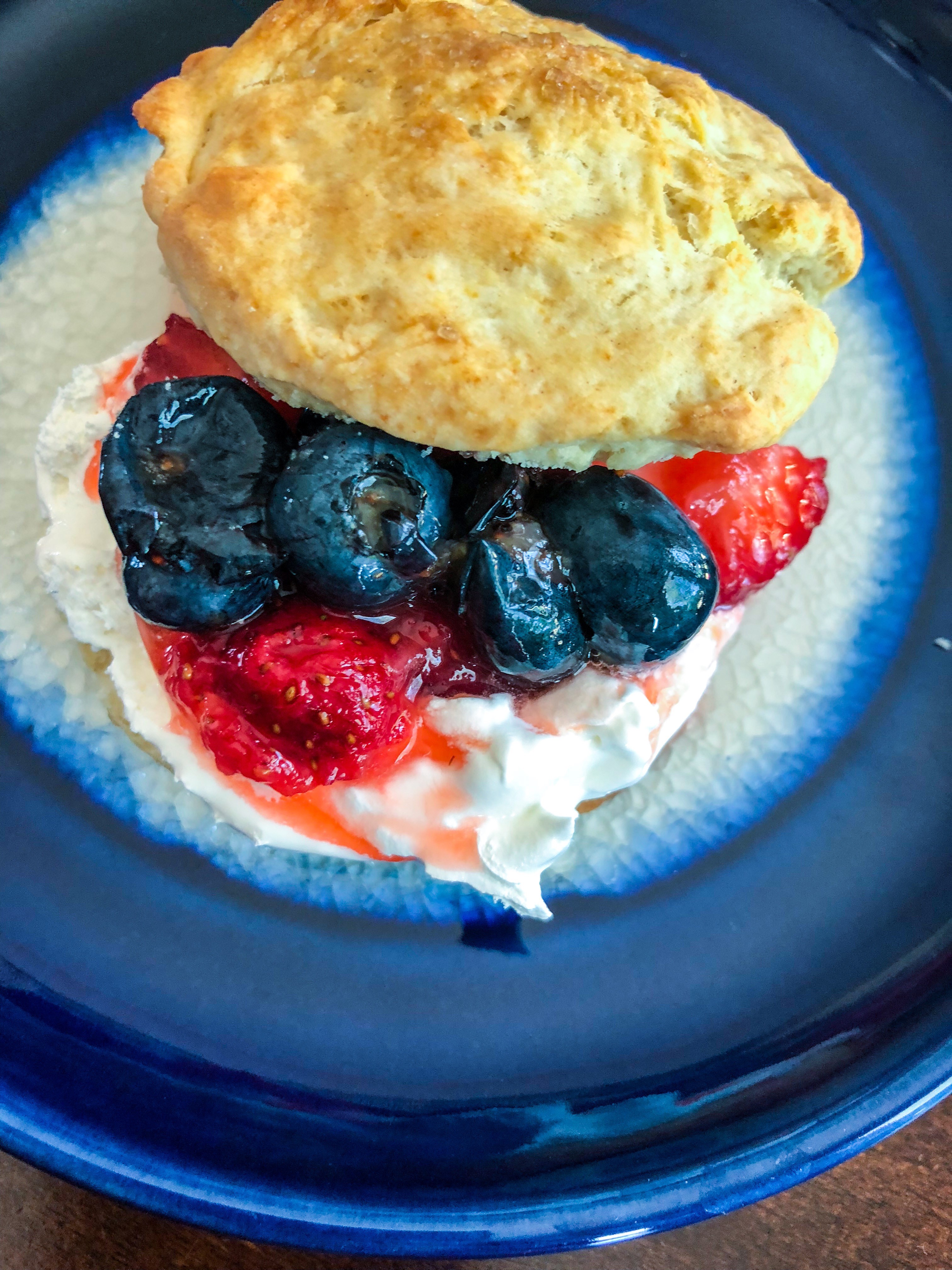 I hope you will give these a try. Happy almost long weekend.
Tools Used:
Measuring Cups:
Measuring Spoons:
Cookie Sheet:
Parchment paper:
Stand Mixer:
Glass Measuring cup:
Whisk:
Cookie cutter:
Silicone brush:
Love- Vaishali.