This Baked Lemon Blueberry Donuts with Lemony Mint Glaze recipe is perfect for that spring-summer hop when berries and citrus are plenty and the herbs are gorgeous.
This post may contain affiliate links.
Jump to Recipe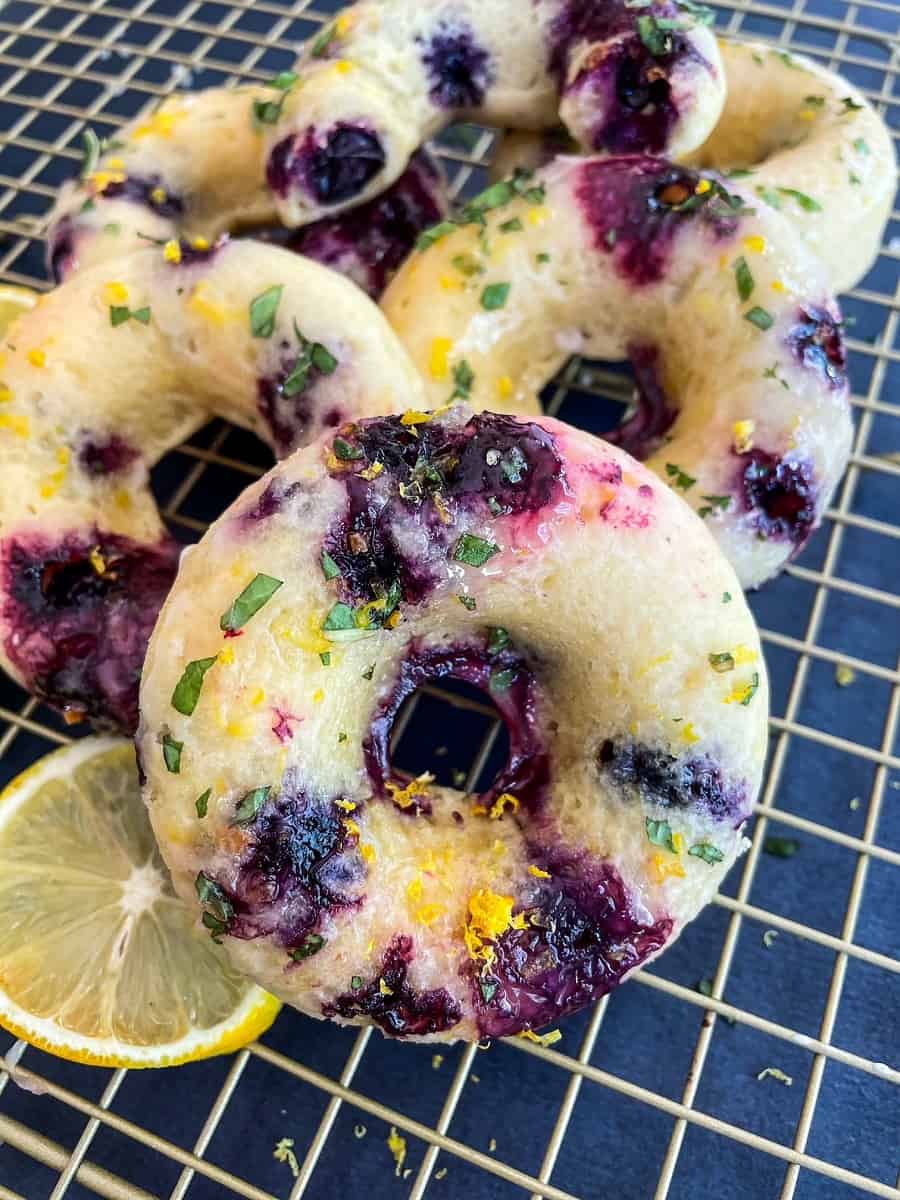 The easiest ever donuts that are baked not fried. Almost cake-like but a flavor that will blow your mind. These baked lemon blueberry donuts with lemony mint glaze happened on a whim. It was national donut day and I was still dwelling on our recent visit to Arkansas. If you know me, you know that I truly find inspiration for recipes everywhere and sometimes in the strangest of things. Not this time though. In Bentonville, Arkansas we went to eat at a restaurant called The Buttered Biscuit and they had lemon blueberry pancakes with mint on their menu. Needless to say, they were delicious. So the lingering flavor of those yummilicious pancakes combined with an urge to "bake" donuts for national donut day resulted in this recipe! Plus, I never get to use the donut bake pan that Ms. A got from one of her friends as a birthday present a few years ago. So there's that!!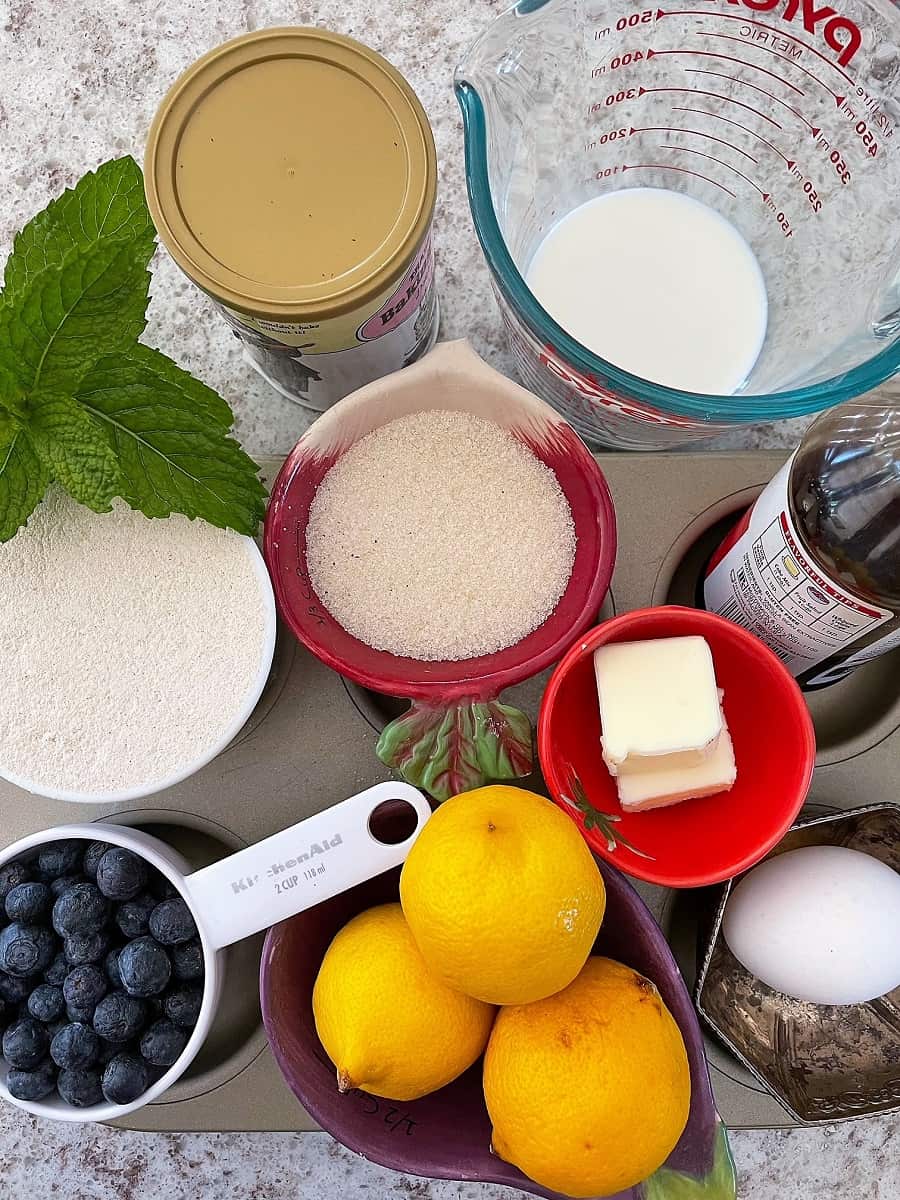 Why bake a donut?
Because these are healthier, literally the lightest donuts you will ever eat. I love a deep fried, crunchy, greasy, sweet donut but these baked lemon blueberry donuts are all that without the grease and the guilt. Plus who likes to fry anything when you can bake it. I love how quick this recipe is and way less work and mess as compared to frying the donuts. So yes, bake a donut if you can and enjoy the same fun treat without the effort!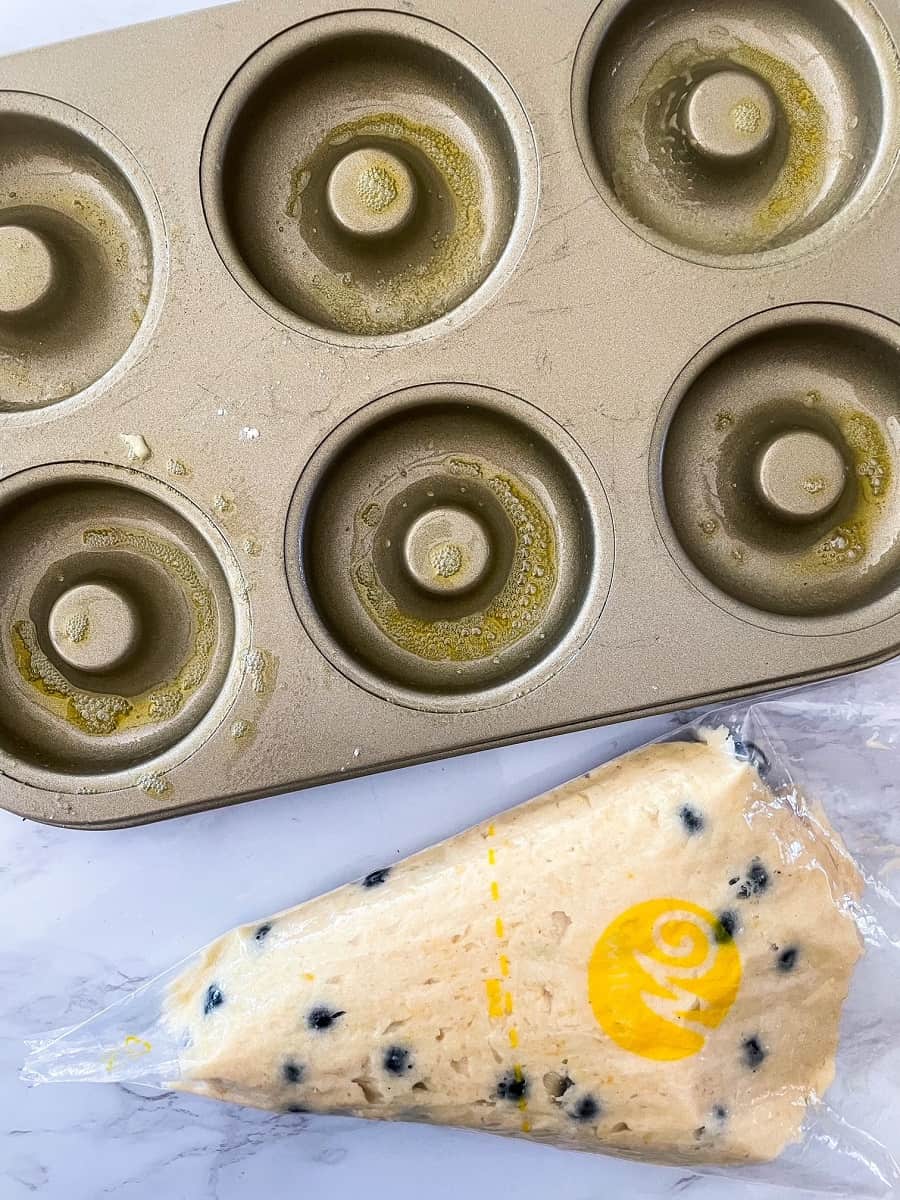 Lemons
Yes, you need actual lemons for this recipe. If you've been reading my recipes for some time, you will know that I always say that my recipes are guidelines, you can take them and make them your own. However, certain recipes (like this one) depend on one or two ingredients that bring them to life. Lemons (and mint) in this Baked Lemon Blueberry Donuts is that ingredient. So yes, the stuff out of the plastic yellow bottle won't work. Plus we also need lemon zest.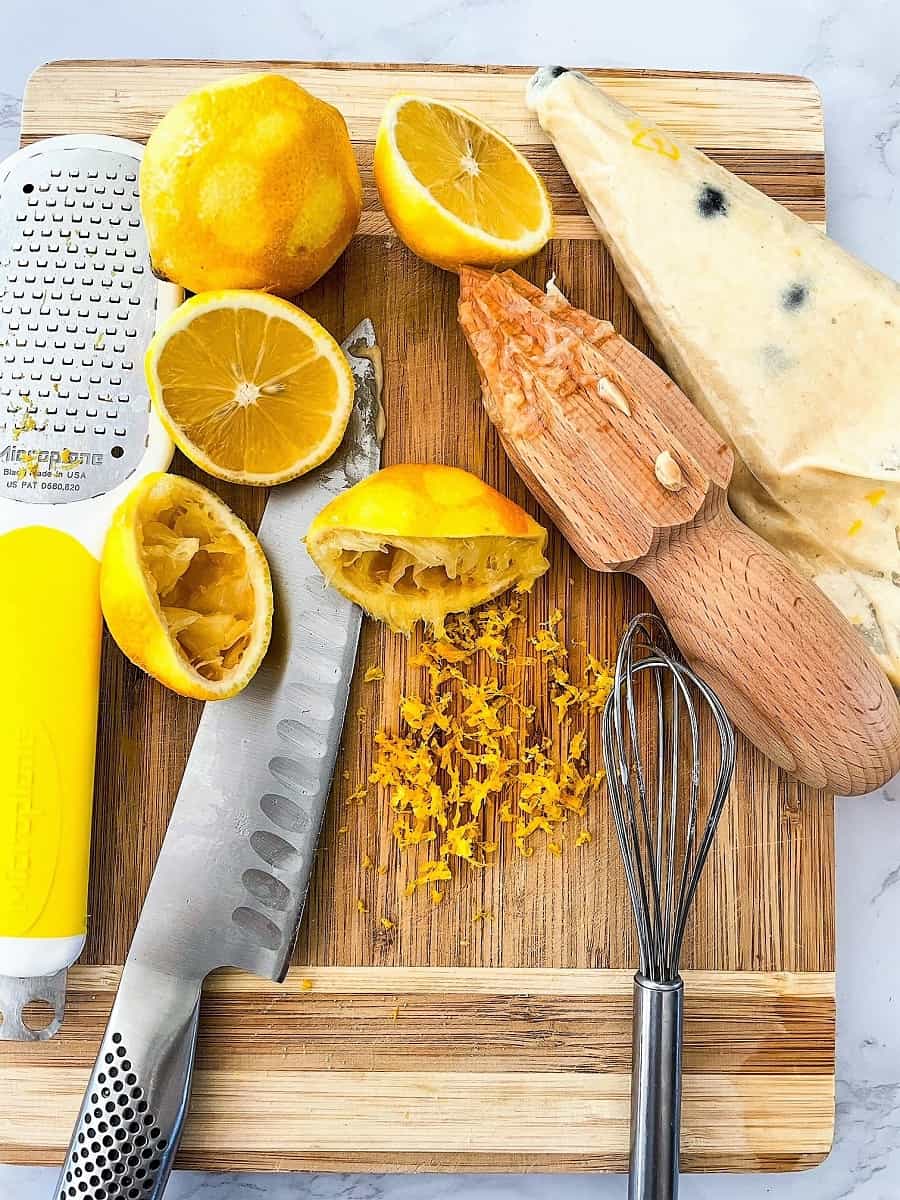 Mint
Mint adds such an important, fresh note to these Baked Lemon Blueberry Donuts. The glaze is light and lemony with a big, bright and bold flavor from tiny bits of mint speckled all over. I grow a lot of mint in our garden and use it often (see recipes here and here).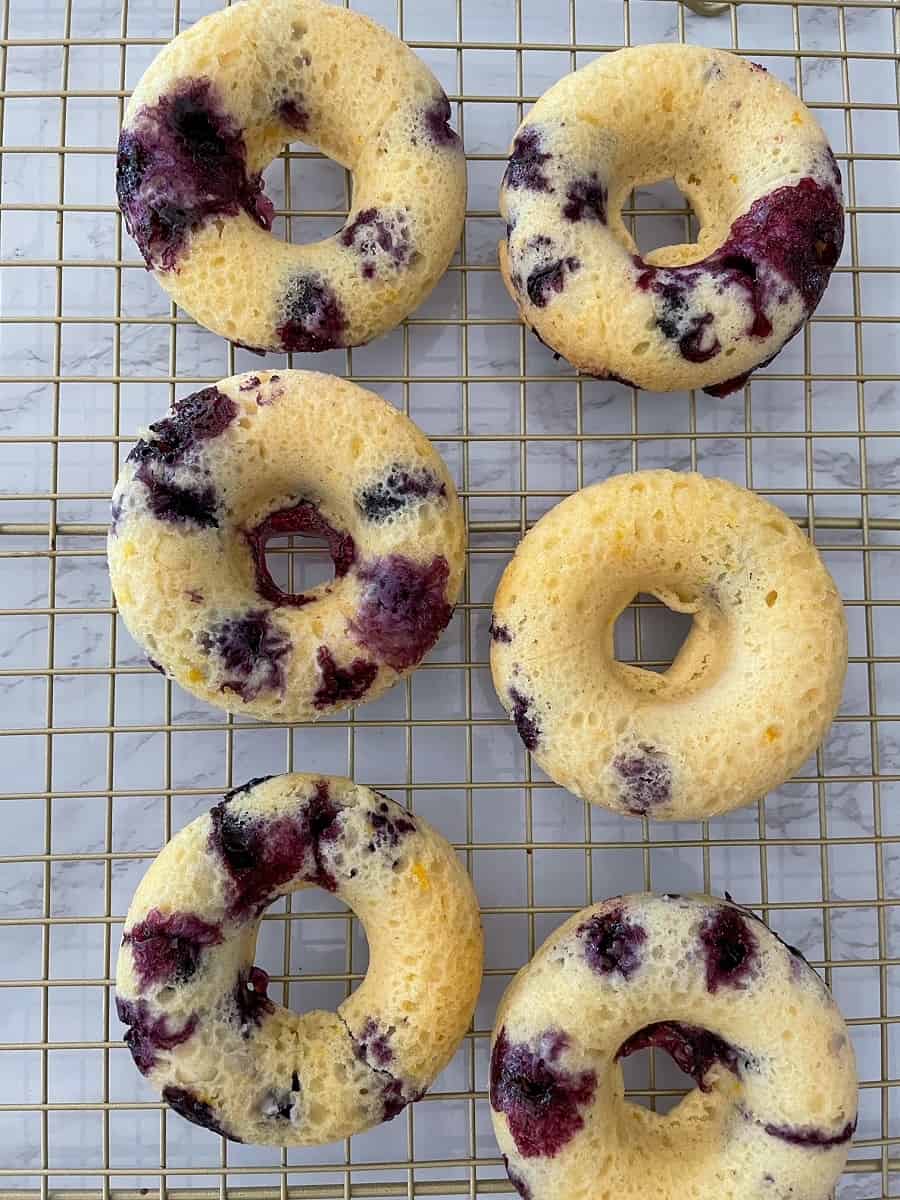 Blueberries.
You can use fresh or frozen. I used fresh because they are in season right now.
Overall, it's a great recipe to have in your recipe box. I can promise you that you will love these donuts and won't even care that they were baked, and not fried. They taste amazing, and that is all that matters. I've made this recipe a few times now, and our love for them is still going strong.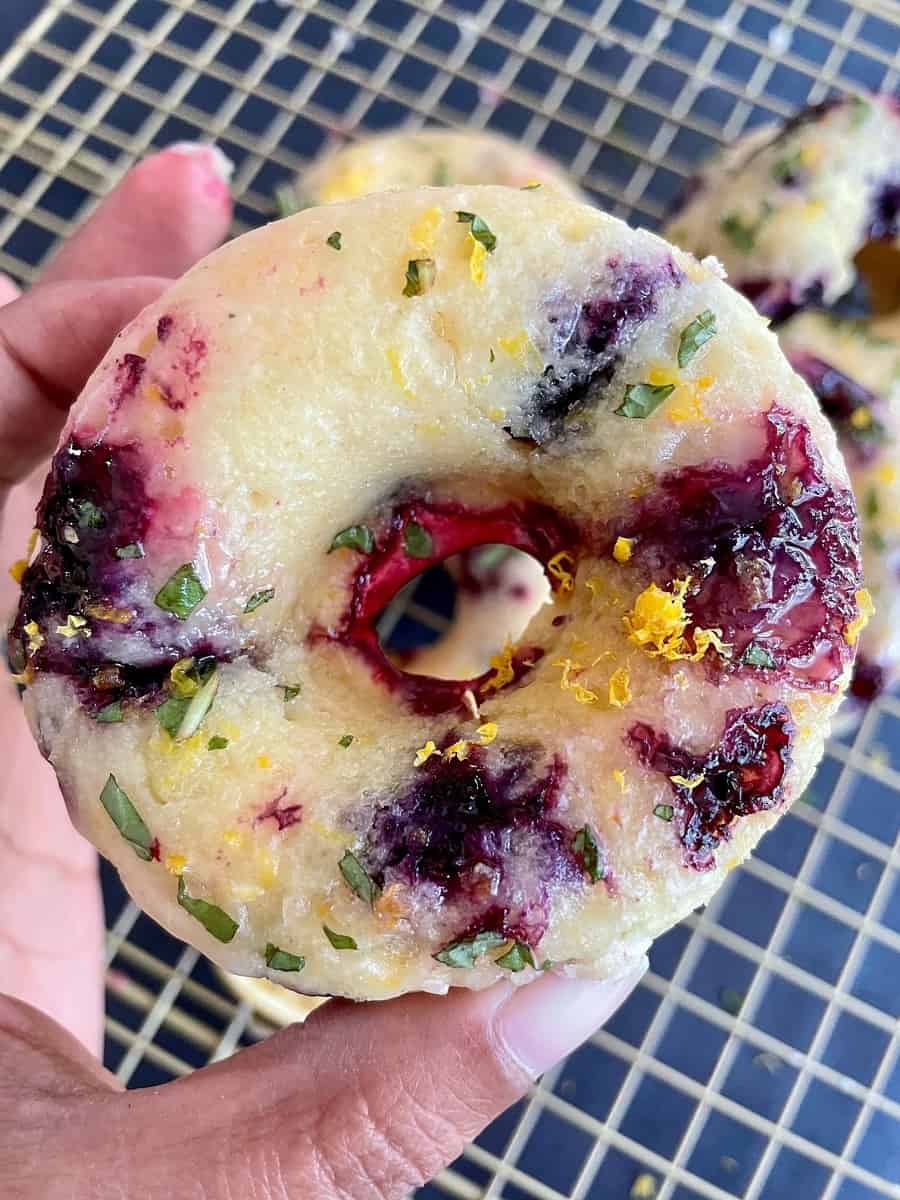 Similar recipes
If you are now in fruity breakfast/dessert mode, also check out these recipes: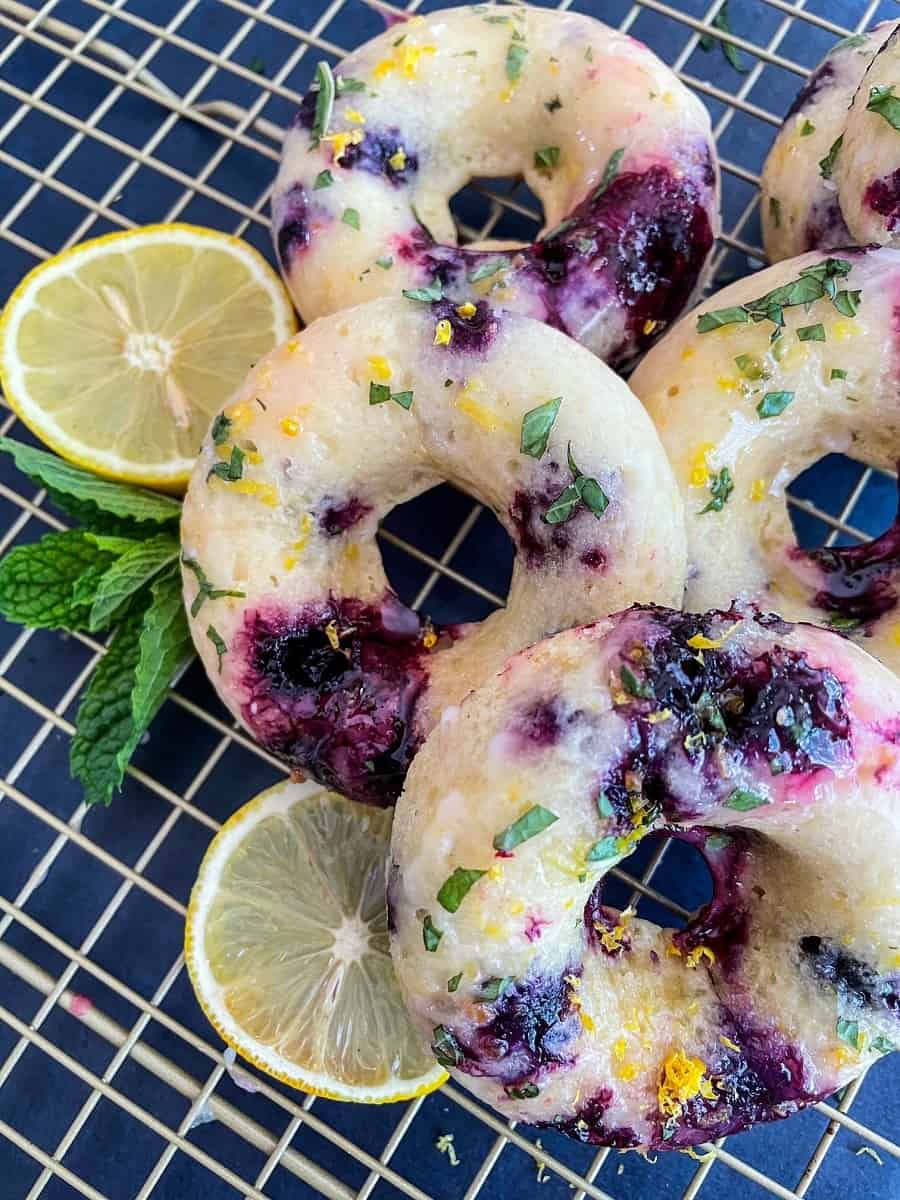 Here's your handy dandy printable: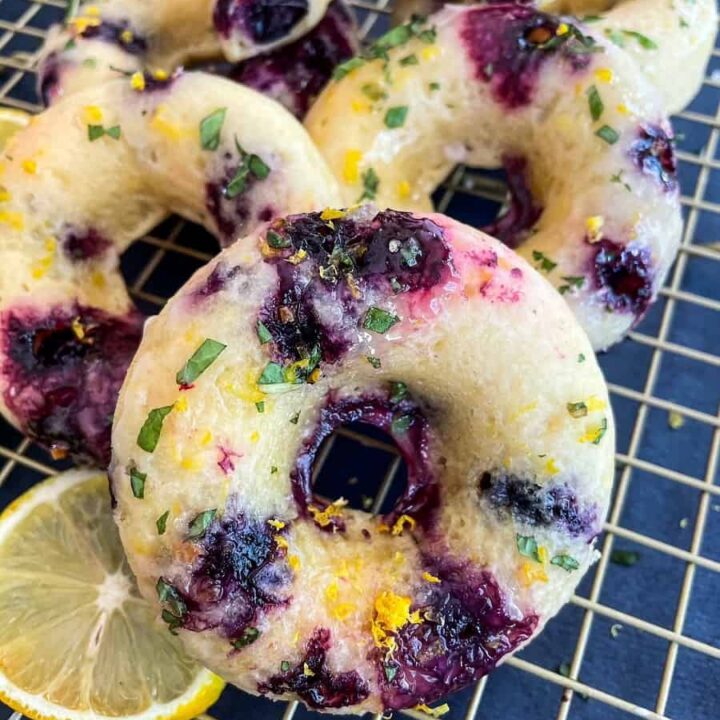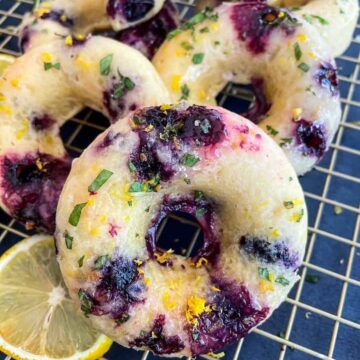 Baked Lemon Blueberry Donuts with Lemony Mint Glaze
This Baked Lemon Blueberry Donuts with Lemony Mint Glaze recipe is perfect for that spring-summer hop when berries and citrus are plenty and the herbs are gorgeous.
Ingredients
For the baked donuts:
1

cup

all purpose flour

leveled

1

teaspoon

baking powder

¼

teaspoon

salt

⅓

cup

milk

⅓

cup

sugar

1

large egg

room temperature

2

tablespoons

unsalted butter

room temperature

2

tablespoons

fresh lemon juice

from one large lemon

1

teaspoon

lemon zest

from one large lemon

1

teaspoon

pure vanilla extract

½

cup

blueberries
For the lemony mint glaze:
1

cup

powdered sugar

2-3

tablespoons

fresh lemon juice

from 1.5 lemons

5-6

big mint leaves

chopped fine
Instructions
Plan ahead and bring out the butter and egg from the refrigerator and let them come to room temperature.

Preheat oven to 350°F. Spray your donut pan well with non-stick cooking spray. You can also use softened butter instead of cooking spray. Set aside.

In a mixing bowl, whisk together the dry ingredients - flour, baking powder, and salt.

In the bowl of your stand mixer or a separate mixing bowl, mix together room temperature butter and sugar at medium speed until light and creamy, about two minutes. Then mix in the egg for about a minute or until the mixture is pale in color.

In a liquid measuring cup add the milk, lemon juice, lemon zest, and vanilla. Mix and add to the egg, butter, and sugar mixture. Incorporate until fully combined.

Add the dry ingredients to the wet ingredients and mix until just combined, scraping down the sides. Make sure not to over mix the batter. Gently fold the blueberries into the batter.

Transfer the batter into a piping bag or a heavy duty zip top bag. Evenly pipe the batter between all the donut pan cavities. This is a small batch recipe that will make 8 donuts. So if you have a 6 cavity pan, you can make some mini muffins with the remaining batter.

Bake at 350°F for 10 minutes or until a toothpick inserted into the donut comes out clean. Remove from the oven and allow the donuts to cool in the pan for about 10 minutes.

Then carefully take the baked donuts out onto a wire rack to cool. The donuts are delicate so make sure they do not break while transferring out of the pan.
To make the glaze:
In a medium sized, wide mixing bowl, whisk together the powdered sugar and lemon juice until well combined. Add chopped mint. You can add more lemon juice (or milk) to thin out the glaze or add more powdered sugar to thicken the glaze as needed.

Dip each donut into the glaze and place onto the wire rack. Serve and enjoy!
Did you make this recipe? Don't forget to give it a star rating! I love to hear from you guys. And if you do make this recipe, please tag me on Instagram and Facebook! I love to look through your creations!!
Love - Vaishali
Key Tools and Ingredients:
Donut Pan:
Cooling Rack:
Stand Mixer:
Vanilla Extract:
All purpose flour:
Baking Powder:
Pin for later: