This is one of our kids' favorite Indian bread. Both Ms. Little A and Mr. Little V love all kinds of ethnic Indian food and I feel incredibly blessed for that. I have shared here numerous times that how our food is one of the many strong threads that keeps us tied to our culture. And I am glad that our kids love Indian food as much as they enjoy American, Italian and Mexican food along with many other foods that we keep trying. Poori is one such recipe that everyone loves, though it might not be the healthiest of breads in Indian cuisine since it is deep-fried. But hey, nothing wrong with making it for the kids and then may be try to some to make sure it tastes alright. Quality control is important.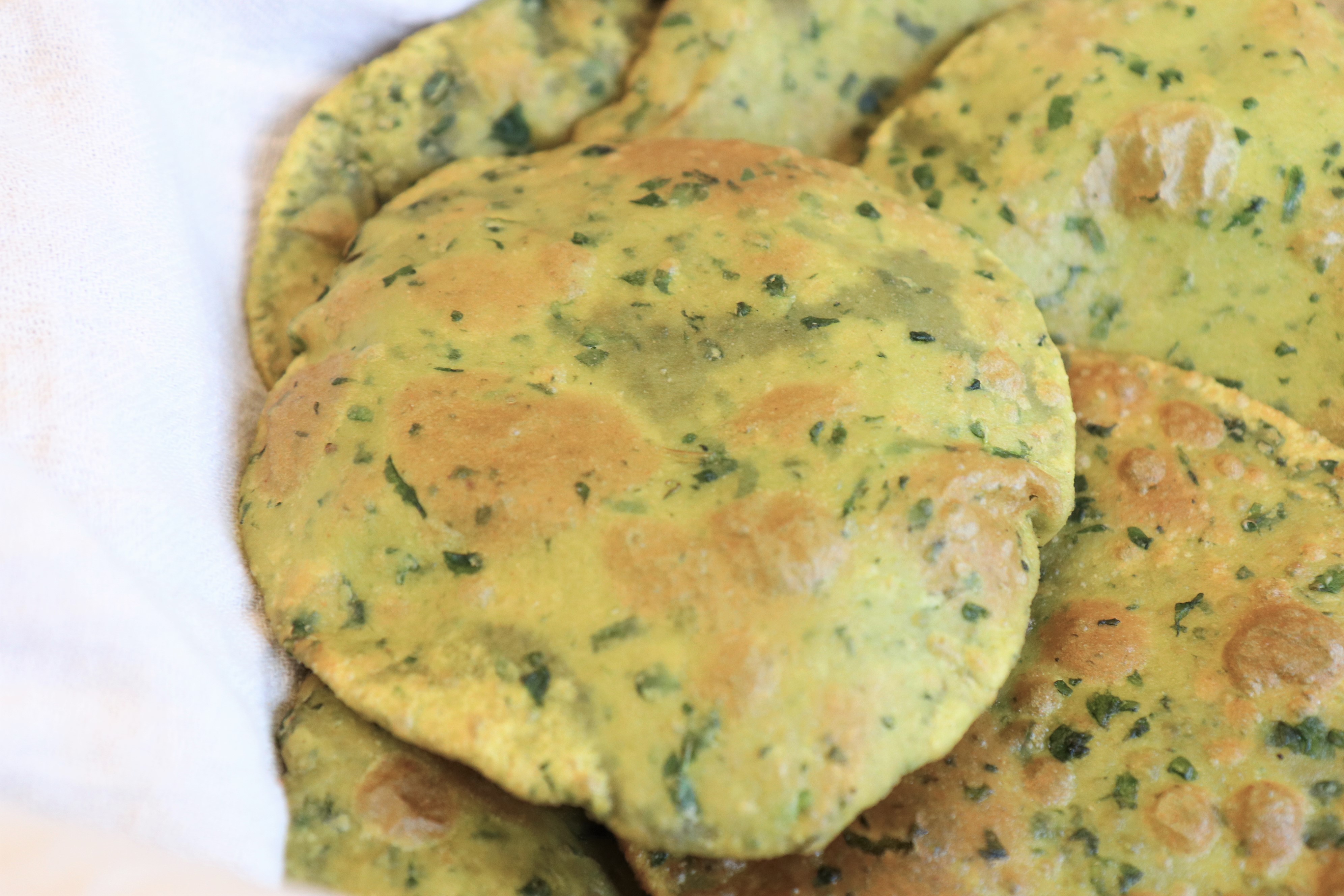 And would you not consider a bread made with whole wheat flour and spinach healthy? I, for the sake of my kids, totally would (uhmmm). All jokes aside, you are getting your whole grains; protein, vitamins K and A, folate, and fiber from spinach; turmeric is anti-inflammatory and decreases risk of cancer; and ajwain/carom seeds help in digestion and general gut health. So here is a health food recipe for ya!
This poori can be made by blanching and pureeing the spinach and then adding it to whole-wheat flour to make a tight dough OR adding chopped spinach, straight up, to the flour and making a tight dough. If you know me well enough, you know what method I use – of course straight up chopping and mixing (do you know 25% of folate in spinach could be lost in cooking?) – keeping it simple friends. The dough is then divided into balls of size of ping-pong balls, rolled into discs and deep-fried. Adding semolina adds a nice texture to the pooris and makes them crisp. Same for all-purpose flour, but these are optional.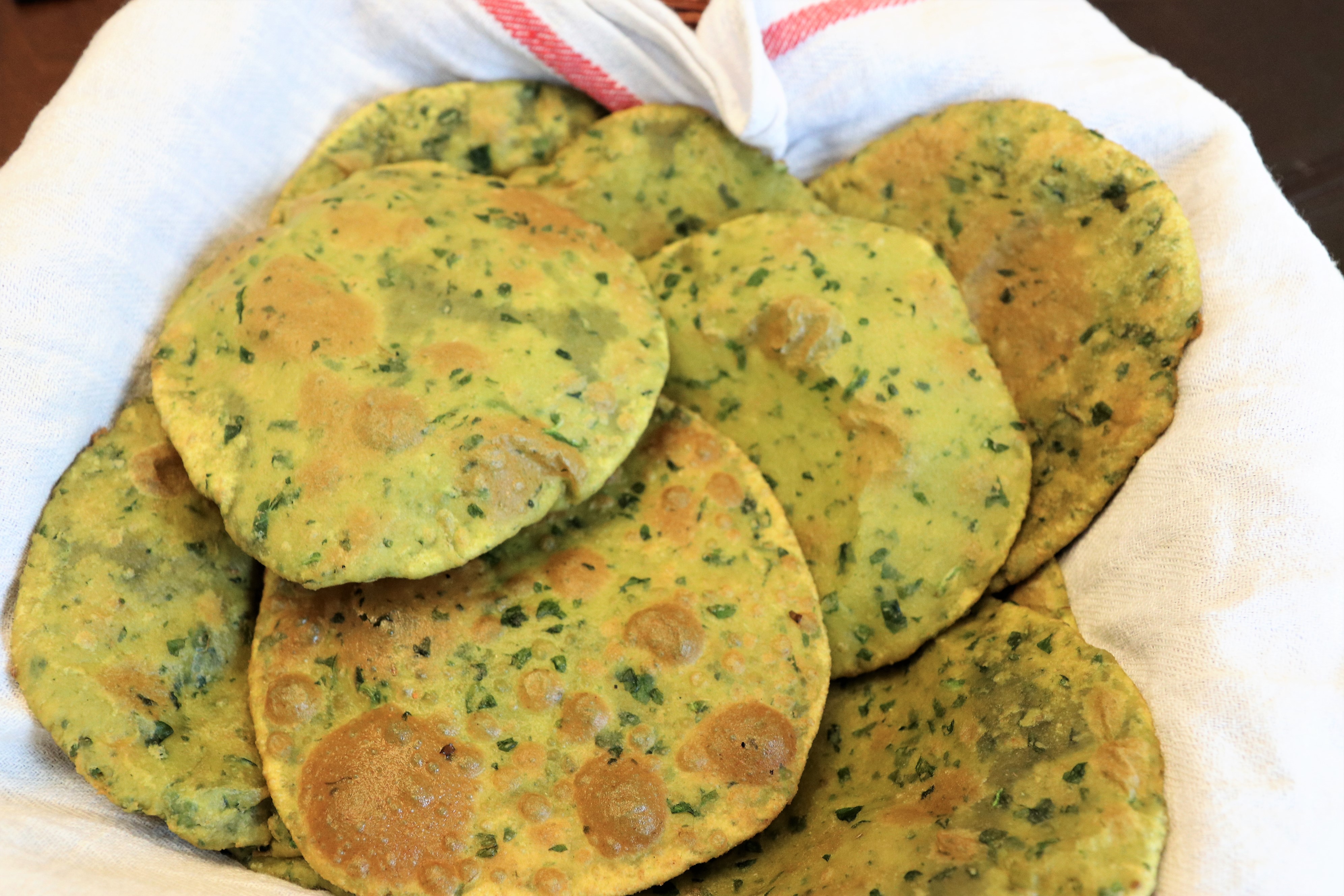 Ingredients:
Fresh spinach leaves – chopped and packed into 1 cup
Whole-wheat flour – 1.5 cups
Turmeric powder – ¼ teaspoon
Semolina/Cream of wheat – 2 tablespoon (optional)
All purpose flour – 2 tablespoon (optional)
Salt – to taste
Ajwain/carom seeds – 1 teaspoon
Olive Oil – 2 tablespoon
Oil – for frying
Water – as needed, for the dough
Method:
Add all the ingredients except water (and oil for deep-frying) in a deep mixing bowl or the bowl of your stand mixer (I use my KitchenAid Stand Mixer) (fitted with dough hook) and mix. The moisture in the spinach will help in starting the dough to come together. Add water, one tablespoon at a time to make a tight dough. Dough for making pooris is slightly tighter than the roti/chapathi dough (recipe here), so be careful not to add too much water. Knead the dough until nice and smooth. Let the dough rest, covered with a damp kitchen towel, for about 10 minutes. While the dough is resting, set a small and deep heavy bottomed frying pan or kadaahi on medium heat to heat the oil.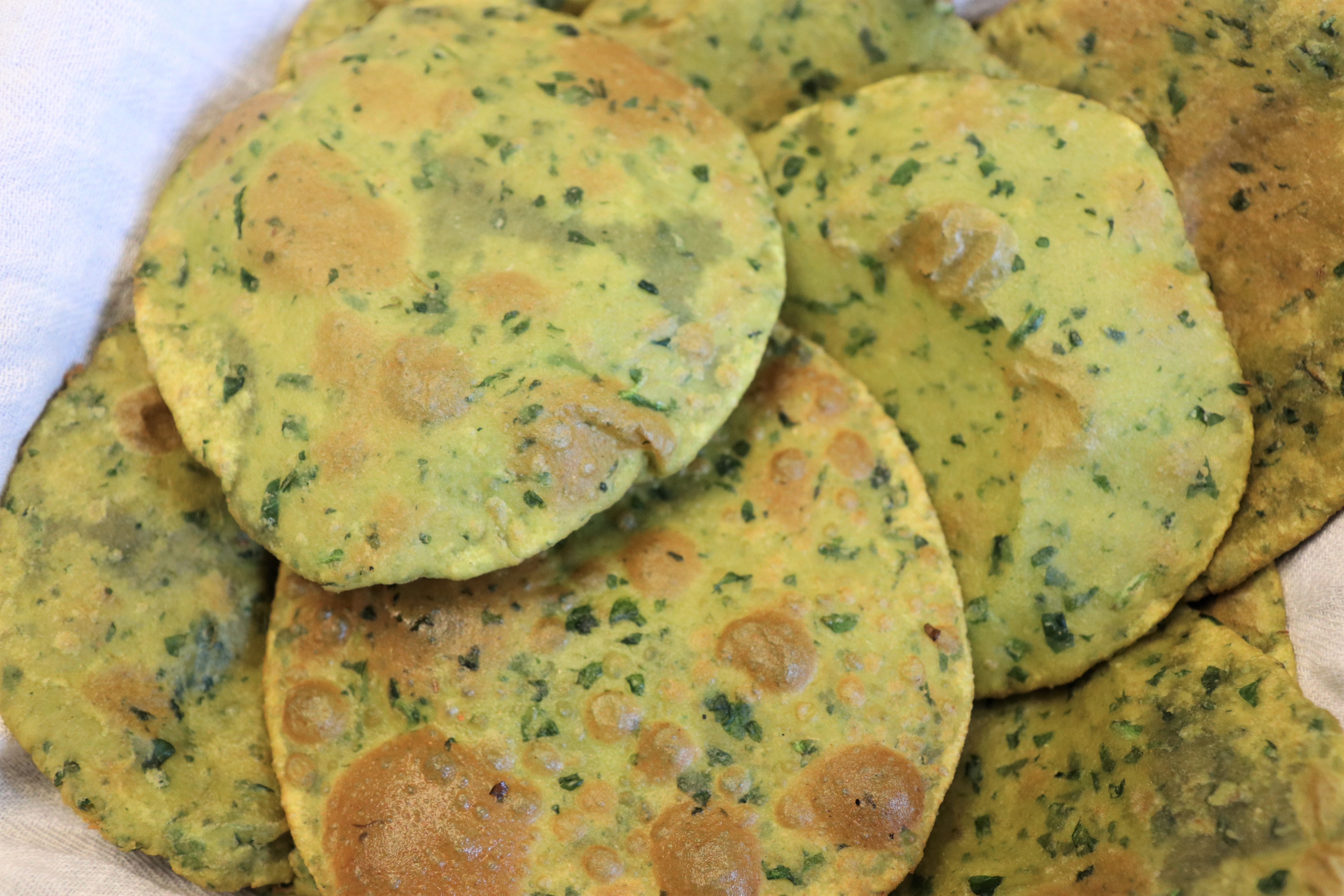 Make ping-pong ball size balls of the dough and using a rolling pin roll each ball out to a medium thickness disc of about 3 inches in diameter. Check the temperature of your oil by dropping a tiny piece of dough into it. This piece of dough should slowly rise up to the surface of the oil without sinking. Or if you have an oil/candy thermometer, heat the oil to 360-375 degrees F. Maintaining the oil temperature while frying ensures that pooris will absorb almost no oil (take the guilt out of eating deep-fried foods…hah). Medium-high heat works best!
Carefully slide in each rolled out disc (one at a time) into the oil and using a kitchen spider or a spatula with holes in it, gently push down the center of the poori into the oil, until the poori begins to puff up. Once it puffs up, flip it and fry it on the other side for a few seconds. Drain the poori on a cookie sheet lined with paper towels. Repeat until all the dough is used up. Pooris taste best right off the heat. Serve hot with aloo ki sabzi (potato curry, recipe here) and/or yogurt, oh and some pickle (recipes here, here, and here). Our kids love to eat this spinach poori with this chutney. Savory and sweet – a marriage made in heaven.
So give it a try, and please feel free to ask any questions.
Love – Vaishali.
Notes:
Leftover pooris can be wrapped in foil and refrigerated. To warm up heat in a toaster oven or hot skillet or tava.
Tools used:
or a Mixing bowl
Rolling pin
Knife and chopping board
Frying pan/kadaahi
Spider Strainer/spatula with holes
Cookie sheet or tray