Happy Monday! Remember the moong daal stuffed poori (recipe here) that I shared with you last week and told you that the pooris taste really good with khatte meethe aaloo? Yup, the same aaloo curry recipe is here for you today. This is such a versatile recipe that is quick to put together with ingredients mostly from the pantry and fridge. Simple and satisfying. This potato curry along with some chole (recipe here) also forms the part of an awesome Sunday breakfast ritual that I need a completely separate post to tell you about. For another time!
Ingredients:
Potatoes – 2-3, medium sized, boiled until fork tender
Tomatoes – 3, roughly chopped
Ginger – 1-inch nub
Green chili – 1
Ghee (recipe here) – 1 tablespoon
Asafoetida – a pinch
Cumin seeds – 1 teaspoon
Fennel seeds – ½ teaspoon
Turmeric powder – ½ teaspoon
Red Chilli powder – ½ teaspoon
Coriander powder – 1 ½ tablespoon
Yogurt – 2 tablespoon (optional)
Sugar – 1 tablespoon
Amchoor/Dry Mango powder – ½ teaspoon
Garam masala – ¼ teaspoon
Kasuri methi – 1 tablespoon
Water – 3 cups
Salt to taste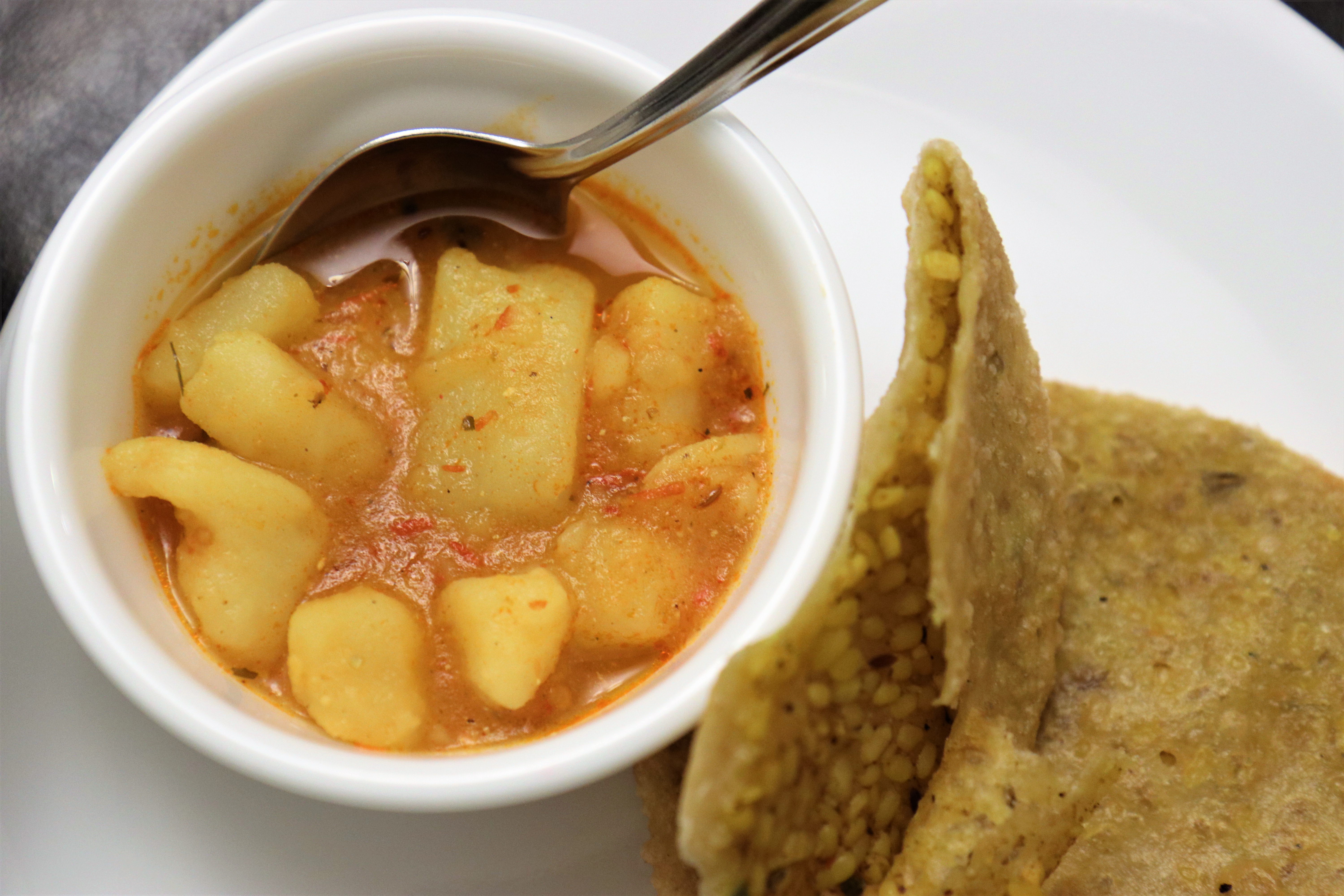 Method:
Grind tomatoes, ginger and green chili into a smooth paste using a blender or hand blender. Peel the potatoes and roughly break them into bite size pieces with a fork. This rough chopping technique helps making the gravy of the curry thicker as compared to if the potatoes were chopped into neat little pieces using a sharp knife.
Set a heavy bottomed pan on medium high heat and add ghee into it. Once the ghee is heated, add the asafoetida, cumin and fennel seeds. Once the seeds start to splutter slightly, add the ground tomato paste. Stir in turmeric, red chili, and coriander powders along with a pinch of salt. Mix everything and turn the heat to medium low. Cook the masala till tiny droplets of oil start to appear at the edges of the tomato masala. At this point, add the yogurt (if using). Yogurt adds to the sour notes in this dish that are brought about by the natural acidity of tomatoes. Once the yogurt is incorporated well into the tomato masala, add potatoes. Stir around and add 2-3 cups of water, keeping a thick consistency. Add salt, sugar and dry mango powder (more sourness!). Let the curry come to a boil, lower the heat and cook for 10 minutes. Then add garam masala and kasuri methi (slightly crushing kasuri methi leaves in the palm of your hands releases more flavor). Give the curry a taste check and adjust sugar and salt. Give it one last boil on high heat and serve hot with pooris (recipes here and here). Enjoy!
Love – Vaishali.
Tools used:
Blender/hand blender
Knife and chopping board
Measuring cups and spoons
Heavy bottomed pan
Spatula