This past week has been kind of busy here at TKD – not the kind of busy which can you see but more the kind of busy that goes behind the scenes. We moved to a new site! If you are still visiting us from www.thekitchendocs.wordpress.com, it is time to move on to our new address at www.kitchendocs.com . The old site was not giving me enough flexibility in terms of how I wanted it to look, the functionality of the website etc., so TKD team decided to move. I have tried to make it streamlined and simple for all of you to reach here – including updating our social media links at Facebook, Twitter, and Instagram. If you have not already done so, please go ahead and show us some social love and never miss any of the posts. Please let me know in the comments below if you are facing any problems or how you like (or not like) the new web-page. Thanks!
I have been cooking a lot in the past few weeks for few reasons - just because it is so cold here, which makes it impossible to venture outside much; football season is mostly over (I am dearly holding on to the hopes of last few NFL games); there are so many indulgent and traditional winter recipe that I do not want to miss (because I know I will blink and it will be spring); winter seasonal produce is at its peak; trying to eat healthy in the New Year (uhmm); and I LOVE TO COOK (my happy place). I have been making a lot of pickles, mostly very seasonal and traditional Punjabi pickles. You must have seen the sneak peeks at Facebook and Instagram.
Gaajar gobhi shulgum ka achaar is a must have in Punjabi homes during winters as all the three veggies in the achaar (pickle) – Gaajar (carrots), Gobhi (cauliflower), and Shulgum (turnips) are abundant during colder months in North India. So there you go – eat seasonal was the way to go even when no one was paying attention to it – hah!
Anyways, the pickle is sweet, sour and savory – a hodge podge of flavors that is hard to beat. It is a staple to go with your morning parantha for breakfast (I might have slathered it on multi grain toast with cream cheese…), or with your simple homey daal-roti at dinner time. Nobody will stop you if you want it for lunch too..:). The vegetables are cut in bit-size pieces and air-dried a little bit (optional), a masala of onion, ginger and garlic is bhoonoed and then vinegar, jaggery and other flavorings are added to create this magical, savory, bite-sized perfection of a pickle. The pickle gets its deep red color from using "ratanjot" powder. I had to do some reading to find out more about this natural coloring agent and to my excitement found out that it comes from the root of herb called alkanet. Natural food color you guys! It is hard to find it here in the States but if you do not care too much about the color of the pickle, do not worry about it. Ground Indian mustard seeds (pissi raai) is a typical pickling spice and gives this pickle a tang. Try Gaajar Gobhi Shulgum ka achaar and you will love it! I normally make it in small batches and store it in the refrigerator. It does have vinegar and jaggery that act as preservatives but I still feel that storing it in the refrigerator is the safe way to go. You can vary the quantity of each vegetable depending on your choice – we seem to be a bit undecided on this, so I include fairly equal amount of all three.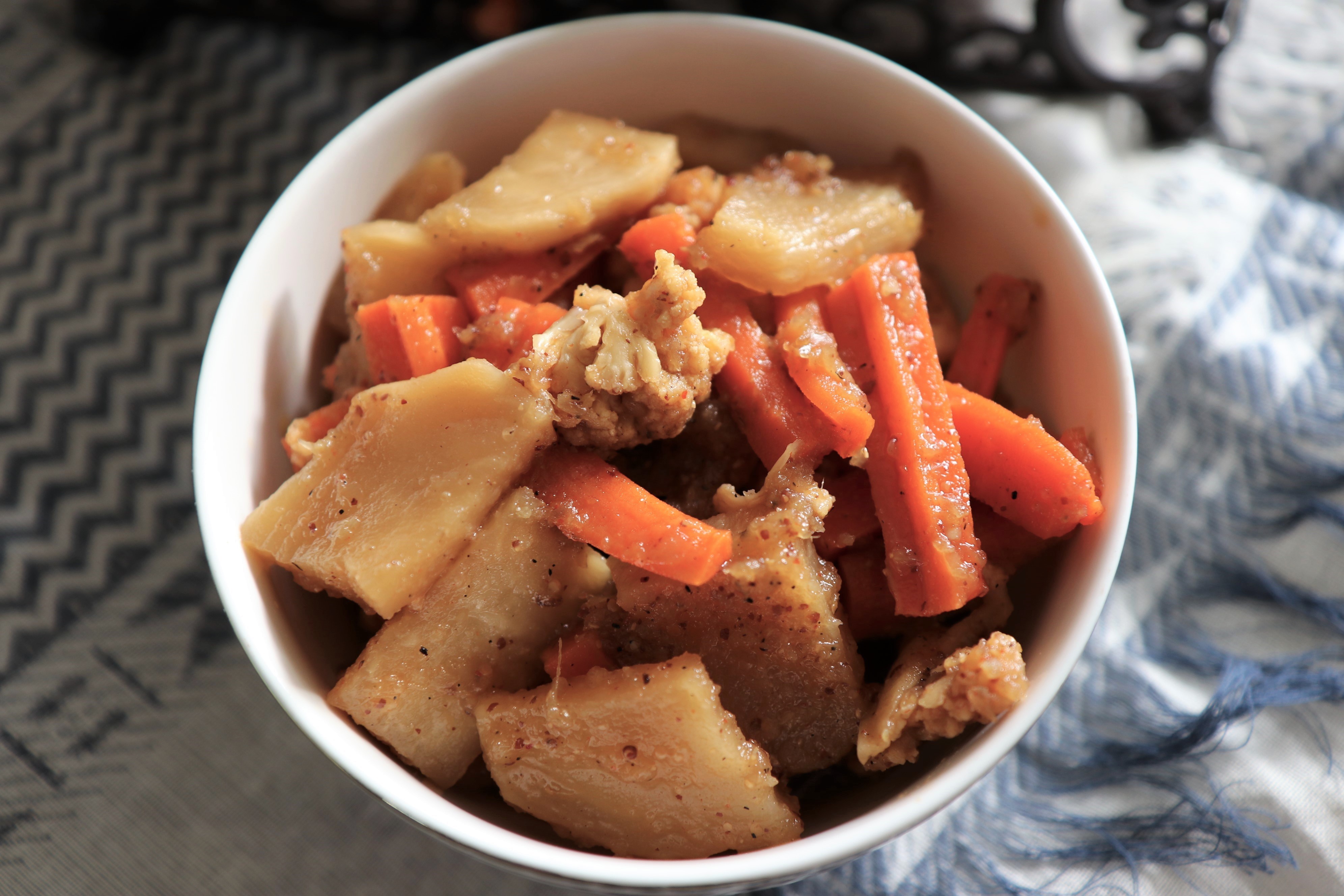 Plan ahead – Air-drying required!
Ingredients:
Mustard oil – 3 tablespoon (feel free to choose an oil of your choice)
Carrots – 1 lb or ½ kg (about 4 large), peeled and cut into bite-sized pieces
Turnip – 1 lb or ½ kg, peeled and cut into bite-sized pieces
Cauliflower – 1 lb or ½ kg (½ of a medium sized head (in USA) or a small cauliflower head (elsewhere) – they are huge here in the US), cut into bite-sized florets
White/sweet onion – 1 medium, coarsely chopped
Garlic – 4 cloves
Ginger – 2 inch piece
White vinegar – ¾ cup
Grated Jaggery – 1.5 cup, about 0.75 lb (sold at most Asian/Indian grocery stores and health stores)
Salt – to taste (at least 2 tablespoon)
Red chili powder – 1 teaspoon
Ground Indian mustard seeds (raai) – ½ tablespoon
Ratanjot – a pinch (optional)
Method:
Bring a pot of water to boil and give the vegetables (carrots, turnips and cauliflower) a quick blanch (about 5 minutes) and drain. If you like to keep the veggies crunchy, you can skip this step. Even if you decide not to blanch, lay all the veggies on a big kitchen towel and let them air-dry for at least 6 hours. With heat running in the house, this seemed reasonable. If you are drying the vegetables outside in the sun, 6-8 hours in sunlight should be good. The idea is to reduce the moisture in the vegetables so that the pickle does not spoil. If you have a dehydrator, you can use that too.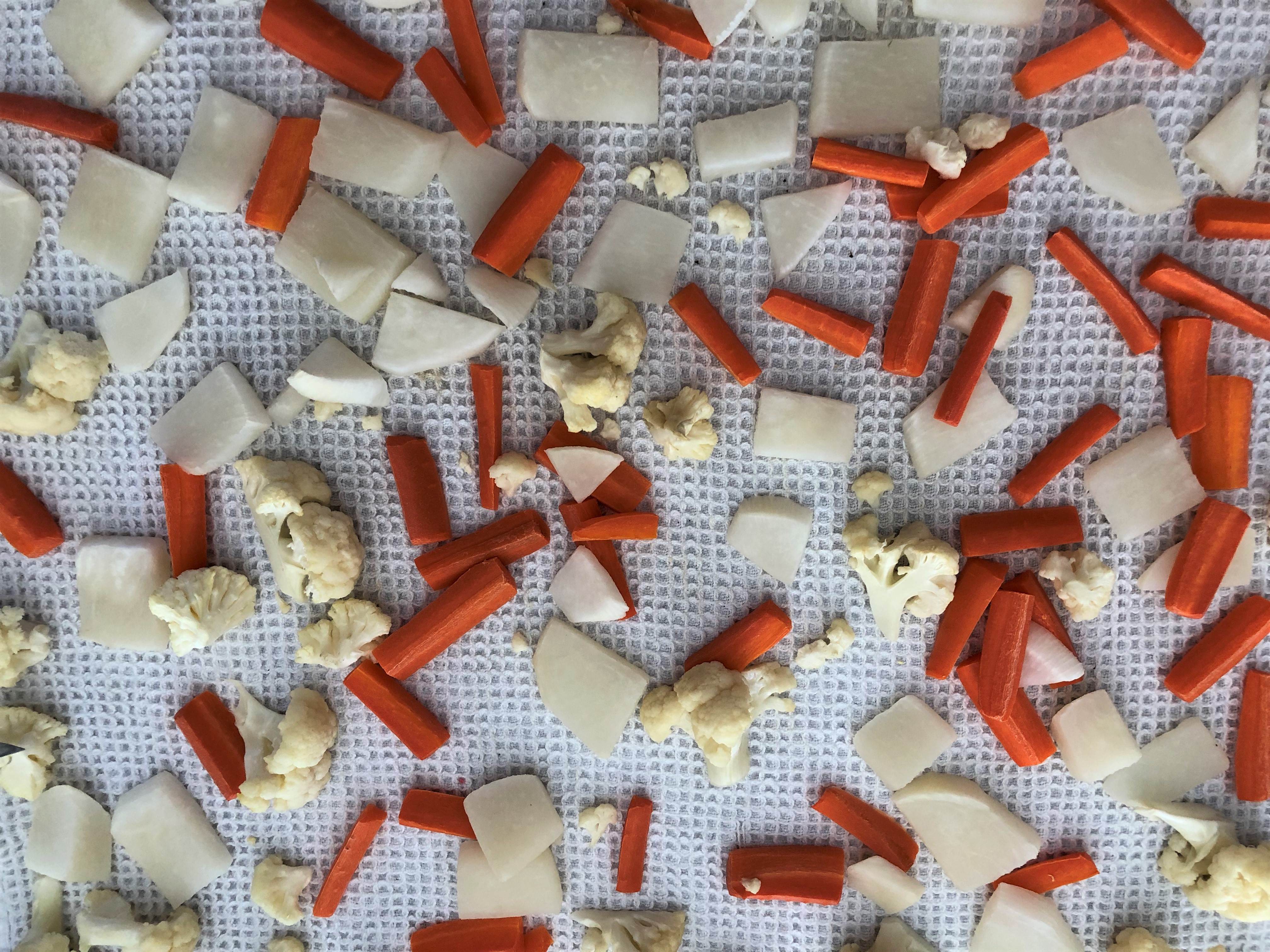 Grind together onion, ginger and garlic to make a paste. Set a heavy bottomed skillet on high heat and add mustard oil. If using mustard oil, heat it to smoke point and then turn the heat off. Let it cool. If using any other type of oil, skip this step..:). Turn the heat back on medium-low and add the prepared paste. Cook it till the moisture dries up and the masala turns golden brown in color. This will take about 15-20 minutes. Keep stirring in between and scraping any bits of masala that get stuck to the bottom of the pan. Do not let the masala burn, if it starts sticking too much, turn the heat a bit lower. Patience is the key here.
Once the masala is bhoonoed, add the vinegar and jaggery. The vinegar will smell strong but please bear with it. Cook on medium heat for 10 minutes, till the mixture thickens and the jaggery is completely dissolved. Add red chili powder and ratanjot powder (if using). Mix and add the veggies along with salt. Cook for another 5-7 minutes, turn the heat off and add the ground mustard seeds. Give everything a big mix again, give a taste check to adjust seasonings. As I mentioned earlier, the pickle should taste sweet, sour and savory – a party in your mouth.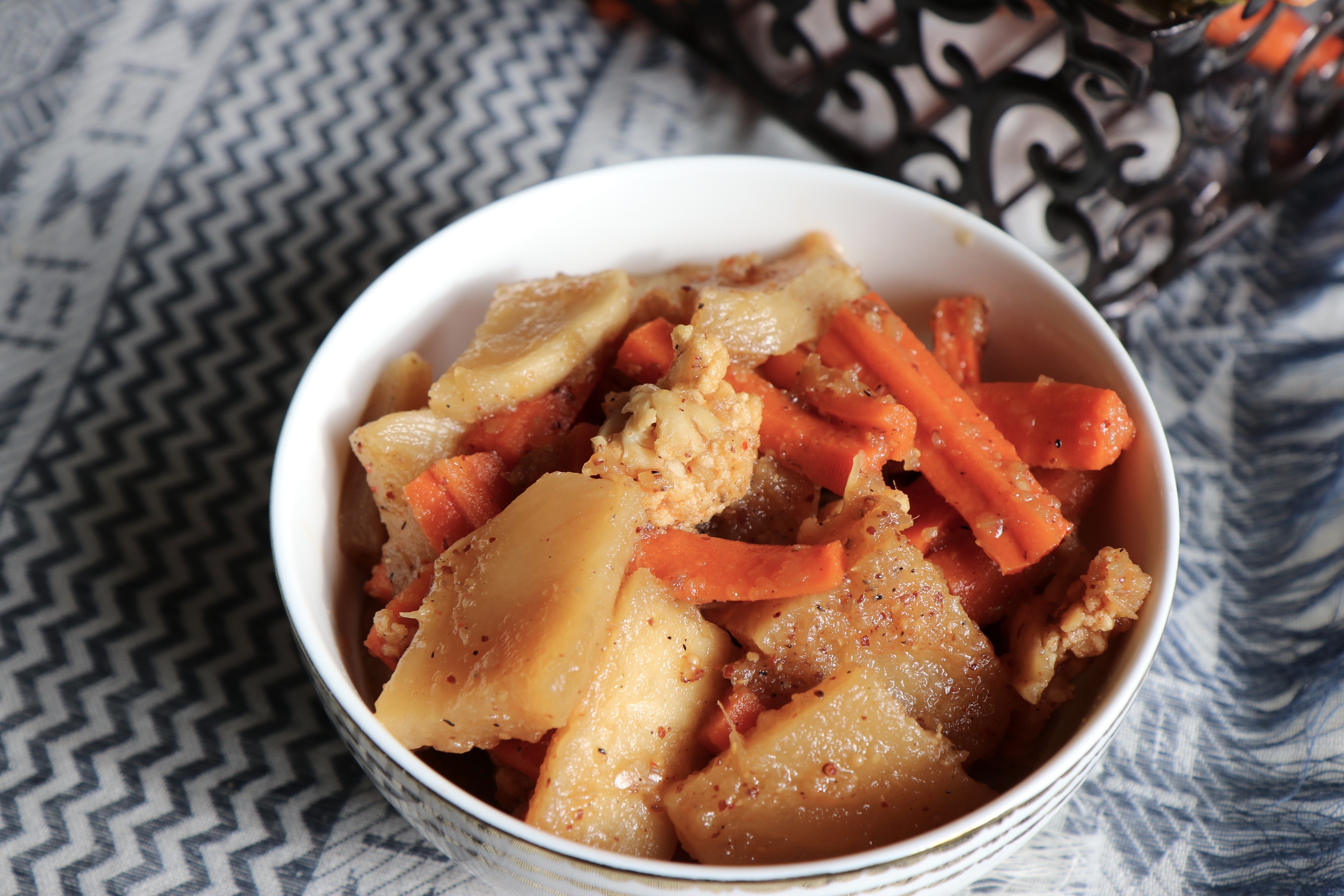 Let the pickle to cool down a little bit before storing in glass jars. Store in refrigerator. We like to start eating it right away but if you are more patient, wait for a day or two to let the flavors develop – hah!
Love – Vaishali.
Tools used:
Blender
Measuring cups and spoons
Knife and chopping board
Kitchen towel
Heavy bottomed skillet
Spatula
Sauce pan or Pot (optional)