The easiest baked chicken parmesan recipe that is healthy since it's not fried and is made crispy with gluten free breadcrumbs. Moist, healthy and packed with flavor.
This post may contain affiliate links. As an Amazon Associate I earn a small commission from qualifying purchases.
Jump to Recipe
Deep frying is my least favorite cooking method. Not only because of health reasons but also due to how it makes my kitchen smell. Plus safely discarding that used cooking oil is always a hassle. Though for certain recipes (like these fritters), I don't compromise on pulling out the deep frying tools. However, this baked chicken parmesan recipe is great! The chicken always turns out super moist and the flavor of breading, sauce, and mozzarella cheese is spot on.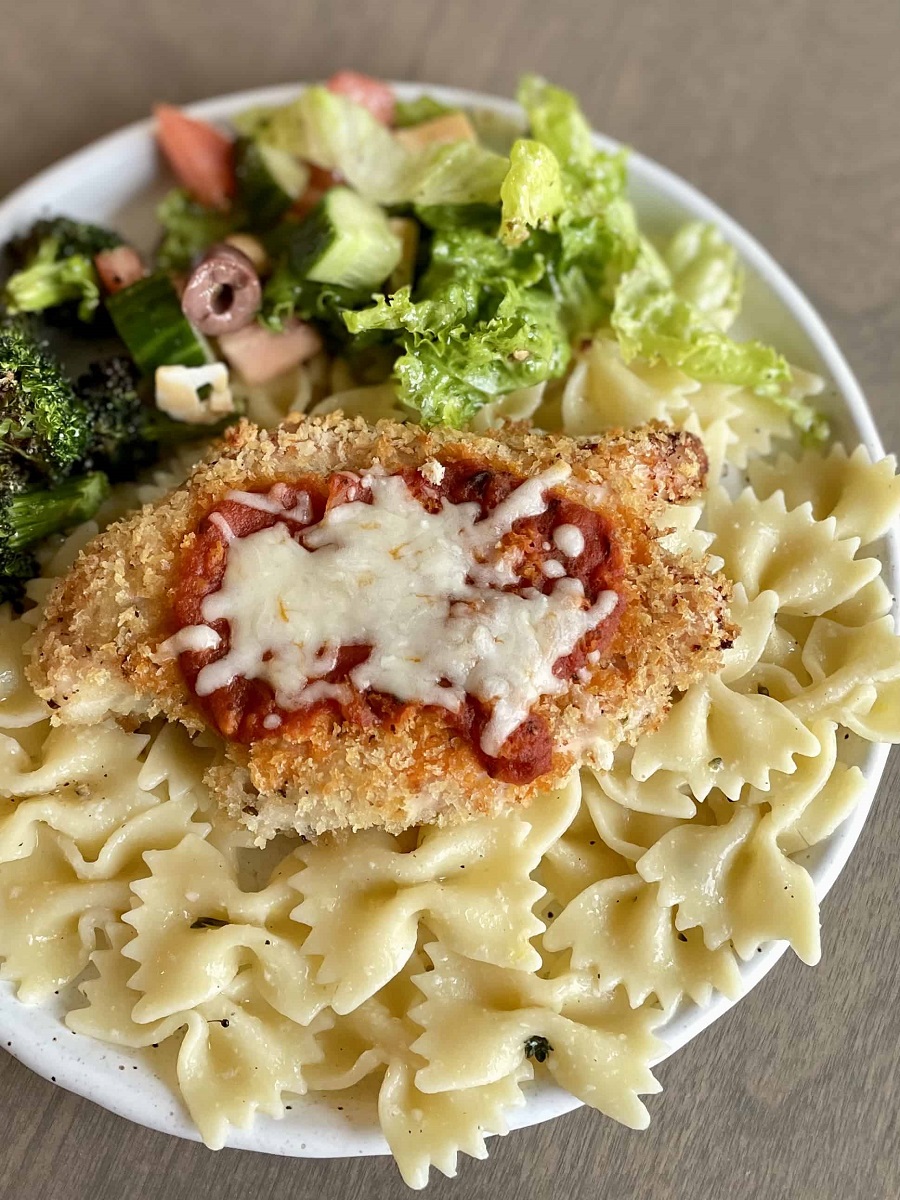 Switching things a bit with this baked chicken parmesan recipe today. The past few recipes have all been desserts like this pudding or these cinnamon rolls. Seriously though, who have I become? I used to be that person who would not go near anything sweet but now I can enjoy a biscotti with coffee and don't even blink. But this baked chicken parmesan recipe is delicious and when served with this pasta with no cook sauce and this oven roasted broccoli on the side, it's a plate of food that is meant for the gods!!
The motivation
Both Ms. A and little V love chicken parmesan as well as chicken nuggets. I used to pan fry chicken nuggets for them all the time but once I baked the nuggets for them and it was a turning point. Then I went rogue and tried baking the chicken parm and here we are. This baked chicken parmesan recipe is perfect for a weeknight, is much healthier than its fried cousin, kids and grown ups enjoy it alike, and the clean up after making this recipe is nowhere close to when you make the traditional chicken parm recipe.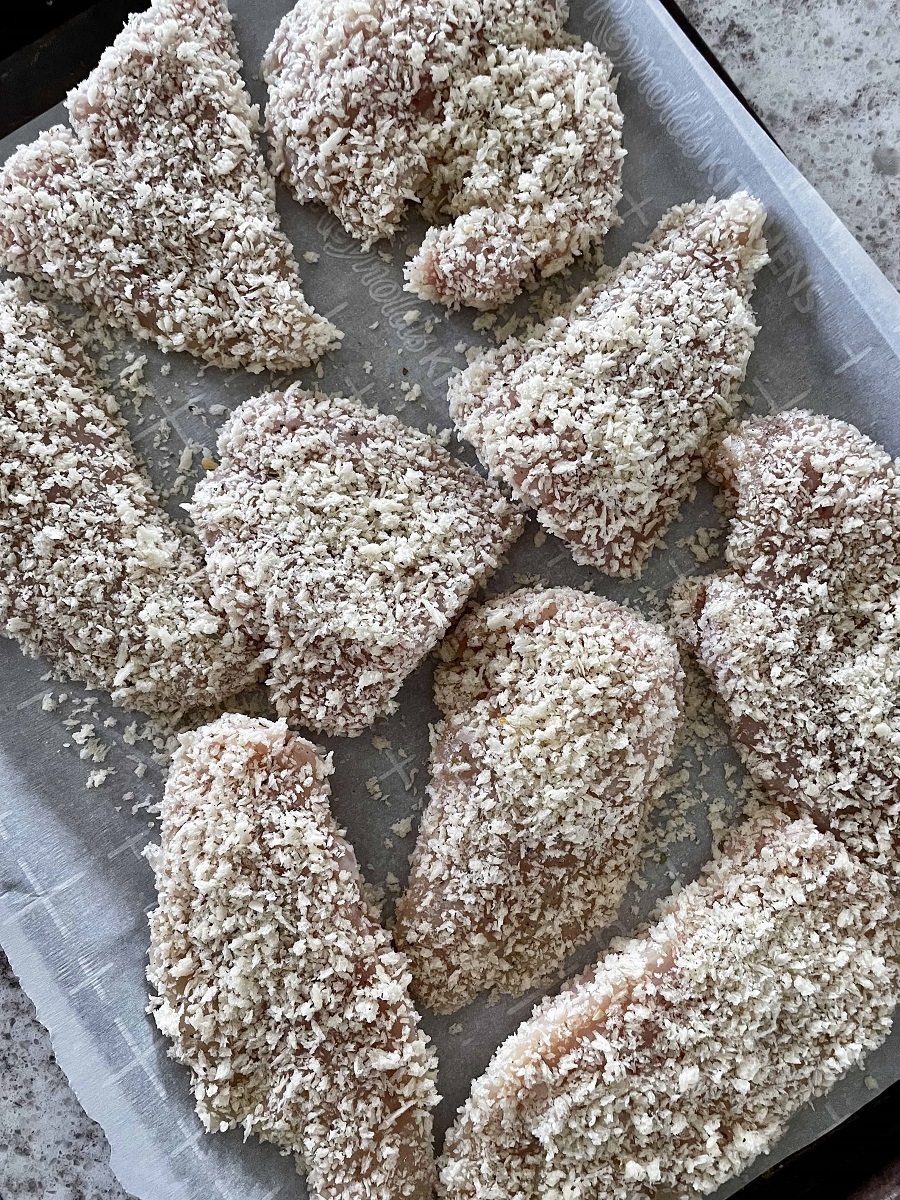 The key
The key to this baked chicken parmesan recipe turning out better than the traditional version is cutting the chicken breasts thin into fillets and then cutting in half so you have 4 equal squarish pieces of chicken from each breast. Another tip that I grabbed somewhere browsing the world wide web was to brush the chicken with butter or olive oil before coating with breadcrumbs to keep it moist. I have tried using the egg wash before breading and am happy to report that the butter works much better in locking in that moisture.
The method
Slice the breasts as suggested above. Brush with butter and then coat with panko breadcrumbs that have been mixed with parmesan cheese and your favorite Italian seasoning. Spray with olive oil and bake in a 450 degree oven for 25 minutes. Remove from the oven, top with marinara sauce and grated mozzarella and bake for another 5 minutes. That, ladies and gentlemen, is your perfectly cooked, healthier, delicious, gluten free baked chicken parmesan. Serve it with some buttered pasta and a vegetable side and enjoy!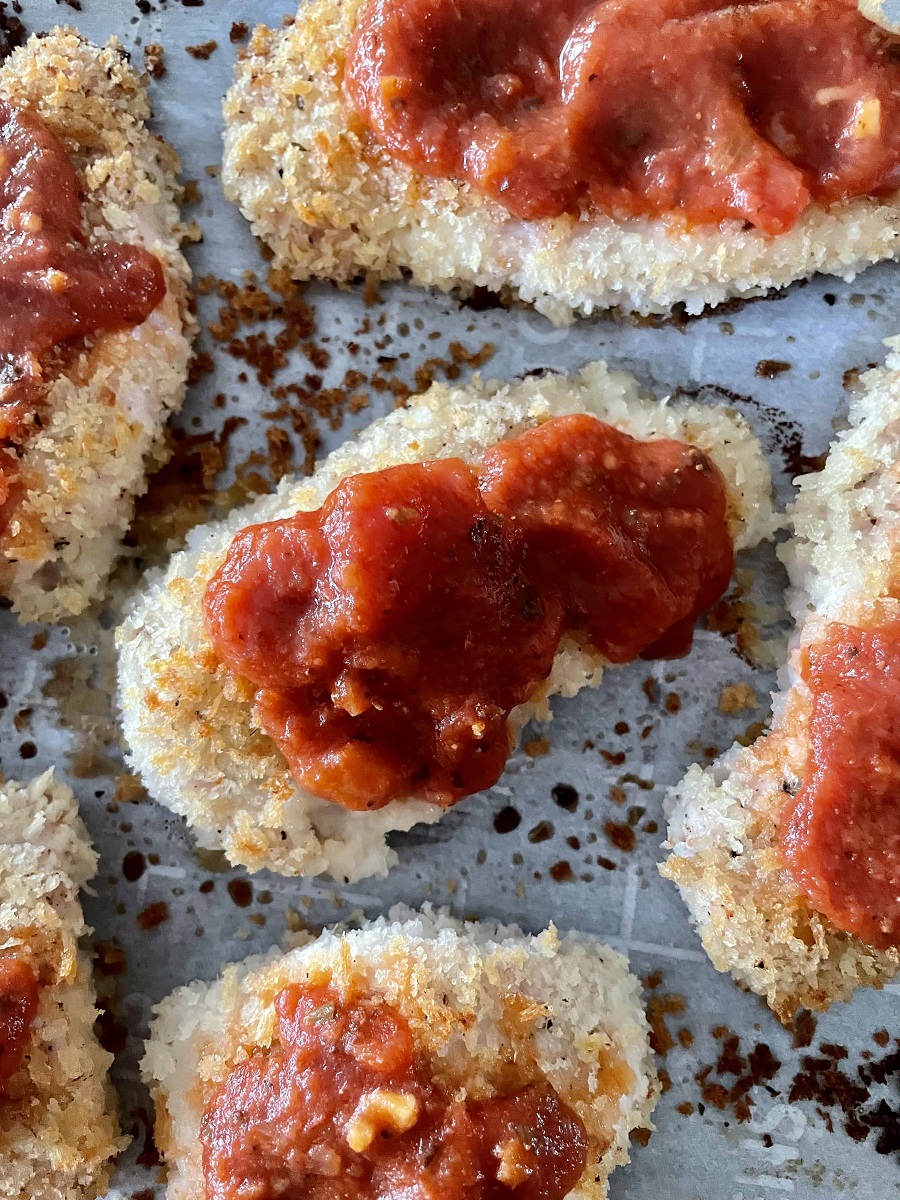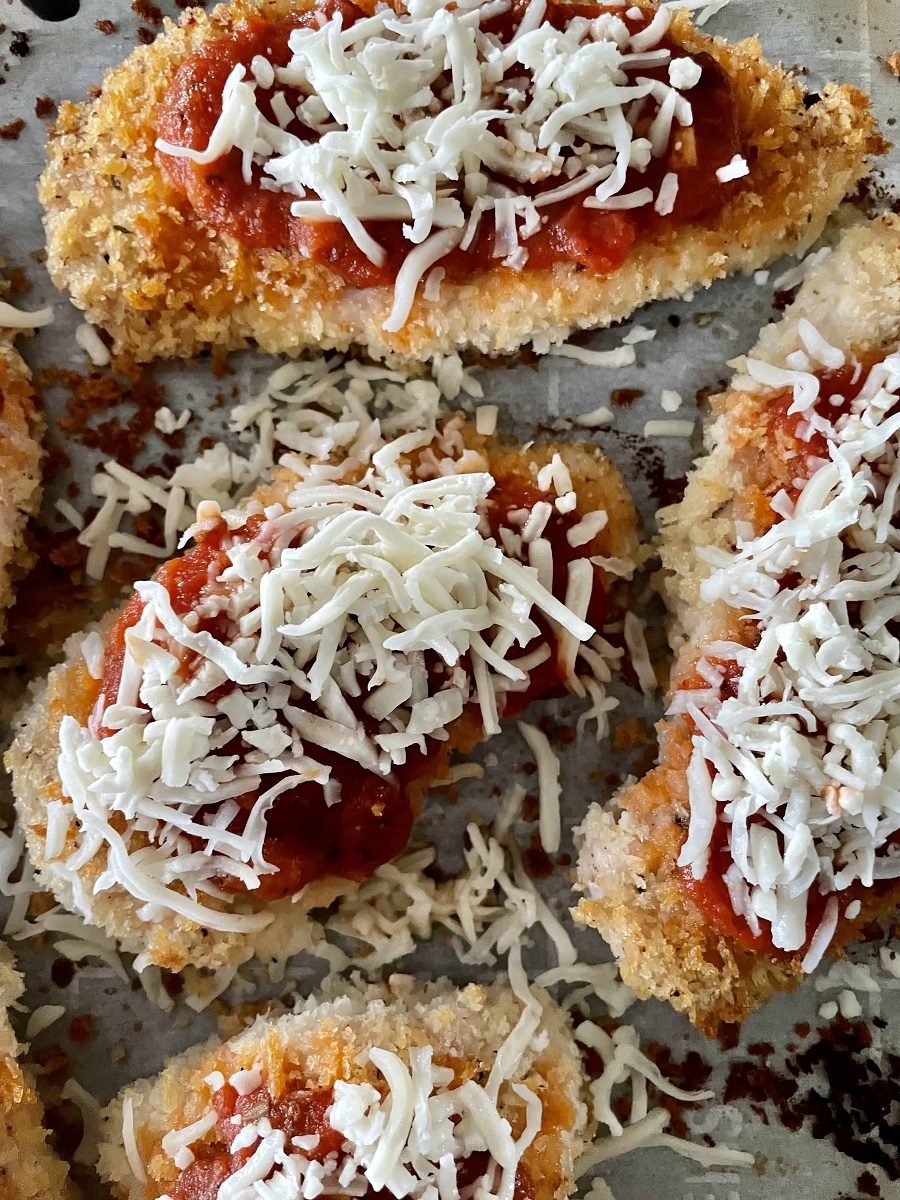 How to make Baked Chicken Parmesan
Here's your handy dandy printable: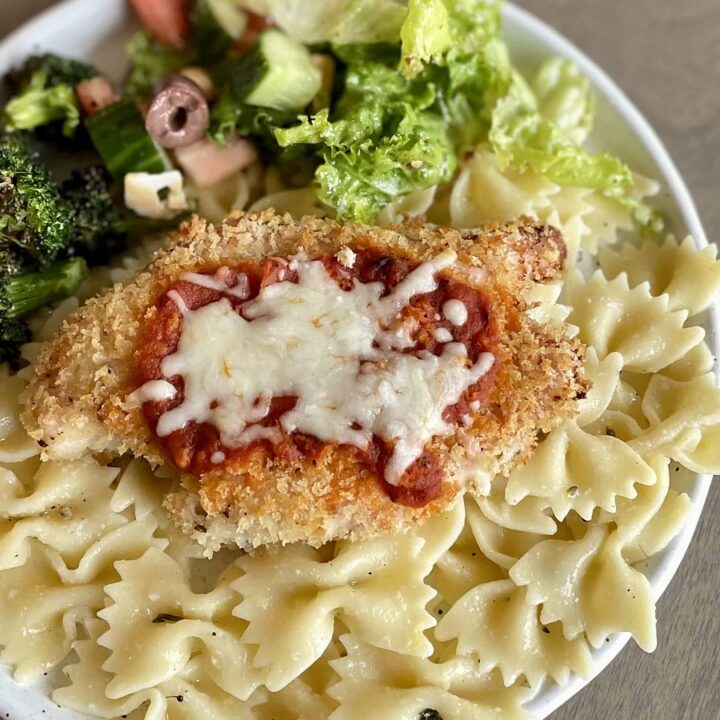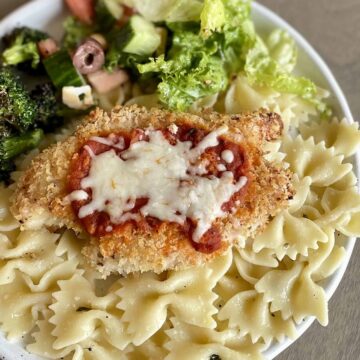 Easy Baked Chicken Parmesan Recipe
The easiest chicken parmesan recipe that is healthy since it's not fried and is made crispy with gluten free breadcrumbs. Moist, healthy and packed with flavor.
Ingredients
2

boneless skinless chicken breasts

about 1.5 to 2 lbs (0.7 to 0.9 kg)

1

tablespoon

melted butter

or olive oil

½

cup

panko bread crumbs

see notes

Italian seasoning

to taste

Salt and pepper

to taste

2

tablespoon

parmesan cheese

see notes

Olive oil spray

½

cup

marinara sauce

good quality, I like Rao's

½

cup

reduced fat mozzarella cheese

shredded
Instructions
Preheat the oven to 450°F (230°C) and line a cookie sheet or baking tray with parchment or spray with cooking spray.

Using a sharp knife, slit the chicken breasts in half to get 4 thin fillets. Then slice the fillets down the middle to get 8 equal sized, almost square chicken pieces.

In a shallow, wide bowl mix panko, parmesan cheese, Italian seasoning and salt and pepper.

Using a brush, apply a light layer of melted butter (or olive oil) to chicken pieces.

Dip the chicken piece into panko mixture one at a time, making sure that the chicken is evenly coated with breadcrumb parmesan mixture.

Place on the prepared cookie sheet and repeat with the remaining chicken pieces.

Lightly spray the chicken pieces with olive oil cooking spray and bake for 25 minutes.

While the chicken is baking you can go onto make your pasta and a vegetarian side or a salad.

Remove the cookie sheet from the oven, spoon ½ tablespoon marinara sauce over each piece of chicken and top with ¾ tablespoon of mozzarella cheese.

Return the chicken back to the oven for 5 more minutes or until cheese is melted and bubbly.

Serve over pasta or enjoy it as is.
Notes
Panko breadcrumbs are glutenfree. You can use any other breadcrumbs you like for e.g. whole wheat or regular. You can also buy seasoned breadcrumbs - in that case skip adding Italian seasoning and salt and pepper to the breadcrumbs.
I highly recommend using good quality parmesan for this recipe. The one that comes in a dust form from a shaker bottle is not recommended.
If you make this recipe, please leave a comment and/or give this recipe a rating! I would love to hear from you guys. And don't forget to tag me on Instagram and Facebook! I love to look through your creations!!
Love – Vaishali
Shop this post:
Knife:
Cookie Sheet:
Measuring Spoons:
Measuring Cups:
Cooking Spray: