When you live in the Midwest, there are very few things that are more fresh in summer than the locally grown ears of sweet corn. It's peak corn season at the farmer's markets right now. While nothing beats a fresh corn on the cob, be it grilled, boiled, microwaved or even raw; there are some other ways that we enjoy corn in our family.
I once made this corn chat in wonton cups (recipe here) for our guests, this salad with corn is pretty hit too and this sweet corn soup recipe is one of the most popular recipes on the blog. Both Ms.Little A and Mr. Little V love corn on the cob with butters slathered on it. Dr. A often brings back corn from work when he is visiting his farmer friends in the area. This creamy corn curry is my Indian ode to the sweetest and juiciest corn that you will ever eat.
Jump to Recipe
Apart from being a great source of carbs, corn has a lot of water in it along with decent amount of protein and high in fiber. So when the kids get home from school or from playing outside, it is a perfect snack. Few weeks ago, we had invited some friends over for dinner. I was working through a menu of appetizers, main dishes and desserts etc. And you know me - I was trying to make the most of seasonal and local ingredients. Dr. A had gotten a dozen fresh corn from a farm stand and while we were enjoying them for snack at least once a day, there were some ears of corn sitting on the counter begging for my attention.
So, on a whim, I wrote down "creamy corn curry" under the tab of main dishes. I wanted to add traditional north Indian flavors to the curry, make it little fancy since I was making it for company, while keeping corn to be the star of the dish.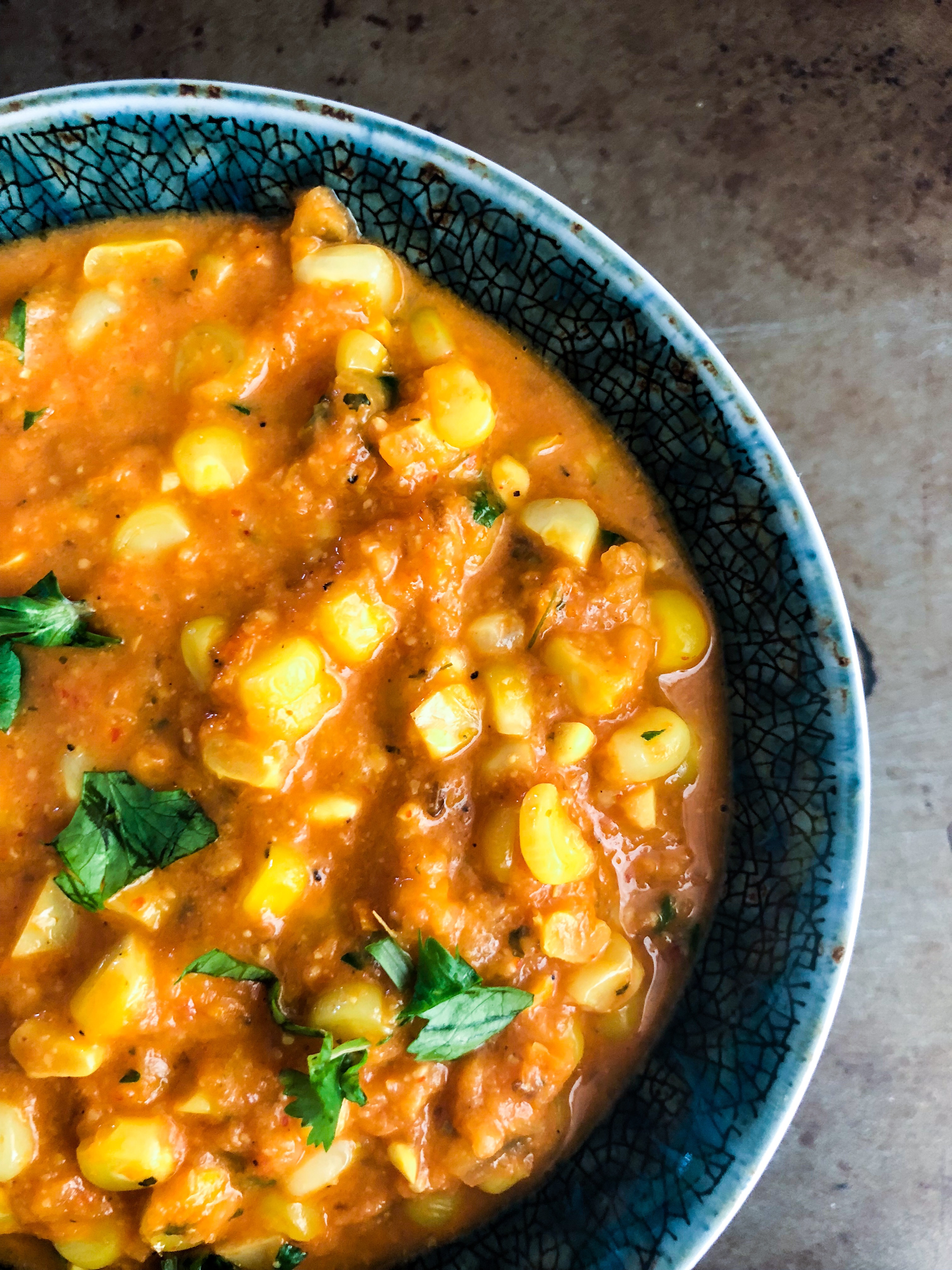 Recipe run down
The recipe starts with a usual Punjabi/North Indian masala preparation.Bhoono onions, tomatoes, ginger and garlic with dry spices. Cashew paste adds the creaminess and rich flavor to the curry along with cream (optional). Next go in the sweet corn kernels freshly cut from the cob (use a sharp knife like this one). I then finished the dish with garam masala, kasuri methi and fresh chopped cilantro. You can serve it fresh homemade roti (find the recipe here) , rice (recipe here or here) or homemade garlic naan. Yummy!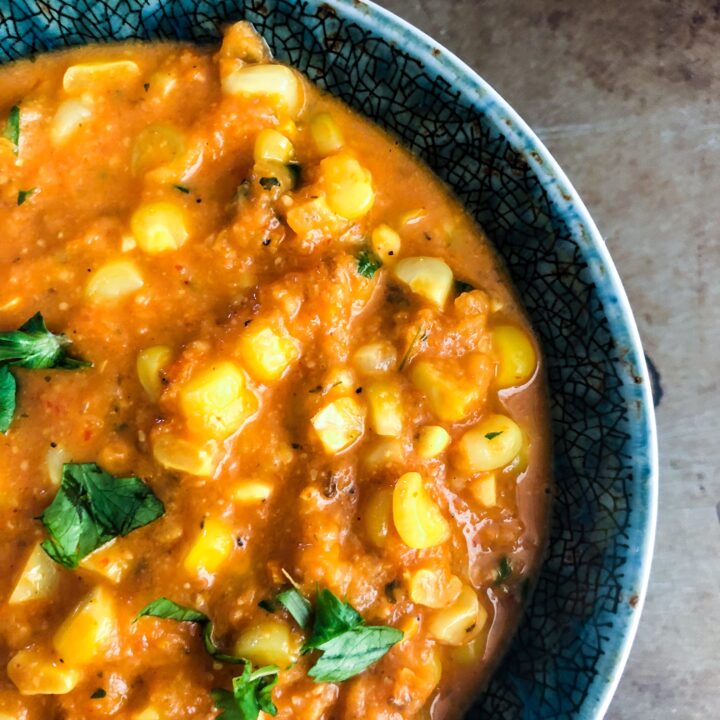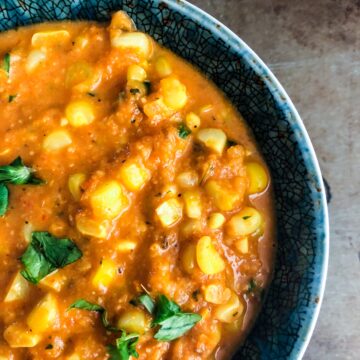 Creamy Fresh Sweet Corn Curry
Fresh and juicy sweet corn gets dunked in rich and creamy curry flavored with warming Indian spices. Enjoy this creamy corn curry with rice, roti or homemade garlic naan.
Ingredients
1

tablespoon

olive oil

2

green cardamoms

1

clove

1

bay leaf

1

teaspoon

cumin seeds

1

cup

finely chopped onion

1

teaspoon

minced garlic

see notes

1

teaspoon

minced ginger

see notes

1.5

cup

chopped tomato

see notes

¼

teaspoon

turmeric powder

¼

teaspoon

red chili powder

optional

1

tablespoon

coriander powder

5-6

cashews

soaked in milk (see notes)

¼

cup

milk

see notes

1

tablespoon

tomato ketchup

3

ears corn

husks and silk removed, see notes

2

cup

water

or as needed

2

tablespoon

heavy cream

optional

1

teaspoon

sugar

Salt, to taste

½

teaspoon

garam masala powder

1

teaspoon

kasoori methis

dried fenugreek leaves

5-6

sprigs

cilantro, leaves chopped

optional for garnish
Instructions
Set a heavy bottomed skillet on medium high heat and add 1 tablespoon olive oil to it.


Once the oil is nice and shiny, add green cardamoms, clove and bay leaf. Wait for 30 seconds and then add cumin seeds.


Wait for the cumin seeds to crackle a bit and then add the onions with a pinch of salt. Adding salt to onions helps in cooking them faster by extracting the moisture out.


Add the ginger garlic paste and bhoono (cook) the masala till the onions turn light brown in color. This will take 5-7 minutes.


While the onion masala is cooking, take a very sharp knife and carefully cut the kernels off of the cob. Set aside,


Now add turmeric, red chili (if using) and coriander powders to the onion masala. Mix.


Add the chopped tomatoes and scrape any bits of the onion masala that might be sticking to the pan. Mix and cook the tomato masala for another 5 minutes or so.


Grind the soaked cashews with the milk (or water) that they were soaked in.


Once the masala is cooked, you should be able to see tiny droplets of oil appear on the edges of the masala. Add tomato ketchup.


Add the cashew paste, mix and cook for another 30 seconds. Now add water, and corn kernels.


Stir in salt to taste, sugar and increase the heat to high. Bring to a boil, add more water to adjust consistency, lower the heat to medium and cook for 10 minutes.


After 10 minutes, add heavy cream ,garam masala and kasoori methi powder. Give the curry a taste check and adjust seasoning if needed. Turn the heat off.

Notes
Yo can also use 2 teaspoon store bought ginger garlic paste.
If canned tomatoes are your thing, use 1 can diced tomatoes.
To make the recipe vegan, soak and grind the cashews in water instead of milk. Skip heavy cream.
If you cannot find fresh sweet corn, you can also use about 2 to 2.5 cups of frozen corn kernels.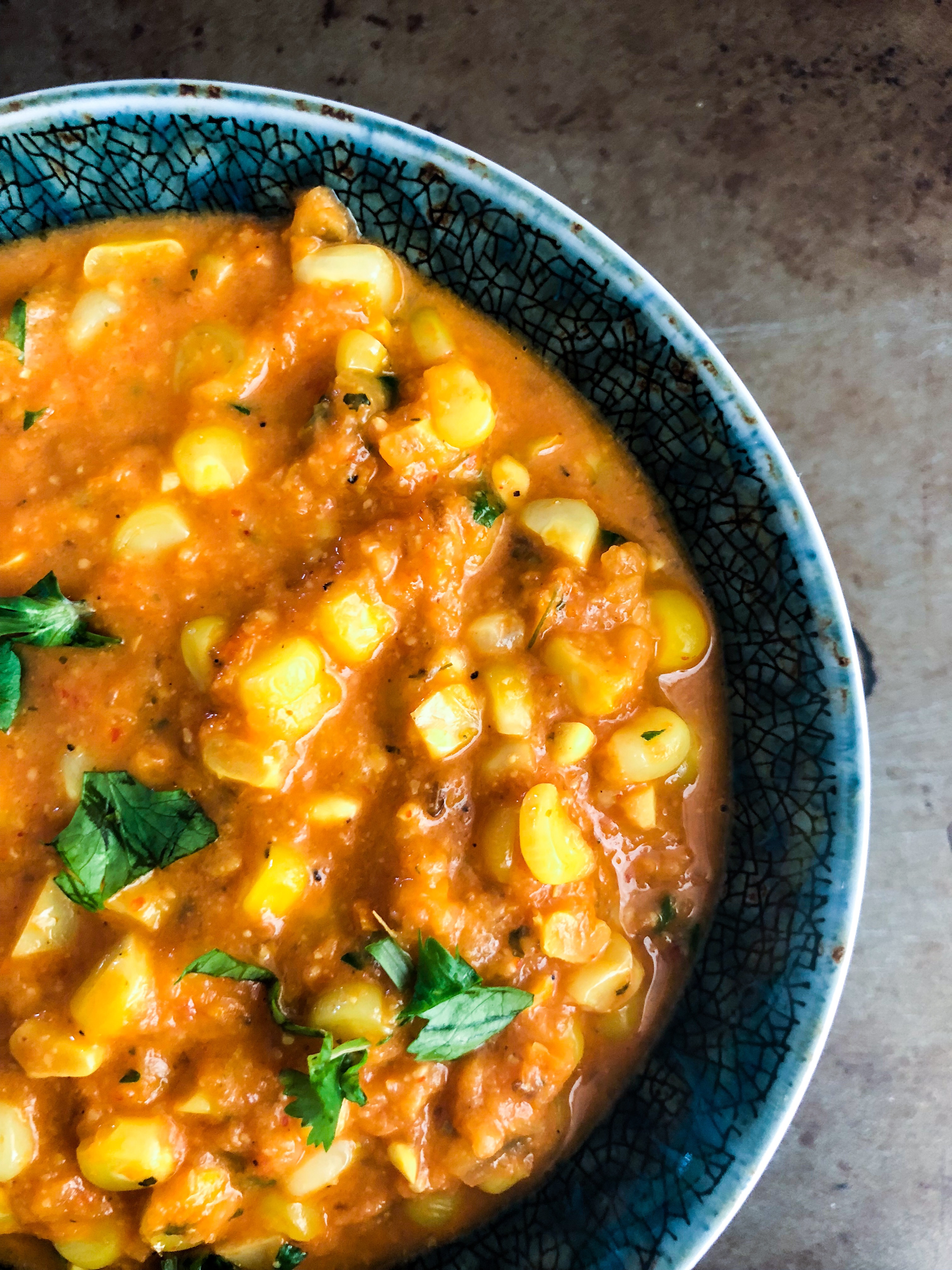 Hope you will give this recipe a try and let me know if you do it.
Love - Vaishali.
Tools Used