Talk about a salad that is a meal in itself. This quinoa salad recipe is so versatile and adaptable that you can use this recipe as a guideline and really make it your own by using vegetables of your choice or whatever you have on hand or lying in the refrigerator.
As spring starts knocking the door of summer, our vegetable garden starts producing its first gems. This year I planted some early spring root crops that are tolerant to an occasional freeze – carrots, beets, and radishes among others. With abundant locally grown fresh corn in the farmer's market and some fresh, crisp and peppery radishes from our vegetable garden, I set my mind and heart into creating this salad to take to a friend's birthday cookout.
It is a bit time consuming since there are several components to this recipe – roast the sweet potatoes, cook quinoa, make the dressing, cook the corn, and chop the veggies….phew. But once you have all the components ready, this salad is a breeze to put together. You can plan ahead and have the components ready in the refrigerator. And by the way, these yummies are great to enjoy by themselves too..hint hint..:P
The nutrition value of this salad is great – vegetables, healthy fats in the avocado dressing, and whole grains. And it looks so pretty and inviting…Take it to a pot luck or a cook out or whip up a big batch just like that to munch on. This recipe is sure to impress!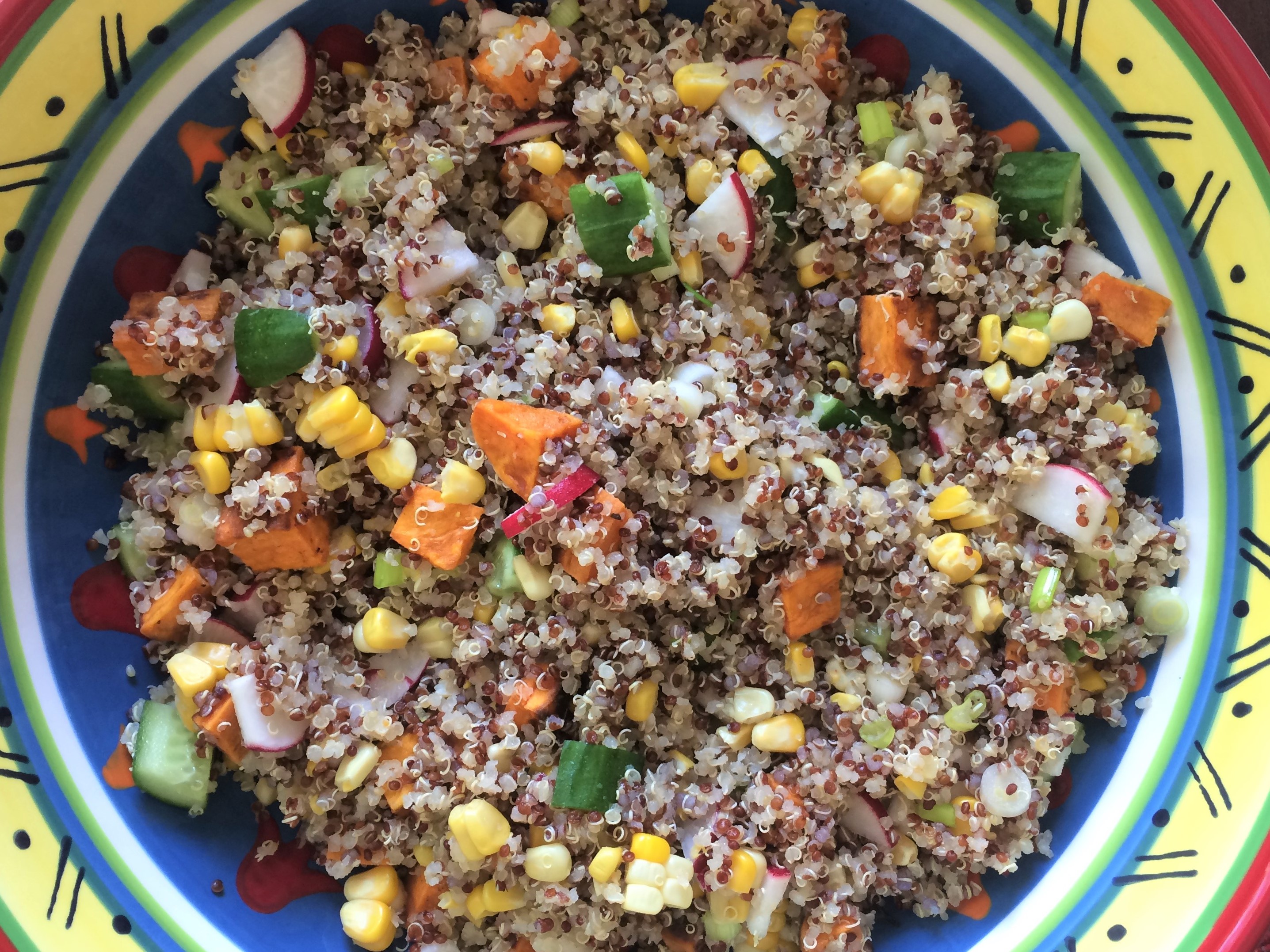 Ingredients:
Quinoa – 2 cups, cooked (find the recipe here)
Cucumber – 2 if using persian cucumber, ½ if using English cucumber
Corn – 1 cob, cooked
Radishes – 4 to 5
Sweet potatoes – 2, roasted (find the recipe here)
Scallions – 3 -4 (white and green parts)
Avocado cilantro dressing (find the recipe here)
Method:
In a big bowl, add quinoa and roasted sweet potatoes. Dice the cucumbers and radishes; chop the scallions. Remove the kernels from corn cob using a sharp knife. Add these vegetables to the salad bowl. Mix and chill in the refrigerator until ready to serve. To serve, drizzle the dressing, give one more big mix and enjoy. You can serve extra dressing on the side.
Love – Vaishali.
Tools Used:
Mixing/serving bowl
Mixing spoon
Knife