I love rice – in each and every form. Basmati is the rice of my childhood and will always be my favorite type of rice. You see my father worked in agricultural extension in the northern state of Punjab in India. As a part of his job he always had close interactions and very cordial relations with most of the farmers in the area and he would often bring home jute sacks full of the best Basmati that the region had to offer. Basmati is a variety of long grained white rice that has an aroma that can knock your socks off. It is so full of flavor that you can eat a bowl of rice straight up with may be some ghee mixed in and feel like a royalty. At least I do..:P
When me and Dr. A first got married, his family was not that much into eating rice. Most families in Punjab prefer eating rotis made with whole wheat flour over eating rice. I grew up eating rice for at least one meal everyday. So that was a big change for me…that change didn't last long though. Soon the pantry in my new house had a big container full of long grained, aromatic Basmati rice. And I would often try to cook a cup of rice here and there as a side dish to go with anything else that was being cooked for dinner.
The recipe is simple and straight forward and it is very hard to mess up. Once you get around making homemade basmati rice, you will never go back to ready to cook or ready to eat kind of rice again. And rice are so versatile – serve rice with curries, vegetables, meats, pretty much as your choice of grains/carbs instead of bread. So here we go: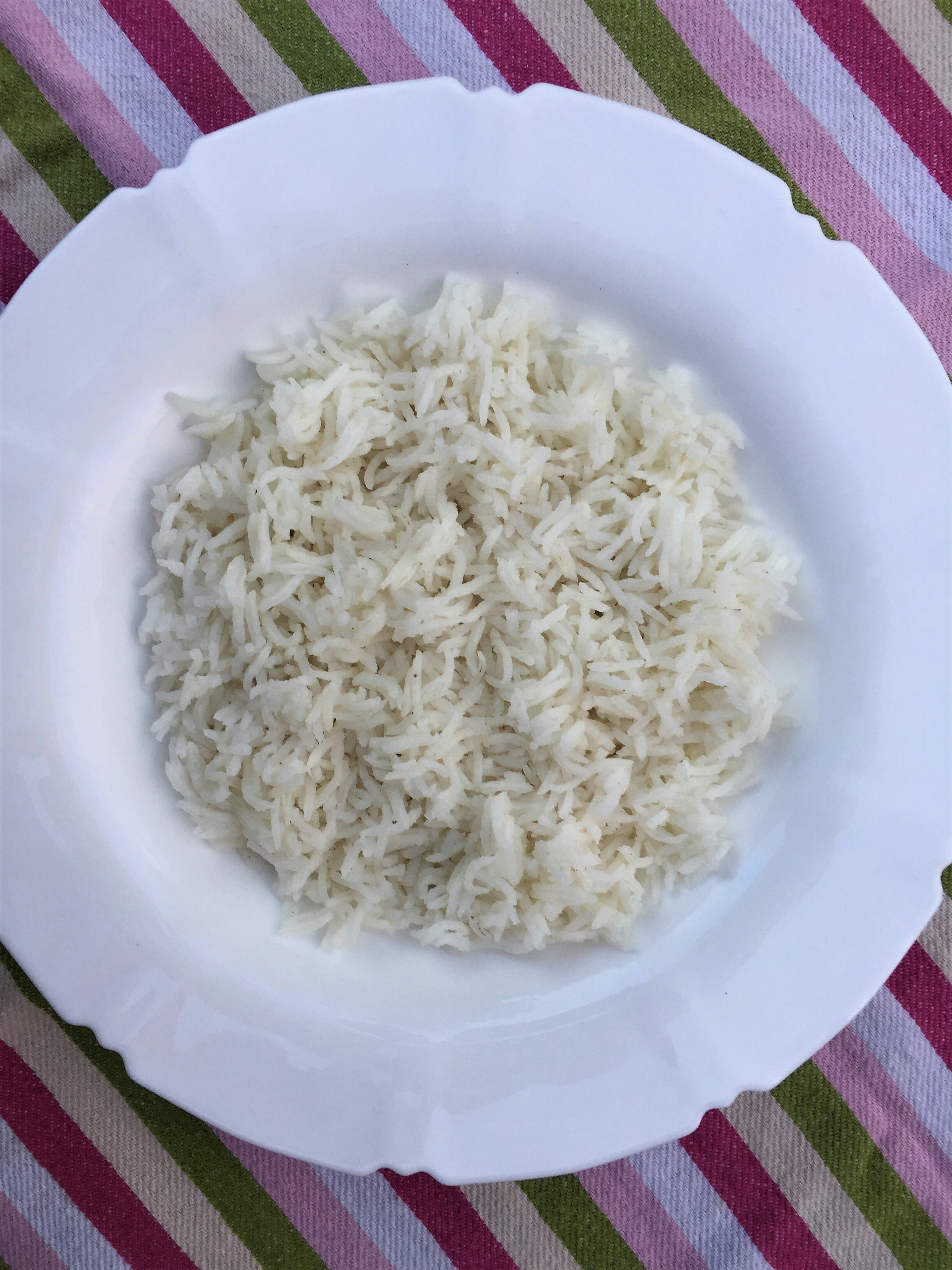 Ingredients:
Basmati rice – 1 cup
Water – scant 2 cups
Butter/ Ghee/ Olive oil – 1 teaspoon
Salt (optional) – ½ teaspoon
Method:
Add 1 cup basmati rice to a wide, heavy bottomed pan. Rinse the rice 2-3 times under cold water till the water almost runs clear. It is important to do this step to get rid of the starchy milling powder off of the rice, otherwise the rice might become sticky while cooking. After the rice had been rinsed, add the scant two cups of water. Put the pan with rice and water on the stove and turn on the heat to high. Add Butter/ Ghee/ Olive oil and salt (if using). Cover the pan with a tight fitting lid and let the water+rice concoction come to a boil. Once boiling, turn the heat to the lowest setting on your stove and cook the rice, covered, for 15- 20 minutes. After 15 minutes, open the pan and check a grain of rice for doneness. You should be able to mash a grain of rice between your thumb and finger. At this point, turn the heat off and let the pan sit for another 10 minutes. Fluff the rice with a fork or stem of a spoon and serve immediately.
Love – Vaishali
Tools used:
Heavy bottomed pan with lid
Measuring cups
Spatula
Fork
Note: Some people prefer to soak basmati rice for about half an hour before cooking. I don't soak my rice and they turn out just fine…:).