This is not really a recipe to say. Don't get me wrong..but making balls of a dough (dough recipe), rolling them out and cooking on a flat skillet…if you call that a recipe – we will roll with it.
Sometime ago I shared how to make dough for whole wheat flat bread. I can't believe that it has taken me more than 15 days to actually post the recipe of that flat bread that I shared the dough recipe for. I blame it on "taking pictures of the flat bread for the blog" procrastination. I make these flatbreads – popularly known as chappis or rotis in our family- almost everyday. Make a batch of the dough, make balls, roll them, cook them. and eat them. Yup every.single.day!
It might seem like a lot of work, but it really becomes a part of your dinner routine if you grow up in a north Indian household. It is almost like opening a bag of sliced bread or dinner rolls for your dinner.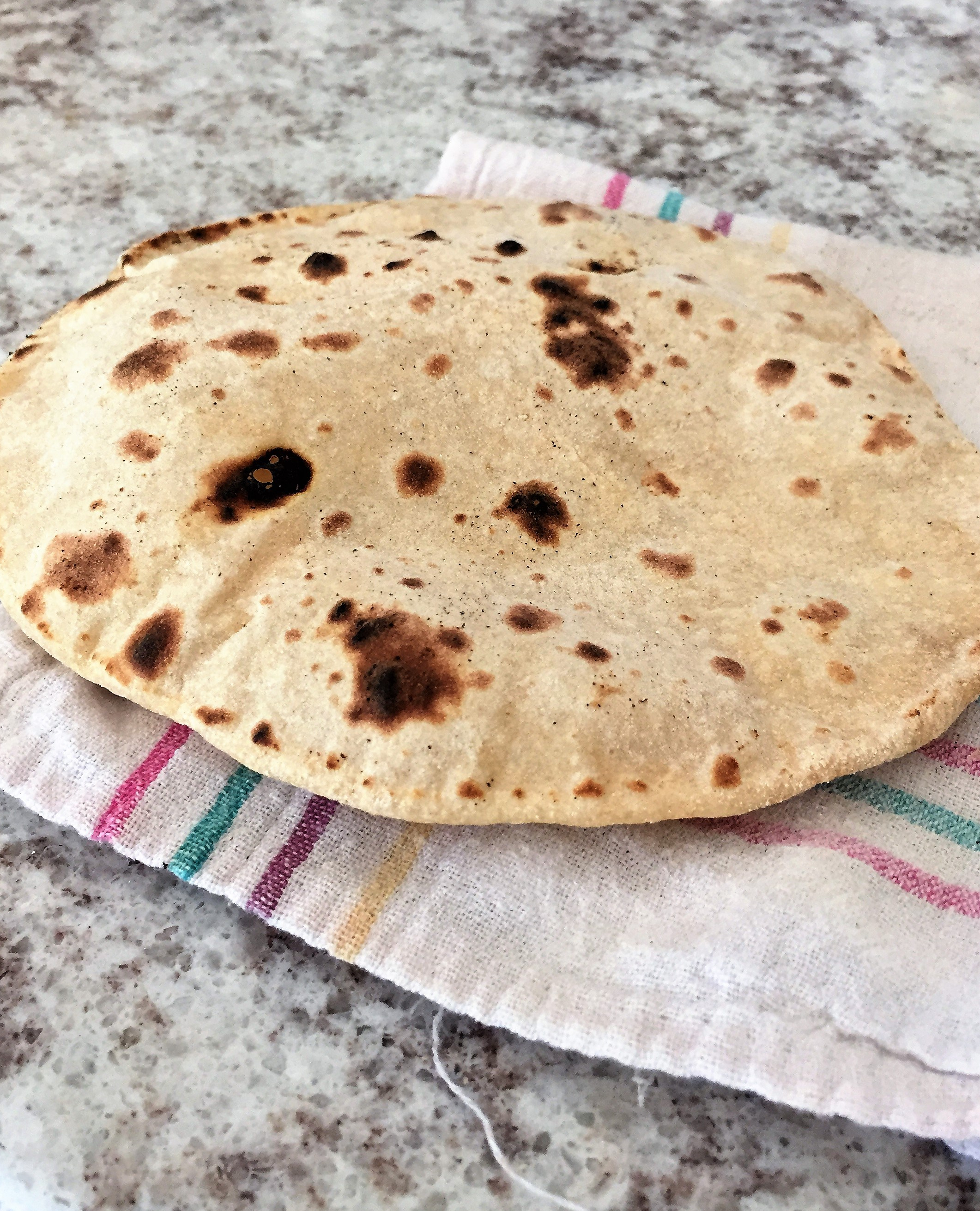 Ingredients:
Whole wheat dough – 1 batch (find the recipe here)
Whole wheat flour  – about a cup
Method:
Set a flat cast iron skillet on medium high heat. Start by making smooth golf ball size balls with the whole wheat flour dough. You might want to put some dry flour on your hands so that the dough doesn't stick. On a flat surface or your clean counter top, sprinkle some flour. With the palm of your hands, flatten the ball into a disc and then use a rolling pin to flatten it out as thin as you can. You might have to use some more flour as you go to avoid the rolled out chapaati sticking to the rolling surface. But too much dry flour can make the flatbread dry when you cook it so use as little flour as you can.
Once the disc is rolled out, lift it up from the rolling surface, dust off any loose flour gently with one hand and lay it on the hot cast iron skillet. Look for small bubbles on the surface, at this point you can flip the flatbread with a spatula or carefully with your hand. As the other surface cooks, it will start puffing up too, at this point flip it again and cook for 5-6 seconds. Now from this point on there are two ways to proceed –
If you are using a gas stove – Remove the skillet from flame, pick the flatbread up with a pair of tongs and flip again right on the flame. Cook for a second or two and then flip again and cook for two three seconds. The flatbread will puff up when you flip it on the flame the second time. Even if it doesn't, don't worry, you still got yourself a flat bread.
If you are using any other kind of stove – Take a kitchen/tea towel and start gently pressing the flat bread on the skillet. Do it all around the edges. Flip the bread, and press it again gently. As you keep pressing it, you will see that it starts to puff up. Look for brown spots on both surfaces. And you are done. See the above note if your bread doesn't puff up all the way..:P
Repeat with as many dough balls as you need. I would say a descent serving size is at least two flat breads per person.
You can slather your bread with a dollop of ghee – that's how we eat it. Or butter. Or nothing. A friend of ours went to Greece one time and fell in love with Olive oil, so he puts olive oil on his flatbread. If you're watching calories eat it without anything…so basically whatever makes your skirt fly up..:P
Give it a try and let me know how it goes!
Love – Vaishali.
Tools used:
Rolling pin
Rolling surface
Cast iron/non-stick skillet
Spatula
Tongs