Chaat is a popular street food in India. It comes in many different shapes, sizes, colors and forms and belongs to a category of food that can easily fit into any meal time of the day. Make it with fruits and call it breakfast, add a crunchy fried component to call it evening/tea time snack, make it carb heavy with something like potatoes, add yogurt and it can easily be a complete meal in itself. So a chaat is more than just a snack, and in my opinion is a food group that is a great equalizer in Indian society. No matter your background, your education status, rich or poor, young or old – everyone enjoys a good chaat. So, it can be said that it is a way of life in India that hits all the major flavor profiles known to human kind namely sweet, salty, sour, sometimes bitter, and umami.
A chaat essentially has four to five components – a base ingredient; chutneys, sauces, or yogurt; finely chopped raw vegetables like onions and tomatoes; a crispy component like sev or paapdee; and seasonings or umami. There are a number or different chaats (Bhel puri, fruit chaat, aloo chaat, tikki chaat, samosa chaat…and the list goes on) that we regularly enjoy at home and the recipes of which I shall be eventually sharing on this portal of mine. But for today I have a unique combination of flavors for you in form of this corn bhel chaat.
The katoree which means a bowl in Hindi is made by baking circular wonton wrappers in a mini muffin tray. The chaat is made with fresh corn which is in season these days. Plus the other components that I mentioned above also make a presence. So here we go: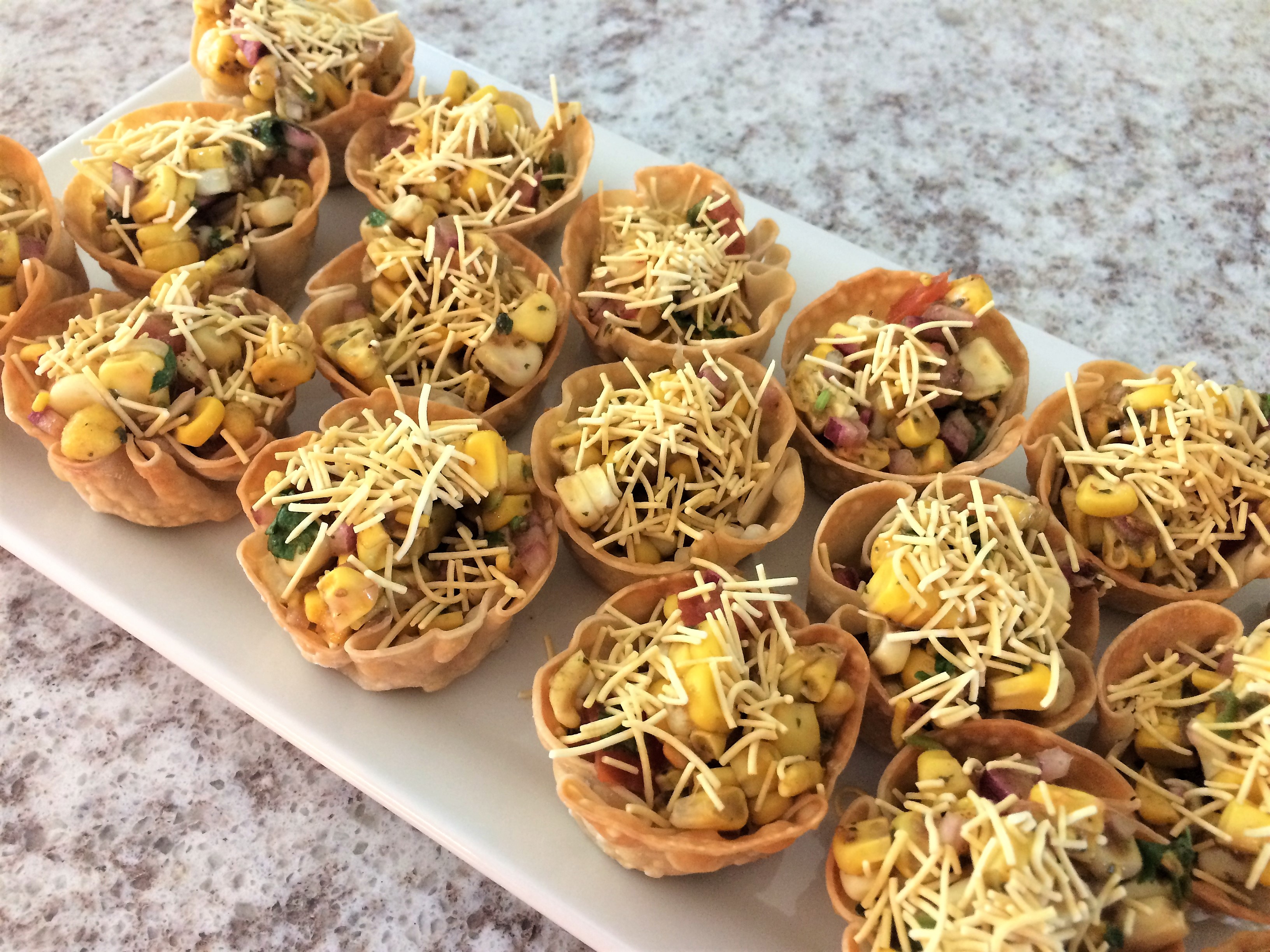 Ingredients:
For the katorees
Circular wonton wrappers – 20
Oil – for brushing the wonton wrappers
Salt – to taste
For the corn bhel
Corn – 3 -4 ears, depending on size (please see the note below)
Red onion – ¼ of medium sized onion
Tomato – 1
Green chilli – 1 (optional)
Cilantro – 5-6 sprigs (please see the note below)
Lime juice – from 1 lime
Cilantro mint chutney – 1 tablespoon
Tamarind chutney – 1 tablespoon
Salt – to taste
Chaat masala – ½ teaspoon
Sev- for topping
Method:
For the katorees – Preheat the oven to 350 degrees F or 180 degrees C. Take each wonton wrapper and brush it lightly with oil. Place each wrapper into a section of the mini-muffin baking pan. Gently press each wrapper into the pan so that it forms a cup shape. Sprinkle lightly with salt and bake for 10-12 minutes till browned lightly on the edges. Remove from the oven and let cool.
For the bhel – Wrap each corn ear in a wet paper towel and microwave for 3 to 4 minutes. Let it cool and then take the husks and silks off. With a very sharp knife, cut the kernels off of the cob. Set aside. You can also boil or grill the corn – your choice. Chop the onion and tomatoes into very fine pieces. Chop cilantro and green chilies (if using). In a deep mixing bowl, add all the prepped ingredients. Add lime juice and the chutneys, salt and chaat masala. Give it a big mix and test for seasoning. Adjust accordingly.
To serve, add about half a tablespoon of corn bhel into each of the katorees that we baked and sprinkle with sev. Put in a platter and be ready for rave reviews for your guests…:).
Love – Vaishali.
Notes
Feel free to use canned or frozen corn if that's your thing or when corn is not in season.
Cilantro adds a very traditional flavor to this dish s I would strongly suggest using it. But if you and cilantro don't exactly fall in buddies category – I understand. But give poor cilantro a chance…please..will you?
Tools used:
Mini muffin pan
Knife and chopping board
Measuring spoons
Mixing bowl
Spatula/Big spoon