This Beetroot Protein Pancakes Recipe makes soft, delicious and healthy pancakes that are packed with protein and goodness of whole grains. Perfect for a festive breakfast or a lazy brunch!
This post may contain affiliate links. As an Amazon Associate I earn a small commission from qualifying purchases.
Jump to Recipe
Beginning of February marks the beginning of everything pink, everything hearts and chocolate all around. Walk into Target…pink and hearts and boxes of chocolates, walk into a grocery store…red roses, heart balloons, and more chocolate! Such a festive vibe. But it also comes with copious amounts of sugar that will be consumed. Not that there's anything wrong with that but it should not be the only way to express and celebrate love. So here we are - with these Beetroot Protein Pancakes that are festive, pink, heart shaped and yet are healthy, made with whole grains, dye free and good for your body and soul alike. Make these for people you love and win them over. The little ones specially get a kick out of the gorgeous color and the shape and you can rest easy that these are packed with nutrition with no "yucky" stuff.
My kids love pancakes and I mostly make them from scratch - both sweet and savory and recently Ms. A got a teeny tiny waffle maker so we have also been making a lot of waffles as well. My usual, go-to pancake recipe is where I whisk the egg whites separate from yolks to attain that fluffy airy texture that we all love in our pancakes. Though sometimes a whole egg goes in and no one notices anything much different with the airiness of the pancakes so that's what we are doing in these beetroot protein pancakes.
Ingredients in beetroot protein pancakes
These whole grain, protein packed pancakes are bright red in color and are fun (that heart shape) and easy to make, super delicious, and also make a great post workout breakfast or snack. Here's what we need to make them:
Beets: Roasted or boiled and pureed
Eggs: 2, large
Protein powder: Use your favorite vanilla or neutral flavored protein powder.
Milk: I used regular, whole milk but if you want to stay away from dairy any milk will work.
Flour: I used whole wheat flour to make these pancakes whole grain but all purpose flour or a combination will work as well. I have not tried these with a gluten free flour but I doubt that one for one gluten free flour won't work in this recipe though the texture will definitely vary.
Other pancake ingredients: the usual - butter, sugar and baking powder.
How to serve these beetroot protein pancakes?
These beetroot protein pancakes are easy to make and a no fuss to serve. If making these for valentines day, you can serve them topped with chocolate shavings with butter and pure maple syrup on the side. Otherwise, skip the chocolate and serve with just butter and maple syrup. Little V likes these with chocolate chips sprinkled on top of warm pancakes so that the chips get soft and almost become spreadable.
Serve these with coffee or a cup of milk or freshly squeezed orange juice.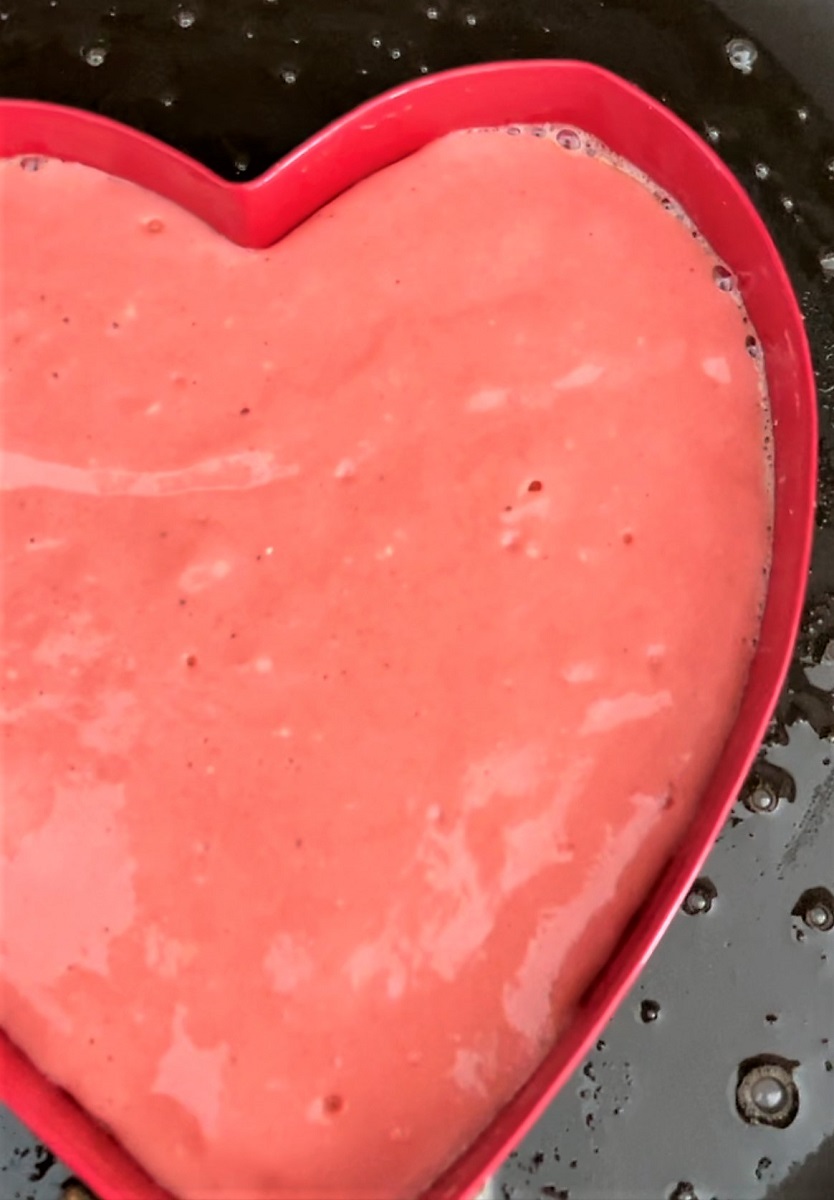 Storage Suggestions
If you want to make these ahead of time, you can store them in the refrigerator for 2-3 days and then warm them up in a toaster oven before serving. You can do the same with any extras that you have. To freeze, lay the pancakes in a single layer on a cookie sheet lined with parchment paper and flash freeze them for about 30 minutes. You can them place them in freezer bags and freeze upto 3 months. When ready to eat, pop a frozen pancake into your toaster oven until warmed through. You can also microwave them for 30-60 seconds though that is not my favorite way to reheat these.
Can I use a protein pancakes mix to make these Beetroot Protein Pancakes?
Absolutely! If you have a favorite protein pancake mix, use two cups of that and skip rest of the dry ingredients (cinnamon is still a good idea). Adjust the liquid according to suggested wet ingredients for your protein pancake mix.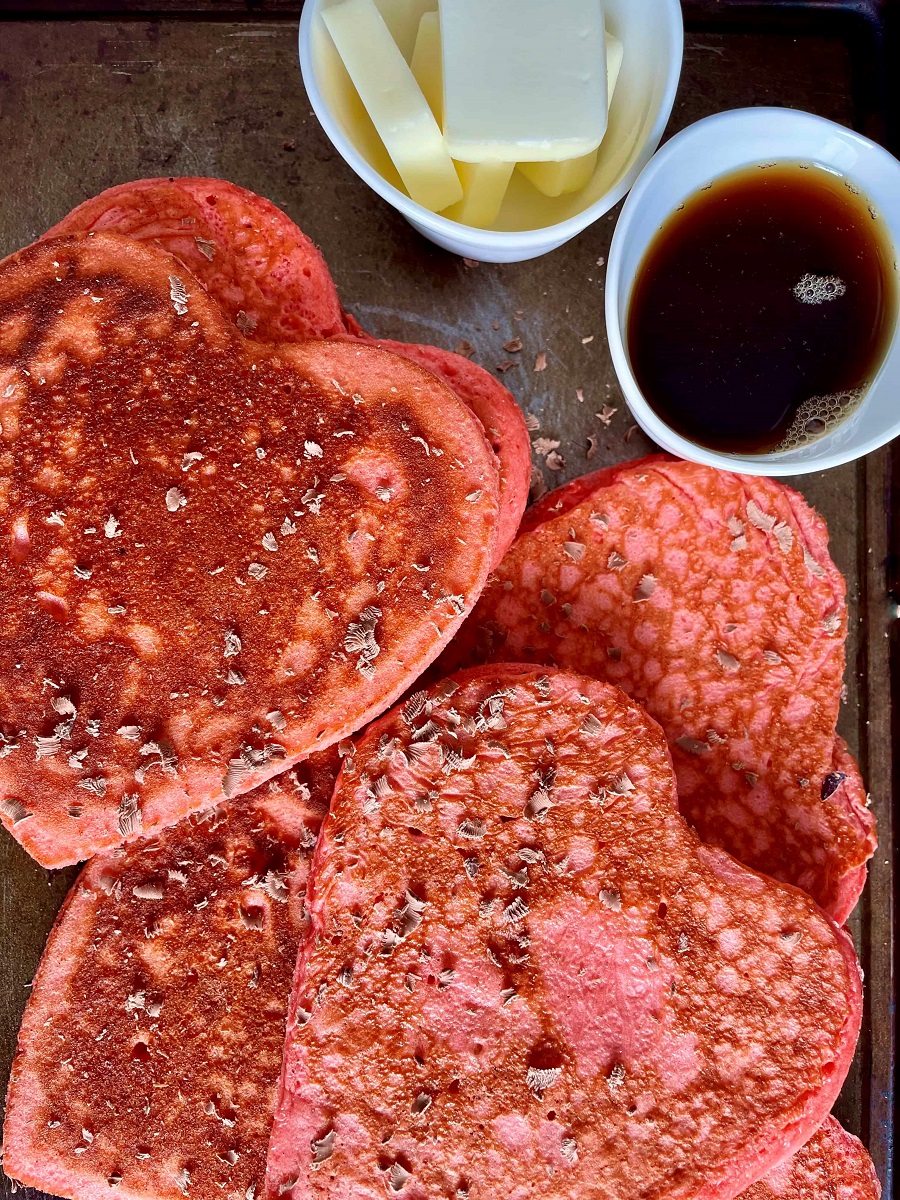 Plan Ahead
This recipe does not include the time needed to prep the beetroot puree. If you cannot find beets, you can also use puree of thawed frozen strawberries or dragon fruit for almost the same color. Freeze dried fruit powders could be another option.
Other pancake recipes
Here's your handy dandy printable:
Beetroot Protein Pancakes | Healthy, Dye Free
This Beetroot Protein Pancakes Recipe makes soft, delicious and healthy pancakes that are packed with protein and goodness of whole grains. Perfect for a festive breakfast or a lazy brunch!
Ingredients
2

Cup

whole wheat flour

2

tablespoon

sugar

regular or light brown see notes

1

tablespoon

baking powder

½

teaspoon

salt

2

tablespoon

protein powder

see notes

¼

teaspoon

cinnamon

optional

2

medium beets

roasted or boiled and pureed (about ¾ cup)

2

Cups

milk

2

large eggs

3

tablespoon

unsalted butter

melted

1

teaspoon

vanilla extract

see notes

Butter for cooking

about 4 tablespoon

Butter and maple syrup for serving

Chocolate shavings

optional
Instructions
Plan ahead and have the beetroot puree ready. Melt 3 tablespoon butter

In a large mixing bowl, combine flour, sugar, baking powder, salt, protein powder, and cinnamon (if using).

In another bowl or large glass measuring cup, add pureed beets, milk, eggs, melted butter and vanilla. Using a whisk or a fork, combine the wet ingredients.

Add the wet ingredients to the mixing bowl that has the dry ingredients until combined well.

Heat your skillet or griddle on medium high heat, put the heart shaped mold on it and add a pat of butter to it.

Whisk the pancake batter one more time and add about ¼-cup batter for each pancake into the heart shaped mold on the hot skillet or griddle. You might have to press down on the mold as you do this so that the batter does not escape from the mold

Using a ¼ cup measure helps to make all the pancakes the same size. Cook the pancake till tiny bubbles appear on the surface, at which point flip the pancake, add butter around the edges and cook for another minute.

This batter will make about 15-20 pancakes (¼ cup measure size).

Enjoy with maple syrup, butter and chocolate shavings.
Video
Notes
Most protein powders are naturally sweet. You can adjust this sugar depending on the protein powder you are using
Use good quality, real vanilla. You can skip it if your protein powder has a strong vanilla flavor
If you make this recipe, please leave a comment and/or give this recipe a rating! I would love to hear from you guys. And don't forget to tag me on Instagram and Facebook! I love to look through your creations!!
Love – Vaishali
Tools used:
Mixing bowl:
Measuring Cup:
Skillet:
Spatula:
Heart Shaped Mold: