A perfect pasta recipe with a no-cook sauce for a busy weeknight. 5 ingredients and ready in less than 15 minutes!!
With all the euphoria of the Holidays behind us, its time to tackle the normalcy again. Busy work days, evenings occupied by dinner and homework, followed by bath and bedtime and then doing it all over again. Yup – the vicious, uhmmm I mean beautiful cycle of family life! I know this is what routine looks like for most of us these days and it is challenging. You know what does not need to be challenging? Putting a meal together for the people you love! And that's why this recipe of spaghetti with no-cook lemon parmesan sauce is for you.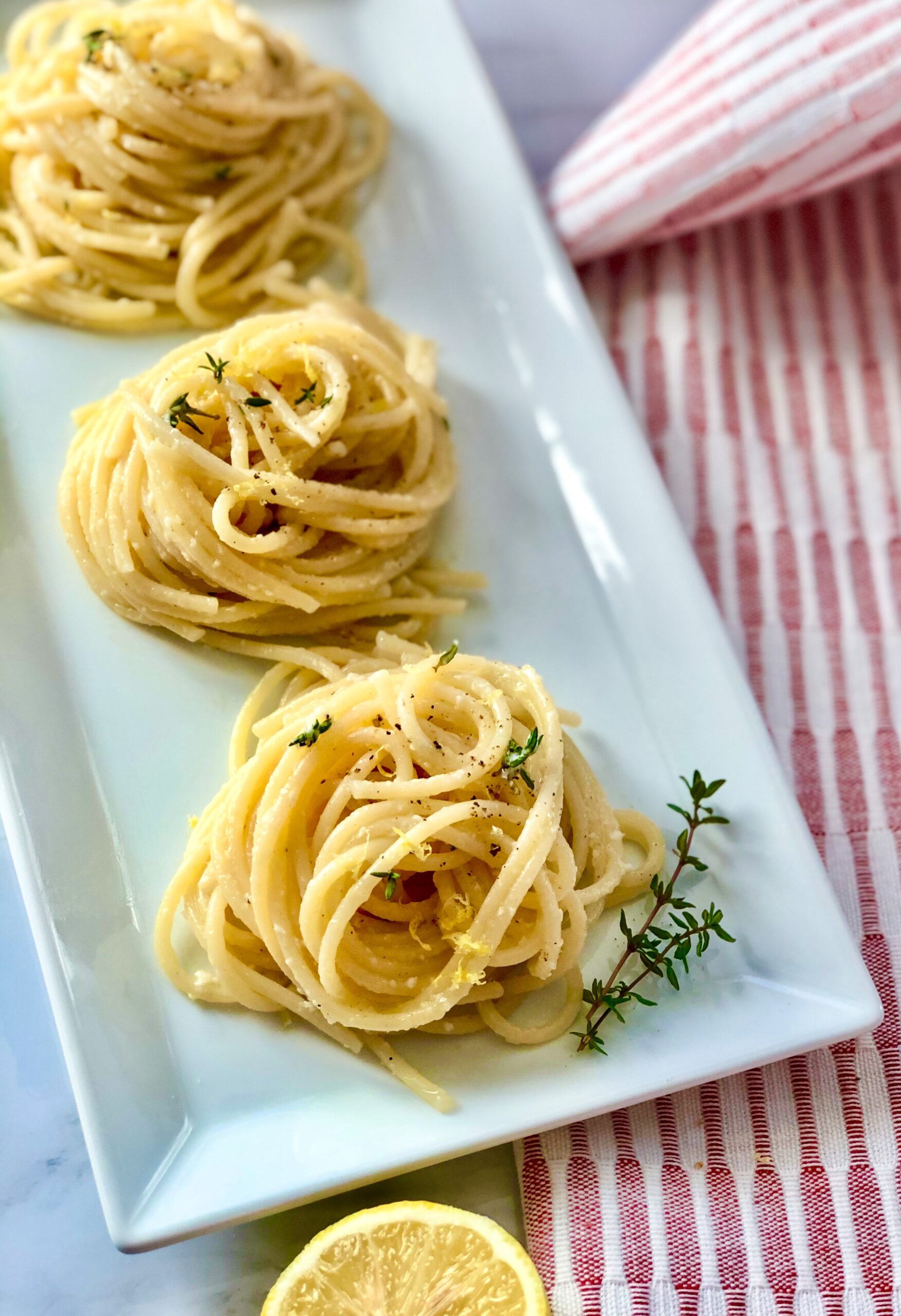 After recapping your favorite recipes from last year, I thought it will be a great to ease into more mainstream cooking with this recipe for an easy weeknight pasta dish. The fifteen minute time and 5-ingredients combination cannot be beat. And don't forget that you turn on the stove to only boil the pasta. The sauce is lemony, slightly cheesy, herby and a flavor bomb overall. As I have mentioned multiple times before (like this avocado egg toast, or spicy grilled cheese, and even scrambled eggs) the key to such simple recipes is quality ingredients. All five of them.
Spaghetti
Use any noodle of your choice – spaghetti, linguini, buccatini or angel hair. Whole wheat pastas are much healthier than regular pasta which is made with highly processed flour that has been stripped of all nutrients.
Olive oil
Extra Virgin Olive Oil of really good quality will add a beautiful, nutty flavor to this pasta that is hard to achieve with regular olive oil.
Parmesan Cheese
Please ditch that stuff out of the green shaker bottle. Get some real parmesan and shred it yourself!
Lemon
There is nothing "real" about the lemon juice out of a yellow plastic bottle. Plus you will need to zest the lemon, which can only be accomplished with a fresh juicy lemon from the produce section of your grocery store.
Herbs
Your call – choose between fresh basil or thyme. I love thyme in this recipe!
Season with Salt and pepper (lots of freshly cracked black pepper please).
Recipe run down
Set the spaghetti to boil. While the pasta boils, in a mixing bowl add rest of the ingredients. Add the cooked pasta, along with some hot pasta water, season and ta da! I swear this is the shortest recipe run down that I have written. So don't wait, use up those pantry and refrigerator staples to make this spaghetti with no-cook lemon parmesan sauce
Here's your handy dandy printable: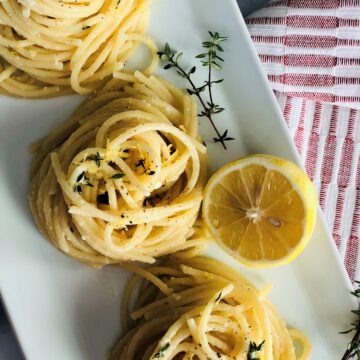 Spaghetti with No-cook Lemon Parmesan Sauce
A perfect pasta recipe with a no-cook sauce for a busy weeknight. 5 ingredients and ready in less than 15 minutes!
Ingredients
½

lb

Spaghetti

preferably whole wheat

¼

cup

extra virgin olive oil

¼

cup

freshly grated parmesan cheese

½

lemon

zested and juiced

½

tablespoon

chopped fresh thyme

Salt and fresh cracked black pepper
Instructions
Set a big pot of water to boil, salt the water liberally. Once the water boils, add the spaghetti and cook according to package directions (8-9 minutes).

While the pasta is cooking, zest the lemon and then juice it. Add the extra virgin olive oil, shredded parmesan cheese and lemon juice to a deep mixing bowl. Whisk to combine. This is your "no-cook" sauce.

Use tongs or spaghetti server to add the pasta to the mixing bowl with the "sauce". Add about a ¼ cup of pasta water, lemon zest, chopped thyme and season the pasta with salt and black pepper.

Toss gently to combine, adjust seasoning, cheese or lemon juice to taste and serve immediately.
Notes
Cook the spaghetti to al-dente (time on pasta package)
Do not drain the pasta, instead "fish out" pasta from the water in which you boiled it and add to the sauce. The hot pasta water and pasta melts the cheese and creates a smooth and creamy sauce with a distinct lemon flavor.
Plenty of fresh cracked salt pepper is an absolute must.
Feel free to add more cheese or lemon juice to your liking.
You can use chopped fresh basil instead of thyme in this recipe.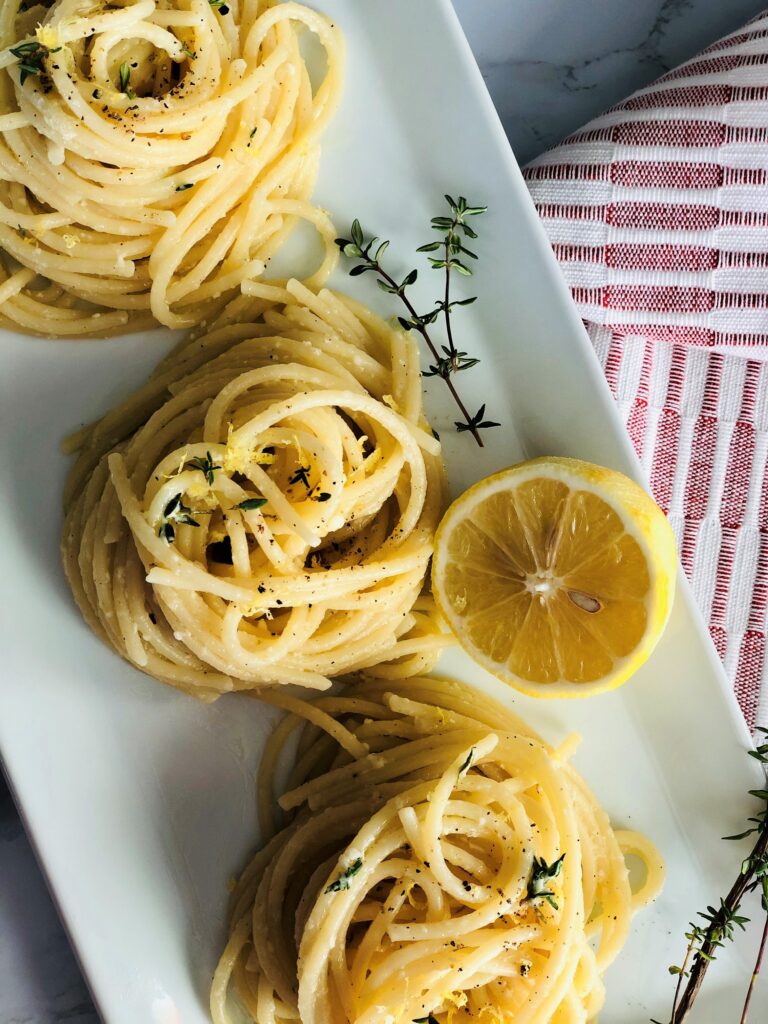 Make it vegan!
if you want to make this recipe vegan, I have the right cheese for you. Jennifer Perillo of In Jennie's Kitchen has the perfect vegan parmesan recipe that you can use to make your own cheese!
Let me know if you make this recipe. I love seeing all your posts on social media, please don't forget to tag #thekitchenodocs if your what you make.
Love - Vaishali.

Tools Used: