Do you have days when you don't feel like cooking and have zero energy to change and fix your face and hair to go out to eat? And thinking about pizza delivery makes you cringe…yeah some days are like that. And many a times on such days, I will step up and announce that I am going to make something super simple yet comforting and filling for dinner. This orzo recipe is one such recipe. Though either Dr. A or Ms. little A will more than likely offer to make something to go along and then may be add a salad to the menu. Uncork some wine. Toast some bread to make garlic bread or bruschetta…and so on. So you now know how things roll in my life – a meal of simple bowl of pasta snowballs into a 3 or may be even 4 course meal. Go figure!
This pasta recipe by itself is really quick and my favorite part is that I cook the pasta in just enough water or broth so that I don't have to drain it..it cooks just like rice. Hello…no extra dishes to drain and transfer the pasta into….smart me..:). And just a handful of pantry/refrigerator ingredients and you've got yourself a keeper.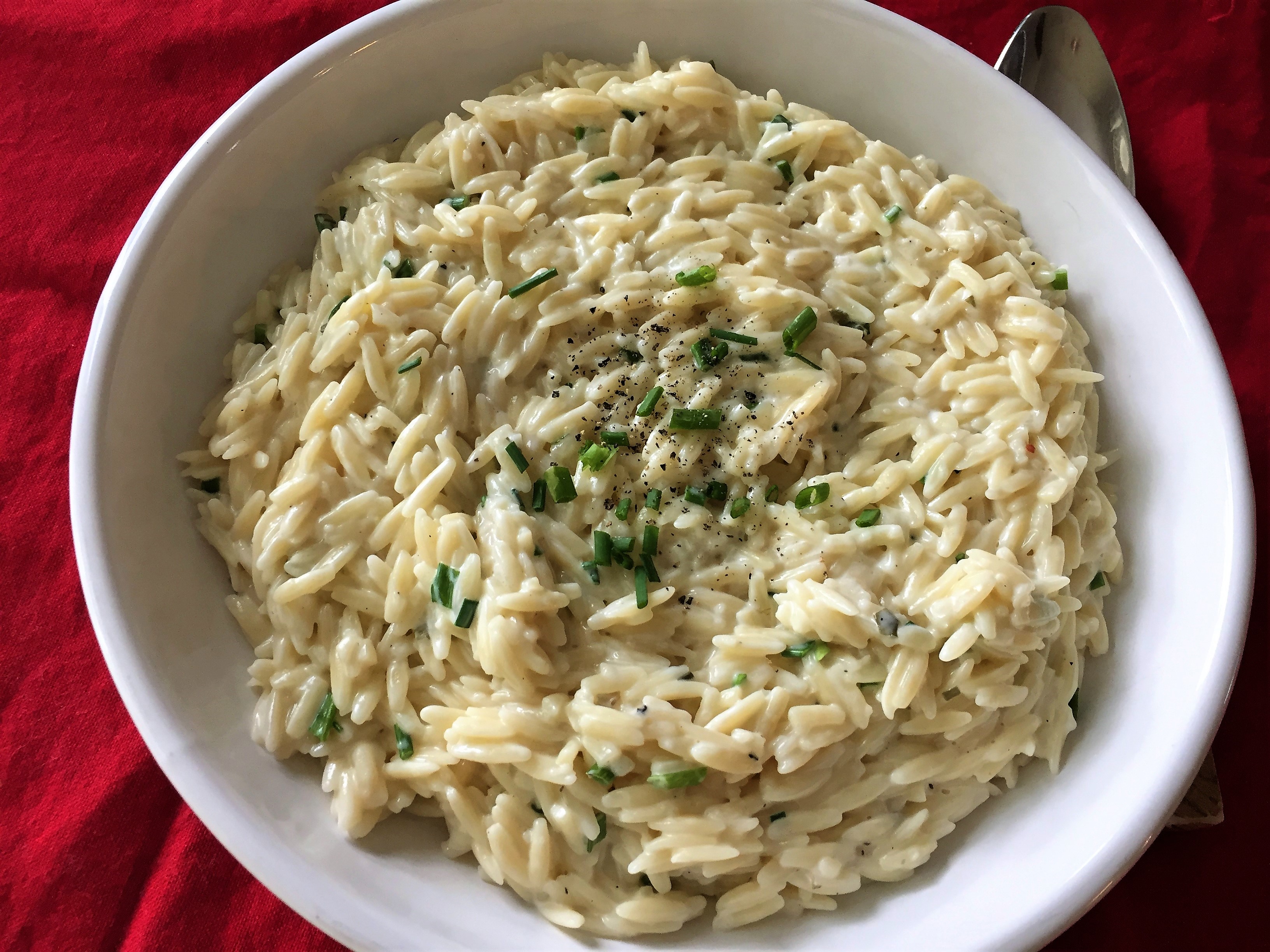 Ingredients:
Orzo – 1 cup
Water/chicken/vegetable broth – 2 and a ½ cups
Butter - 2 tablespoon
Heavy cream – ¼ cup
Cream cheese – 2 tablespoon (I used the chive flavored cream cheese)
Parmesan cheese – 3 tablespoon, grated
Lemon juice – from ½ lemon
Lemon zest – from 1 lemon
Fresh chives – 4-5 stalks
Salt and pepper to taste
Method:
Just like as you would make basmati rice, set the liquid you are using to boil in a saucepan on medium high heat. I prefer using chicken stock to add more flavor to the pasta. But feel free to use water or vegetable stock to make it a vegetarian dish or to save yourself a trip to the grocery store. Once boiled, add the pasta to it, lower the heat, and cook for about 8-10 minutes or till the liquid is absorbed. At this point, cover the pasta pot with a lid and turn the heat off.
Zest one lemon and then juice the lemon. Snip the chives – kitchen shears work best for this. I used the chives from our garden – so fresh and so flavorful. In about 5 minutes, add the butter, cream, cream cheese, Parmesan cheese, lemon zest, most of the chives, salt and pepper to the cooked pasta and give a big mix. The heat from the pasta should be enough to melt the butter and cream cheese and make the pasta creamy. Test for seasonings. Transfer to a serving bowl and sprinkle some more chives and freshly ground black pepper on the Orzo. Enjoy
Love – Vaishali.
Notes:
If you have leftover pasta, add a splash of milk to warm it up.
Tools used:
Sauce pan with lid
Knife and chopping board
Kitchen shears
Spatula.