Take your snack board game up a notch with this Asian inspired Chili Veggies and Chicken Snack Board
Thank you Argo Corn Starch for sponsoring this post. Celebrate sweet moments together with Argo!
Jump to Recipe
It's almost fall people…which means only one thing………football season! Our weekends in the fall revolve around football, food, friends, food, movies, food…..mostly great food!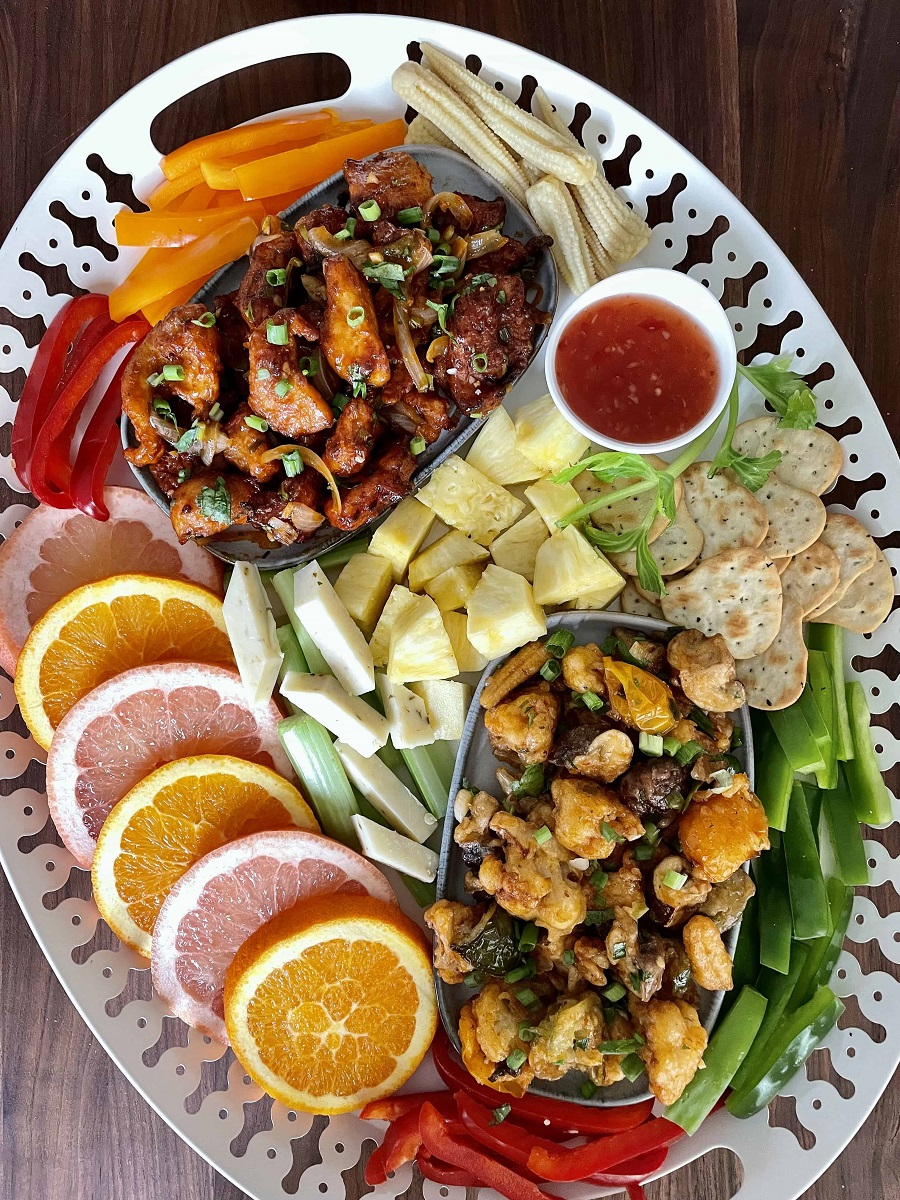 I'm an Auburn girl but now we have Kansas State, Kansas City Chiefs, Carolina Panthers, San Francisco 49ers and others in the mix as well. So you can imagine how many football games we watch on any given weekend during fall (or weekdays if you count Mondays and Thursdays too). We have also added NBA to the pot ever since Ms. A started playing basketball in middle school and now takes it very seriously...lol.
Snack Boards
Snack and meal boards are so convenient for game days and movie nights and we all love them. Given the state of things that were last year we did not have any parties or gatherings at home and it has hurt my people loving, food cooking heart. But I have a feeling that if we do it responsibly this season and the rest of the year is going to be a good one. So, gather around something great! It's been a year of transition and it's time to gather with good company and indulge in great food.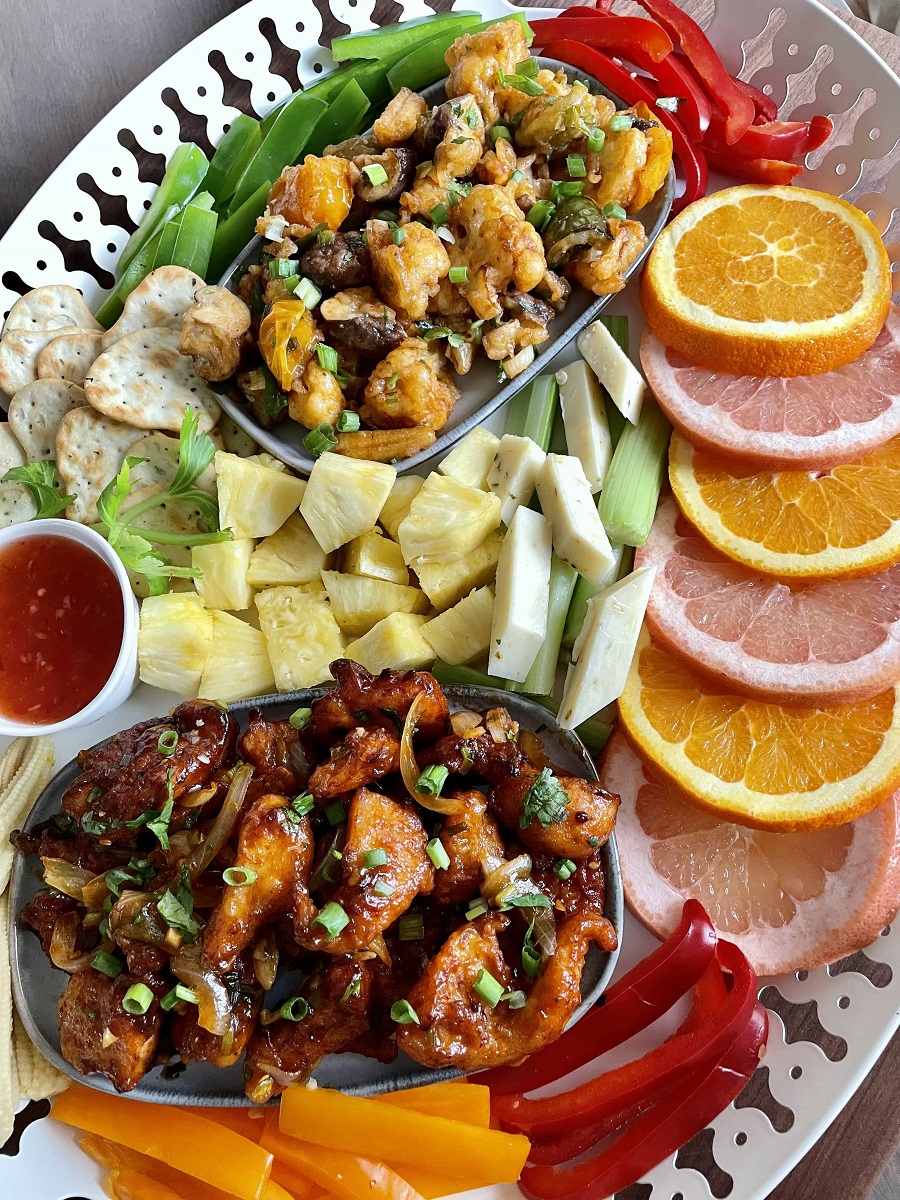 I'm so excited to share my Asian inspired snack board creation with you, this Chili Veggies and Chicken Snack Board! I have been on an Indo-Chinese flavor profile (like this Schezwan Corn and more recipes here and here) kick lately and this board incorporates some of those flavors along with other fresh goodies. This one is sure to be a game day or movie night hit!
What is Chili Veggies and Chicken Snack Board?
Crispy fried vegetables and chicken are tossed in a flavor bomb sweet and spicy sauce and surrounded by an epic selection of fruits, vegetables and cheese for each person to do their own thing. I'm telling you...there's so much yum going on with this one!
The key to creating this board is to place all the fruits, veggies and whatever your heart disease (crudite, shall I say?) on the board while you are getting the veggies and chicken ready, so that they are warm when you're ready to serve it, and then just place the small dishes of our crispy Chili Veggies and Chicken onto the board when they're ready to enjoy. But wait for it, there's a bigger key to this recipe...you know the one that opens the big gate to crispy flavor town. It's ARGO Corn Starch!!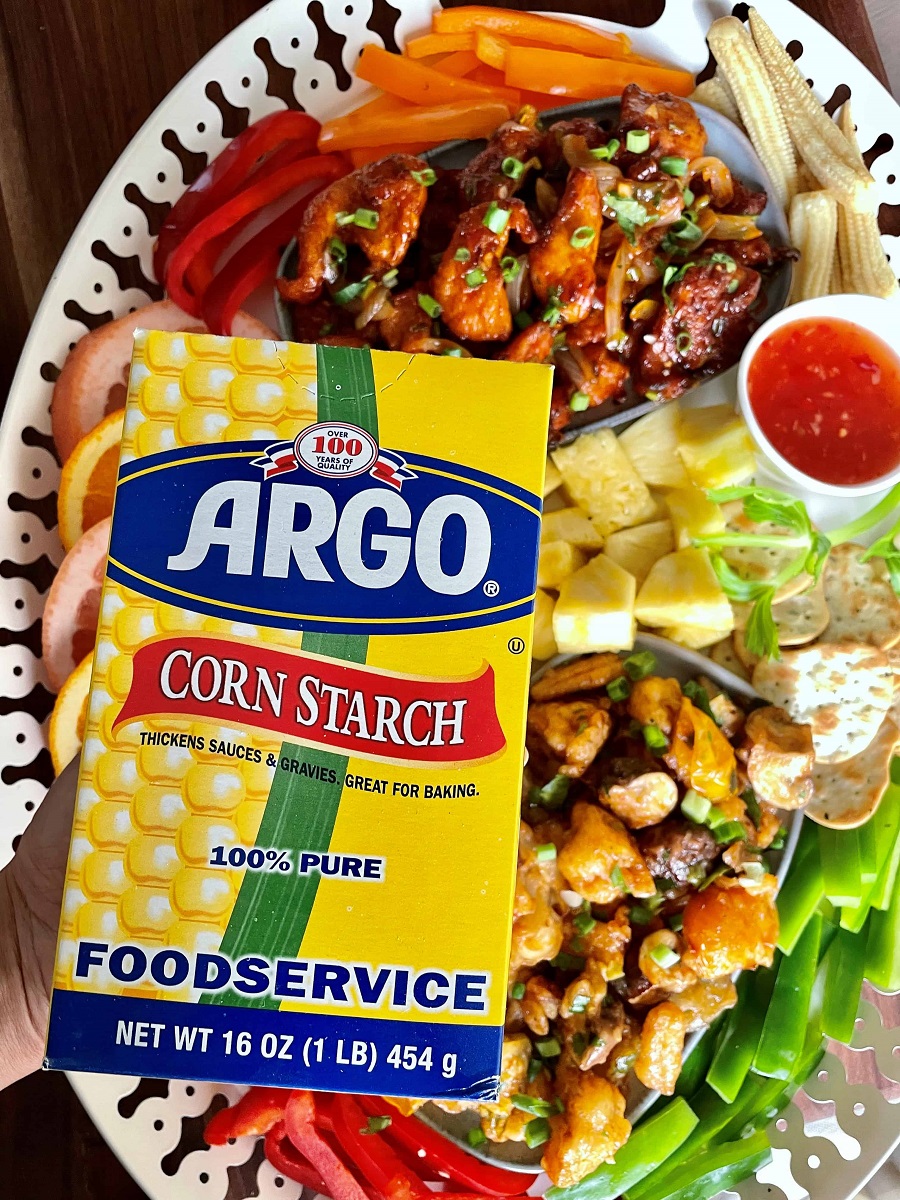 Argo Corn Starch is ideal for thickening gravies or Asian sauces, making baked goods fluffier, and providing lighter, crispier coatings. And unlike flour, Argo Corn Starch is Gluten Free. I love that you can achieve a crisp, light, almost air like coating on the veggies and chicken by using Argo Corn Starch.
Recipe run down:
Start by marinating your chicken. If you don't have a lot of time, this will still ensure that your chicken tenderizes while you prep your other ingredients. Cut boneless, skinless chicken cuts into strips or bite sized cubes and mix with Argo corn starch, egg white, chili garlic sauce, salt and pepper. Set aside. Cut all your veggies for crispy chili veg and for the snack board.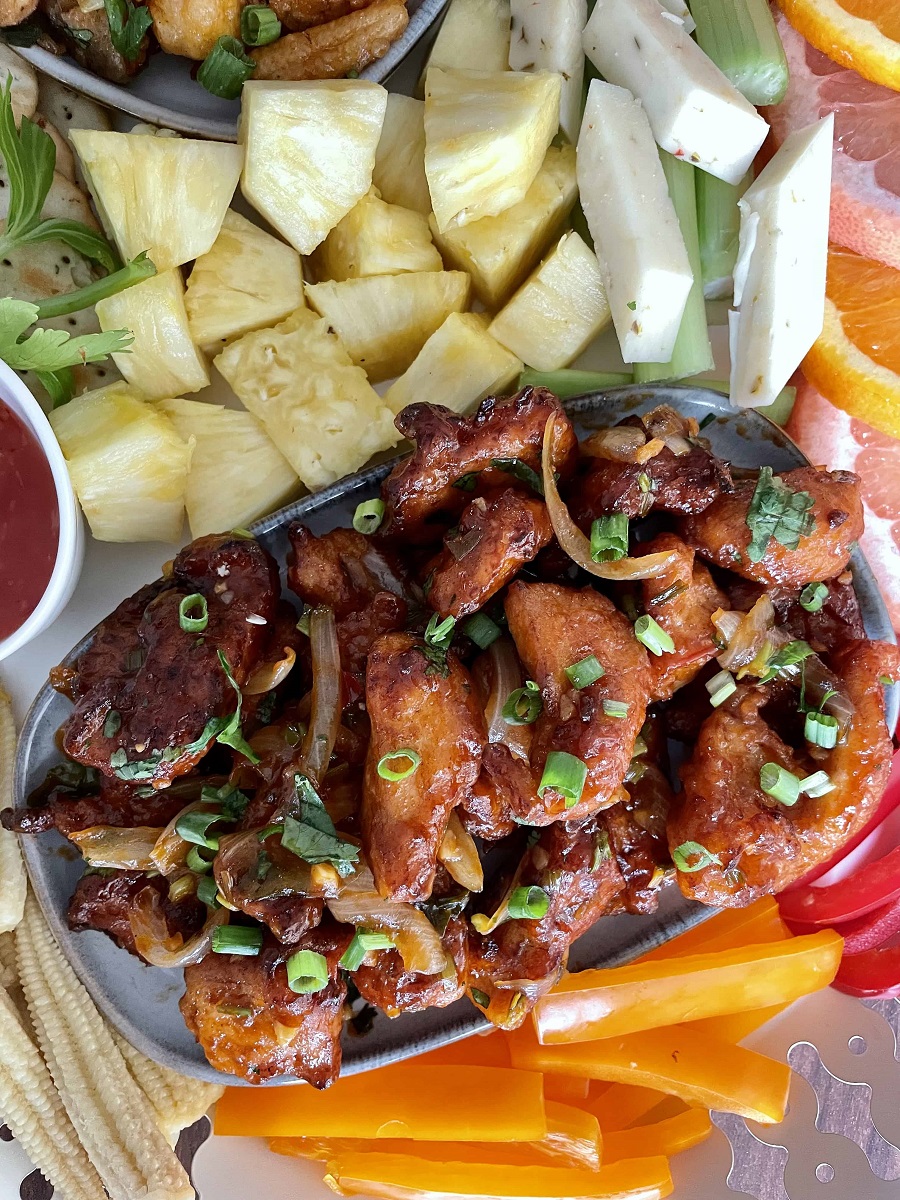 For the fried veggies I used bell peppers, mushrooms, cauliflower and baby corn. For the board, I cut up bell peppers, celery, oranges, and grapefruit. Make a batter with Argo corn starch, salt, pepper, chili garlic sauce and water for the veggies. Deep fry the veggies and the chicken. Toss them separately in the magical sauce - made of garlic, scallions, soy sauce, more chili garlic sauce and tomato ketchup. Dish up and serve on your gorgeous Asian Inspired Chili Veggies and Chicken Snack Board and let your guests gush and drool over it.
Here's your handy dandy printable:
Chili Veggies and Chicken Snack Board
Take your snack board game up a notch with this Asian inspired Chili Veggies and Chicken Snack Board
Ingredients
2

cups

Argo Corn Starch

divided

1

lb

boneless skinless chicken

cut into thin strips or bite sized cubes

1

egg white

see notes

1

green bell pepper

1

red bell pepper

see notes

6

mushrooms

quartered see notes

12-15

bite sized cauliflower florets

12

baby corn

halved (canned)

1

bunch scallions

sliced (white and green parts)

½

cup

sliced onion

optional

2-3

stalks of celery

1

orange

1

grapefruit

optional see notes

Oil for deep frying and making the sauce

¾

cup

sweet chili garlic sauce

divided

3

tablespoon

low sodium soy sauce divided

1

teaspoon

white vinegar

½

cup

tomato ketchup

divided

8

cloves

garlic minced

divided

2

green chilies

cut into thirds, optional

Cheese and crackers for the snack board
Instructions
Add the chicken to a mixing bowl along with 1 cup Argo corn starch, egg white, 3 teaspoon chili garlic sauce, salt and pepper and set aside.

Prep your veggies: Cut half green bell pepper into slices and cube the other half. Do the same with the red bell pepper. Wipe the mushrooms with a wet paper towel and quarter them. Drain and rinse the baby corn and half them. Cut about a ¼ of a medium sized cauliflower to get 12-15 bite sized florets. Slice the oranges and cut celery.

Arrange sliced bell peppers, oranges, celery, any cheese and crackers that you like on your snack board keeping space for two dishes of crispy chili veggies and chicken.

Set a heavy bottomed fry pan and add enough oil to it to deep fry the veggies and the chicken. We will do this in batches.

While the oil is heating up, prep the batter for crispy chilli veg. Add 1 cup argo corn starch, 1 clove minced garlic, salt and pepper to taste, 1 teaspoon vinegar, 1 teaspoon chili garlic sauce and water. The batter should be of flowing consistency.
Deep frying (see notes)
Dip the chopped vegetables (cubed bell peppers, mushrooms, cauliflower and baby corn) in the prepared batter and coat well. You might have to do this in batches. Deep fry in hot oil, stirring occasionally, till the veggies are slightly golden brown and crunchy. Drain the vegetables on a kitchen towel lined dish and keep aside.

If you have a candy thermometer, check the temperature of the oil after frying the veggies and let it come to 350 degrees F for frying chicken.

Add the marinated chicken cubes/ strips a few at a time without crowding the pan. Keep stirring to evenly fry. As the chicken gets cooked, the bubbles around chicken pieces will start to subside. At this point take the chicken out on a paper towel lined plate and check for internal temp to be more than 165 degrees F. Keep aside.
Sauce it up!
I like to keep the veggies and chicken separate on the snack board so I make the sauce in two batches.

For veggies: Heat oil In a heavy bottomed, non-stick pan and add half of the remaining garlic. Add half of white scallion parts and green chili and sliced onions (if using). Saute for a minute and then add half of the sauce ingredients - chili garlic sauce, ketchup, and soy sauce. Once it starts bubbling, add the veggies and quickly toss. Finish with half of green parts of scallions. Transfer to a small serving dish and lay on the Chili Veggies and Chicken Snack Board.

For chicken: Repeat the steps above (for veggies) for making sauce for the chicken. I added about ¼ cup of water after I added the sauces and brought everything to a boil before adding the chicken. Mix together and garnish with scallion greens.Transfer to a small serving dish and lay on the Chili Veggies and Chicken Snack Board.
Notes
If you do not want to use egg white, you can also use just water.
Use any color bell pepper you have - red, orange, purple or yellow…<3 I used baby bella mushrooms but any kind will work Any type of oranges/citrus will work - I love grapefruit and it provides a color contrast to regular orange. You can also shallow fry the veggies and chicken, but it's not the same...lol.
If you try this recipe, I would love to hear your feedback and see your beautiful re-creation. Leave me a comment, rate it, and tag @thekitchendocs and #thekitchendocs in your photos on Instagram or Facebook. Happy cooking, friends!
Love – Vaishali