Talk about comfort in a bowl! This Easy Stove top Mac and Cheese Recipe is the best ever that kids and grown ups love alike. No knife needed, no need to bake, less than 10 ingredients, and ready in 15 minutes. Serve it with some veggies and fruits and you have a nutritious meal at your hands.
Jump to Recipe
If you love all the recipes that I share on the blog, please join me on Instagram. I do a lot of cooking videos on Instagram and other fun stuff. We have a great TKD community there so please come join us! If Facebook is your thing, head here and I promise, you'll love it!
This post may contain affiliate links.
If I tell you all that mac and cheese is easily among the top 5 foods that my kids request for lunch, would you believe me please? Because it's true. Sometimes when I'm in the middle of something and cannot fix them something, they do make mac and cheese for themselves. No, not this one - but the one that comes from a box, is dye free, healthy,...and all other things that we moms try to look for. And that's perfectly fine. But whenever I have some time (15 minutes to be exact) on my hand I fix them this Easy Stove top Mac and Cheese because it's simple to make, has just a handful of ingredients that I usually keep stocked in my pantry and fridge and is sooooo good!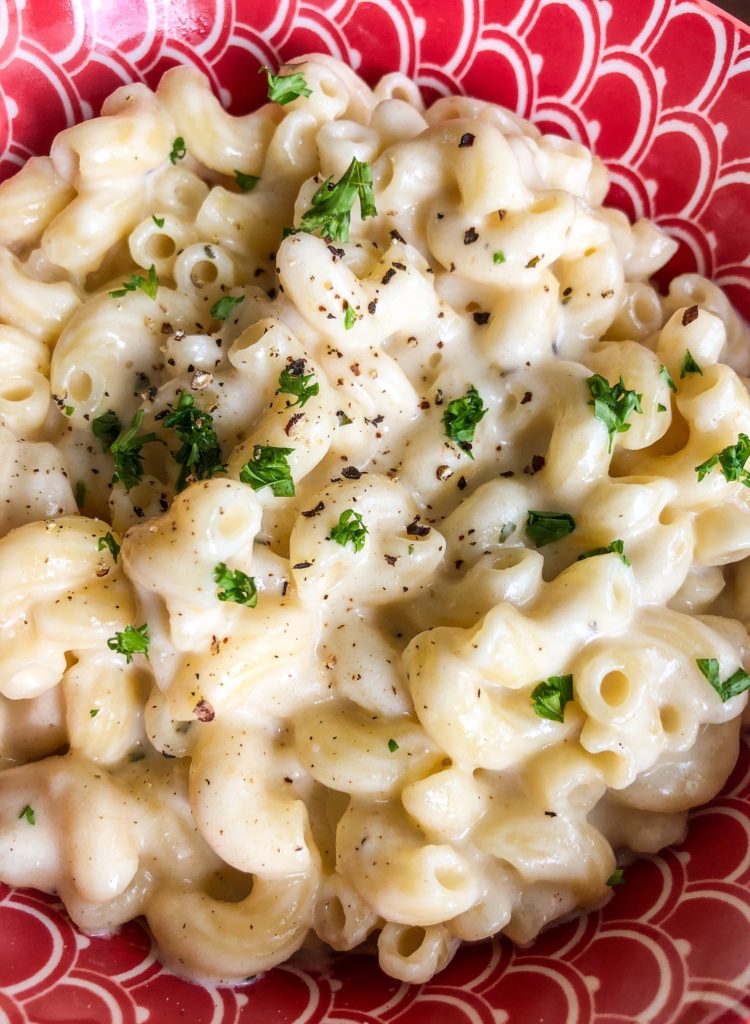 No knives needed!
Very few recipes on my blog can boast of being knife-free. And this is one of those. Insert happy dance...I mean no chopping or cutting? Less time, less dishes and more ease, more fun!! My 15 yo loves to make this recipe when she is feeling "fancy". But this recipe is different from my "fancy" mac and cheese, which by the way, is a BOMB. Have you checked it out? Find it here! But sometimes we just need that comfort, a bite that takes us grown ups back to our childhood. Remember you 10 yo self's taste buds? They will thank you and your grown up body and soul will be forever obliged. OK enough of mushy, rhetoric stuff. Back to business!
What type of pasta do I use?
Use any short pasta shape. Elbow macaroni is what I usually use but when I don't have it on hand, I have used farfalle (bow ties), rotini, fusilli etch. Anything but spaghetti. Somehow, spaghetti does not fit the mac and cheese vibe.
Can I make it gluten free?
Absolutely!!! Use any gluten free pasta like chickpea flour or rice and lentils pasta. Texture will be slightly different but It will work. You can skip the roux if making it gluten free or use your favorite gluten free flour. I like this one.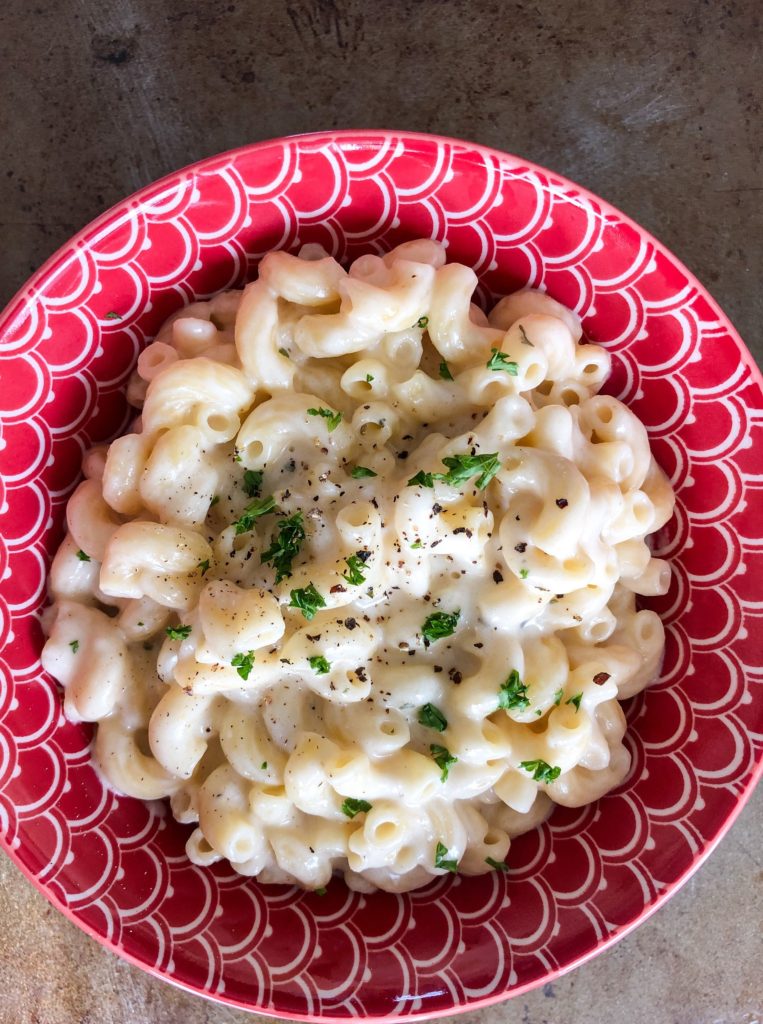 Say cheese
Yes, because this makes you smile. I'm full of bad jokes today….lol. Anyhow, I use cream cheese and cheddar. I know cream cheese is not traditional but you have to try it. Regarding cheddar, use your favorite cheese...sharp cheddar, extra sharp cheddar, pepperjack (for a kick), gouda etc. My humble suggestion would be to grate your own. Buy a block of good quality cheese and grate it at home. Much more economical, gives you a good arm workout (or use a food processor) and you don't ingest those anti caking agents that pre-shredded cheese is coated in.
Well, friends - there's a reason that I am calling it a stove top mac and cheese. It's meant to be made on a STOVE. But i know...you all love instant pot versions of every recipe. So I got ya. Use the same ingredients (except flour) as in your printable recipe card below. Add the dry pasta, 3 ⅔ cups of water (yes, precisely), butter, mustard, nutmeg, garlic powder and salt (1 teaspoon should work) to your instant pot bowl and stir to combine. Put the lid on, set to manual pressure and cook for 4 minutes followed by a quick release. Open the lid, add milk and cheeses. Stir, check seasoning and enjoy piping hot!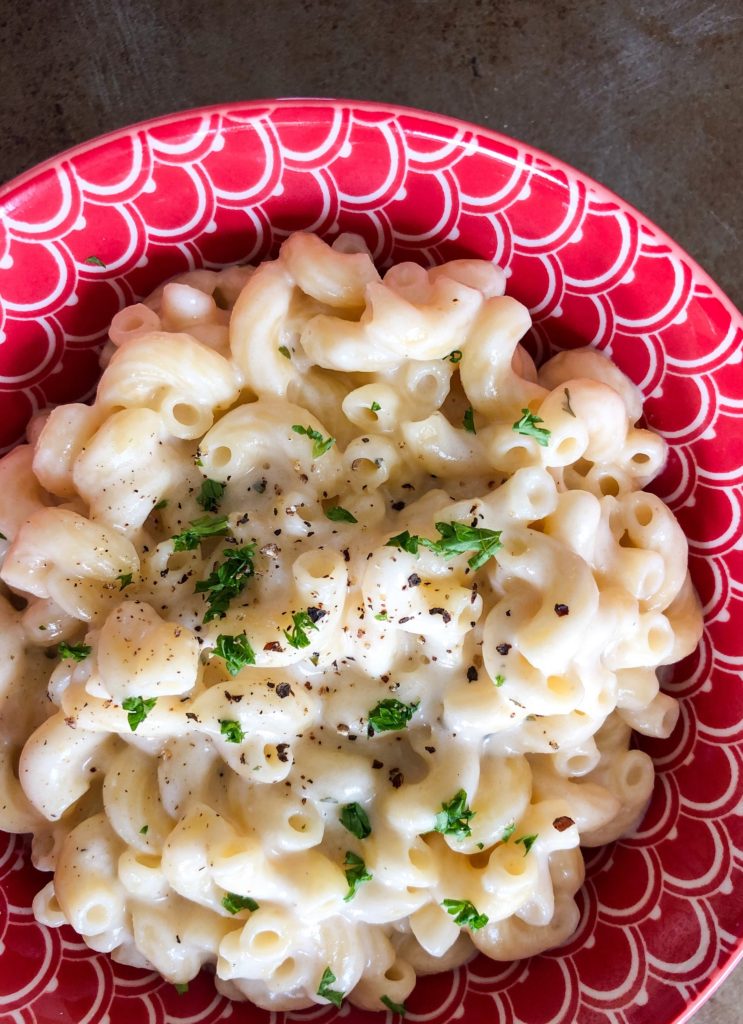 What do I serve it with?
Oh man! Just serve yourself a bowl and enjoy straight up. The best way to do it. You can add a side salad or some fruit with it. If you want to serve it on the side, you can serve it with grilled chicken, roasted veggies, or some bread. Really anything (or nothing...uhmm), very versatile.
Here's your printable recipe card:
Easy Stove Top Mac and Cheese
Talk about comfort in a bowl! This Easy Stove top Mac and Cheese Recipe is the best ever that kids and grown ups love alike. No knife needed, no need to bake, less than 10 ingredients, and ready in 15 minutes.
Ingredients
1

pound

dry elbow pasta/macaroni

450 g

Water

3

tablespoon

butter

2

tablespoon

all purpose flour

whole wheat works great as well

3

cups

milk

See notes

1

teaspoon

garlic powder

optional

¼

teaspoon

ground mustard

¼

teaspoon

ground nutmeg

¼

cup

cream cheese

See notes

2

cups

shredded cheddar cheese

See notes

Salt & fresh ground black pepper

to taste

Chopped parsley

optional
Instructions
Right when you start thinking about making mac and cheese, set a big pot of water to boil on high heat. Salt it liberally.

Add your dried elbow macaroni to boiling water and set the timer to 8 minutes (for al-dente pasta)

Set a wide, heavy bottom pan on medium high heat. Add the butter and let it melt. Then add the flour.

Whisk the flour and butter together until the raw smell of flour goes away, about 2 minutes.

Add the milk along with garlic, nutmeg and mustard powders. Increase the heat to high and bring to a boil while whisking lightly.

Once boiled, lower the heat to medium and cook for 3-5 minutes or until the sauce thickens. Keep stirring. At this point add the cheeses and turn off the heat.

Once the timer goes off, save a cup of pasta water and then drain the pasta. See notes.

Add the drained pasta to your cheese sauce, add salt and a lot of fresh cracked black pepper.

Serve hot garnished with some parsley (optional) and more cracked black pepper.
Notes
I use full fat milk but 2% milk or evaporated milk will work as well.
You can use jalapeno cream cheese for an extra kick.
Cheddar is traditional but you can use cheese of your choice.
If your sauce is too thick, you can add some pasta water to loosen it. To reheat mac and cheese that has been store in the refrigerator, add a tablespoon of milk and microwave or heat on the stove top.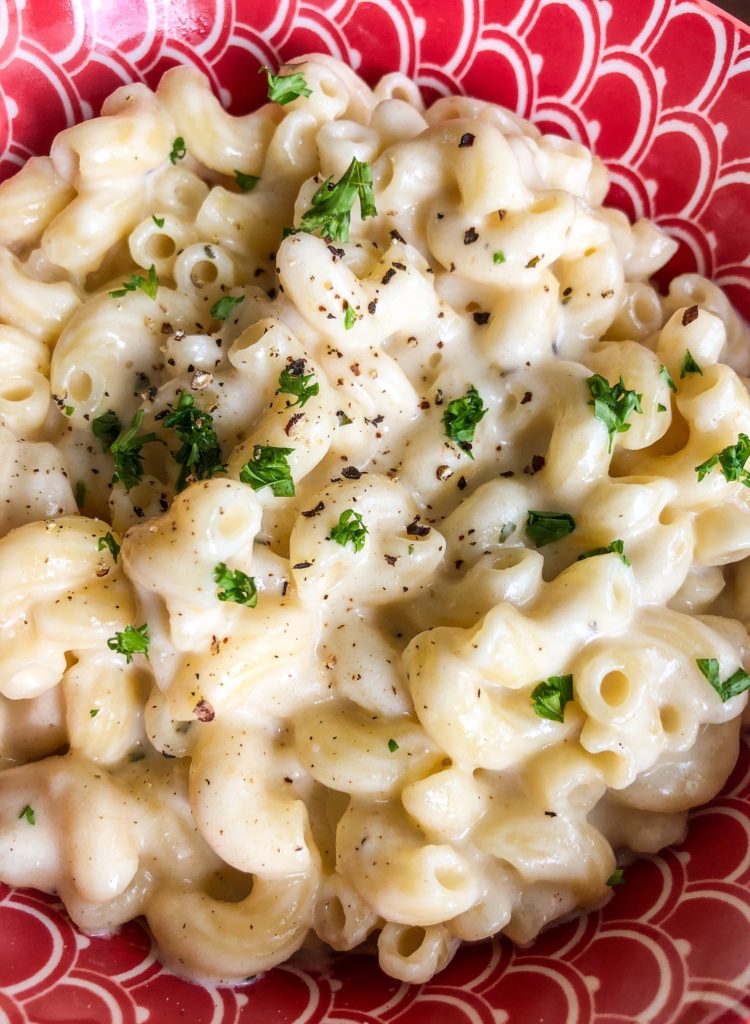 If you make this Easy Stove top Mac and Cheese, please leave a comment and/or give this recipe a rating! I love to hear from you guys. And if you do make this recipe, don't forget to tag me on Instagram and Facebook! I love to look through your creations!!
Love – Vaishali
Key Recipe Tools and Ingredients:
Elbow Pasta: